Java Rain resort is a luxury resort tucked amidst the serene Mullayanagiri hills of Chikmagalur. Surrounded by dense coffee plantation, Java Rain resort is one of the best places to spend your holidays in utmost comfort and relaxation. As they strive to offer top-notch quality experiences and services, Java Rain resort exudes an air of tranquillity with soothing vibes through its location and designing, making it a great place to unwind during the weekend.
What They Offer
Villas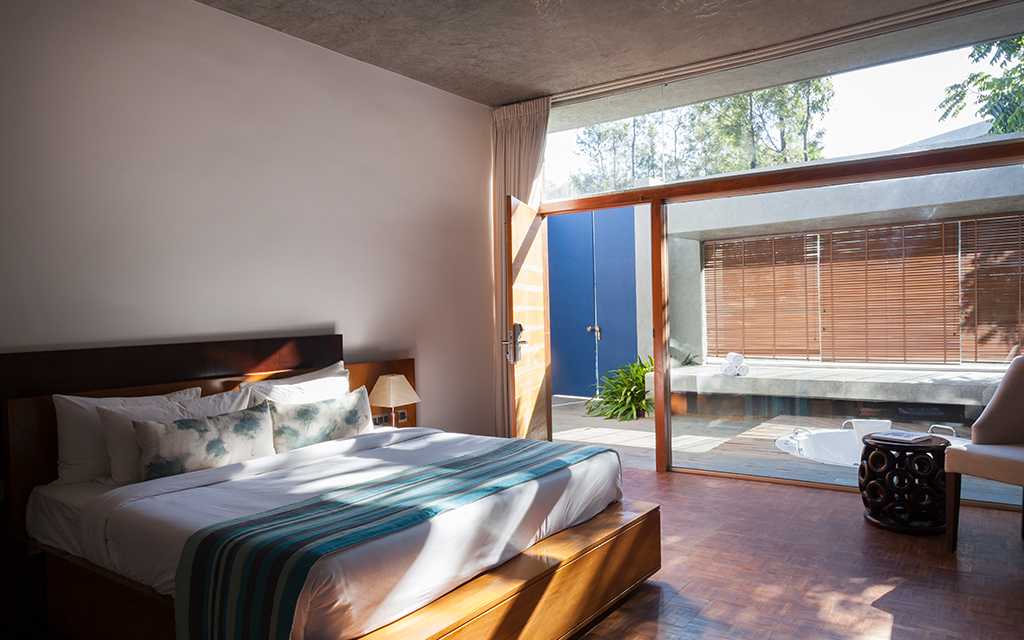 The resort offers 20 villas with amazing views of Baba Budan hills and Chikmagalur town on either side of the property. Designed in glazed structures with ample organic material used for the chic decor, Java Rain Resorts is housed within a well-lit space.
Spa Treatments
Take your leisure to the next level and pamper yourself at Shvah Spa. With a range of top body massages and treatments, the Spa also has an in-house masseuse service. Shvah Spa centre is sure to give you a laid-back experience!
Fine Dine Restaurant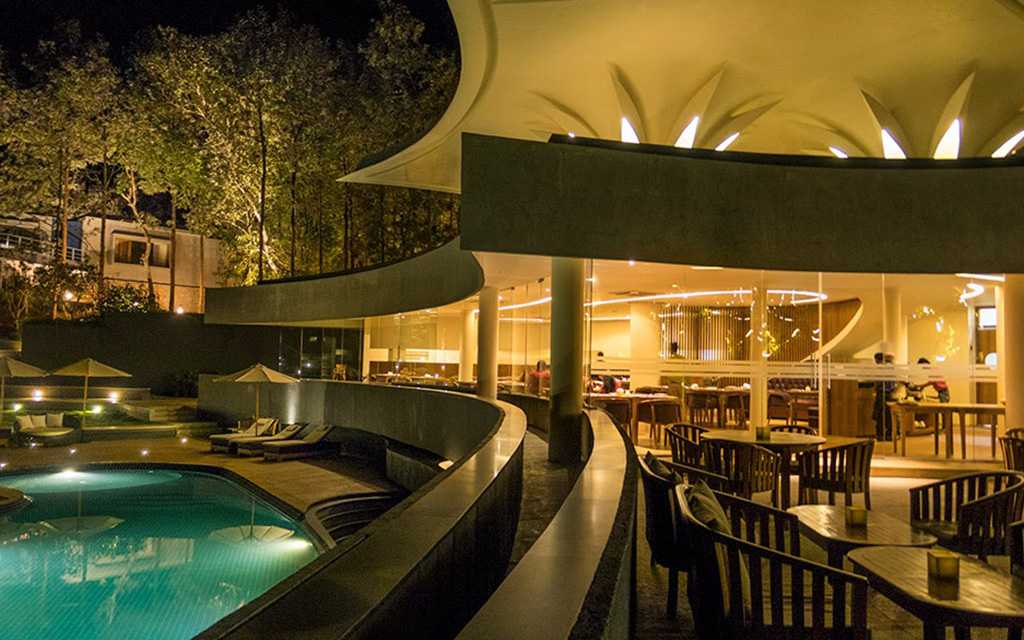 Mirra is an all-day fine dine restaurant overlooking the infinity pool alongside a lush green-hilly backdrop. Evenings here are the best as the entire property is lit with amazing lighting and the weather is also pleasant for outdoor seating.
Bar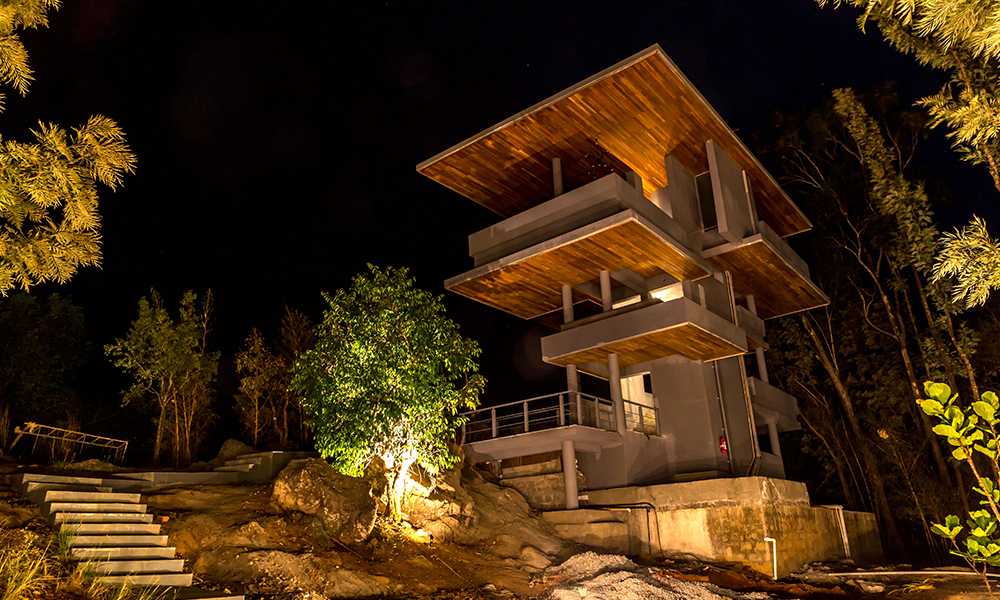 Crimson Peak is a unique bar, 50 ft above the ground. With a grand view of the entire valley and Chikmagalur town, this bar adorns one of its kind architectural designs. Indulge yourself in a drink as you chill with some good company, or even better, just yourself!
Infinity Pool

Diving in the infinity pool at Java Rain resorts is the first thing you should do as soon as you wake up. With awesome views in the background, the infinity pool is quite a chill!
Activities You Can Opt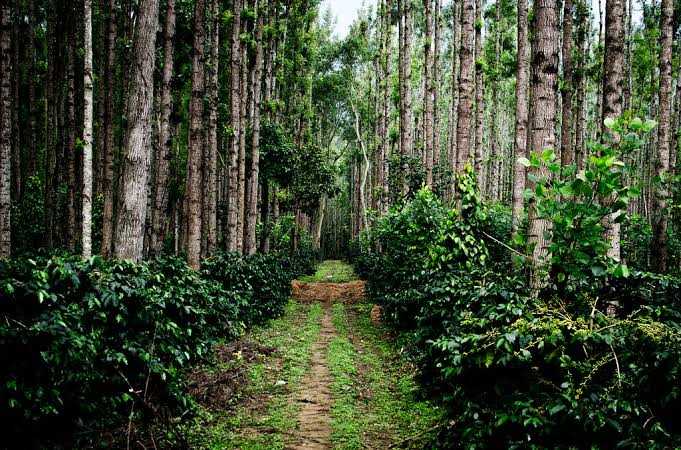 Spice and Coffee Plantation
Take an aromatic walk in the amazing spices plantations near the resort and head to explore the nearby dense coffee plantations.
Cycling
The resort also arranges professional guides to help explore Mullayanagiri on bicycles. You could also avail cycles at the resort and check out in and around the property!
Trekking
For adventure lovers and nature enthusiasts, Chikmagalur is the ideal place. Just a couple of hours away from Chikmagalur is Kemmanagundi in Bhadra Wildlife sanctuary, which offers the best of nature. When you drive down this area during the monsoons,you would come across many small waterfalls, adding to the beauty of the place.
Nearby Attractions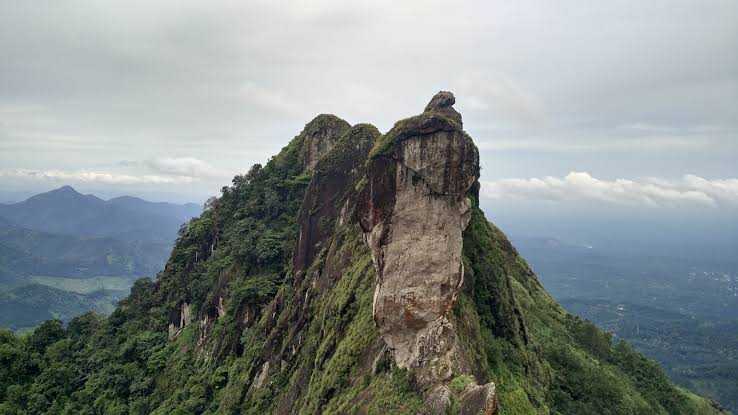 Baba Budangiri is a mountain in the Baba Budan Range, known for a shrine to the Sufi Saint, Hazrat Dada Hayat Khalandar (also known as Baba Budan).
One of the top tourist spots in Chikmagalur, Kudremukh National Park is also a UNESCO World Heritage Site. You could indulge in a variety of adventure activities here such as exploring the untouched flora and fauna during the safaris, trekking, etc.
River Bhadra originates in the Western Ghats and flows across Deccan Plateau through the Bhadra Wildlife Sanctuary providing rafters with a spectacular view of the lush greenery of the Western Ghats, quaint villages and plantations.
Covering a huge area of over 49 sq.km, the Bhadra Wildlife Sanctuary is surrounded by the Western Ghats on all four sides!
Also known as the Buttermilk Falls, Jhari Falls is one of the most famous waterfalls in the Chikmagalur district and also one of the top tourist places in the district.
Address
Java Rain Resort, Survey no 618, Mullayanagiri Rd (Next to NMDC)
How To Reach
By road

Chikmagalur is well-connected with the major cities like Bangalore, Mangalore, and Chennai. You can find a number of buses plying to Chikmagalur from these cities. Taxis are also available to Chikmagalur from the nearby cities.
By train

Although, Chikmagalur has its own station, but is not well-connected. Hence, the nearest railway station to Chikmagalur is Kadur railway station which lies 40 km from Chikmagalur. Various modes of transport are available from Kadur to commute.
Local transport in Chikmagalur

Due to the hilly terrain, autos are not very reliable and jeeps or buses are frequently available for tours around the town.