Medan
, the capital city of the province of Sumatra in
Indonesia
, is known for being the home of the largest volcanic lake in the world. It is a somewhat underrated destination, but trust us, it has a lot to offer from gorgeous sunsets and mesmerising waterfalls to the delicious food in Medan.
Dining in a wooden house overlooking a river is enriching for one's body, mind and soul. The peaceful environment is perfect for relaxation and letting loose. Don't worry; it is not an all quiet and offbeat location! There are a lot of bars and cafes to explore, and they are increasing in popularity. The food in Medan is a culmination of many cultures. 
Here is a list of food items you should try in Medan for a lip-smacking and mouth-watering experience:
1. Soto Medan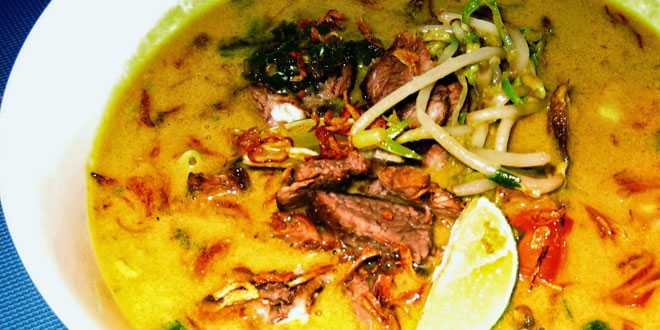 If you ask the locals for recommendation about what to eat; this dish will be the first to pop out of their mouth. Soto Medan is Medan style chicken soup. It is made of chicken thighs, kaffir lime leaves, bay leaves and a blend of spices like cinnamon, cardamom, cloves etc.
Phew, the list doesn't end here! Shallots, garlic and many other powders and peppers are mixed in with glass noodles and other condiments to make this revolutionary soup. The result is greenish-yellow thick coconut milk sauce. Beef or chicken might be used. It is a must-try!
Where to try: Rumah Makan Nasi Soto Medan 
2. Bakso Lembu Medan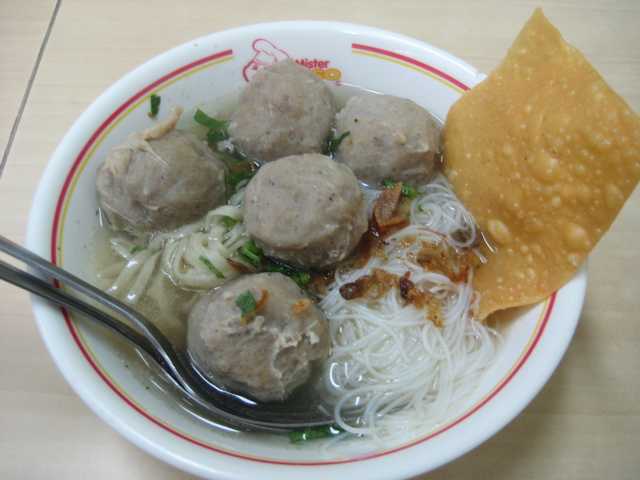 This food in Medan is made of meatballs. The meatballs are made of beef, flour and seasoning. Ground beef is mixed with fried shallots, fried garlic, pepper powder, salt and starch to create this dish. The aroma of Bakso Lembu will make you drool. Eat it hot and fresh.
Where to try: Bakso Sapi Lebong
3. Bika Ambon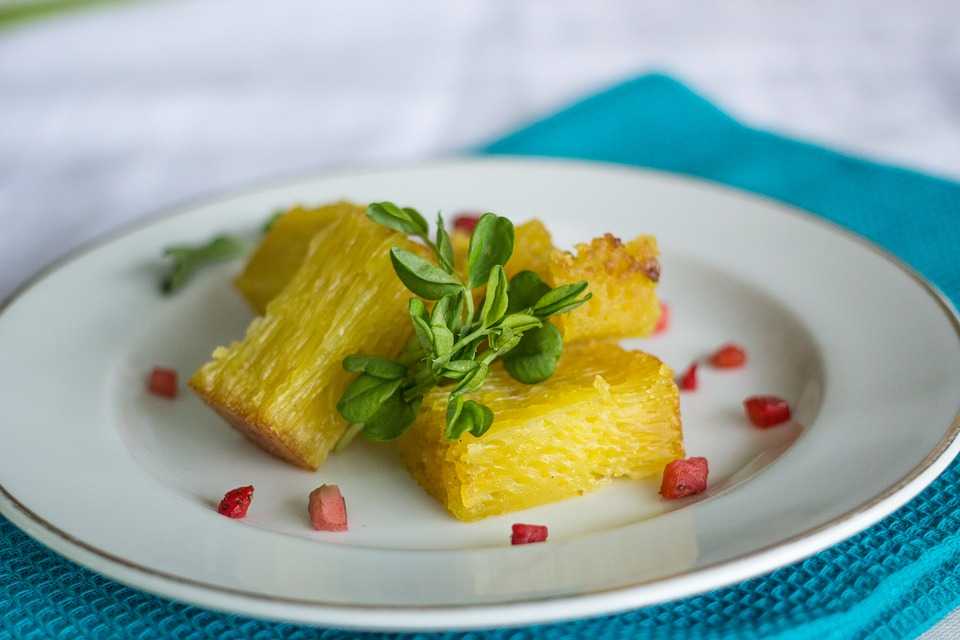 This is a very typical dessert eaten in Medan. It is made from ingredients such as tapioca flour, eggs, sugar, yeast and coconut milk. It is available in many flavours like chocolate, banana and even durian! This also makes for a great souvenir and gift. It can be served both hot and cold, depending on your choice.
Where to try: Bika Ambon Zulaikha
4. Kwetiau Goreng Medan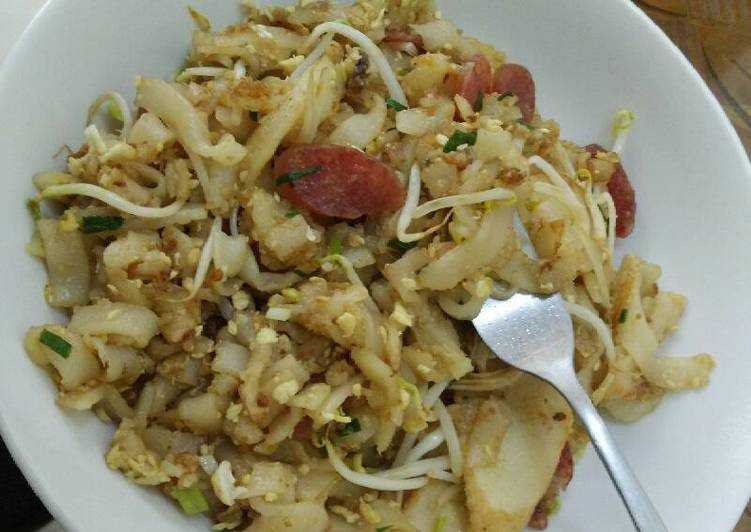 This delicious dish is made with rice noodles, sausage lapchong, fish meatballs, shrimp, eggs, sprouts and various condiments. The rice noodles are chewy and thicker as compared to the regular noodles. It is a flavorful and spicy fried noodle delight. One of the essential ingredients is Kecap Manis. Wondering what it is? It is sweet soy sauce. Many variations are depending upon the type of meat used like chicken, cuttlefish, prawns and fish. 
Where to try: Kwetiau Goreng Langkat
5. Behun Bebek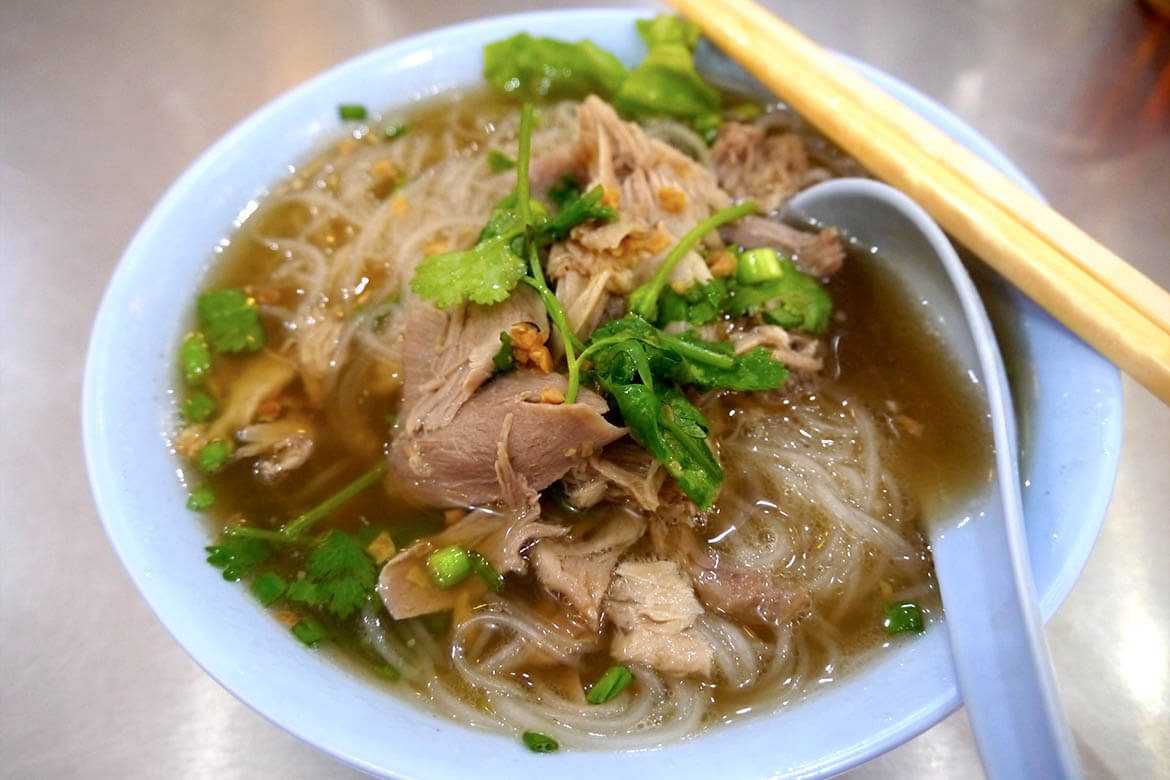 This is vermicelli and duck soup, which is quite refreshing and rich in flavour and aroma. The main ingredients that make up this soup are a duck, onion flakes, garlic flakes, ginger, star anise, ground white pepper etc.  Sounds delicious, right? This dish is eaten not only in Medan but all over Indonesia. The only difference is the local variations.
Where to try: Bihun Bebek Asie
6. Durian Pancake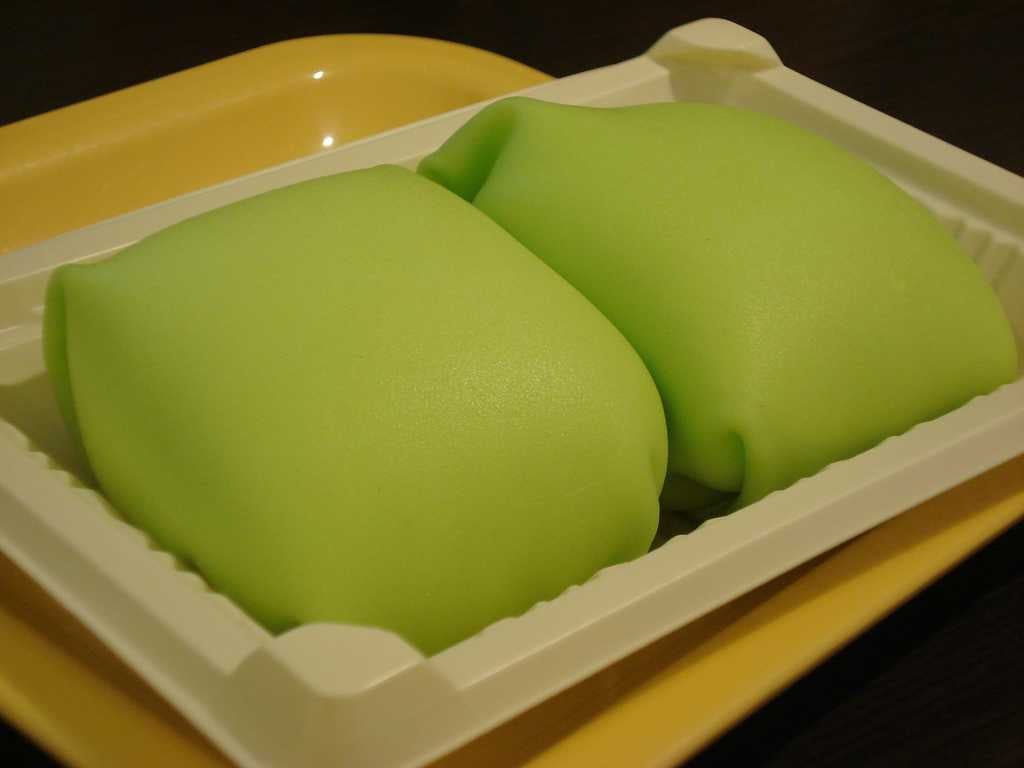 If you are one of those people who like Durian (that itself is an achievement unlocked!), treat yourself to some good Durian pancakes in Medan. This food in Medan is a popular snack and enjoyed widely. These are not your ordinary pancakes doused with maple syrup but filled with cream while keeping the Durian flavour dominant by adding a lot of durian meat. 
Where to try: Durian Pancake Maidanii
7. Babi Panggang Karo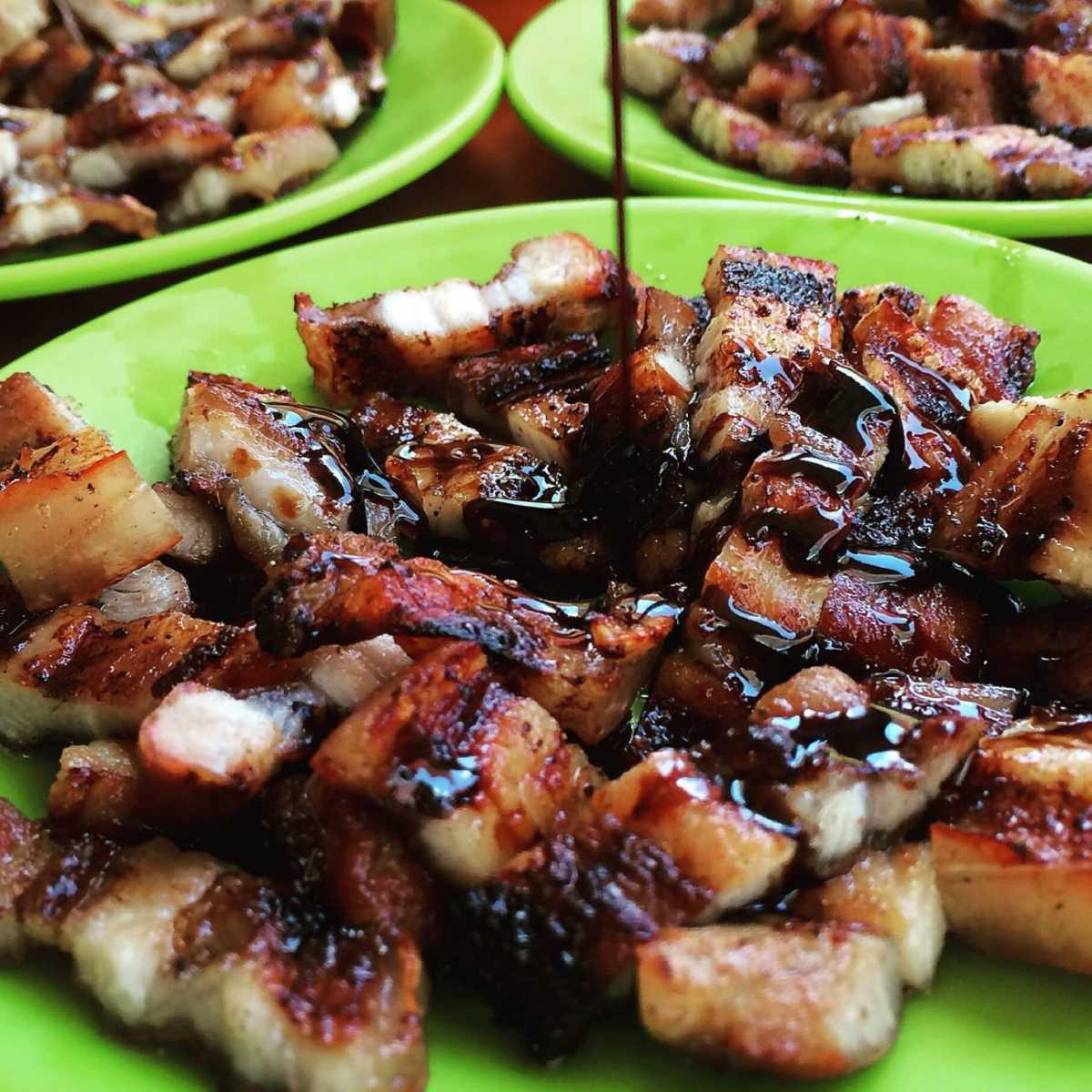 The word Babi means pig or pork and Panggang means grilled or roasted. It is a variety of Indonesian grilled pork barbeque. This is a typical Karo cuisine, so it is eaten in many places, including Medan. For preparing this dish, the whole body of the pig is used-bones for clear soup, meat to be grilled and blood for dipping sauce. It is served with plain rice and Sambal andaliman. 
Where to try: RM. BPK Ola Kisat
8. Tahu Sumedang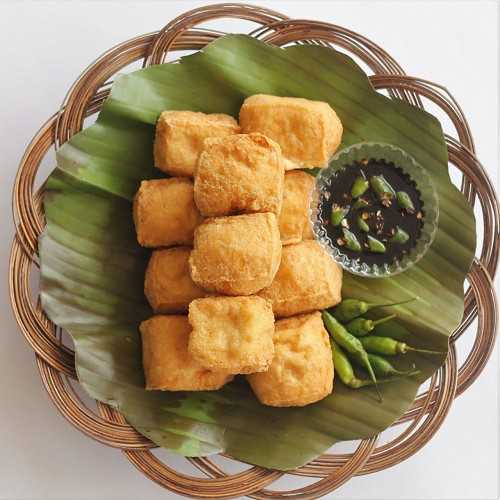 This is deep-fried tofu and is served with spicy cabai rawit (bird's eye chillies). It has a creamy inside, and the taste is savoury. It works excellent with lontong, sambal also. It is light brown, crunchy and tasty.
Where to try: RM Tahu Sumedang Renyah
9. Bataknese Grill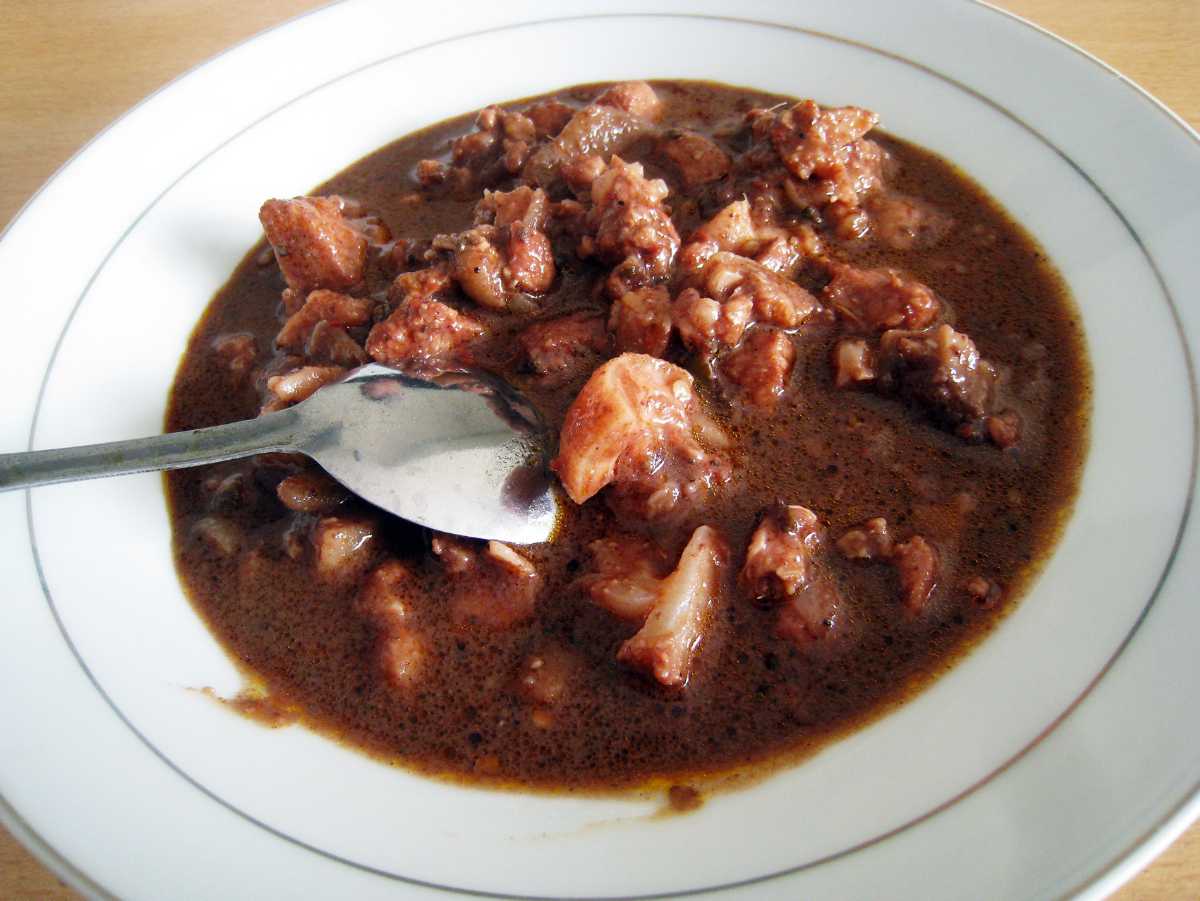 Also known as Saksang, grilled, and fried pork is loved by the locals and will surely make for a new food item for tourists. It is well seasoned and crunchy with a good hit of spices.
Where to try: Ondo Batak Grill : Jl.Pabrik Tenun No. 45, Medan
10. Sate Padang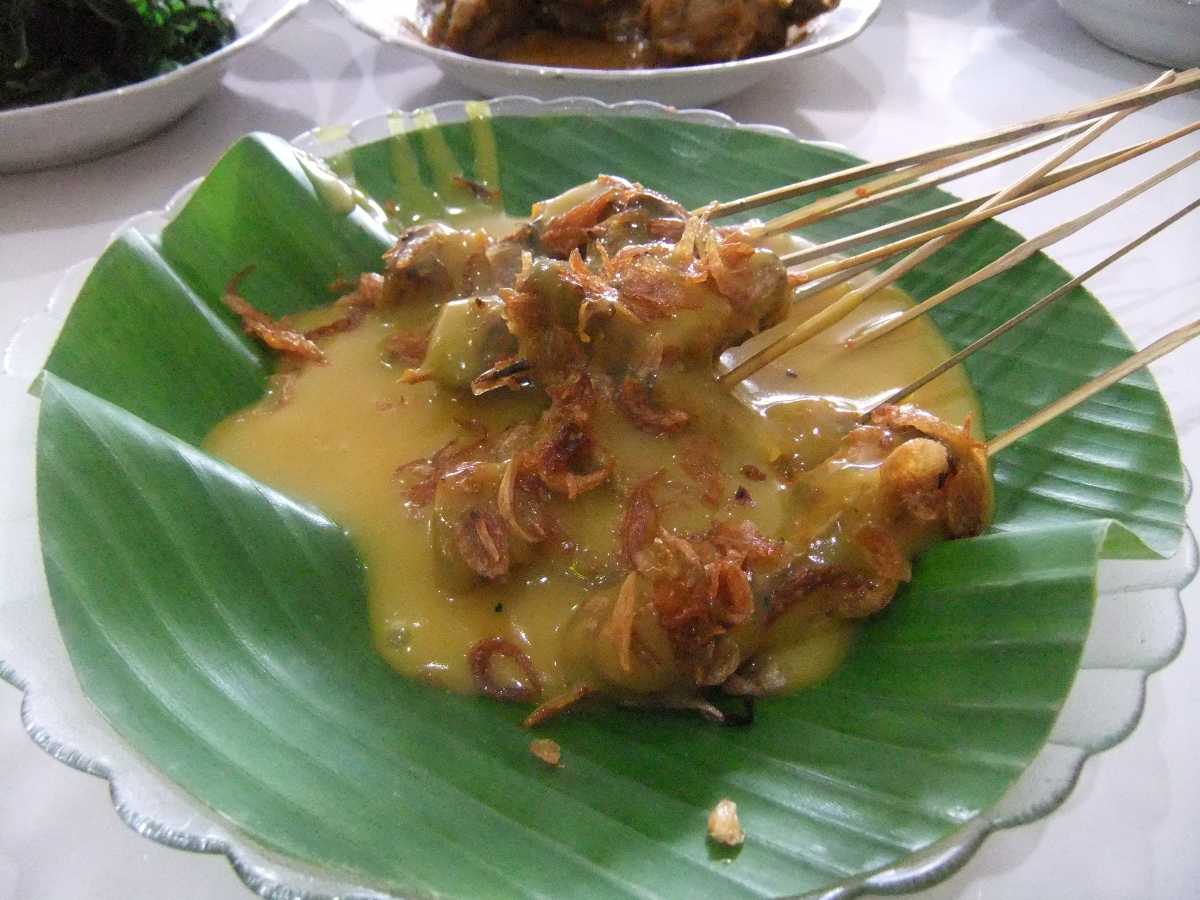 This food in Medan is meat skewer with thick gravy and spicy sauce. The meat is tender, delicious and will melt in your mouth. The gravy is aromatic and spicy, making a perfect combo with meat.
Where to try: Sate Padang Afrizal Amir
11. Mie Aceh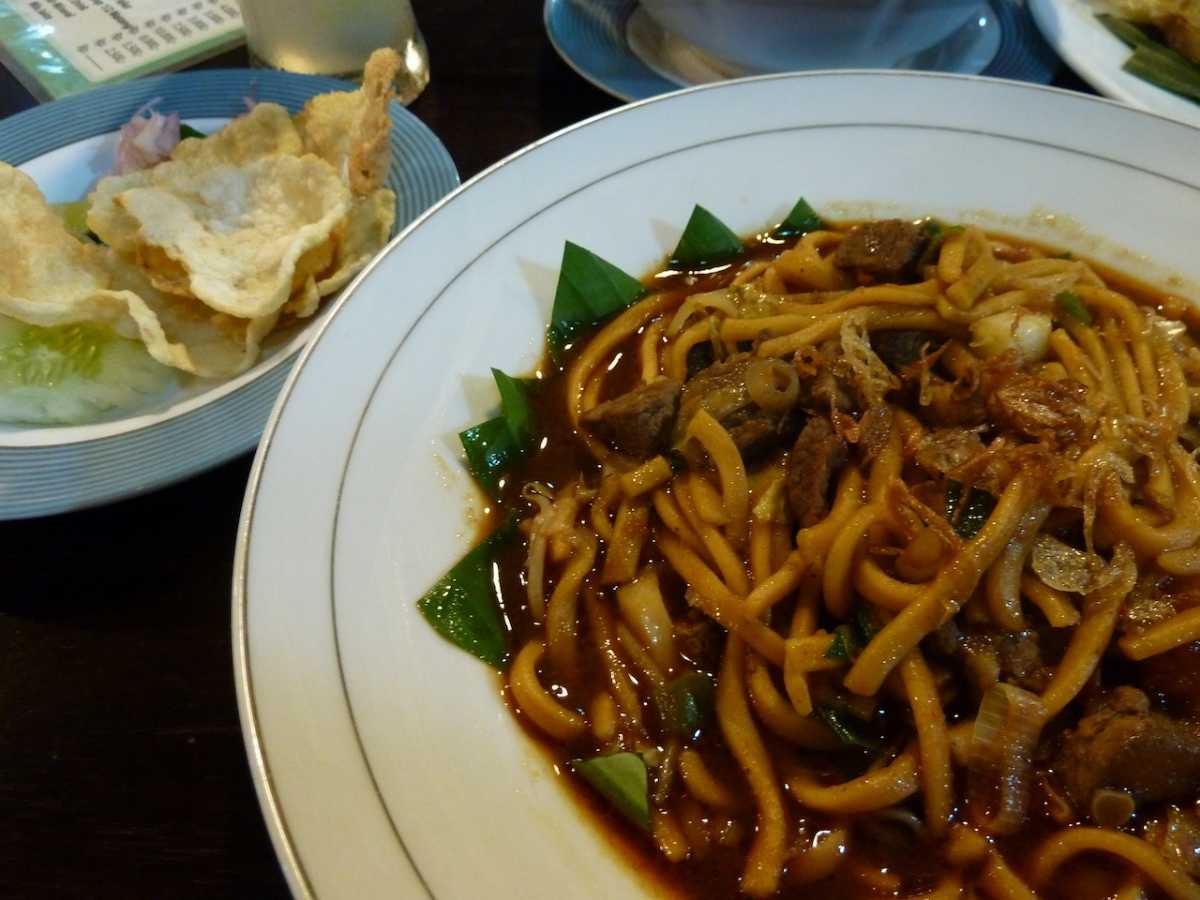 Mie Aceh is a curried, spicy noodle dish. There are two variations of the noodles: fried and boiled. It is topped with seafood, beef or chicken depending upon your palate.
Where to try: MIe Aceh Titi Bobrok, Jl. Setiabudi No 17D, Kota Medan 
12. Mie Balap 
Mie Balap is a dish cooked on a wood stove and consists of vermicelli and chicken, beef, seafood or fish meatballs. The ingredient which makes all the difference is green chilli sauce. Mie Balap is served on a banana leaf for you to enjoy! 
Where to try: Jl.Wahidin
13. Teh Susu Telur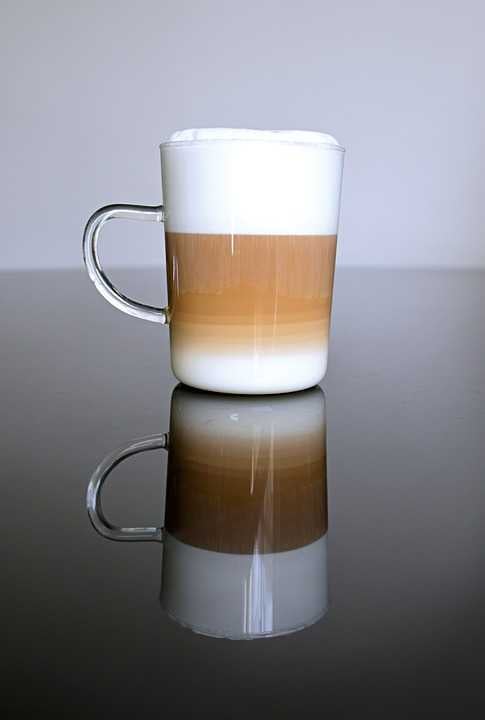 This beverage is trendy in Medan and its speciality. It is made with tea mixed with condensed milk, sugar and egg(chicken or duck). It is served hot and sold in many Warungs and cafe. 
Where to try: Pak Haji tst
14. Es Jagung Medan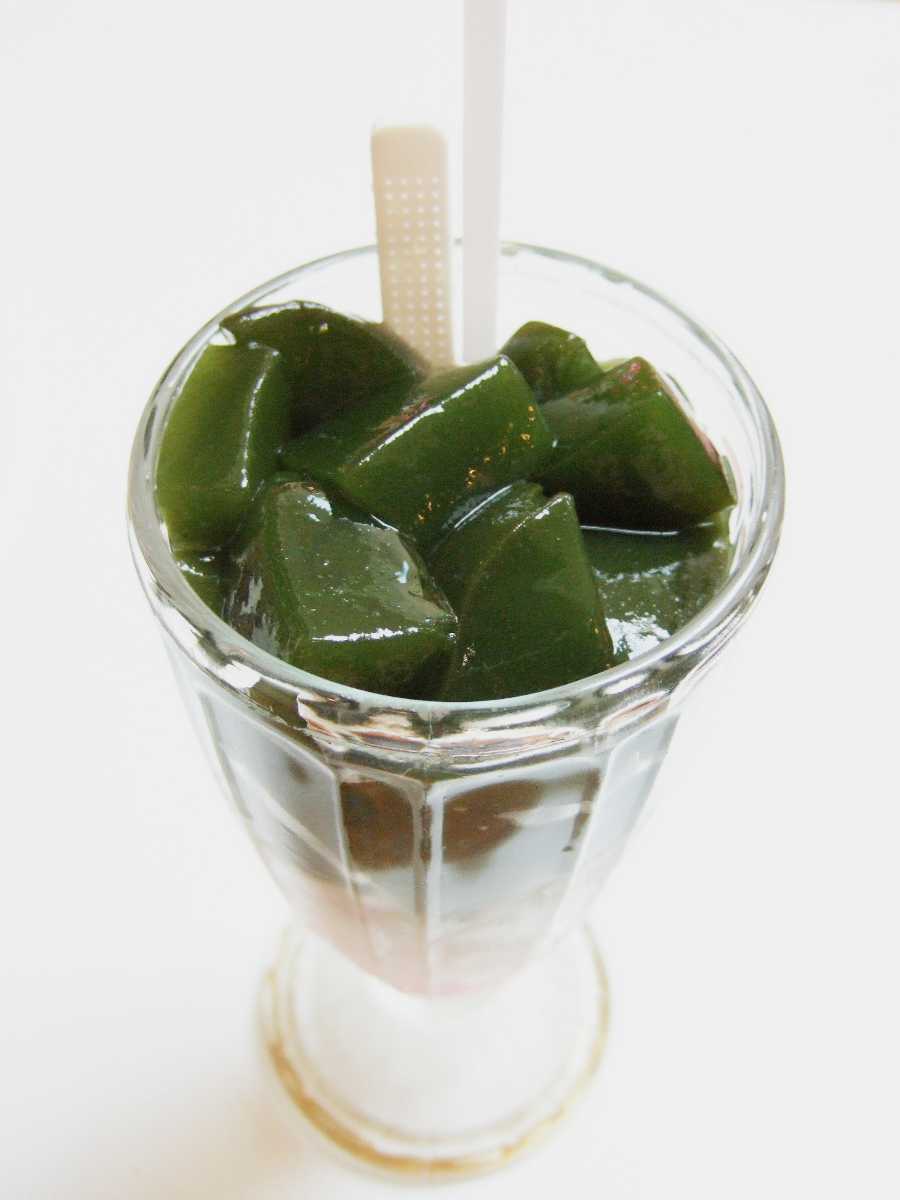 A popular food in Medan amongst the locals, this drink is the perfect refresher to gulp down on a hot sunny day. It is made of corn, coconut milk, sugar, corn starch, salt and water. It is served cold, and jelly is usually added to make it more delicious and exciting. It is sweet and refreshing. 
15. Roco Timun
It is a traditional drink in Medan and made by adding cucumber, coconut water and flesh, brown sugar, pandan leaf and saltwater. It is an acquired taste but quite delectable. It is served cold with shaved ice on top. 
16. Tuak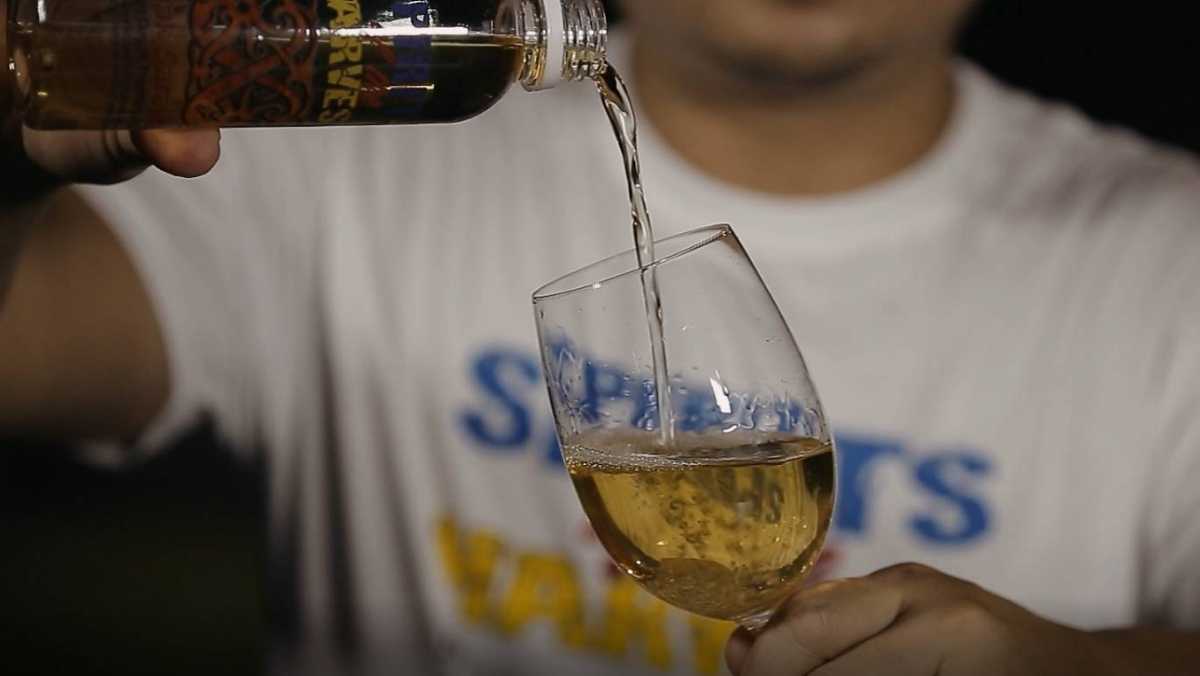 It is an alcoholic beverage made from the fermentation of the Enau tree. It is often served in traditional ceremonies and various festivals. It is a thumbs up from us!
Where to try: Lapo Tuak Manurung
17. Kopi Susu Dingin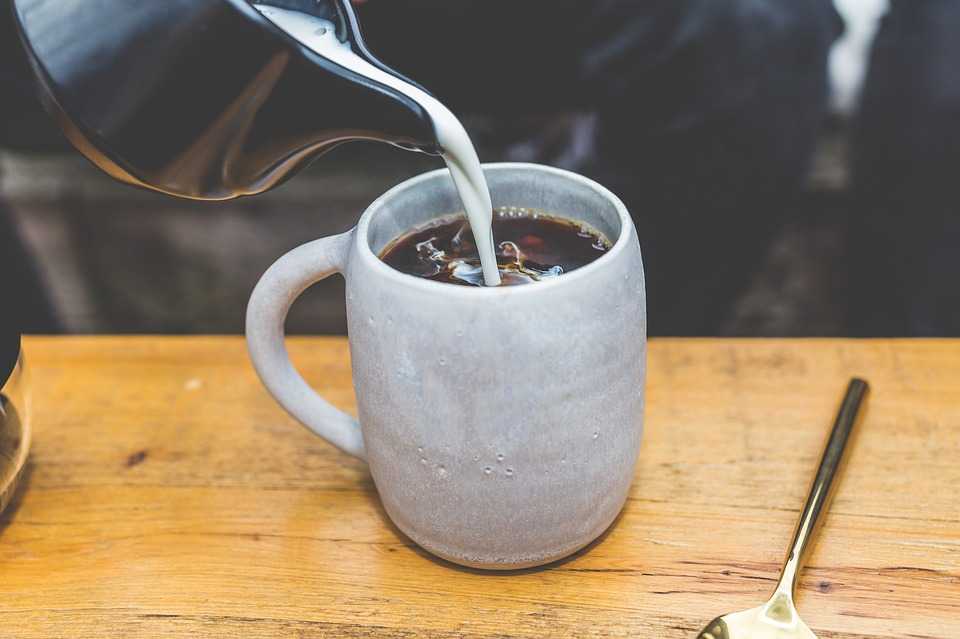 This is iced coffee latte and is quite enjoyable with toast or during breakfast. It is slightly on the expensive side, but it is quite delicious and aromatic, so do give it a shot! 
Where to try: The best place to try this out is Kedai Kopi Apek.
18. Lontong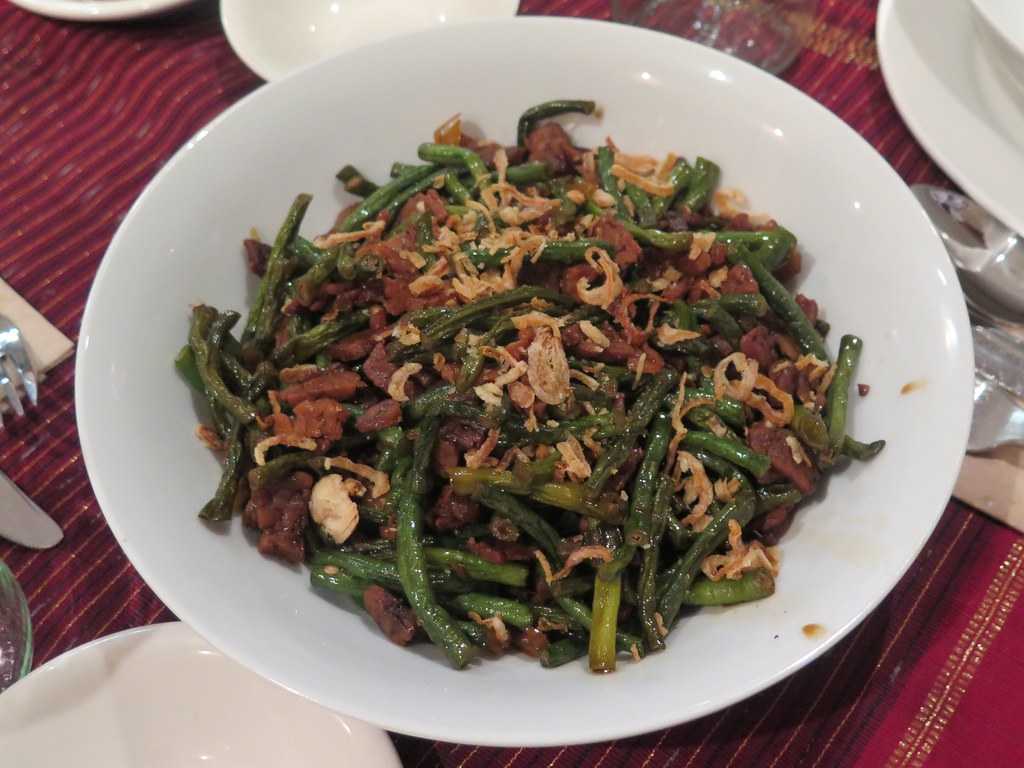 Longtong is a popular food in Medan that has accumulated other cultures with time. Longtong is a rice dish wrapped in banana leaf and compressed. It is served with jackfruit leaf, tauco, potato chips, sambal potato, long beans and Cabai Merah(red chilli).
Where to try: Warung Asli Lontong Medan
19. Mie Lebong
It has noodles similar to spaghetti due to its yellowish colour and thickness.  The best part is the shrimp in different forms- whether shrimp cakes, balls or just plain shrimp.
Where to try: The best place to try it is Amei Mie Lebong.
20. Nasi Lemak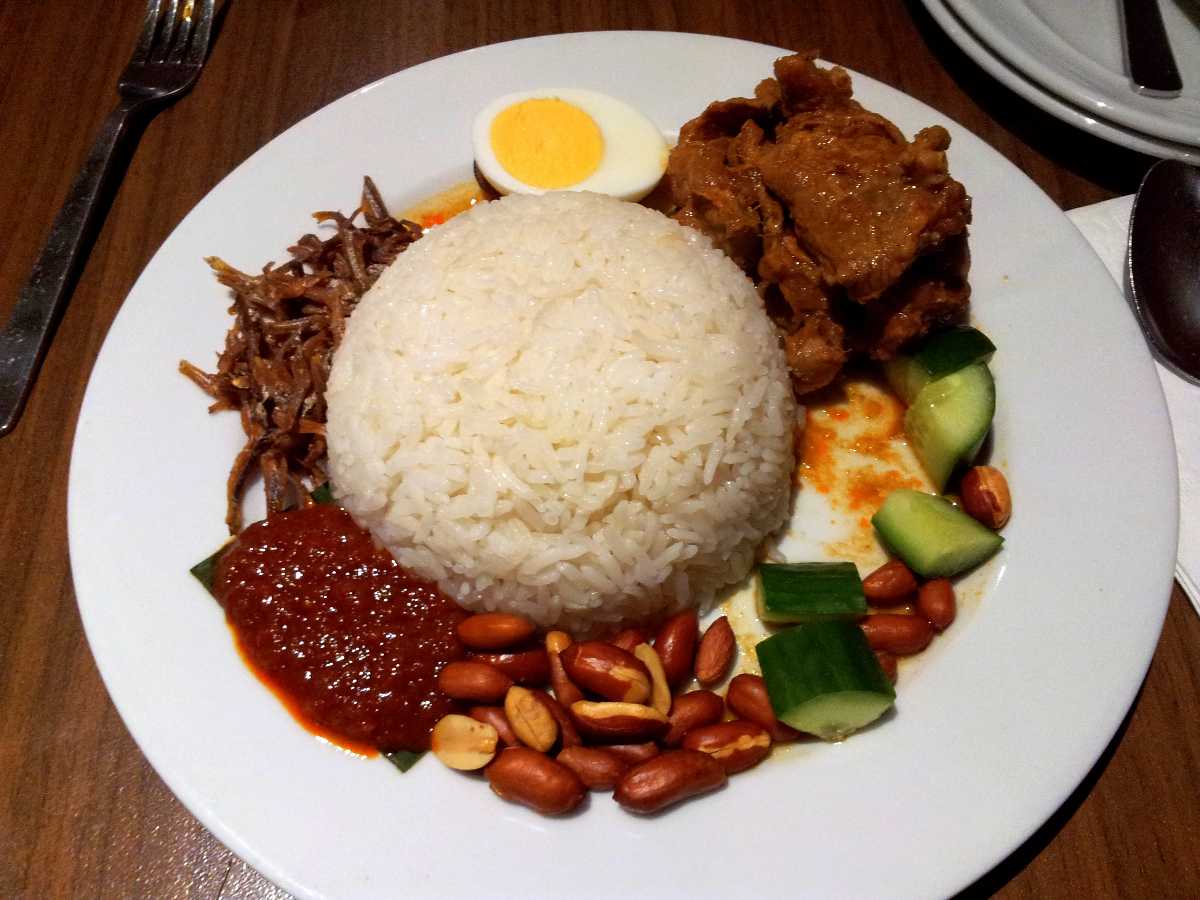 It is a dish from
Malaysia
and  Medan surely has its variation. It is steamed in coconut milk and cooked in pandan leaf. Nasi Lemak is served with peanuts, anchovies, boiled eggs, lamb curry, cucumber and sambal. It is a popular breakfast item.
Where to try: Nasi Gurih Nusa Indah
Medan is a food paradise with elements taken from various sects and cultures to create wholesome and delicious dishes. These 20 dishes are some of the tastiest food in Medan and you Must give them a try. Get, set and eat!