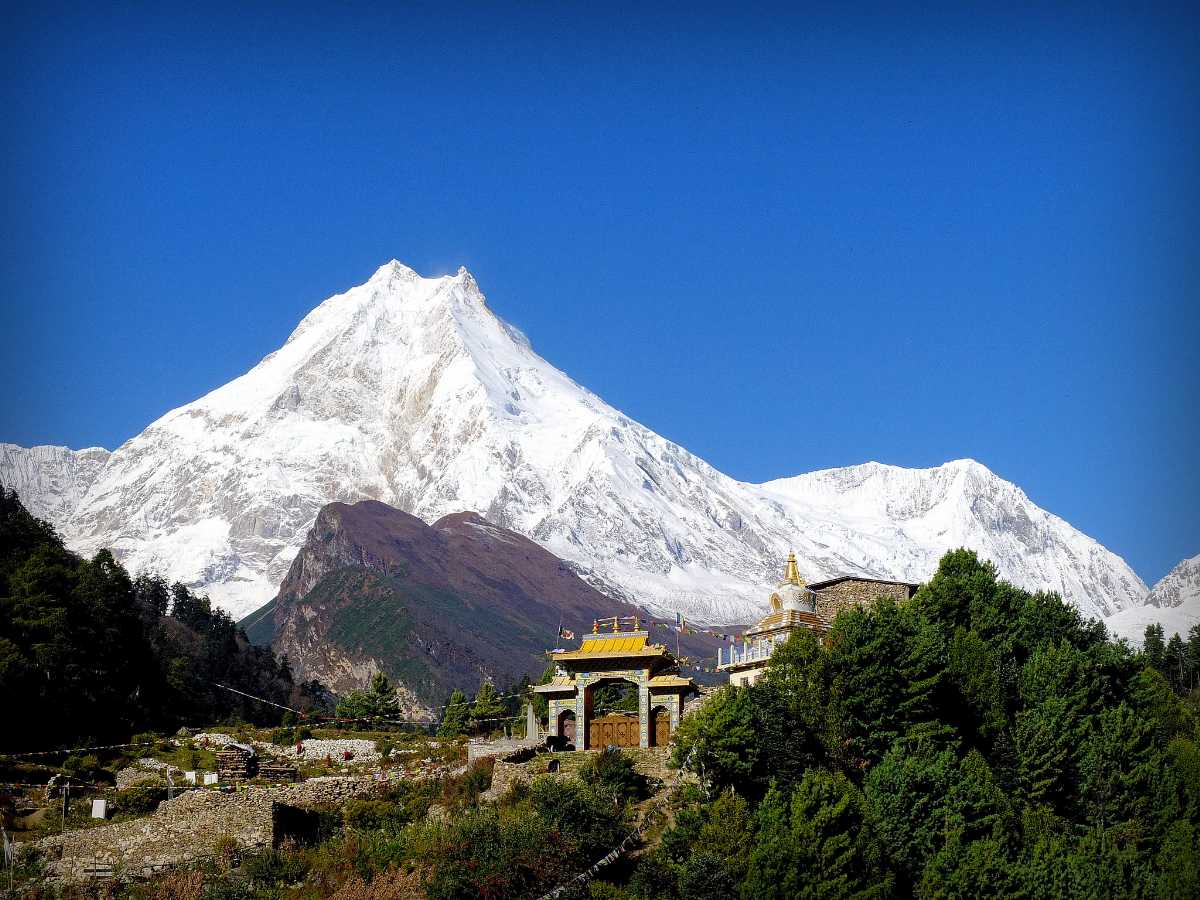 Mountain climbing apart, Manaslu is a hidden gem of a trek experience in Nepal. The most popular route is the 177 km Manaslu Circuit through mostly rugged and some plain lands skirting the Manaslu massif. This route, just like the famous
Annapurna Circuit
, follows the ancient Salt Route along the Burhi Gandak River Valley.
Manaslu Circuit trek starts at Arughat Bazaar, summits at Larkya La and ends at Besisahar where the Annapurna Circuit begins. There are other routes as well, but the summit for most of those is Larkya La pass at the top.
The roads of the trekking routes take you winding through the ancient lands that have been here as old as time. The scenery changes from time to time - there are terraces scattered with the rare greenery of local agriculture, there are stretches of nothing but brown mud and rocks covered with powdery snow. From a place called Ligaon, the fertility of the land fades, and the ruggedness of the mountain starts. When you reach Lhogaon, the most awaited glimpse of the double peaks of Manaslu emerge.
Before reaching the summit, there is a village called Samagaon at the foothills where stands a Buddhist monastery. Its very existence amidst the wilderness of the mountains and pine forests is an enticing one. Halt at the Pang Phuchi village for a breathtaking view of the Tibetan pasture lands beyond the borders of Nepal.
And then there is the glacial saddle of Larkya La - your final destination - resting with all its glory and grandeur, pitted against the azure blue of the sky. The trekkers are rewarded with the views of quite a few 7000m+ peaks, like Himal Chuli, Ngadi Culi and Shringi. For a clear view of the main peak, you can trek up to the meadows of Bumtang. The return route passes through Dudh Khola and down to the land of Gorkhas.