Among all the temples, 77 are with high spires and rise high above the city like many towers. Among them, the 57th one is the most popular and most visited one, referred to as the Sonagiri Temple. This is also the largest temple in the town – you can see the artistic 11 feet tall spire of the temple above all others. This is the shrine which houses the much-revered idol of Lord Chandraprabhu, along with statues of Lord Parsvnath and Lord Sheetalnath.
This temple is the site where most of Chandrababu's preaching sessions took place, and his eminent disciple, Nangang Kumar and fifteen million more Jain devotees attained enlightenment.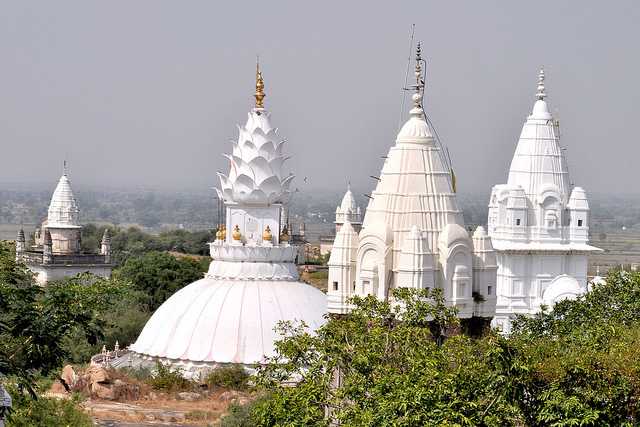 The spiritual significance of the Sonagiri Temple is reinstated by the 43 feet tall Manstambh, meaning the Column of Dignity. Because of such a rich history and frequent visits of ascetic saints, this temple is a very important destination of pilgrimage for the followers of Jainism. There is an air of silence, serenity and spirituality which sets the perfect ambience for regular meditation.
In the premises of many of these temples, you will find groups of parrots and an occasional pair peacock and peahen as well.
The one speciality of the temples of Sonagiri is that they are mostly stark white. You will find the walls of the temples covered in Om and Swastika symbols as well as other religious signs left behind by hundreds of thousands of devotees over the years.