Singrauli is rich with attractions for those with an interest in history and culture. From scouting in the labyrinthine Mada Caves and marvelling at the mysteries they harbour to paying heed to Hindu deities in the Jwalamukhi Temple or the Oudi Hanuman Temple, visiting these places will make anyone experience awe for India's plush ethos.
1. Mada Caves
Dating back to 5-7 AD, these caves -- named Ravana, Vivah, Ganesh, Jaljali, and Shankara -- mystify and enrapture one's imagination like few other sites in India. Stepping inside them, one can witness old, withering sculptures of gods and goddesses ranging from Lords Ganesha, Shiva, and Parvati. Masterfully carved out of mountains, these caves are deeply enshrouded in legend. One popular story claims that the Vivah cave is the historical sight of Lord Ram and Sita's wedding. To reach the caves, one should make use of the frequent bus service from Waidhan to complete a 32 kms long bus ride. Taking a cab to the caves is also a readily available option.
2. Bhimbetka Rock Shelters
These 30,000 years old rock shelters are a UNESCO world heritage site. There are multiple engravings on these rocks: one among them is thought to depict a scene of hunting while another shows a drawing of a snake, a deer, a human, and the sun. These rock paintings help one appreciate prehistoric humans? sense of art and comprise an unforgettable sight.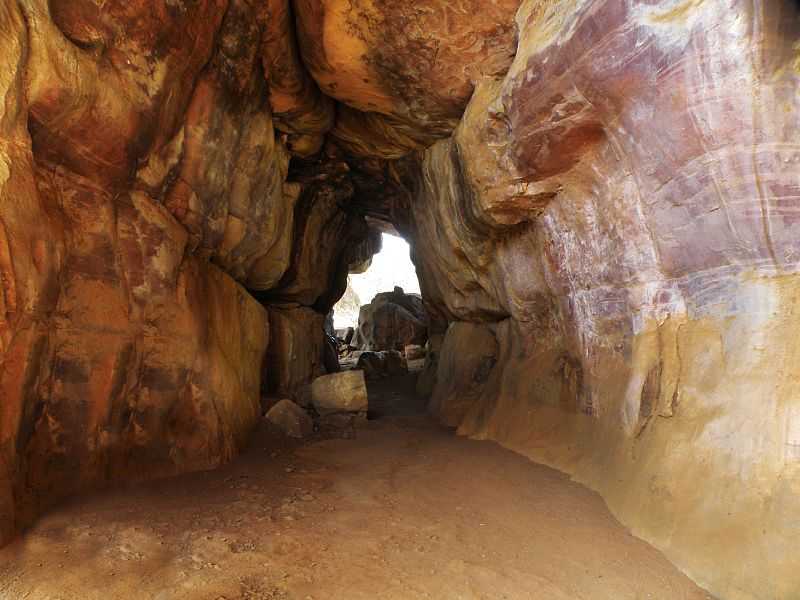 3. Jwalamukhi Temple
One of the oldest temples in Singrauli, this is a shrine to the goddess Jwalamukhi. Her devotees believe that paying a visit to her results in the fulfillment of their wishes. The temple is known to host Ram Navami celebrations annually. It's located in Shaktinagar and maintained by NTPC.
4. Oudi Hanuman Temple
This holy place is dedicated to the worship of Lord Hanuman. It is run and maintained by Northern Coalfields Ltd. Devotees are known to visit especially during the period of Diwali celebrations. A curious feature of the temple is that it is situated right at the border of UP and MP, so that one can step on the soils of both states at certain points in the temple.