1. Ranjit Vilas Palace
Ranjit Vilas Palace is a beautiful monument which is an amalgamation of Victorian, Mughal, Gothic and Dutch style of architecture. The palace sprawls over 225 acres of land and has a watchtower atop a hill which offers a 360 degree bird's eye view of the township below. It has an entire section dedicated to exhibiting antiques like swords, daggers, shields, stuffed animals etc. In addition to this, it also has a guest- house which is open for guests to stay the night and enjoy royal hospitality.
2. Wankaner Palace
Built in the 20th century by the Maharaja of Wankaner- H.H. Amarsinhji, Wankaner Palace is a gorgeous historical monument which was the residence of the rulers of Wankaner. The palace boasts of intricate architecture with decorative doors, frescos, antique furniture, carved windows etc.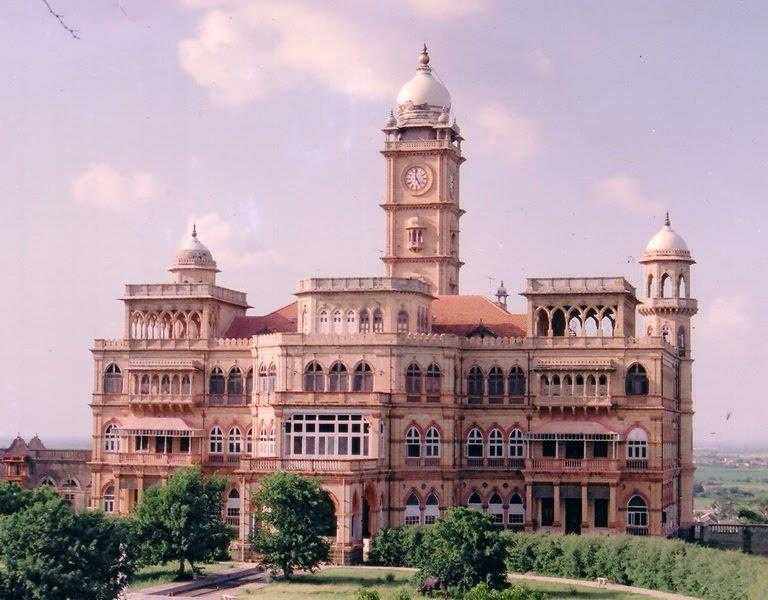 3. Hazrat Shah Bava Dargah Sharif
Hazrat Shah Bava Dargah is the shrine dedicated to Shahbava who was one of the founders of Wankaner. The shrine is an important place of worship and is visited by pilgrims and devotees from all religions and faiths.
4. Nagabava Temple
Nagabava Temple is enshrined by Nagabava who was another one of the founders of the town of Wankaner, some 500 years ago. The temple is visited by devotees and tourists alike owing to the striking architecture.
5. Machhu Dam
Machhu Dam is built on the river Machhu to provide water for irrigation and drinking purposes to the city folks. The spot has lately emerged to be a popular tourist spot owing to the natural beauty and setting. People often visit here for day picnics.
6. Mitticool
Mitticool is another popular attraction in Wankaner that displays clay products like water coolers, refrigerators, cookers etc. The initiative was started by a potter named Mansukh Prajapati and now is renowned worldwide for its products. It has also been facilitated on several national and international platforms.
7. Royal Oasis
Royal Oasis was originally the summer resort for the ruling families of Wankaner that boasts of European style of architecture. It has been now turned into a heritage hotel and offer world-class facilities and services to its guests.