The Chandratal
Baralacha
Trek is a fun and adventure filled experience amidst one of the most picturesque views of the spell bounding mountains and majestic blue waters. The trek goes through vast landscapes, rocky mountain passes and lush green meadows while overlooking the turquoise blue waters of the lake; and the adventure is multiplied with occasional sightings of exotic wildlife that is endemic to the region! All these factors undoubtedly make it one of the best treks in the entire region.
The Chandratal Lake trek goes through a scenic route with a panoramic view of the Lahaul range with snow clad peaks of Minar, Talagiri, Tara Pahar and Mulkila, all of which are over 6000 meters high in the sky. The trek eventually takes you to the point that is 5000 meters up in the air. What a thrill! It does not require you to be a pro at it, and the difficulty level is quite moderate. However, high fitness levels and good stamina are a must when you're walking at such a high altitude. The only times the trek becomes a little challenging is during river crossings but that can be managed.
The trek to Chandratal Lake is organized June and October, both inclusive. However, it is best to avoid going in the monsoon as the water levels of the rivers and lake are unusually high which may create restrictions on your movements.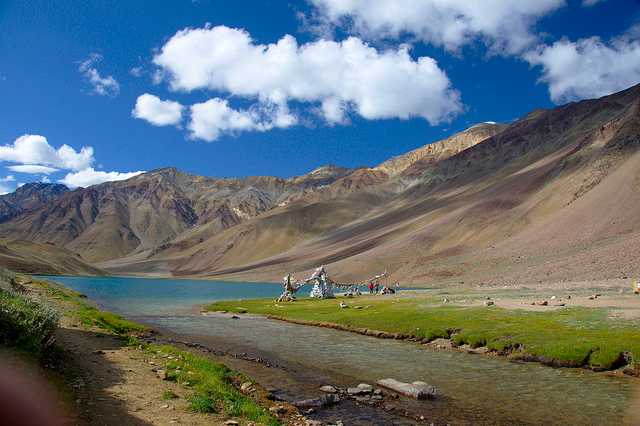 Things to carry on the trek
1. Snow and waterproof shoes with a good grip that allows you to walk on slippery surfaces and rocky landscapes.
2. A wooden stick or walking stick gives you support you during the trek and a good grip in the snow.
3. Jackets, thermal wear, sweaters, snow caps, gloves, heavy woollens.
4. Flashlight
5. Heavy woollen socks and 2 extra pairs, you don't want to keep on socks that may have become wet from the river crossing or the snow- it can lead to frostbites and contraction of hypothermia.
6. A small towel. Always make sure each part of your body is dry.
7. Water, snacks, medicines- your basic travel kit.