Suoi Tien Theme Park is comprised of two sections: the water park and the amusement park. The water park is built on the man-made Tien Dong Beach. You can't miss it – the beach is marked by the gigantic head of an old Vietnam king, the Hung King, whose mouth is the beginning of a large cascading waterfall. This leads down to soft sandbanks and multiple water-based rides. A lazy river worms around with little boats shaped like turtles for you to lounge on while slippery slides emerge from the mouths of Buddhist statues all around. If you'd prefer to lie back and relax, look no further than the seawater pool ideal for sunbathers. There's even a pool with the statue of a turtle in the middle, supporting the world.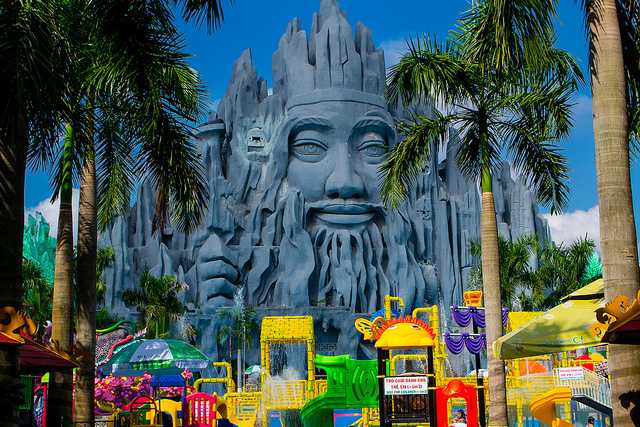 The theme park is full of dragon statues, brightly painted in hues of orange and blue, large gardens with welcoming grass to lie on, and tons of slides to keep you entertained. If you're someone who enjoys splashing about, this is certainly the place for you! Behind the water park, you'll find Suoi Tien Theme Park's aquatic animal attractions. They have dolphin and sea lion shows and a huge pool to let you swim with friendly dolphins. An aquarium and underwater world lets you watch these creatures in their natural state. There's also a crocodile farm that houses almost 1,200 crocodiles. You can buy some raw meat from nearby stalls, attach it to a fishing pole, and get a chance to feed these intimidating creatures. If you're feeling adventurous, you can try the 'air bicycles' where you pedal suspended above the crocodile farm.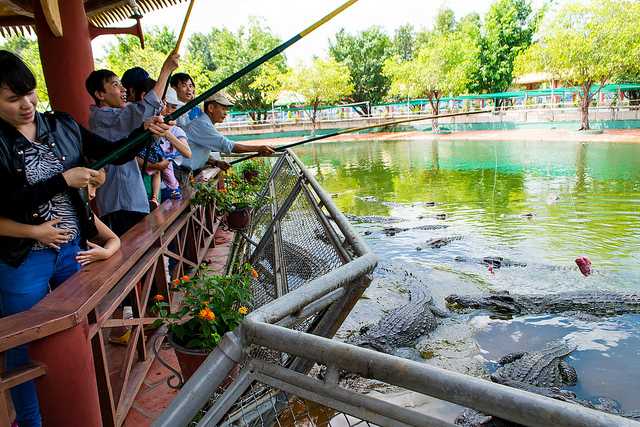 The Suoi Tien Amusement Park has a variety of rides. The most popular is the misleadingly named Unicorn Palace. Far from its joyful connotation, it's actually a walk-through tunnel intended to depict Buddhism's nine levels of Hell. Some of the gory installations inside include being boiled alive, ripped into pieces, and eaten by wild animals. Aside from the lights emanating from these installations, the tunnel is pitch dark. Every few minutes, you'll even get to hear distant screams of terror. Perhaps not a great ride for children, but the Unicorn Palace is hugely popular amongst locals. Another haunted house is Harry Potter-themed. Leading down a pitch dark tunnel, you'll get to witness plenty of JK Rowling's magical creatures leap out at you from the shadows, screaming intimidatingly. Even the universally-loved house elf, Dobby, is menacing here with glowing red eyes and a fierce growl.
Suoi Tien Theme Park includes a dinosaur garden, a roller coaster, a raging bull ride, a rock climbing wall, a Ferris wheel, a 4-D cinema, and even a little Snow World. Here, temperatures go down as low as -150 celsius while artificial snow, polar bear installations, and snowflakes is released routinely from a snow machine. Children will love it! Another child friendly space is the "Kingdom of Childhood", a sandy beach with a large statue of Lac Long Quan facing Au Co Mountain, Huoung Khu Mountain, and Bong Lai Mountain;. and a fun paintball arena where guns, gear, and paint are provided.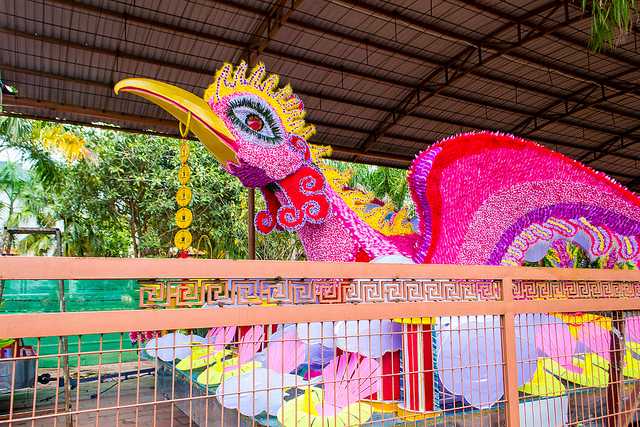 Interestingly, the park includes multiple temples as well. Far from being mere showpieces, they are fully functional Buddha temples where you can light incense and pray. There's even a 'Zodiac Park' that pays tribute to the 12 animals of the Chinese zodiac – rat, ox, tiger, rabbit, snake, horse, dragon, monkey, pig, dog and sheep. Every year, a large red arch is attached to the animal of the year. As 2019 is the Year of the Pig, the red arch will remain at the pig statue through the year. At over 100 hectares, Suoi Tien Theme Park offers a whole day's worth of entertainment. Admittedly, it isn't as large as amusement parks in other countries of the world but at Suoi Tien Theme Park, you're bound to enjoy everything in a colossal scale. The staff even dresses like golden monkeys on occasion to provide entertainment through tricks and performances.