The temple is known for its vertical excavation- the carvers started at the top of the original rock and excavated downward. Different from the architectural style prevalent in the Deccan region, the Kailasa temple is based on the Virupaksha Temple at Pattadakal and the Kailasa temple at Kanchi. The entrance has a low gopuram with Shaivaite deities on the left and Vaishnavaites deities on the right.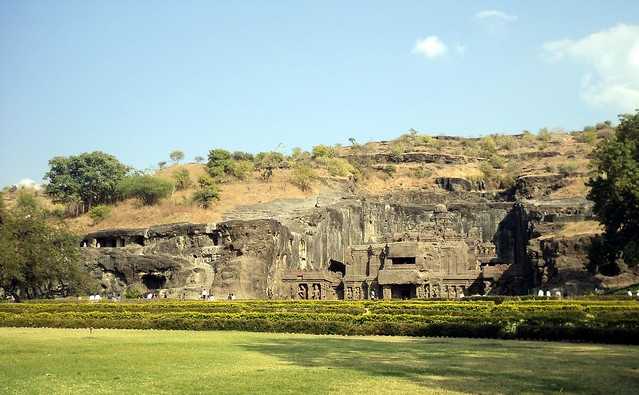 The U-shaped courtyard is edged by arcades carved with huge panels and alcoves containing enormous sculptures of a variety of deities. Famous among these are Shiva the ascetic, Shiva the dancer, Shiva being warned by Parvati about the demon Ravana, and river goddess. The central shrine has a flat-roofed mandapa resting on sixteen pillars and a Dravidian shikhara. It is dedicated to Shiva and features a temple with Nandi bull built on two storeys decorated with elaborate illustrative carvings.
The base of the temple hall features scenes from Mahabharata and Ramayana. The central shrine is carved with niches, plasters, windows as well as images of deities, mithunas and other figures. Three of the five detached shrines are dedicated to river goddesses Ganga, Yamuna and Saraswati. A notable sculpture is that of the Ravana attempting to lift Mount Kailasa.