Are you one huge party animal? Are you the one in constant search of places to party? Do you find yourself thinking about new and different ways to party? Well, worry not! We have you covered here. You may thank us later!
How about we tell you that there is a week-long party extravaganza, organised annually at a serene, virgin and an underrated destination in Eastern Europe! What's more? There is a twist here -the parties take place on the yachts! Sounds exciting?
Croatia
as a few of us might be aware is a small European country with an enviably long coastline along the Adriatic Sea. Owing to the long coast, there are islands, harbours and quaint towns aplenty!

If you are a hardcore party animal, the Yacht Week in Croatia is the place to be! There are around 30-35 yachts anchored at the harbour where you are also housed. This seven day long floating parties are every party lover's paradise! Sip your drink, watch movies, dance to your heart's content, chill with others, the to-do list is quite endless!
What Is Yacht Week?
The Yacht Week is a famous seven-day festival hosted every year in six different locations with Croatia being one. In brief, the festival is nothing less than a full-fledged water adventure. It includes a vast selection of activities organized by The Yacht Week. One of the rules of the Yacht Week is to have an equal number of participants; both male and female, who have earned their way into the yacht. The occurrences at Yacht Week remain a mystery as one would get on board having absolutely no idea as to how the next seven days would be; besides the standard understanding of the festival. This limited knowledge regarding the itinerary and schedules is what makes the festival all the more exciting.
Where to Book for Yacht Week in Croatia
Start with trying to gather your like-minded friends around and book a boat or if you intend to go solo, make sure to book a cabin for yourself on one of the yachts, early on!
Make sure to book from their official website (www.theyachtweek.com). The boats per route are limited, so book in advance!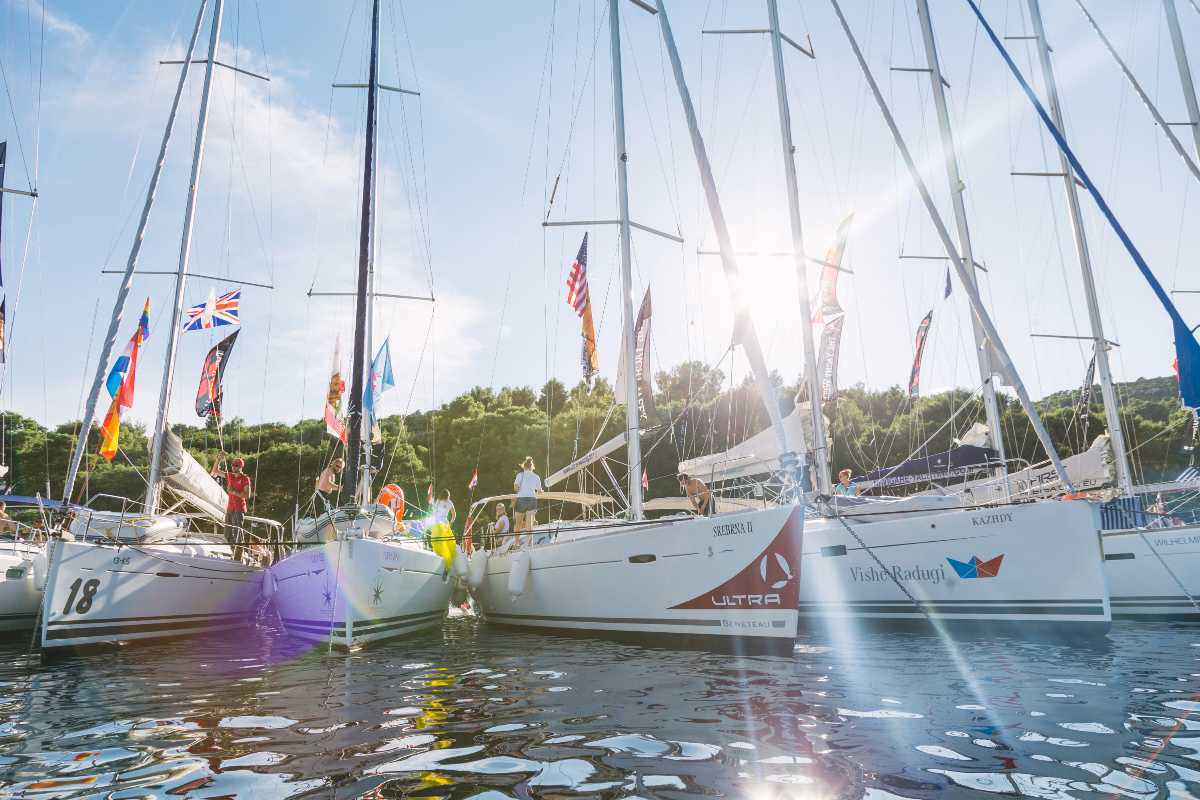 Yacht Week Routes
You heard it right! There is not 1, but six different routes and itineraries to select from! Here's a quick list:
1. Croatia (The original route)
2.
Italy
(Sicily route)
3.
Greece
(Athens route)
4. Croatia (Ultra festival route)
5. Montenegro (The Adriatic route)
6. Caribbean (British Virgin Islands route)
7. Grenada (The Grenadines route)
Every destination is unique in its way and has different offerings regarding party levels, local exploration and culture. All sorts of travellers are welcome here, so there are slabs to choose from-Fast paced, mid-paced and easy/slow-paced! Both the routes of Croatia - the original & ultra-festival come under the fast-paced category. The festivities go on throughout the day, and you can enjoy non-stop activities and have the time of your lives!
Dates Of Yacht Week in Croatia

We know we've got your full attention! So what about the dates?
There is no one fixed week for the festival. Instead, the grand festivities take place over a span of 4 months starting from June onwards and lasting until September! June to September is an ideal time to visit Croatia given the pleasant summer climate! You can pick a week based on your convenience and proceed with the bookings!
What is a Typical Day at the Yacht Week in Croatia like?

A perfect way to unwind, relax and let your hair down, you need not have a hardcore schedule, and the itinerary is just what you need to have fun and chill at the same time, ensuring that you have a memorable experience at the party! But to give you a rough idea, a typical day would be something like:
9:00 - 11:00 AM:
Wake up, get ready and have breakfast (on the boat)
11:00 AM -12:00 PM:
Sail!
12:00 - 2:00 PM:
Lunchtime already! The yacht will be anchored at one of the beautiful bays for a couple of hours, leaving you with enough time to swim, eat and chill.
2:00 - 4:00 PM:
A relaxed time is given to all the patrons to enjoy the scenery while you sail to your next destination port! Sip a cocktail as you enjoy the sun on the deck.
4:00 - 6:00 PM:
Reach the next destination. Disembark and probably take a stroll ashore. Freshen up and get ready for a long evening ahead!
6:00 - 8:00 PM:
Dinner time at a local restaurant
8:00 - 11:00 PM:
It's party time!!!! Drink, dance, interact with other guests and let your hair down! Isn't this why you decided to come to the festival in the first place?
10:00 - 12:00 AM:
There is something new and different lined up for each of the nights while you are there! Head to that day's planned activity/party
Somewhere between 2:00 - 4:00 AM:
Well, head off to get some sleep and rest before you wake up all charged up to face the next day!
Yacht Week in Croatia Prices and Categories


As they say, good things don't come easy and if you're wondering what would the cost of the trip be like, let us give you a brief idea.
The overall cost of the Yacht week in Croatia depends on aspects of your destination, itinerary, the group size and the kind of yacht you would like to charter! You either have an option to book a full yacht (can accommodate a group size of 6-12 people) or a cabin (for two people) on one of the yachts.
The former has three categories to choose from; the rates are per person - Standard (starts at $ 550), Premium (starting $ 752) and Premium Plus ($ 777 onwards). The prices for renting a cabin would range from $ 650 to $ 995 per person, depending on the package inclusions.
However, be prepared to shell out additional money on the airfare, airport transfers and other exclusions. Do read everything clearly before booking!
Good experiences don't come cheap, right?
Hiring a skipper
Skippers are yacht professionals certified on the sport. They maintain the safety and security of the audience and ensure their excitement meets the perfect experience. These licensed sailors who would be onboard with the crew, also teach those who are willing to learn the art of yachting.
Skipper hiring is an easy process; it would require a couple of online methods. But what is difficult is pinning down the right skipper for you, regarding experience, certification and hospitality. Here are some of the websites through which you could get in touch with your personal skipper:
1. Croatia Yacht Club
2. Instant sailing
3. Global sailor
4. Ultra sailing
5. Sea travel
Well, we have pretty much summed up what to expect at the Yacht week in Croatia. The heart and soul of the tour will be 'partying'. So don't expect that you would get to see the local spots and experience the culture much. But yes, parties like this are one of its kinds and nothing less than a rage. If it's still not on your bucket list, it's time to put it on top priority! Ideal to plan a bachelors/bachelorette party and head here.
This is a guaranteed way of having fun, meeting people from across the world, making memories and making your friends jealous of you for years to come! Come, join the revelry!