Marrakech is a lively city teeming with noisy, colourful, and vibrant activities. One could spend days wandering and exploring the souks, its many markets. They are stocked with everything from food and beverages to jewellery, silver, gold, rugs, leather, art, clothing, and keepsakes. These souks are a real highlight of Marrakech, and while everyone will get lost in a souk at some point, people tend to grow to love them! In olden times, traders used to make their way to the Medina of Marrakech through the many ancient gates that you can find to this day in the city to sell their wares. With time, these markets grew bigger and bigger into the numerous souks that exist today. You could spend hours walking, wandering, shopping, bargaining, eating, drinking, and meeting locals. In this article, you will find all the necessary information about all the souks and all the goodies you can find in these markets.
Timing and Location
The souks of Marrakech are located north of Jemaa el Fna Square, and the main square has three entrances. The souks are a vibrant and fragrant labyrinth, stretching as far as the Musee de Marrakech and are open from 9:00 AM until 9:00 PM. The best time to visit the souks is in the morning or when the weather is cool.
Souks of Marrakech
1. Souk Semmarine

The souks' main attraction and the one that receives the most visitors is Souk Semmarine. The location of this souk is in a large, covered alleyway. There are pottery stalls at the entrance. The traditional clay cooking pots known as tagines, which are lovely and excellent souvenirs, can be found here. Moving on, you'll find stunning pashminas, caftans, carpets, pricey antique furniture, jewellery, and keepsakes. Souk Semmarine turns into two other souks, Souk Nejjarine and Souk El-Kebir, and all the smaller individual souks run off of this main artery formed by these three souks, essentially a long street covered by an iron trellis.
2. Souk Ableuh

The first souk you'll come across if you're coming from Jemaa el Fna is the modest, atmospheric Souk Ableuh. You'll go by a line of shops that are known for their lemons, chillies, pickles, and, most notably, piles of delicious green, red, and black olives. This souk is famous for the olives that it sells. It is the best place for you to purchase them.
3. Souk Smata

Souk Smata is the shoe souk to visit if you want to be tempted by some lovely shoes. It has a wide selection of brightly coloured babouches (Moroccan slippers made of soft leather). While some are exquisitely embellished with intricate embroidery and sequins, others are simply plain in every colour imaginable. For outdoor use, babouches with sturdy soles are available, as are ones for men in a simple design.
4. Souk Nejjarine

The word nejjarine means "carpenter," and fine woodworking is on display not only at the Nejjarine Souk but at the nearby Nejjarine Museum, a showcase of delicate carpentry in its own right. The souk sells ornately carved chairs and wooden objects as well as furniture. Travellers come here to see the museum, the gorgeous 18th-century fountain, and the shops.
5. Rahba Kedima

Rahba Kedima is a small square with shops that sell woven baskets and Berber hats (straw in the summer and vibrant rough woollen caps in the winter). The apothecary shops, also known as Berber chemists, that surround Rahba Kedima's southwest entrance are the area's most intriguing feature. You can find truly strange items that look as if they just hopped out of the Harry Potter universe, like aphrodisiac roots and tablets, cochineal, dried petals, sun-bleached driftwood, dried lizards, scorpions, alligators, iguana skins, leeches, fragments of beaks, talons, and other items and substances.
6. Souk Kchacha

This is the souk of dry fruits. You can purchase a variety of delectable dried fruits and nuts in the Souk Kchacha, including almonds, apricots, cashews, dates, figs, olives, and walnuts.
7. Souk Larzal

This is a relatively small souk which serves as a wool market in the morning and a second-hand clothing bazaar in the afternoon.
8. Souk Btana

The scented Souk Btana, also known as the skinner's souk, is home to stalls packed full of leather hides that will eventually be made into the purses and belts you see hanging about in the different souks. The hides come from camels, goats, cows, and sheep. Freshly dyed leather hides can be seen left outside in the morning to dry in the sun.
9. Souk Cherratin and Souk El Kebir

All the leather artisans can be found working in these two souks, which the locals refer to as "Ta'ala." The main source of leather artisans, cobblers, and their products is the Souk Cherratin. The leather is lovely and soft and comes in a variety of hues. It is stuffed with tiny shops brimming with stylish footwear, handbags, belts, wallets, and purses in a variety of shapes and sizes.
10. Kissarias

The Kissarias, a bundle of lit and covered galleries that make up the core of Marrakech's souks, is located right next to Souk el Kebir. You can find a wide variety of exquisite blankets, shoes, plain and patterned textiles, and fabrics here. There are many little shops here that are worth visiting and exploring.
11. Souk Zrabia

Rugs and carpets are the main focus of the vibrant little Souk Zrabia. You could easily spend the majority of a day admiring the carpets' vivid, geometric designs if you have the time. It's hard to imagine that this rollicking location was ever the scene for anything outrageous, but prior to the French occupation in 1912, this was where Marrakech's slave auctions took place!
12. Souk des Teinturiers or Souk Sebbaghine

You can tell you are in the dyers' souk by the countless skeins of wool and silk threads hanging up above your head in every colour imaginable. It is one of the most popular and beautiful souks in Marrakech. In the past, wool and silk were naturally dyed in this region to create a range of colours, such as saffron yellows, indigo blues, vivid reds, and others. On clotheslines, freshly painted wool skeins and other materials are hung to dry in the sun and warm air. If you want to visit, it is just southwest of the main souk area.
13. Souk des Bijoutiers

The jewellery souk, which is immediately to the right of Souk el Kebir, is where you can find gold and silver for a wonderful price. Make sure that any jewellery crafted and purchased here comes with an appropriate authenticity certification. If you're searching for vibrant and reasonably priced jewellery, you can find some intriguing Berber designs and tribal adornments in Souk Siyyaghin, which is on the outskirts of the market centre. Amber, turquoise, jade, ivory, and wood are all used to embellish traditional Berber jewellery.
14. Souk des Chaudronniers

The Souk des Chaudronniers in Marrakech is undoubtedly the noisiest souk. The constant hammering on metal emanating from the Metal Workers' Souk is a sure sign of arriving in Soul des Chaudronniers. Numerous items of daily household usage are forged and hammered from bronze and copper here; spoons, pots, pans, bowls, mugs, and a variety of other shapes.
15. Souk Kimakhnine

The melodic Souk Kimakhnine is known for producing traditional Maghrebi musical instruments such as rababs (fiddles), ouds (lutes), qanuns (zithers), darbukas (metal or clay goblet drums), watars (a sort of acoustic guitar), and taarijas (tambourines). It is a must-visit for music enthusiasts and one of the nicest souks to go to if you have children with you, as the owners may let them try out the instruments.
16. Souk Harrarine

The silk market was formerly housed in this souk, which gives it its name. Today, it houses a variety of elaborate lighting fixtures in geometric shapes.
17. Souk Haddadine

One of the most magical locations in the medina is the blacksmiths' souk. The entire souk has a fairy-tale feel to it because of the abundance of elaborate lanterns that look like they came out of Aladdin hung throughout almost every shop. The continuous pounding of hammers in Souk Haddadine rivals the Souk des Chaudronniers in noise, and as you walk past the furnaces, you can feel intense waves of heat. You can watch the workers work tirelessly to forge wrought iron into a variety of commonplace goods like coat hangers, lanterns, wrought-iron grilles, locks, and keys.
18. Souk Chouari

Souk Chouari, one of the less frequented souks, is where woodworking and basketry are done. The name Chouari comes from the twin pannier palm fibre basket carried by donkeys. Modern shapes and decorative themes are crafted here by highly trained cabinet builders using all of their expertise and ingenuity. Freshly cut pine is shaped into a variety of objects, including chess boards, jewellery boxes, coffee tables, polished animal sculptures, and salad bowls.
19. Souk el Attarine

Souk El Attarine was historically known for being a spice and perfume souk. Most of the merchants there now sell silver teapots, brass lanterns, and an abundance of other metal goods. Even so, there are still a few spice and perfume vendors there, and the air is still aromatic with the scent of spices and fragrances. The way these vibrant spices are arranged in pyramid-shaped mounds offers a fantastic opportunity for taking more beautiful photos in Marrakech.
What to Buy from Souks in Marrakech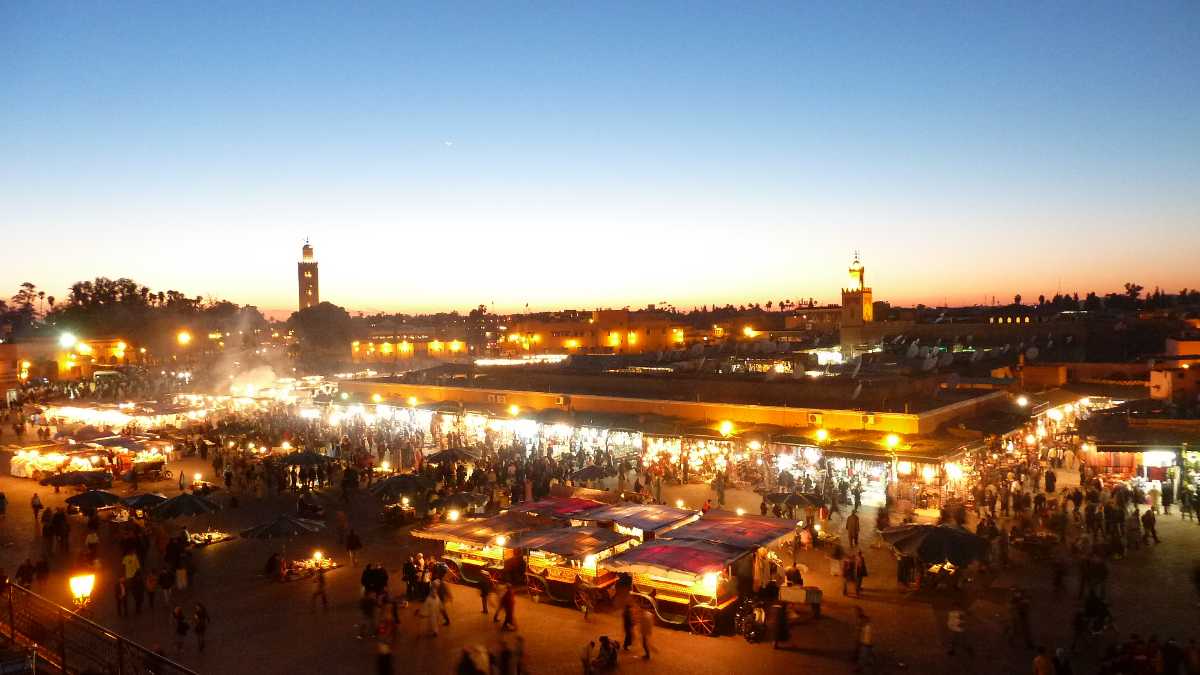 In Marrakech's many souks, you can purchase a wide variety of goods, although some are more popular than others and make wonderful gifts and keepsakes. Here is a list of souk items along with an estimate of their market price. Pricing is in Moroccan Dirhams (MAD). Keep in mind that in the end, a lot will depend on how well you can bargain.
1. Babouches: One of the best things to buy in Marrakech are these well-known handmade leather slippers, which come in a wide range of colours. Just be sure to buy genuine leather babouches rather than polyester ones. For outdoor ones, plan to spend around 90 MAD, and for embroidered ones, 150 MAD.
2. Scarves: These indigo-dyed cotton products are frequently imported from India and are pretty reasonably priced. The price of scarves is 50–100 MAD.
3. Lanterns: Lanterns are a popular item to buy in Marrakech's souks and make wonderful accents for any home. Small aluminium lanterns cost between 100 and 250 MAD, while higher-end brass lanterns cost between 500 and 1500 MAD.
4. Ceramics: Decorative bowls and plates, mostly from Fez and Safi, range in price from 40 MAD (a small bowl or plate) to 300 MAD (a large plate or bowl).
5. Rugs and Carpets: Marrakech is an excellent spot to get Berber rugs and carpets. Carpets measuring 3 x 4 metres normally cost between 1500 and 3500 MAD, although more elaborate carpets from places like Tazenakht, Taliouin, and Rabat can sell for up to four times as much. Carpet vendors are renowned for being the plushiest and devious of all the souk vendors.
6. Pouffes: Prices for these simple, leather-cushioned footstools run from 150 to 200 MAD, while more elaborate designs cost 300 to 350 MAD.
7. Argan Oil: This Moroccan-native plant oil is used in cooking and as a cure-all for various physical ills. It is famous for its anti-ageing and moisturising qualities. Argan oil is commonly available in the souks of Marrakech, but to ensure you acquire high-quality products, get it from a trustworthy vendor. A small bottle of Argan cooking oil (150 ml) can cost up to 150 MAD, while a small bottle of Argan cosmetic oil (150 ml) can cost up to 220 MAD.
8. Leather Goods: Due to their strength and high quality, Moroccan leather goods are highly sought-after commodities. They are created from the skins of sheep, goats, cows, and camels. According to the material, you can find leather in a range of qualities. Medium-sized leather bags can cost you between 250 and 500 MAD, while leather jackets can cost you between 700 and 2000 MAD.
9. Teapots: A necessary piece of equipment for preparing Moroccan mint tea is the squat teapot with a tapering snout made of stainless steel or silver. Prices for teapots range from 150 to 300 MAD, depending on size.
10. Tajines: A tagine pot is a great item to buy in the souks of Marrakech if you have fallen in love with Moroccan cuisine and want to recreate the flavours at home. However, keep in mind that transporting them can be difficult due to their weight. Depending on size and quality, prices range from 25 to 250 MAD.
11. Olives: The Moroccan souks are famous for the range of olives that are available here. A big tub of olives can cost you around 30 to 50 MAD, and a small tub around 10 to 20 MAD.
Bargaining in the Souks of Marrakech
In Marrakech, haggling is not so much a custom as it is a duty. It is an integral part of the local culture. Many souk stores have no pricing posted because the owners feel it is only right for customers to haggle over the cost of the goods. Your ability to bargain will ultimately determine the prices you pay in the souks. You'll either love haggling as a tourist or hate it.
When you express interest in purchasing something, the shopkeeper will quote an outrageously high price that has nothing to do with the actual cost of the item in question and is only intended to gauge how open you are to making a counteroffer.
You must have a general idea of the approximate cost of the item you want to buy in order to haggle successfully. Decide on a maximum price as well, beyond which you will not buy the item.
Start your first offer at roughly one-fourth of the amount that has been quoted, then move up. The goal is to negotiate a price that benefits both the buyer and the seller.
This negotiation exercise has no set rules that must be followed. It's crucial to avoid using excessive force. Walk away if the vendor won't accept your desired price. This may motivate them to give you a better offer. Even if they don't, you can shop at lots of other stores.
Just keep in mind that it is impolite and poor etiquette to agree on a price, then change your mind and decline to buy.
The most crucial piece of advice for haggling in the souks of Marrakech is to refrain from asking the price unless you're absolutely ready to make a purchase. Asking for something's price in Morocco is the same as agreeing to buy it, and if you try to leave after asking for the price, the seller will do all in their power to close the deal. Avoid wasting your time by asking questions about products you aren't truly interested in because the sellers are incredibly convincing.
Essential Tips for Visiting Souks of Marrakech
Be Prepared To Get Lost:
It might be difficult, to say the least, to find your way through the maze of little streets that make up Marrakech's souks. The softly lighted serpentine walkways will make you totally lost no matter how good your sense of direction is. It is simple to become misdirected, and the stalls and streets can rapidly begin to seem the same. Being lost in the souks is part of the pleasure since you never know what might be around the next corner, so it's not always negative.
Get a Map:
Having a map or keeping your GPS on is the best way to avoid getting totally lost in the souks of Marrakech. Finding a map of the medina with a scale small enough to illustrate all the narrow lanes that run through the souks is difficult, though.
Keep in mind that the medina is surrounded by a wall when a map or GPS fails
; by walking straight in any direction, you should eventually reach the medina's wall. To help you get oriented, keep an eye out for the signposts pointing to the Jemaa el Fna or the tall minaret of the Koutoubia Mosque in the souks.
Directions:
Avoid asking strangers for directions because they might offer to take you and then demand payment. Instead, always seek help from local authorities, families with young children, or traders in the souks who are unable to quickly abandon their stalls.
Go on a guided tour:
It's well worth the money to take a guided souk tour to learn more about the Marrakech souks, walk the main streets, and meet some of the artisans. If you're pressed for time or want to see sights that you would miss on your own, a guided tour is a great option. There are numerous tours available, many of which involve stops at the artists' studios.
Watch out for fake guides:
There are a lot of "fake" guides operating in and around the souks who promise to direct tourists to the best stores and assist them in haggling for lower prices. In this scam, the tour guides direct you to stores that give them commission on any purchases you make (typically at their friend's or uncle's store), which will then, of course, be added to your bill.
Keep an eye out for forgeries:
Many counterfeit goods sold in Marrakech's souks for exorbitant prices are of questionable quality. The seller may try to convince you otherwise, but these products are clearly counterfeit. If you can't tell the difference between a genuine and a fake, pass on the item and save your money. If an offer seems too good to be true, proceed with due care!
Be cautious when interacting with henna tattoo artists in souks
. A typical con involves a woman grabbing your hand and beginning to make a simple design without your permission. She will then attempt to persuade you to purchase a larger design and demand payment for an extra service. Avoiding the henna artisans entirely is advised because they are extremely pushy.
Take a break:
Wandering around the souks while being hassled by peddlers can get tiring.In the souks, there is strong competition among the vendors, but you must keep in mind that this is their source of income. You will never have the wonderful experience of the souks in Marrakech if you are too stiff. It's a good idea to take a break occasionally to maintain your energy and keep your head calm. Around the souks, there are a tonne of rooftop cafes and eateries where you can relax with a glass of cooling mint tea and observe the bustling atmosphere from a distance.
Take pictures responsibly:
Be mindful of your photographic choices as you wander through Marrakech's souks. Don't just randomly shove your phone or camera into people's faces and assume they'll be amused to have their photos taken, especially women. The majority of Moroccans dislike having their pictures taken and usually express this concern. Always get someone's permission before taking their picture, and be aware that some locals may demand payment in exchange for the perfect picture.
Keep a close eye on your possessions:
Once you enter the souks, be sure to keep a close eye on your wallet, camera, and other valuables because they are an obvious target for pickpockets. It is strongly advised to leave behind the usual tourist accessories like watches, jewellery, and belt wallets. Avoid withdrawing large sums of money in public places, and leave your passports in the hotel safe.
Keep your eyes and ears open;
the souks' numerous sights, sounds, and fragrances might be distracting. However, it's crucial to maintain concentration in order to be aware of the dangers posed by the numerous motorcycles, bicycles, carts, donkeys, and throngs of people.
Avoid trying to take everything all in at once;
while the souks' alluring sounds, aromas, and vibrant sights are appealing, they can become too much after a time. If you are visiting Marrakech for a few days, it is strongly suggested that you go to the souks several times to get the most out of them.