Marrakech is one of the main cities of Morocco and a tourist destination for international travellers. It is a safe city despite a few occurrences of petty crimes. The laws and enforcement may not be as strict or organized as the other countries in Europe or America. Still, general and comprehensive safety and order are practised here. One can sometimes find officers posted at important and crowded tourist destinations. However, visitors are often hassled by small-time thugs or pestering locals who want to make a quick buck by taking advantage of the ignorance of tourists.
How Safe is Marrakech to Visit?
Terrorism: There has been no major terror attack in Marrakech since 2011, when a bomb exploded tragically, killing 17 people. Though the people worldwide perceive Morocco and surrounding African and Middle Eastern countries are usually not adept at safety and security, the truth is far from so in Marrakech. Every year millions of tourists visit the city without major security concerns whatsoever. In 2019 3.02 million tourists visited Marrakech and returned safe and sound to their respective home destinations without any safety issues. In fact, Marrakech has been rated a low-risk city for travel by the International SOS. This means it is at the same risk as cities in North America and Europe.
Health Safety: Post-COVID, Marrakech opened tourism in February 2022. Entry is allowed only to fully vaccinated tourists, and a health form must also be filled out.
Warnings and Risks: Marrakech doesn't pose any major security threats. However, like many cities of the world, it is prone to petty crimes and hassles. Mugging, pickpocketing, hustling by sellers and crowds, scams etc., are common problems in the city. Thus, it is advisable to be aware of the risks and warnings while visiting Marrakech to ensure a smooth and satisfying travel experience.
Pickpocketing: Some of the areas in the city are perfect spots for pickpocketing and muggers. The narrow alleyways that can be a confusing maze for tourists are places where one may encounter petty crimes. The Marrakech medina, or the old city area, is particularly known for its winding lanes, street sellers, the bustle of crowds, donkey carts, motorcycles etc. Similarly, the Jemaa al Fnaa square is also crowded, and there are enough opportunities for pickpocketing in such a frenzy. Thus, it is important to be aware and cognizant of the surroundings and keep your personal belongings close and safe while visiting crowded areas.
Tips
Keep an eye on your belongings. Simple things, like wearing your backpack in front, can help.
Ensure that your valuables, documents, etc., are safe and locked in the hotel.
Avoid wearing precious items and, moreover, avoid flashing them in crowded areas in public.
If someone tries to distract you or divert your attention, make sure that you continue to keep an eye on your belongings.
Do not carry all your cash, especially while visiting the crowded markets or the medina area. If required, try wearing a money bag or belt that is not visible.
It is not only the young but even elders who might indulge in pickpocketing. Often, they also work as a team to confuse and distract the tourist. Be aware of all such scenarios and, under all circumstances, hold onto your wallet, bag and other valuables.
Mugging And Snatching in Marrakech

There are not too many incidents, but a few stray acts for sure, where tourists are mugged, or someone grabs off one's handbag and runs away. However, the risk is not too high, but a probability if you are in deserted areas.
Tips
Avoid travelling alone to quiet places. Also, avoid travelling alone at night.
Carry bags that are hard to snatch away.
Do not carry your passport and other documents, as well as all your valuables and cash, in the handbag.
Be careful while withdrawing money from ATMs. Try to choose an ATM that is not too obvious.
In the worst case, if you feel unsafe, immediately contact the police. There are also police usually stationed in and around popular tourist destinations to curb such petty crimes.
Try and get travel insurance as a safety net in case of any misdoings.
Transport Safety in Marrakech

Public transport, in general, is safe. However, be aware of pickpocketing in buses too. While availing private transport, such as taxis, it is common for the drivers to hike the prices. Make sure to do your homework well and know the prices and the route by using maps, etc.
Tips
Carry your hotel's business card to be sure of the directions and address.
Try and get private transport arranged through the hotel or trusted and approved travel operators.
Public transport can get a little overwhelming due to the heat and crowds.
Private taxis do hike up their prices with tourists. Taking a meter taxi or deciding on the fare beforehand is recommended.
Taxis are also found waiting outside bus stops. The drivers might inform you that the bus is full or not running at all. Usually, these are just false claims.
Guides And Sightseeing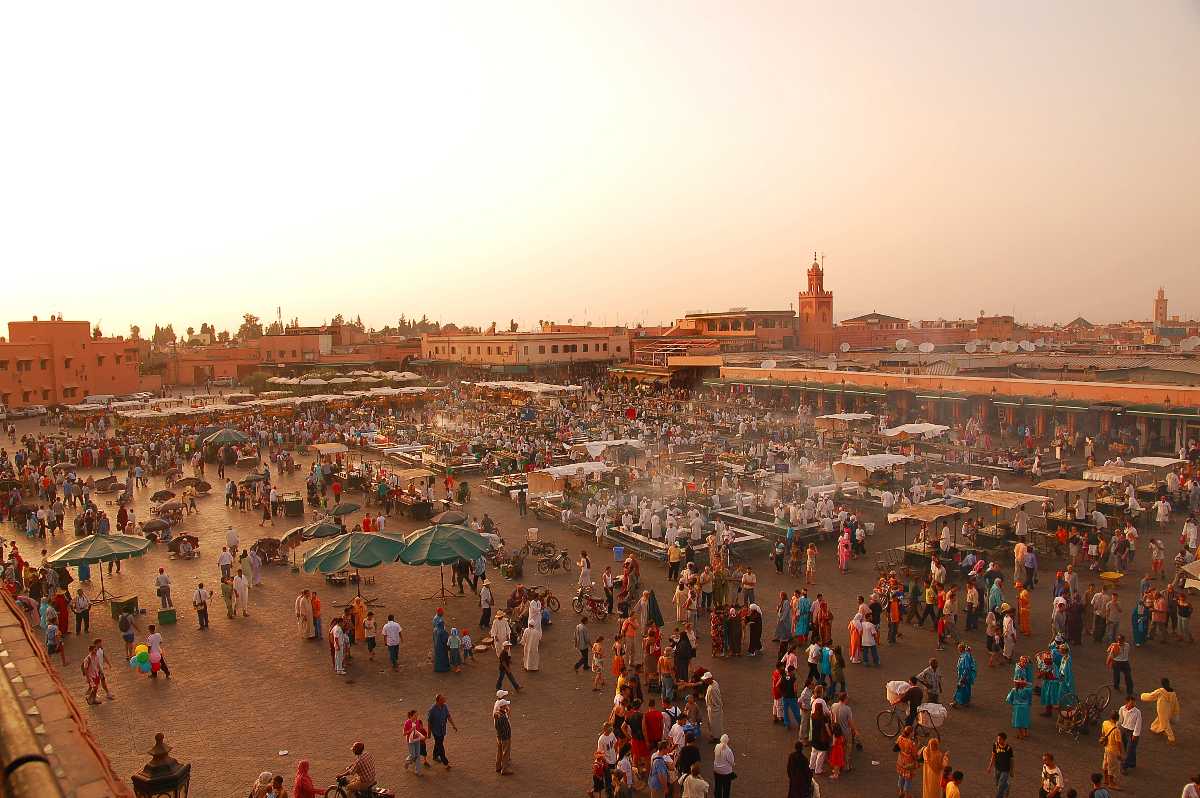 As a tourist, you would, of course, like to explore the destinations and also hire a guide to understand the history and culture of the city. However, getting in touch with authentic and approved tour operators is best. Also, guides might come up to you offering their services. Or young men are also seen lining the lanes offering to take tourists to landmark places or sometimes even suggesting that the attraction or road is closed. It is recommended to book the guides through trusted and approved tour operators by either visiting their offices or making online bookings.
Tips
Agree on the rates and price of the guide before hiring one.
Make sure you are comfortable with the language of communication.
Decide the meeting point and all the tourist destinations that the guide and tour operator would cover.
If booking the operator online, make sure to read the reviews and decide accordingly.
Local boys may continue to follow and pursue tourists to hire them as guides, especially in the Jemaa el Fnaa area. You can either avoid or respectfully decline their help. Sometimes they might take you to their shops instead and insist you buy from there. They might also get upset if you decline.
At times, strangely, someone might start walking right in front of you and, after a point, will demand that you pay him as he guides you through the way. Be aware of this and change course or move away when you spot someone casually and continuously walking in front of you for a distance.
Tanneries in Marrakech are quite a tourist attraction for their photogenic surroundings. However, one must be aware of the locals who try to guide the tourists in order to either misdirect them or charge higher rates.
Try not to look ignorant. Acts as if you know your way around and if required, enquire with a fellow tourist in case you are lost or confused.
Sometimes locals ask tourists to pay money for the photographs or videos that they click. There is no charge for clicking photos, for sure!
Shopping and Food Safety in Marrakech

Street shopping is quite an attraction in Marrakech. However, shopping, in general, is usually a hassle as there is a lot of haggling and constant pursuit by the sellers. Not essentially unsafe, but the shopping experience in the medina or other street shopping areas can be quite frustrating. There might be a lot of verbal heckling, following and bargaining too.
Tips
Say a polite but firm No to shoppers you do not want to buy from.
Sometimes sellers pursue and insist that they are selling some or the other items for free. But once you take the product from them, they ask for a tip. They are usually very persistent and will not let you off easily.
Haggling is extremely common. The sellers almost always start off with exorbitant prices.
Sellers use various tactics to persuade customers to buy from them. These include asking passers-by to smell or see the goods. Or passers-by are also offered tea and snacks. Once the visitor accepts or comes forward to smell or see the product closely, the seller is persistent and persuasive.
Vendors show the regular menu with prices at street food stalls, especially in the Jemaa el Fnaa. But once the tourist eats the food, they ask for an increased tourist price. Make sure to decide on the price for the food you eat or pay up first before eating.
Similarly, some juice sellers clandestinely add water to the fresh, pure juices at juice stalls. They also use tactics to block the view of the customer. Make sure to keep a watch on what's going on.
Social and Cultural Safety in Marrakech

The culture and society of Marrakech are a little different from American and European cultures. Therefore, one must be aware of the city's traditions and respect the understood social norms.
Tips
Public display of affection is not encouraged in Marrakech. It is best to keep a dignified distance and behaviour when in public.
Try to avoid travelling alone at night. This applies more to women travellers.
Both men and women should try to cover their legs and shoulders. Also, both should avoid showing too much flesh. This is also beneficial to avoid getting burned in the sun.
One must dress appropriately and respect the local customs, especially while visiting places of worship or during religious days.
Consuming alcohol in unlicensed or public places is prohibited. You can be arrested for the same.
Some shops explicitly attach notices saying that they do not allow their shops or themselves to be photographed. This must be respected.
Try to blend in with the local population, learn a few Arabic words and genuinely enjoy the local vibes.
Scams in Marrakech
The most common issue with travelling to Marrakech is that the lack and ignorance of local knowledge are causes for many big and small scams. The exploitation is either through asking for money, misdirecting tourists, hassling, pocketing, etc. Locals take advantage of tourists by often pretending to be well-wishers. However, their intention is to either make the tourist pay by enforcing themselves as guides or to sell their products and services by sometimes tricking or constant hassling.
Yet, it would be incorrect to say that Marrakech is unsafe for travel. Of course, tourists must be aware of a few miscreants and scams. However, there are also many locals who are very hospitable and helpful. The city is, in fact, a wonderful tourist destination. All that one needs to do is be well-read and conscious of some drawbacks and situations to ensure safe and enjoyable travels.