As the bus whizzes past lush green vineyards across the Tuscan countryside, I cannot help but marvel. Low-hanging clouds as if kissing the lopsided hills and vineyards scattered as far as my eyes can see. The whole scene looks ripped off an old, classic movie or maybe an Enid Blyton book. No intrusion. No human being in sight for miles at a stretch. Just the countryside, me, and, of course, a mellifluous song that only I can hear.

Fifteen minutes later, I reach a tiny Tuscan village, San Gimignano. It was love at first sight, with all certainty. Flowers mushrooming out of nowhere on both sides of the cobbled streets and idyllic houses with windows adorned with flowerbeds.
Quaint, wooden doors hidden behind ivy creepers and vintage letterboxes hung on brick walls. I am in a village straight out of a fairy tale. A scene where I can picture Rapunzel letting down her hair out of those dense ivy-covered windows.
An elusive fragrance envelopes me as I walk down the streets, not being able to keep my eyes on the road. The villas are inviting and the windows are wide open as if ready to hug.
As I begin exploring this medieval town, I choose to start with San Gimignano Street, flanked with huge stone towers akin to castles on both sides.
According to my Lonely Planet Guide, this ancient town was once an Etruscan village, home to affluent and powerful families, who flaunted their opulence by building tower houses taller than their neighbor's.
There were once 72 such towers nestled in the Tuscan hills. Today, there are 14 of these, standing tall overlooking the vineyards and the hills. San Gimignano showcases both the Roman as well as Gothic architecture in full glory. The brown tower houses with magnificent doors and arched windows bear testimony to this.
It starts raining as I walk through the city towards the Main square of the city, the Piazza Della Cisterna.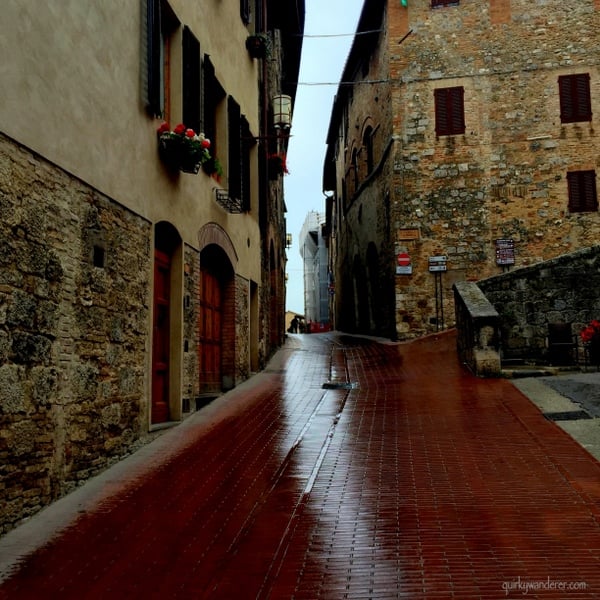 Taking shelter in a souvenir shop, I befriend Sara, who is happy to accompany me while I explore this fascinating town. While my mind is abuzz with several questions, I am particularly intrigued about an Italian's fascination for windows adorned with flowers. She says it's a welcoming gesture. No wonder clusters of flowers are found outside Pizzerias, cafes, and stores!
The streets are now washed with rain, and we venture out in the back alleys and lanes. San Gimignano makes for an ideal one-day excursion from Florence and is best explored on foot. How else can you explore the cobbled streets and narrow alleys? One such alley led me to a clearing, and the view was beyond picturesque.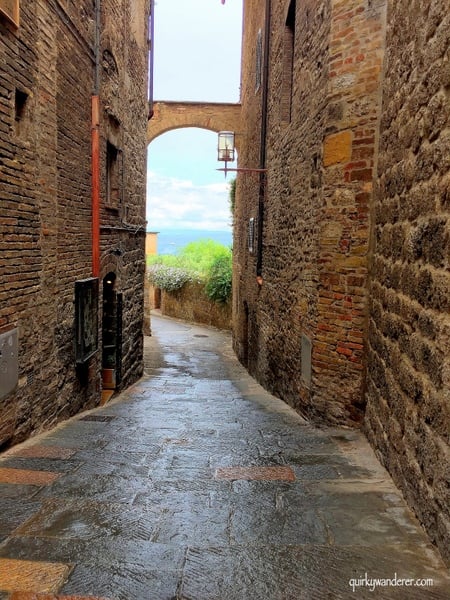 The Tuscan countryside is spread before my eyes like a picture postcard.
So what to do in San Gimignano apart from losing their way in the alluring alleys?
1. Shop on the Main Street
From chic footwear to fragrant handmade Toscana soaps, the street has a variety of souvenirs to carry back home. For wine lovers, there is the dry white Vernaccia wine, local to this region. The tower town is also known for its gorgeous ceramics. While it wasn't really possible to bring them back home, the crockery looked simply stellar! Sara tells me the town was also known for its saffron farming.
2. Dine under the Tuscan Sun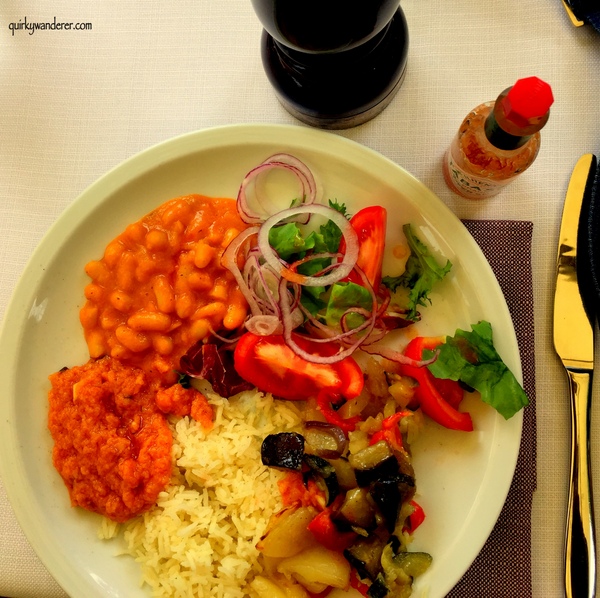 The freshness of a Tuscan meal, with all its aromas and flavors is something you would not forget in a jiffy. My vegetarian meal at the Ristorante Pizzeria included Pappa Pomodoro (A thick tomato soup), Fagioli Uccelleto (beans), and Verdure caponata (Roasted vegetables). This was served with lots of fresh salad, topped with eggless cake, and downed with a breathtaking view of the vineyards.
Could it be any better?
3. Museum San Gimignano 1300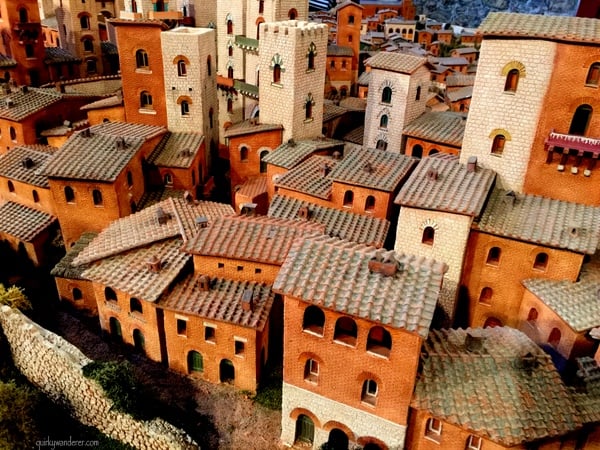 This museum showcases a brilliant ceramic representation of how the town looked in the medieval ages. It gives a bird's eye view of all the towers and an insight into the town planning in the Etruscan period. The lady at the desk is all excited about meeting an Indian and astonished when I tell her how popular Italian cuisine is back home.
4. Wine tasting and Exploring Vineyards
The San Gimignano Vernaccia Wine Museum, perched at the highest point of the town, shows the journey of wine-making in this region. You can see vineyards from the museum and sample local Vernaccian wine in the museum. Additionally the museum also conducts wine tastings and day visits to farms.
5. Indulge in an Innovative Gelato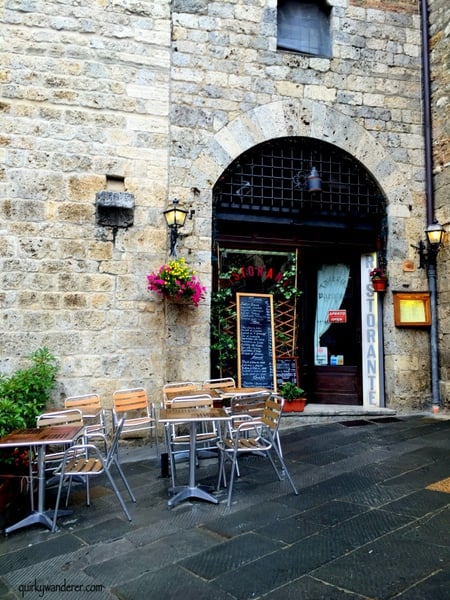 Visit the famous Gelateria Dondoli in the Piazza Del Cisterna to indulge in some innovative, homemade delights. Whipped by Sergio Dondoli, former gelato world champion, some of his exotic creations include Crema di Santa Fina (saffron and pine nuts), Dolceamaro ( aromatic herbs), Vernaccia Sorbet and Champelmo (Pink grapefruit).
6. The Cathedral and its Frescos
With beautiful frescoes, intricate paintings, and arty ceilings, the Collegiata Di Santa Maria Assunta or the Duomo di San Gimignano is more than just a religious place. Truly an art lover's delight, the Cathedral has biblical stories painted on its walls, which sadly cannot be captured as photography is prohibited.
7. Explore the Historic Center
This is where no cars are allowed, and hence, the sanctity of the town is maintained. Walk through the Piazzas amidst cafes and shops, throw a coin in the wishing well to make a wish, climb up the Bell tower for glorious views, and let the magic of this medieval town wash itself upon you. San Gimignano is soaked in intriguing history and gorgeous Gothic architecture, served with a dash of Tuscan sun and sprinkled with enchanting landscapes.
I toy with the idea of spending at least three months in one of these gorgeous villas, living the local Tuscan life. But as all fairy tales have happy endings, this one was no exception. The sights of the countryside are now imprinted in my mind, and the aromas of the Tuscan food are etched in my memory. Satiated, I close my eyes till my journey back to Florence, occasionally sniffing the handmade soaps, perfect souvenirs from the fairy tale town.