With long weekends around the corner, if you're anywhere near
Pune
, this is an essential list of resorts you could choose from. Life has become monotonous. People are always on the move, rushing to make better money, better living standards, striving to achieve the best. In this one short life, we do everything except for one thing called "Living"!
Here is a list of 14 Resorts near Pune for a weekend getaway:
1. Fort Jadhavgadh

Was history your favourite subject during school days? Want to feel like royalty this weekend? How about some fancy staying in a place which carries 300 years of a story? Book a weekend stay at Fort Jadhavgadh Hotel and Resort,
Maharashtra
's only heritage hotel! There are 58 rooms which include three suites that are called Maharaja Suite, Maharani Suite and Museum Suite. Jadhavgadh is a perfect blend of heritage and contemporary luxuries making your stay an ever-fresh memory. This place is perfect for a one night stay near Pune.

Distance
: About 22 kms from Pune
Address
: Hadapsar Saswad Road, Jadhavwadi, Pune, Maharashtra,
India
Highlights & Things to do
:
Don't forget to visit The Aai Museum, enjoy Ghazal nights and learn DaanPatta, Shivaji Martial Arts
Lose yourself in the pure bliss of extraordinary spa services offered here, which will leave you feeling like a king!
Try out fine dining with your loved ones at Chajja - an all-day dining area, Payatha -an ethnic foothill restaurant, Aangan -The Courtyard Café, Kund-the Poolside Bar
Book This Resort
2. The Corinthians Resort and Club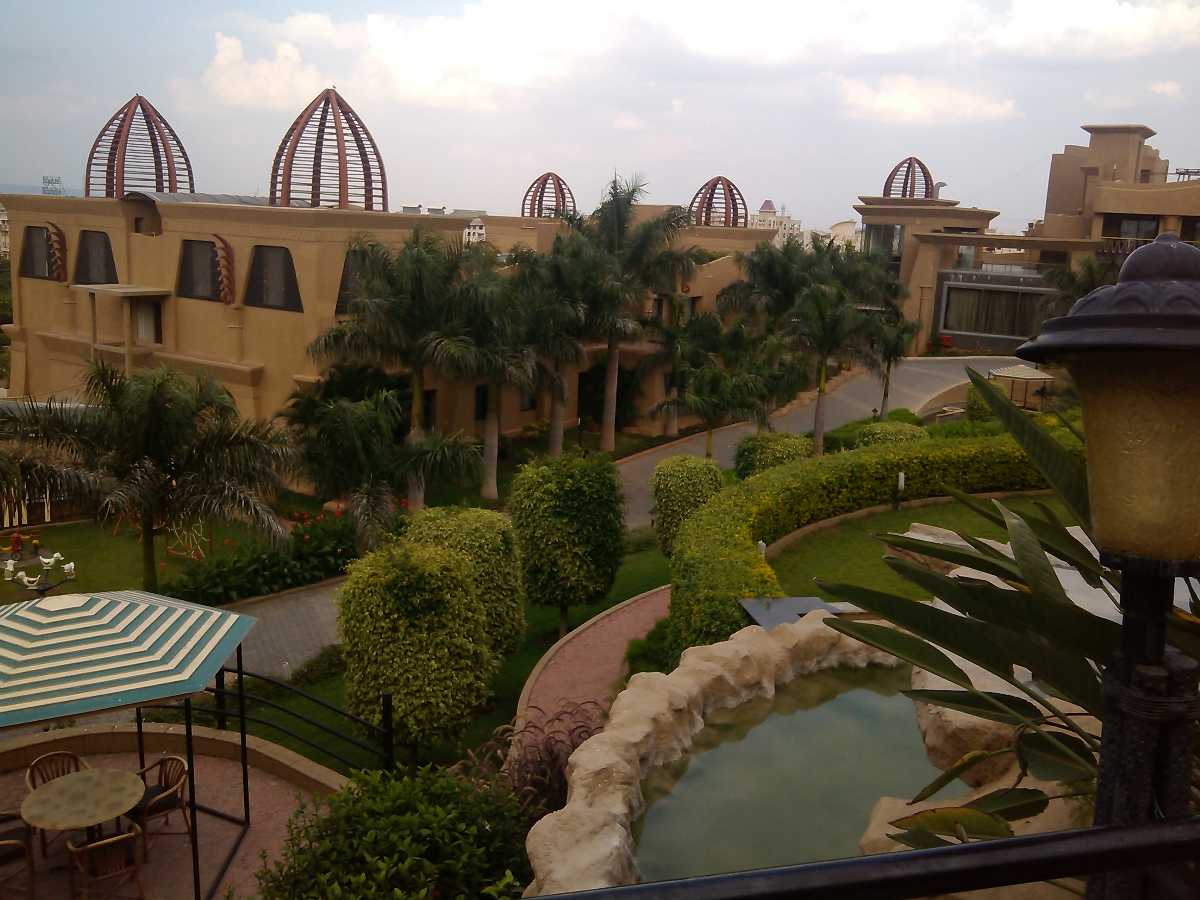 Enter the lush land of 25 acres this weekend. Located in the southern part of Pune, this resort is indeed a subtle blend of luxury and greenery. You can choose to laze around with your favourite book or indulge in various fun activities. The choice is indeed yours. Corinthians promises your weekend to be a truly memorable experience.
Distance
: Approx 12 kms from Pune
Address
: Nyati Estate Cement Rd, Nyati County, Undri, Pune, Maharashtra, India
Highlights & Things to do
:
Stay options: deluxe rooms, superior rooms, suite are available
You can also visit Pataleshwar cave temples, Bund Garden, Aga Khan Palace which is located nearby Corinthians
Meet your favourite books at Athena, the cosy library of Corinthians

Beat this summer heat with style this weekend! Casa Dios is one-of-a-kind luxury pool villa nestled in the beauty of
Khandala
valley. Casa Dios means "House of God" and is Zen-inspired. With its minimalistic contemporary décor, this resort near Pune indeed is a serene beauty. You will thank your self if you choose to stay at Casa Dios this weekend!
Distance
: Approx 70 kms from Pune
Address
: Plot 18, Divine Villas, Khandala, Kunegaon, Maharashtra, India
Highlights & Things to do
: There is a pool with a pool bar facility with all the rooms having a pool view.
Book This Resort
4. Picaddle Resorts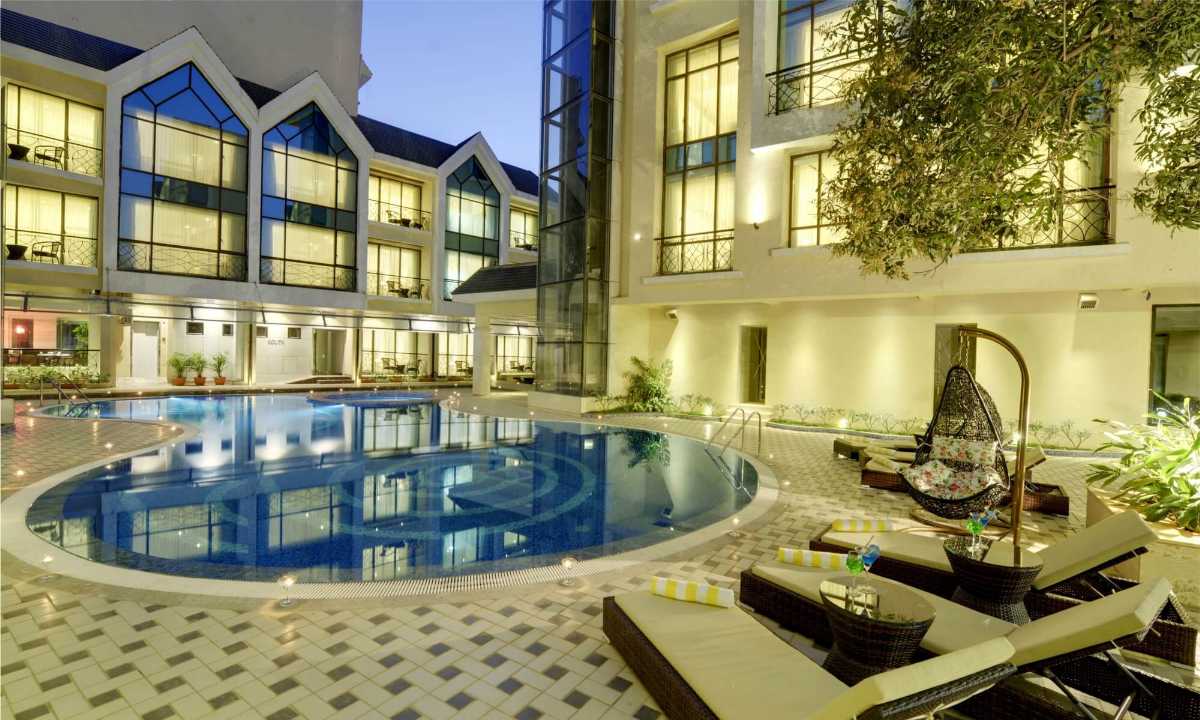 This 3 star Picaddle Resort is a part of Meritas hotels that has secured a firm spot on the list of best luxury hotels in
Lonavala
. This little hill station, Lonavala has a variety of scenic spots like
Bushi dam
,
Karla caves
,
Lohagarh Fort
,
Tiger's leap
to name a few. Grab a packet of local made famous chikkie and visit the place of your choice!
Distance
: Approx 67 kms from Pune
Address
: Plot No. 137 A, Opp, Old
Mumbai
- Pune Hwy, Khandala, Lonavala, Maharashtra, India
Highlights & Things to do:
Stay options: suite, executive rooms, deluxe rooms are available
Water park for young and young at heart
Veg multi-cuisine restaurant, lounge bar(veg and non-veg), coffee shop(veg and non-veg), veg fast food shops are available at your service
Book This Resort
5. Citrus Chambers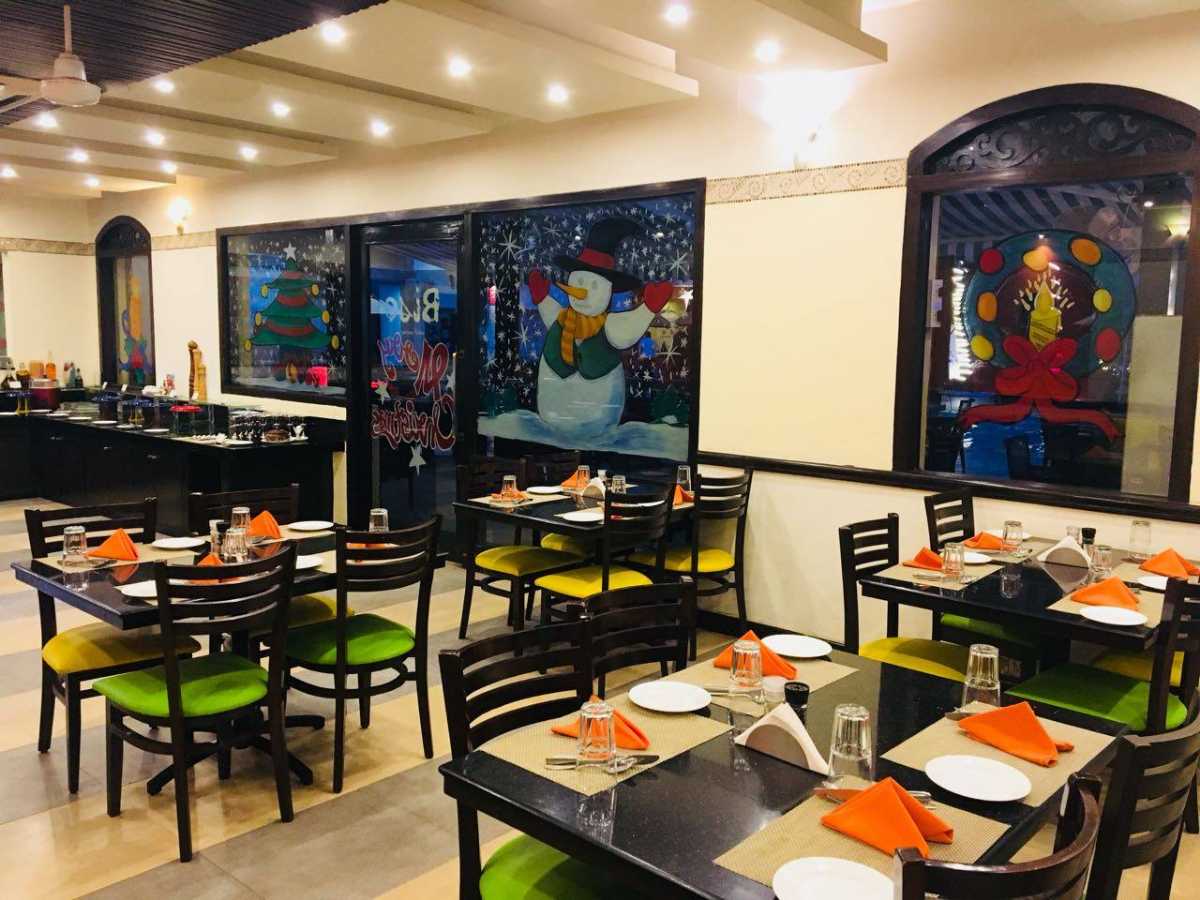 Enter citrus chambers to experience colonial architecture, standing elegantly amidst the lush greenery. The stay and experience will be as refreshing as its name, 'Citrus Chambers'.
Distance
: Approx 120 kms from Pune
Address
: L.C. Dsouza Road, near Aaram chowk,
Mahabaleshwar
, Maharashtra, India
Highlights & Things to do:
Stay option: superior rooms, deluxe rooms and suites are available
Biso- 24 hrs coffee shop paired with a multi-cuisine restaurant serving Mediterranean and local Indian cuisine
"Paradesi" world-class spa facilities. Book yourself an appointment and enjoy wellness & health!!
Visit Mahabaleshwar market
Book This Resort
6. Evershine Keys Resort


Evershine is a part of Keys hotels, located in Mahabaleshwar. If you want the best experience perfect getaway this weekend and wish to relieve yourself from the stress and strain of Monday to Friday routine, head to Evershine.
Distance
: Approx 120 kms from Pune
Address
: C.T.S No 182, Gautam Road, Mahabaleshwar, Maharashtra, India
Highlights & Things to do
:
Stay options: executive twin rooms, executive rooms and deluxe rooms are available
Do not miss the yummy pizzas offered here at "Le Pizzeria". Their pizzas have the power to shift you to Italy in a single bite!
Leave your stress behind, submit yourself to holistic hands and enter the land of wellness & health via Sohum [email protected] Evershine
Book This Resort
7. Ramsukh-Resort and Spa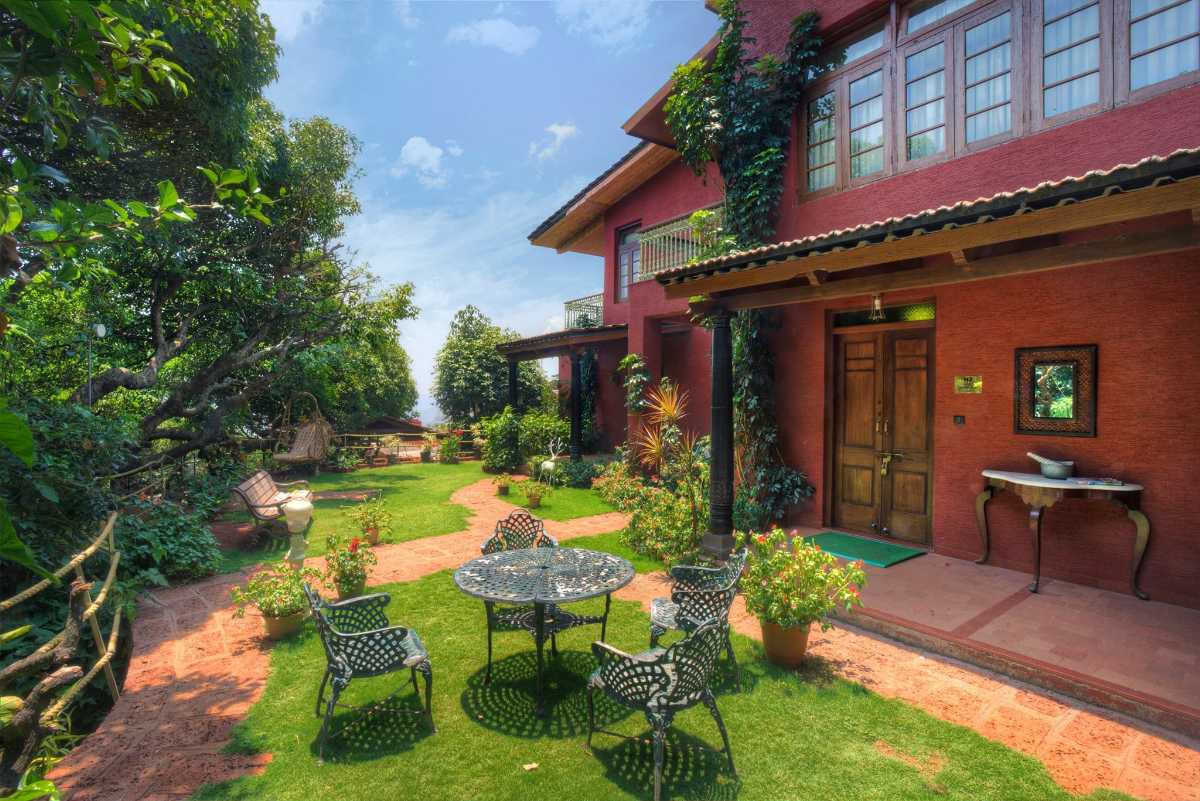 This is a luxury resort with a 4-star grade located in the highest point of Mahabaleshwar. This resort is quoted as a perfect synonym for 'comfy stay' by visitors. Give yourself a break this weekend at Ramsukh, a high end pure vegetarian resort. Ramsukh is an ultimate destination to relax, rejuvenate and refresh your mind and body, in a most holistic way!
Distance
: Approx 120 kms from Pune
Address
: Near
Mahabaleshwar Temple
, Kshetra Mahabaleshwar, Mahabaleshwar, Maharashtra, India
Highlights & Things to do
:
Stay options: solitaire rooms, heritage rooms are available
Kids play area, DJ floor, excellent inbuilt gym etc. are some of the offered facilities here.
Surrender yourself into the hands of expert spa masseur and therapists of KARE SPA's. KARE is one of the growing spa chains in India
Meditate in resonance with nature. A special naturally shaded area has been allocated for the same.
Different detox plans and health packages are available. you can avail the ones of your choice
Book This Resort
8. Durshet Forest Lodge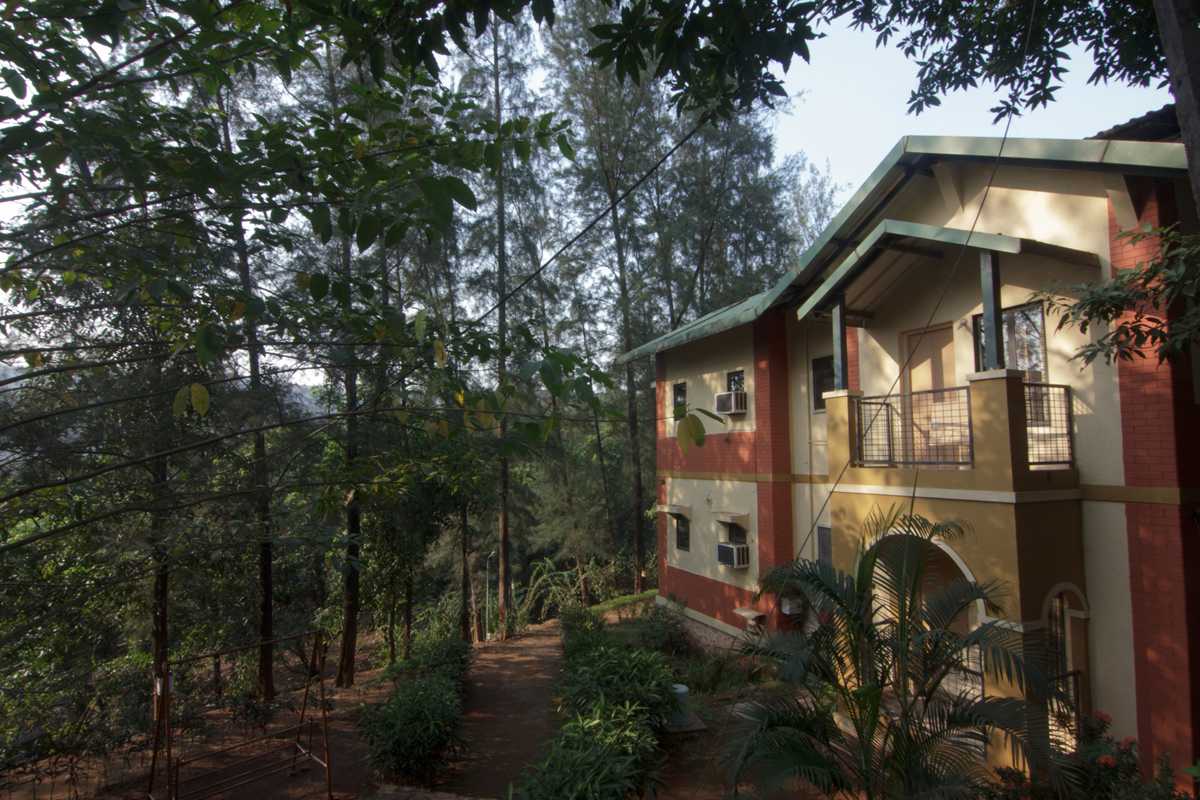 This resort near Pune is set aside stunning Sahyadri range. The lodge is surrounded by 35-acre natural forest with extensive teak trails. Spend this weekend with your loved ones at Durshet Forest Lodge, with your days filled with birds chirping and your nights filled with the lullaby of nearby river amba. You can also get involved in various seasonal activities offered like Rappelling, Zipline, Burma Bridge, Night walks in the forest etc. You may even get a chance to view the magical waterfall that appears during monsoons!
Distance
: Approx 100 kms from Pune
Address
:
Khopoli
-
Pali
Road, Tal. Khalapur, Durshet, Maharashtra, India
Highlights & Things to do
:
Stay options: Cocoon Room, Cottage Room (Big and Small), Dormitories
Laundry service is available.
Adlabs Imagica, a famous theme park is located at an eight kms from Durshet Forest Lodge
Do not miss to visit the famous Thanala rock-cut caves, the historic battlefield of Umbarkhind
Book This Resort
9. The Verandah in the Forest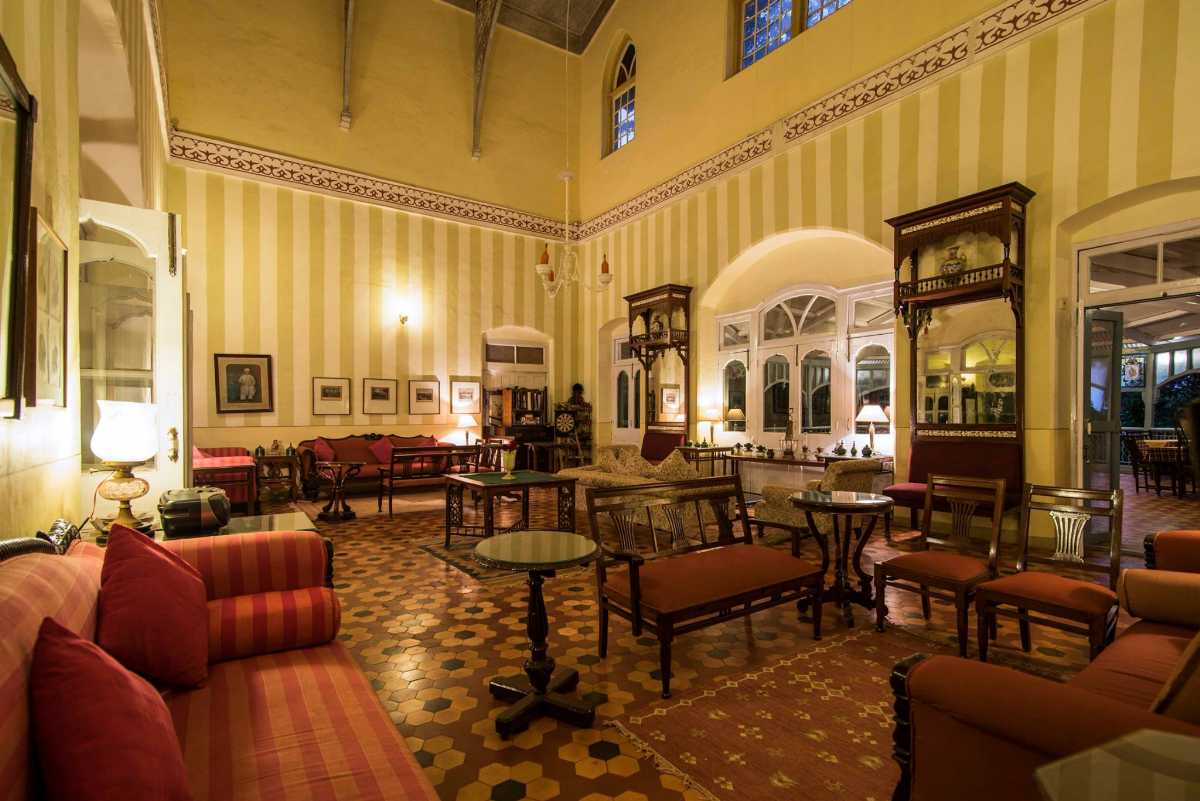 The verandah in the forest is a part of the
Neemrana
brand of Hotels, which boasts of clubbing heritage with stay options. This Resort in
Matheran
is the second house to be built upon the isolated Western Ghats by captain Barr in the 19th century. Delight your family by arranging for a getaway this weekend and stay in history and wilderness. A point to note: Bar Facility is not available yet.
Distance
: Approx 140 kms from Pune
Address
: Barr House, District Raigarh,
Charlotte Lake
Road, Matheran, Maharashtra, India
Highlights
:
A perfect place for Anniversaries, birthdays and other memorable occasions
Make sure to visit the central bazaar to taste the local culture
An apt location for trekking, horse riding or say, simple walking
An ideal location for filmmaking, pre-wedding photoshoots etc. Thanks to nature and history!
Book This Resort
10. Kundalika Cottages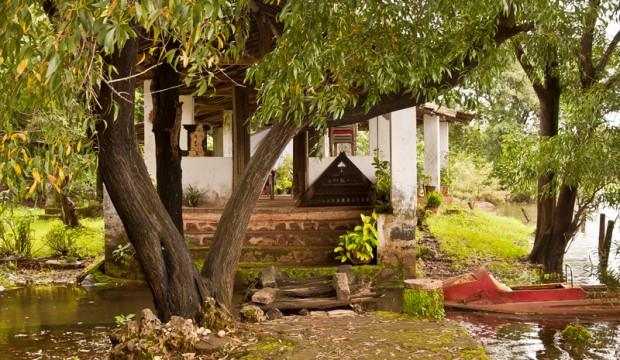 Want to feel the Adrenaline Rush? Want to tick off kayaking, white water rafting and river crossing from your bucket list? Want to try your hands on Rifle shooting and archery? Pack your backpacks and nag your besties to join you for a fun weekend at Kundalika cottages! 8 spacious cottages, all built on a split level are available which promises of comfortable stay and experience.
Distance
: Approx 100 kms from Pune
Address
: Village Kamath, Off SH-60, Near Sutarwadi,
Kolad
, Maharashtra
Highlights
:
The most convenient base for whitewater rafting
Bonfire and Barbeque can be arranged on request
You can visit the Kashid beach and ashtavinayak temple located at 60 and 30 kms respectively from the cottages
Book This Resort
11. Sentosa Resorts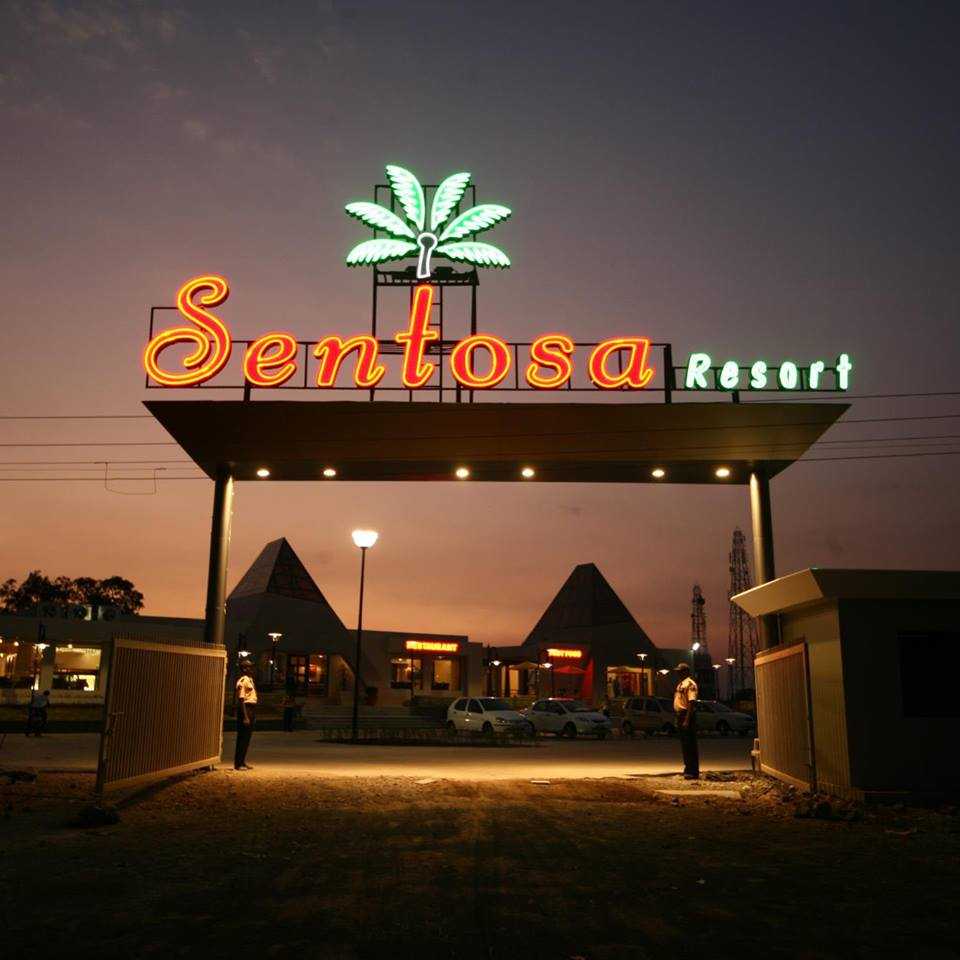 This is a Boutique style hotel spread across 11 acres of land, ready to fill your weekend with style, luxury and chic experience. This is a place of memorable weekend vacation for you and your partner! Sentosa resorts also have a water park which will help you kill the summer wave with the splash of water and fun!
Distance
: Approx 23 kms from Pune
Address
: Mumbai-Pune Expressway, 1 Km Before Ravet, Pune, Maharashtra
Highlights
:
Stay options: Standard room, executive room, bungalow, suite are available
Sentosa Water Park has separate water spaces for adults and children. Rain dance and wave pool should not be missed
The resort has got a range of facilities and amenities like a workspace, a movie on-demand, pool table, table tennis etc. to name a few
Book This Resort
12. Forest Escapes Koyna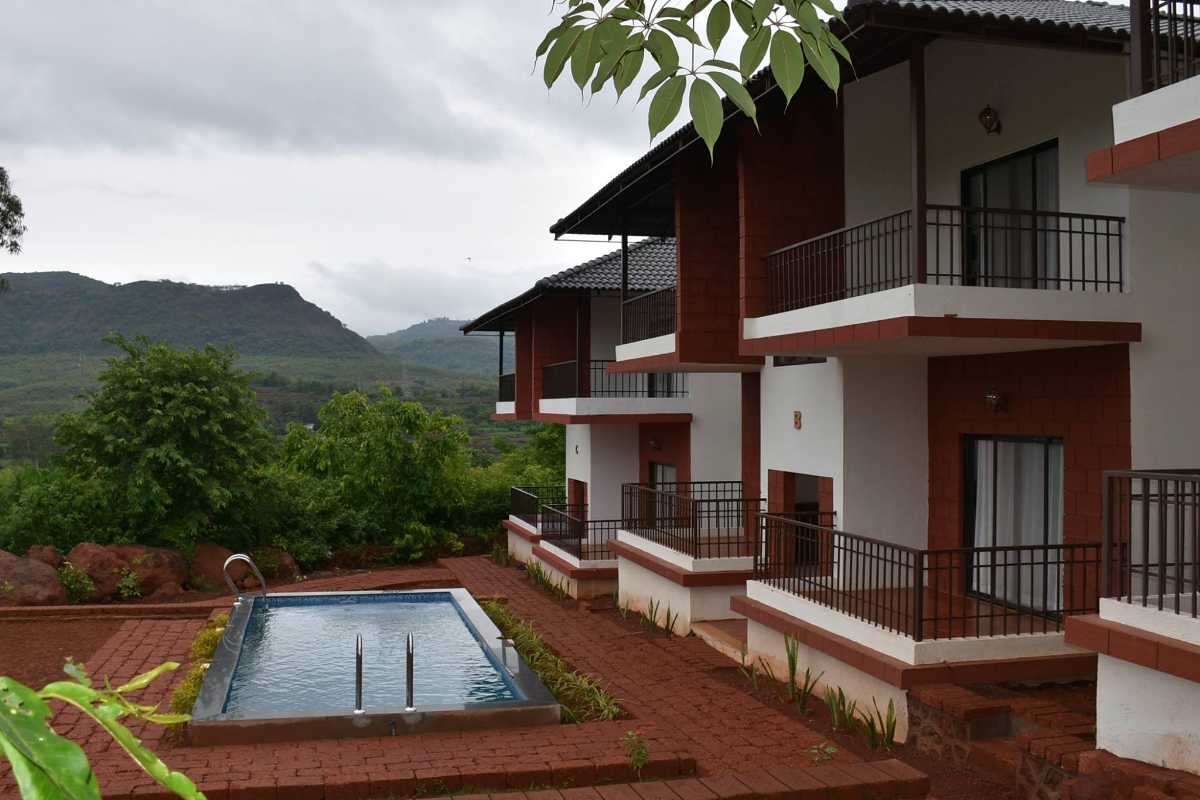 This is one of the eco-resorts near Pune. This resort is a perfect place to unwind your stressful, mundane week. Get back to nature this weekend with Forest Escapes. This resort strives for 'Responsible Tourism' and tries to follow the ten principles of 'One Planet Living'. Stop by to enjoy the one-of-a-kind experience in the lap of Mother Nature.
Distance
: Approx 23 kms from Pune
Address
: Karad-Chiplun Rd, Koynanagar, Maharashtra
Highlights
:
You can visit Koyna wildlife sanctuary, a UNESCO heritage site
Shop for your loved ones back at home in 'granary', the local store of Koyna.
Contribute your part in promoting rural products by buying local stuff like rice, homemade pickles, local fruits etc.
Private BBQ and campfire experience will increase your holiday experience and will be a bonding time for your group
Jungle safari will be arranged on prior notice
Book This Resort
13. Camp Temgarh Resort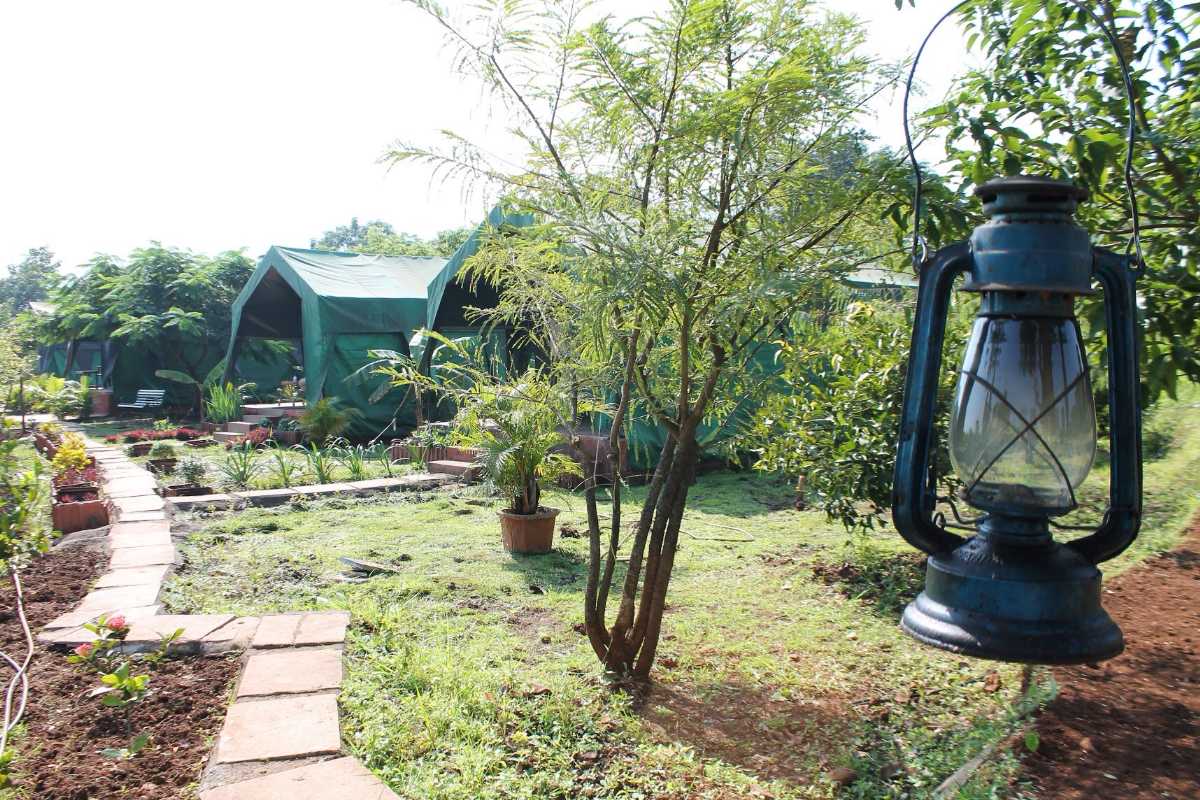 Tucked inside the little village of Malushi Taluka, this resort promises to take you back to your childhood. Plant a tree, run and play with the friendly pet dogs, catch up small talk with your beloved as you walk hand in hand along with the untouched nature. Blend with nature this weekend!
Distance
: Approx 40 kms from Pune
Address
:
Lavasa
road, mulshi taluka, Watunde, Maharashtra
Highlights
:
Stay options: Independent cottages, A/C Cottages and A/C Swiss tents with sit-outs
Temgarh suggests you carry your favourite movie/series in a pen drive which they can play for you in the gazebo during the evenings. You can also opt to watch starry night sky instead!
Live barbeques will be a feast for your taste buds
A sweaty game of football/volleyball followed by a refreshing river dip is also a must-do activity in Temgarh. Indoor game options are also available
14. Saket Plaza

Located in Mahabaleshwar, Hotel Saket Plaza promises to offer something for every type of its guest. Saket Plaza is located at a 13-minute walking distance from the central market. Nature and luxury combine in Saket plaza, waiting to serve you!
Distance:
Approx 120 kms from Pune
Address:
Old Band Road, Mahabaleshwar, Maharashtra, India
Highlights & Things to do:
Stay options: Luxury, Club, Cottage, premium queen and premium king
Multicolour swimming pool and waterfall
Treehouse with colourful fountains
So what are you waiting for? Plan a weekend getaway and add happy memories to life!
A refreshing and rejuvenating weekend will recharge your mental batteries and pumps your health, preparing you to face weekdays with a zest. Increased bonding with your loved ones is also an added perk!