It is rightly said that your culture is your brand and the people of the state of Mizoram take this saying too seriously with the kind of contribution they have made over the years in keeping the culture of their state alive via means of their dresses.
Mizoram
is one of the seven sisters belonging to the north-eastern region. This state shares international borders with Myanmar and Bangladesh & internal border with
Assam
,
Manipur
, and
Tripura
. Just like the other north-eastern states of the country, the traditional dresses worn by the people of Mizoram are no different. These colorful yet simple dresses attract a lot of people from all over the world.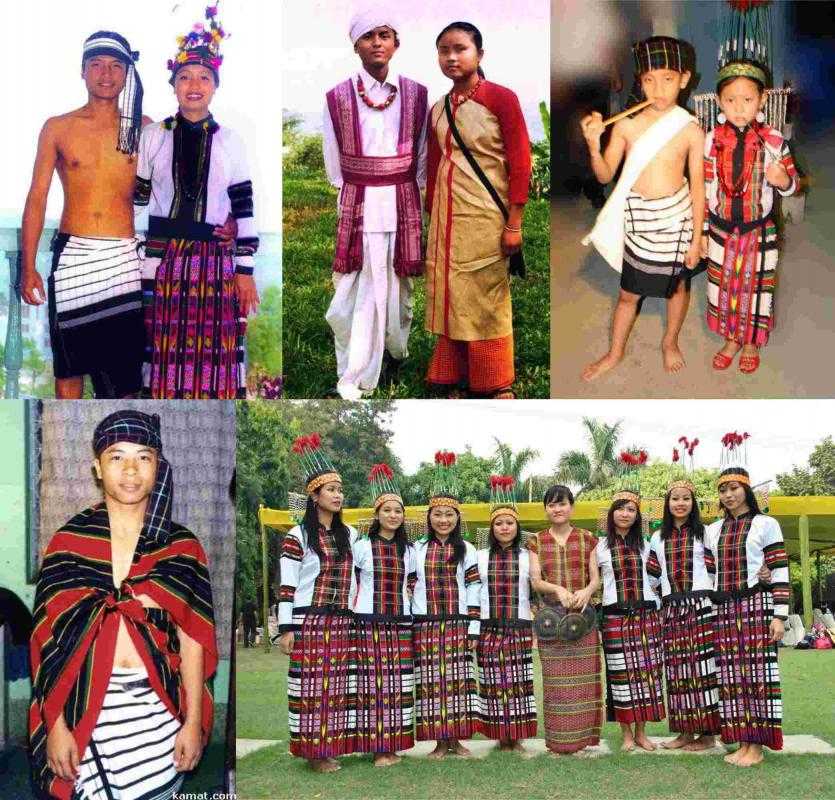 Mizoram Traditional Dresses for Women

One of the traditional attires worn by Mizoram women is the traditional dress called 'Puan'. Beautifully intricated design with perfect fit makes it the most preferred dress for the people of Mizoram. Puanchei is the dress worn by most Mizo women during
festivals
. The main dress is Pawl Kut and Chapchar Kut. Puan has shades of black and white. The black shades are made of synthetic fur. Another traditional dress worn by Mizo girls is known as Kawrechi. It is a kind of handmade blouse, made up of cotton fabric and worn by Mizo women while dancing on festivals. It is generally paired up with Puanchei.
Initially, these clothes were all hand-woven. However, with the growing technology, there has been a shift in the manufacturing process of these clothes. They are now made in factories having high standards and good quality. Cotton is the major fabric and constituent in the preparation of Mizo dresses. The shades are made up of 'Ting'.
Tribal Dresses
Women who belong to the Lusei tribe have a blue skirt stitched from cotton fabric as their traditional dress. The ladies of this tribe pair this blue skirt with a white jacket and a cloth which one can wrap around the body. The dress is incomplete without a headgear on the top. Bass and cane are the raw materials used to make this headgear. Zakuolaisen is another traditional dress worn by the unmarried girls of Mizo tribes. It is a blouse with attractive stripes of crimson colour on it. After the girls get married, they wear a dress known as 'Puon Pie'. This dress comprises of a comforter like woven cloth. It's mandatory to wear this dress after marriage and holds a significant cultural value in the culture of Mizoram.
Mizoram Traditional Dresses for Men
Men in Mizoram prefer a simple lifestyle and is apparent from their way of dressing up. The dress which is most commonly worn by men comprises of a cloth around 7 feet long and 5 feet wide. In addition to this, an extra piece of fabric is wrapped around the upper body during winter season paired up with a white-colored coat. There are white and red bands present on the sleeves of the coat along with some other intricate designs. The favorite dress of Mizo men is a red and white coloured coat. During summers, generally, a dress which one can be wrapped around the waist is preferred. To protect themselves from the scorching heat, men generally wear a turban or a pagri on their head.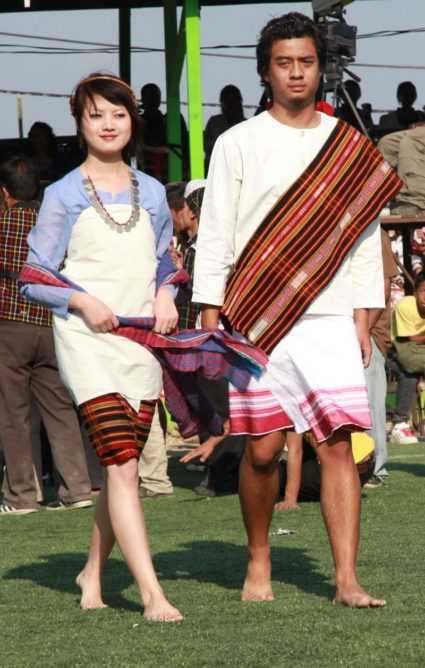 Tribal Dresses
Men belonging to the tribe named Lusei wear clothes made up of cotton fabric only. They, themselves, cultivate this cotton in their region. Traditional men of Mizoram wear white color more often, but sometimes, striped blue colored clothes are also worn. Not many differences can be seen in the costumes of ordinary Lusei and the person who heads the community. These costumes differ only during festivals. In the Lusei society, the costume of the fighter has a cloth which can be wrapped around the waist, a rucksack, bear or tiger skin hung over one shoulder and a gun or some other weapon over the other shoulder. The Hmars tribes are the weaving experts of Mizoram in showcasing different kinds of designs. Hmaram is a handmade cloth which is famous amongst kids and is commonly known as 'kawkpui zikzial'.
The costumes of Paiteis are highly attractive and appealing to the eyes. The communities of Paiteis have selected Thangou Puon as their preferable choice and favorite costume. However, not anyone and everyone can claim to own the costume but a warrior who has defeated an undisputed number of rivals in an inter-tribal war or something on similar lines. Riang is another Mizo tribe the costume of which resembles other tribes.
Common among Men and Women
'Ngotekherh' is a type of Puan which can be wrapped around the waist. At first, it was worn by Mizoram men only but now it is worn by both men as well as women. 'Hmar am' is an indigo colored cloth which is handmade and made up of cotton. Even this can be worn by both the genders.
Another dress which is worn by both males, as well as females, is Cyhna Hno. This stunning Puan is made up of silk and has embroideries on its borders to make it appear more beautiful.
Mizoram has a variety of clothes to offer. The elegance, colors, design, and style of costumes that this state has, has surely given it an edge over others. A visit to the state is surely going to be pleasing to the eyes!