The emancipator of our woes today- the mighty mask is now an essential. In the wake of the COVID crisis, wearing a mask is imperative, not just to protect ourselves, but also to safeguard people around us. While many have realized the gravity of the situation and have succumbed to masks, several still remain aloof.
A restaurant called
Temple City Hotel in Madurai, Tamil Nadu
came up with a creative concept to raise awareness regarding COVID-19. Here's what they did.
Covid Awareness- Priced at INR 50 ONLY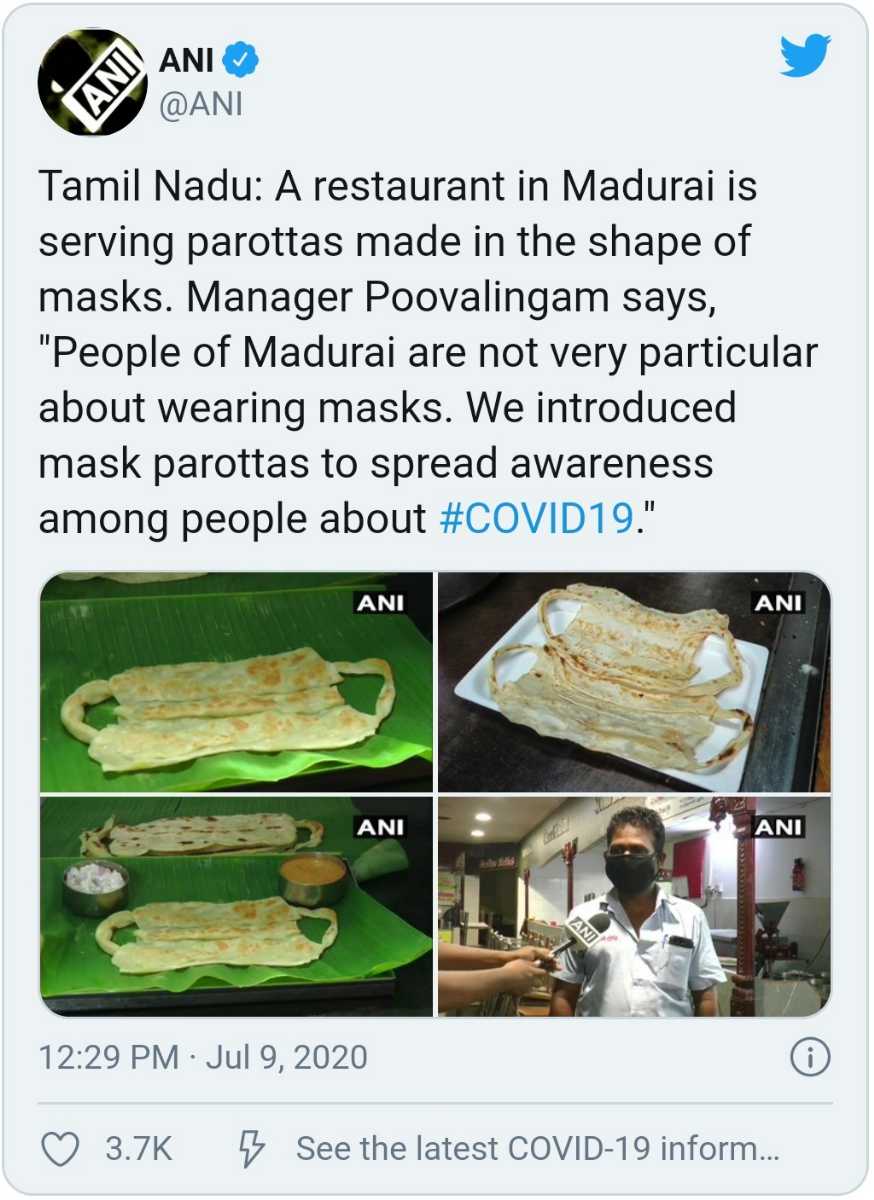 In order to encourage people to wear masks, the hotel has whipped up mask shaped parottas for its visitors. The fried staple which is quite a hit in Madurai is indeed an innovative solution to alert people of their ignorance. They sell it at an economical cost of INR 50 only.
Why did they do this? A staff at the restaurant claimed that people in Madurai are not very particular about wearing face masks. With a steep rise in the number of cases in recent times, the restaurant, located about 1.2 km away from Maattuthavani bus terminus decided to urge people to limit the ignorance against the crisis and urge the population to take precautionary measures.
The eatery did not restrict its creativity to Parottas but they built a full menu based on the Covid crisis. Food items like corona dosa and vada cooked in the shape of the virus took to the menu of Temple City Hotel.
"Do Not, I Repeat, Do NOT Eat Your Mask"

Just as the restaurant in Madurai launched this very creative solution and became a good Samaritan, social media had a very mixed approach to this. It was obvious that this news would spread like wildfire across social media platforms but a series of memes followed suit.
While some found it extremely hilarious, some proposed viable ideas for the restaurant. One said "
Do Not, I repeat, Do NOT eat your mask
" another tweeted "
If they sell it along with an actual mask, it would be good. They should charge extra 10-20 rupees for it"
.
The staff also mentioned that ever since they launched this menu and the pictures of the Parotta Masks went viral, people have appreciated it and started ordering them online too.
It's good to see such creative ideas popping up to make people aware of the entire scenario. It sure is a laudable move.
Don't you think this is a good idea? Share your views on the Mask Parotta in the comments below!