Often known as the "High Wavy Mountains", Meghamalai is a petit yet beautiful place located in the Western Ghats in the state of Tamil Nadu. At an elevation of 1500 meters, this place is a perfect getaway to beat the heat and enjoy some peaceful time relaxing amidst nature. Nestled between the evergreen forest this place is filled with the fresh aroma of cardamom, cinnamon and pepper. The lush green tea plantations will give you an opportunity to sip fresh piping tea and enjoy a lazy stroll amidst nature replete with flora and fauna.
Biodiversity
Being a part of the Western Ghats, Meghamalai is bound to be rich in flora and fauna. The dense forests of Meghamalai inhabit diverse wildlife. Some of the animals that can be spotted easily include flying squirrel, sloth bear, grey jungle fowl, wild boar, and spotted deer. Wild elephants can be spotted easily roaming lazily around the forests and if you are lucky enough you might get a chance to come face to face with either a tiger or a leopard. The trees in the forests can be seen perched with myriad colourful birds including red-whiskered bulbul, great Indian Hornbills, common iora, barn swallow, pied bush chat and white-browed wagtail. A large number of vivid butterflies and insects also flutter in the forests.
Places to See
1. Megamalai Wildlife Sanctuary
Spread over a prolific area of 600 square km, Megamalai Wildlife Sanctuary is the place where you will discover the hidden wildlife in the dense forests of Meghamalai. The place is surrounded by bushy trees and the picturesque beauty will leave you enchanted. A serene lake flows in the sanctuary where a lot of birds and animals can be spotted either quenching their thirst or taking a dip.
2. Meghamalai Falls
Also known as Clouds Land Falls", Meghamalai falls originates from the Meghamalai ranges. The gushing water cascades from a height of 190 ft making a sweet sound that echoes throughout the place. The place is perfect to sit around and spend some quiet moments listening to the music of nature and witnessing its beauty.

3. Vellamalai
Located in the heart of Meghamalai proffers an embellished view of the whole place. The clouds seem to be close and it feels as if you are walking on them. The green plantations sway rhythmically with the breeze providing an enchanting view. This place is home to a lot of animals can be spotted easily.
4. Suruli Falls
Located at a mere distance of 6 km, Suruli Falls is a must visit place to witness the beauty of water flowing between lush green trees. With a height of 58 meters, you can enjoy the coolness of water by standing beneath the falls or just by dipping your feet in the small pool that is formed below the falls.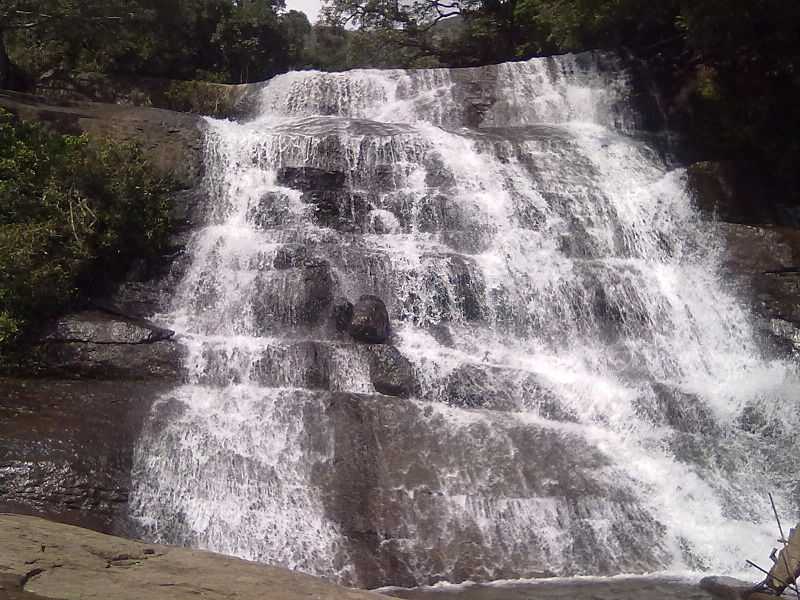 5. Dams
Meghamalai is home to six dams that are popular and must visit amongst travelers. The Dams provide spectacular view of the whole place. These include Iravangalar Dam, Thoovanam Dam, Vanniar Dam, Manalar Dam and Thekkady Dam. Each dam has its own beauty and is worth a visit.

6. Maharajamettu View Point
To take in the magnificent beauty of the place all at once you need to take a trip to Maharajamettu View Point. This place provides a bird's eye view of the whole place and you would be amazed to see endless greenery complimented well by the rocky mountains.
7. Murugan Temple
Situated on a hilltop on the Meghamalai mountain ranges, Murugan Temple is a pious place from where people not only come to seek blessings but to see the picturesque beauty of the place as the temple sits on a hilltop. This is a famous and pristine temple that must be visited.
8. Mangala Devi Temple
Located at a distance of 14 km, Mangala Devi Temple is popular amongst devotes who come to pray and seek blessings in large numbers. The temple is situated on top of a hill and is made with rocks. The surroundings of the temple are filled with trees and plantations that make the place look more pristine.
9. Cinnamon, Cardamom, Coffee and Tea Estates
Meghamalai is filled with lush green plantations that produce? tea, coffee, cinnamon and cardamom. A walk though these plantations will fill your lungs with the fresh aroma of these crops. A guided tour through these estates are also conducted that will give you an opportunity to explore and enrich your knowledge.

Things to Do
1. Trekking
The forests of Meghamalai are perfect for trekking and exploring the hidden gems, be it trees, birds or animals. The treks are easy and filled with drool worthy beauty that will make your heart swell with happiness.
2. Stroll in Plantations
Take a stroll amidst the lush green plantations of tea, coffee, cinnamon and cardamom to get to know the process of their cultivation and explore the endless fields. You can even buy some of the fresh produces and take them home.
3. Bird Watching
The trees in Meghamalai are full of at least 100 species of bird including some of the most rare and endangered species. Migratory birds are also common guests who migrate to Meghamalai. Indulge yourself in bird watching and be enchanted by their beauty.
Meghamalai is an enchanting place that will provide you with a break from the hustle bustle of the city life. You will feel has if you are living between the clouds in some enchanting place. The place is worth a visit and so is the piping cup of fresh brewed tea/coffee that you will get here.