Vacations are a time when you wish to unwind and relax and one of the best ways of doing this is by enjoying great food. A holiday cannot be considered complete without a gastronomic exploration of the places you are visiting.
Kota Kinabalu
, the capital of Sabah state in
Malaysia
is a hidden gem in these terms. Whoever has had the chance of tasting the food in Kota Kinabalu has instantly fallen in love with it. To make your choices a little easier we have done the research for you and listed some of the best dishes and places to eat in Kota Kinabalu.
Best Food in Kota Kinabalu
1. Mee Tuaran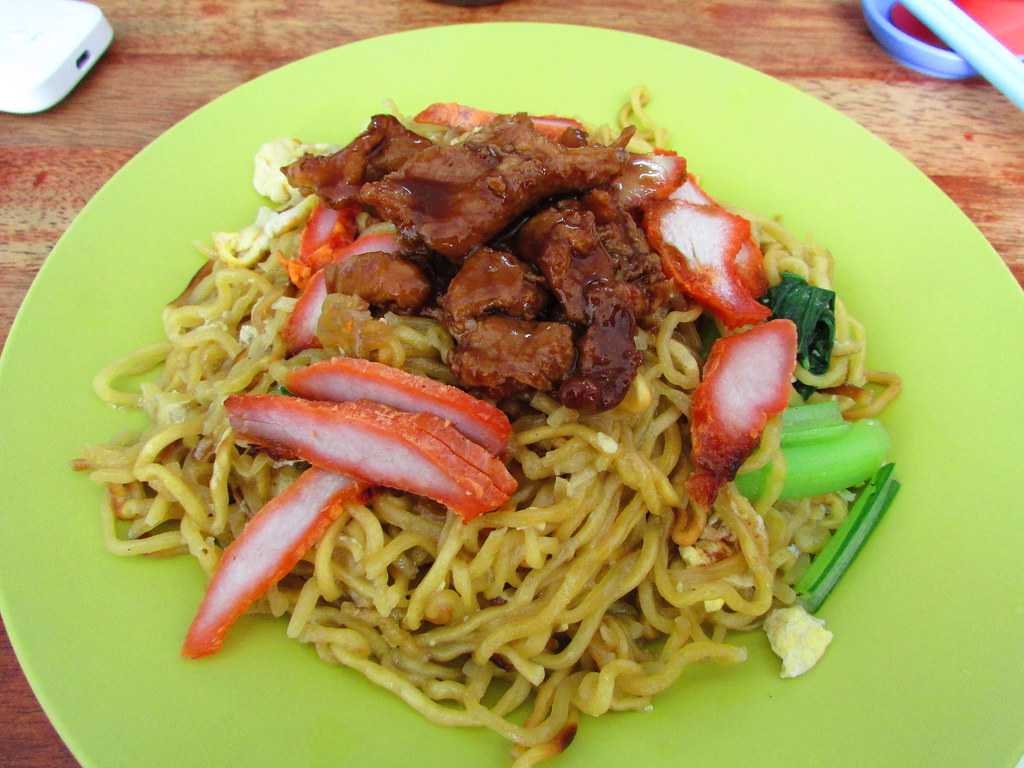 As the name suggests, this dish is originally from Tuaran, but the dish also has roots in the Chinese culture. Mee Tuaran is a noodle dish, where the noodles are fried and mixed with egg yolk or beaten eggs, but it is nothing like your usual egg noodles. This dish has become quite popular among the locals of Kota Kinabalu. But if you really fall in love with this dish you might want to trace it back to Tuaran which is just a 45 minutes ride away from Kota Kinabalu and try it locally.
Where to Find: Seng Hing Coffeeand Shop Restoran Lok Kyun( opens 7 AM to 4 PM)
Prices: RM 5 = USD 1.5 to RM 6 = USD 1.8
2. Sang Nyuk Mian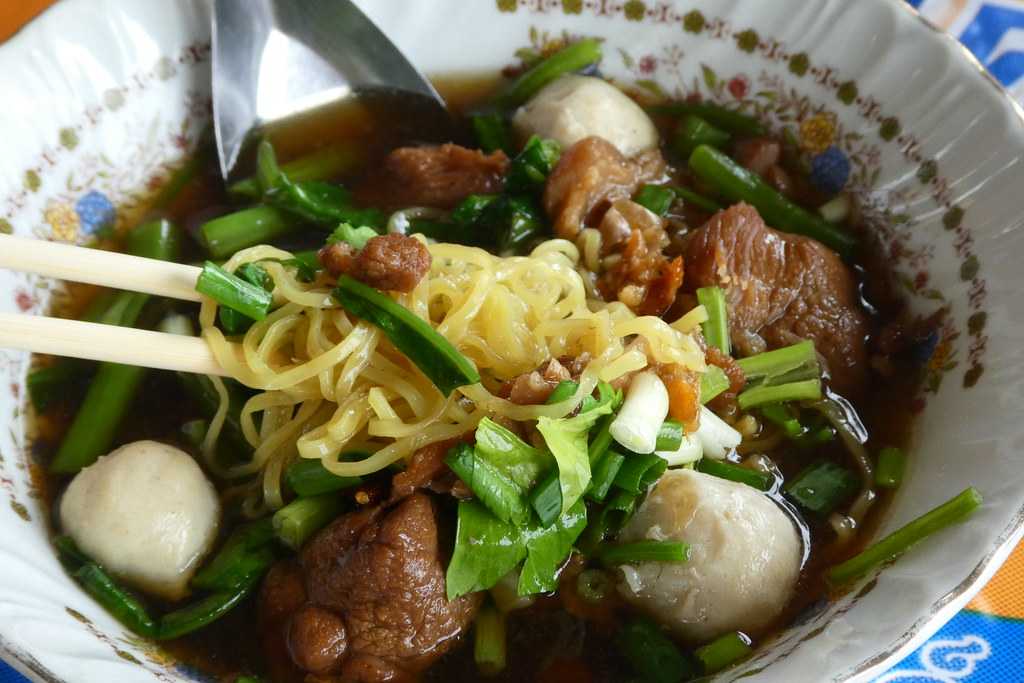 Locally known as Sang Nyuk Mee, this is yet another noodle dish. It originated in Tawau in 1979 and the name literally means raw pork noodles, while indeed this is a pork noodle dish the meat is not raw. The lip-smacking fresh pork dish is considered to be a signature dish of the Sabah state in Malaysia. If you wish to enjoy this Chinese style then they serve the noodles in a separate bowl mixed with pork oil and soy sauce and pork broth with pork slices in a different bowl. Looking for wholesome food in Kota Kinabalu? Then this dish is for you!
Where to Find: Kedai Kopi Jia Siang( open for breakfast, lunch and dinner as well).
Price: Around RM 7.5 = USD 2.15 
3. Roti Cobra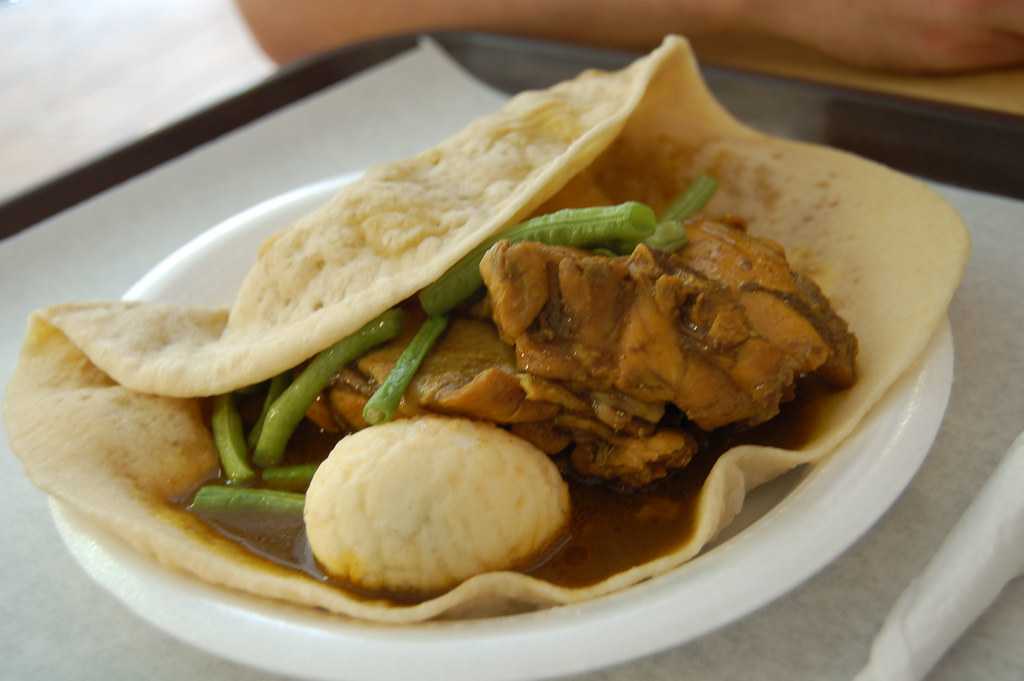 Roti, a kind of bread pretty common in southeast Asia, is generally eaten along with lentil soup, curry or gravy. This delicious preparation combines all these elements into one. The base or the bottom layer is made up of roti which is then topped with lentil soup, fried beans and vegetables and pork or chicken and they top it off with eggs sunny side up. Most of the shops also provide you with chicken curry which makes this dish even more delectable. This is a considerably filling dish which is generally available at very low prices.
Where to Find: Kedai Makan Islamic Restoran
Price: RM 6.5 = USD 1.55
4. Laksa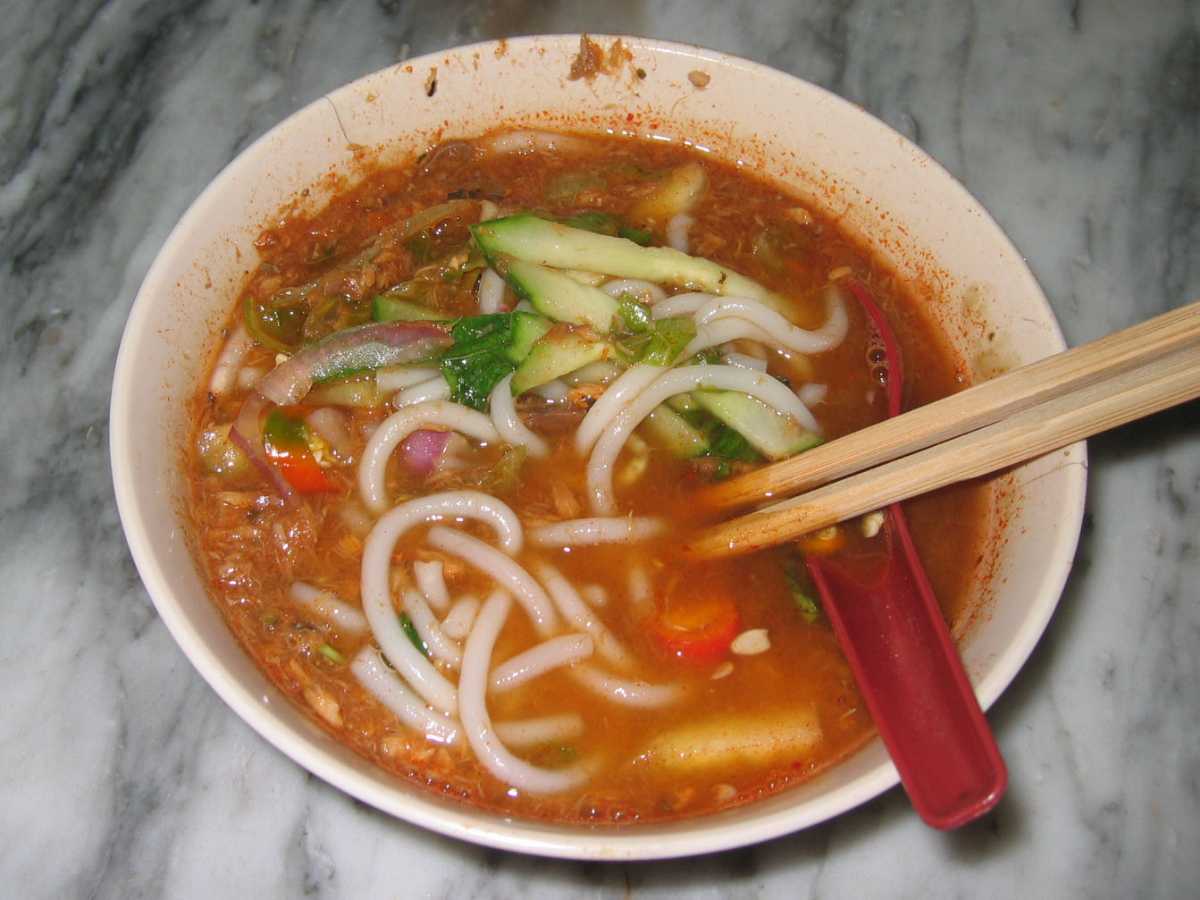 Laksa is a spicy soup served with tender chicken, chicken broth, noodles and beans. In some places, this dish is prepared in coconut curry which adds some sweetness to its spicy taste. Its origins can be traced back to the early Chinese tribe of Peranakan people. This savoury food in Kota Kinabalu is a hit among locals and tourists alike and you may find yourself waiting outside the restaurant to get a table since it is such a high demand dish.
Where to Find: Yee Fung Coffee Shop ( open from 7 AM to 4 PM)
Price: RM 8= USD 1.93 to RM 8.5= USD 2.05
5. Pan Mee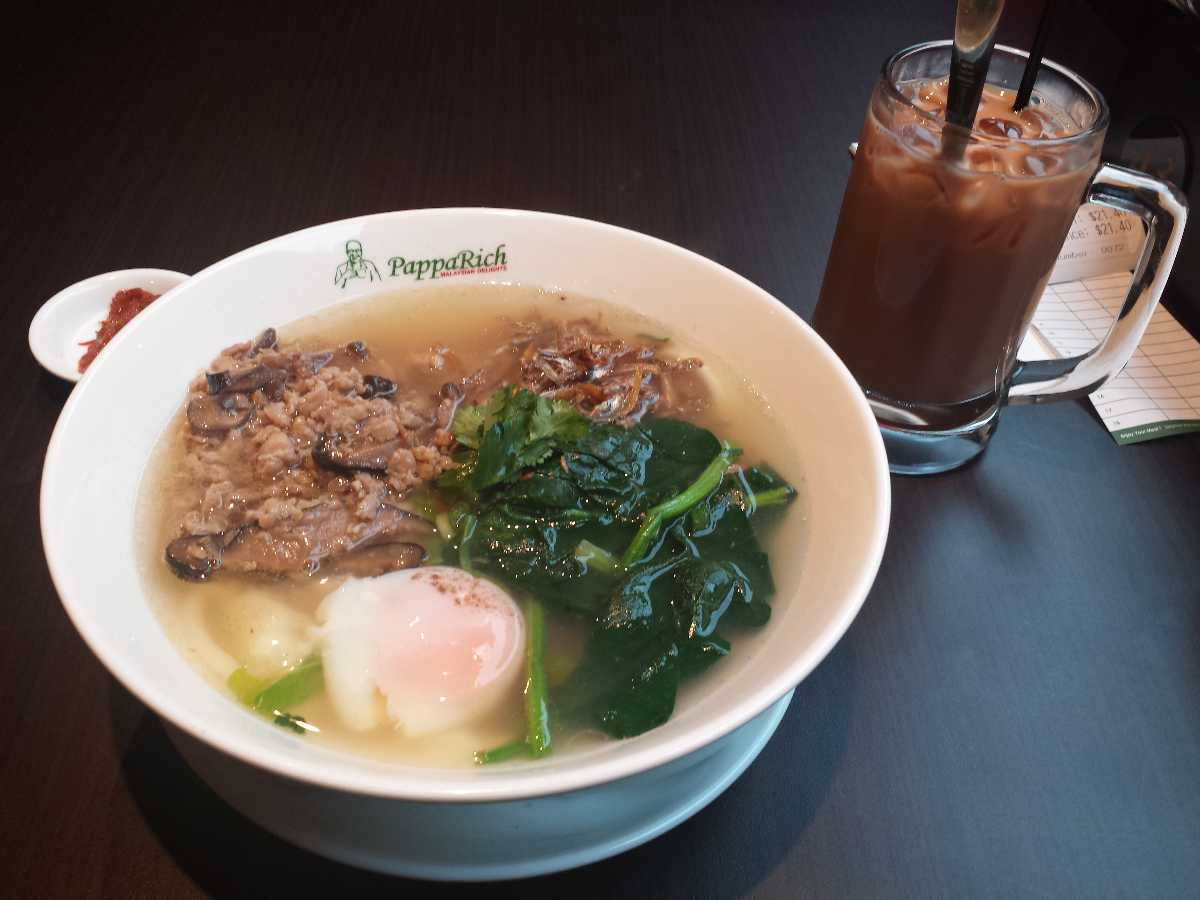 Pan Mee is a local form of Hakka noodles which is quite famous in the Sabah state of Malaysia. The dish is prepared with noodles made of wheat which are hand torn in bite-sized pieces. The soup for this dish is made with anchovy broth, pieces of ground pork and vegetables. The dish is considered to be a Hakka comfort food and it has become a popular street food in Kota Kinabalu. An alternative preparation known as Chilli Pan Mee is also quite famous.
Where to Find: Wing Xan Pan Mee( 7 AM to 3:30 PM)
Price: RM 7= USD 1.69 to RM 12= USD 2.9
6. Bak Kut Teh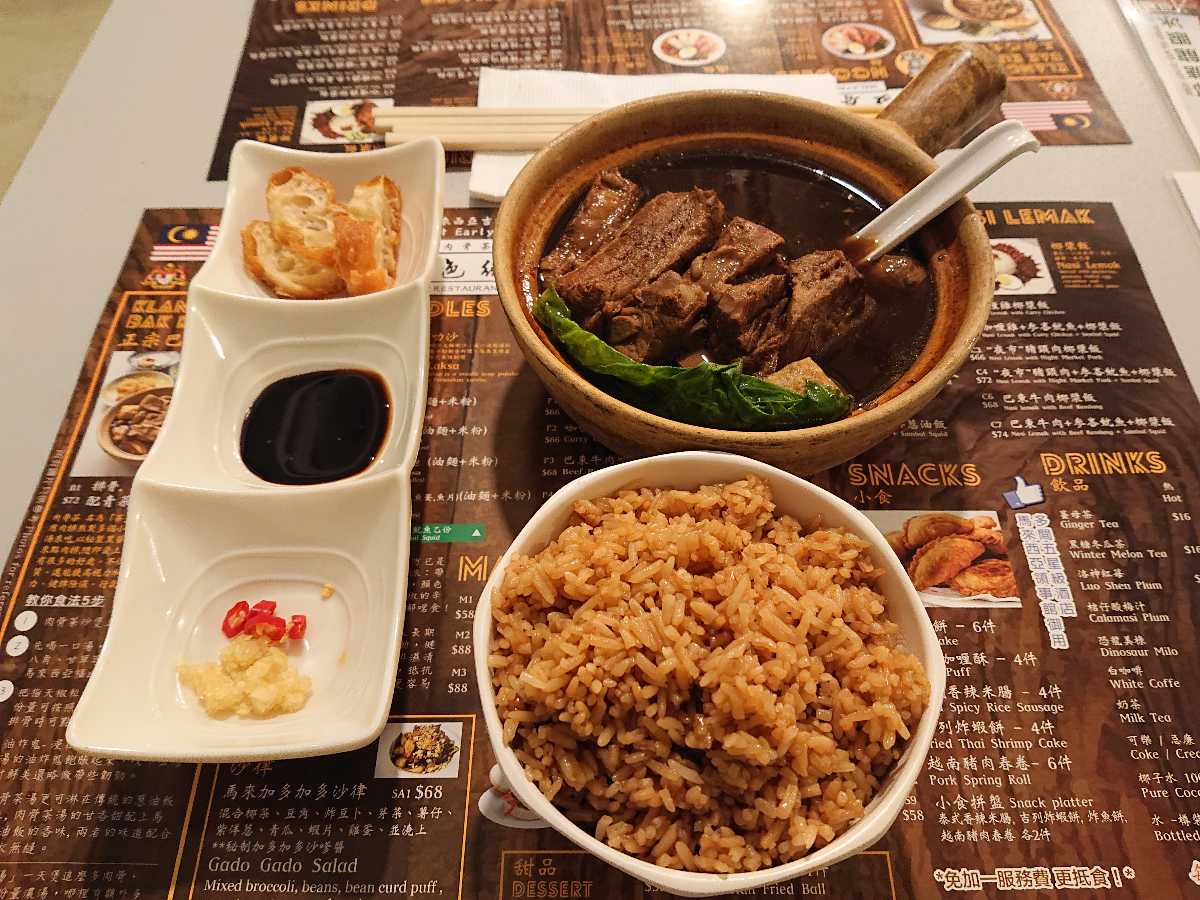 The literal translation of the name means pork rib tea. A pork rib dish cooked in broth, using Chinese Herbs. This dish is quite popular in Malaysia and
Singapore
. Some restaurants also have chicken substitute as an alternative for pork, and some even provide you with seafood options of Bak Kut Teh. The popular restaurants in Kota Kinabalu get so busy during evening hours that you might not even get a seat. Two of the best restaurants which serve this dish are on the same road and also have open-air dining option, which is basically sitting on the street and eating. 
Where to Find: Man Li Hong(5 PM - 11 PM) and Pin Xiang (11 AM - 3 PM)
Price: RM 3 = USD 0.73 to RM 20= USD 4.84
7. Ngau Chap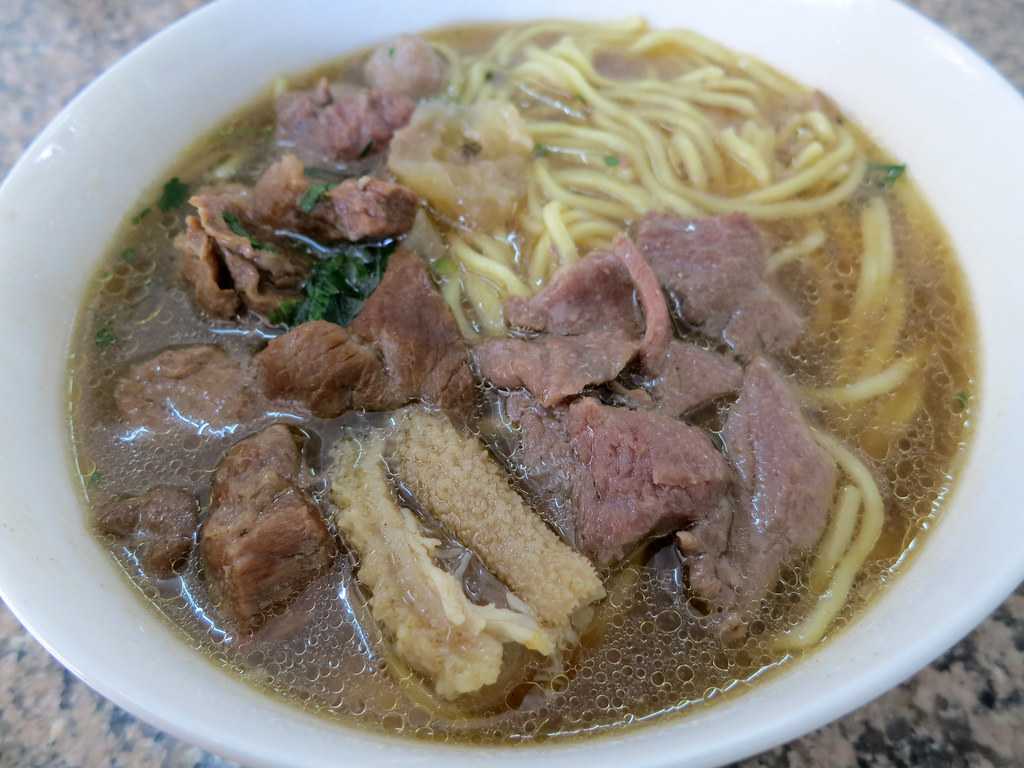 In English, this dish will be termed as beef noodles, while the term itself means 'mixed beef'. The noodles are served with thick beef broth and beef meat from its internal organs such as beef, beef balls, a little bit of tripe. The dish is quite popular amongst other food in Kota Kinabalu and can be found in a number of good restaurants. 
Where to Find: For this dish, there are a number of places which you can consider such as Kedai Kopi Loi Hin, Kedai Cheng Wah, Kah Hiong Ngiu Chap, and Mee Sup Pipin.
Price: RM 7= USD 1.69 to RM 9.5= USD 2.29
8. Chicken Wings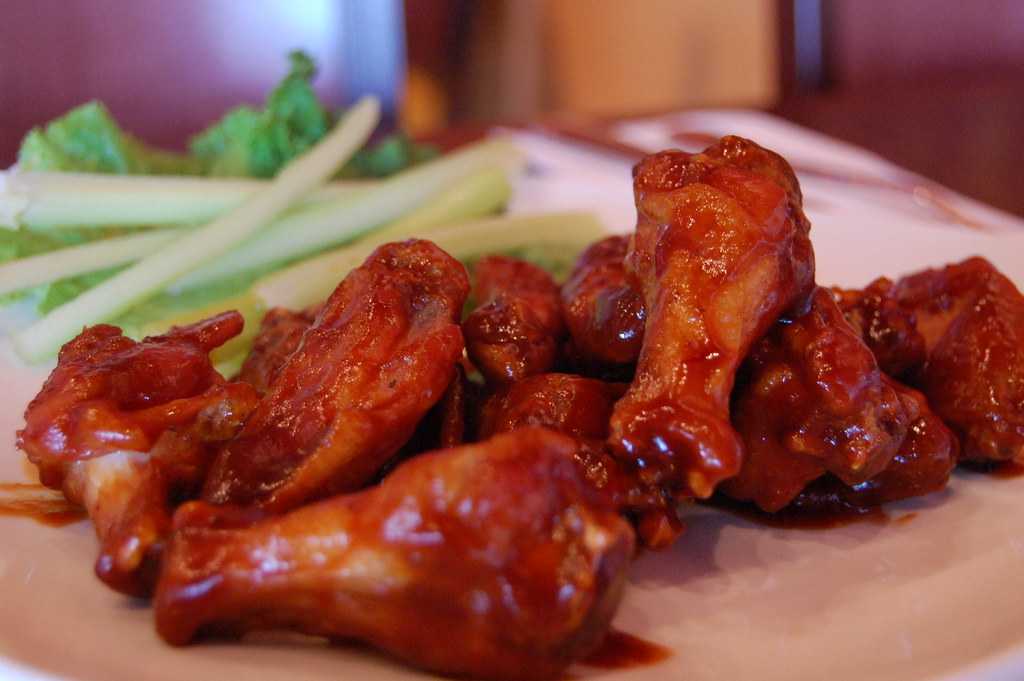 This is another lip-smacking dish which will leave you wanting more. Some places also prepare this in a sauce of honey and chilli which add another layer of taste to it. This dish is a popular choice worldwide for it's nice and messy eat, drenched with delicious sauces and tender meat, this one is on everyone's guilty pleasure eat-list. 
Where to Find: Ang's Hotel
Price: RM 3 = USD 0.73 to RM 7= USD 1.69 
9. Beef Satay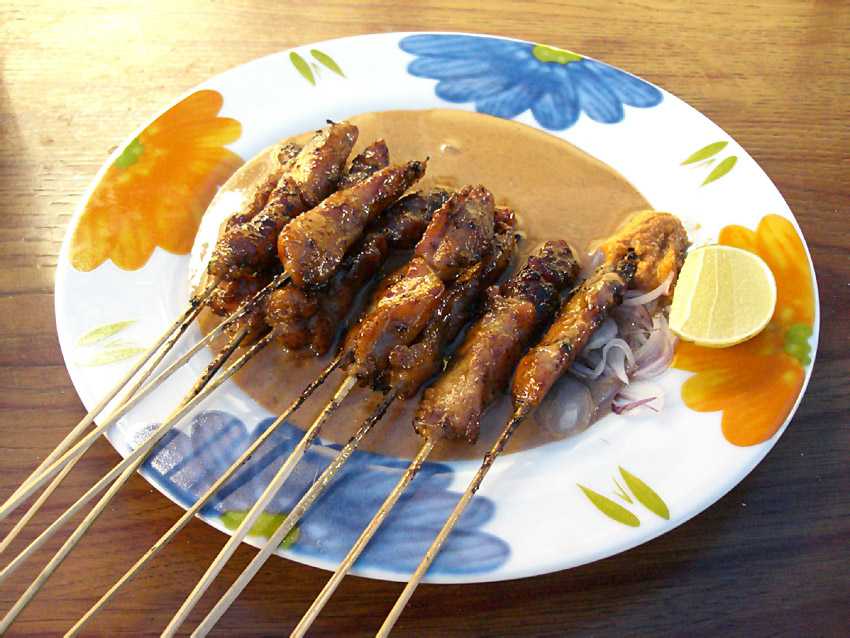 It is a popular street food in Kota Kinabalu. The skewered beef is smoked on charcoal and coated with a spicy peanut sauce. This lip-smacking delicious dish is definitely worth a try. You can also enjoy chicken, lamb, rabbit or even pork satay in most of the places. 
Where to Find: Kedai Kopi Yuit Chang and Brunei Satay House
Price: RM 0.7= USD 0.17 to RM 6=USD 1.45
10. Roti Kahwin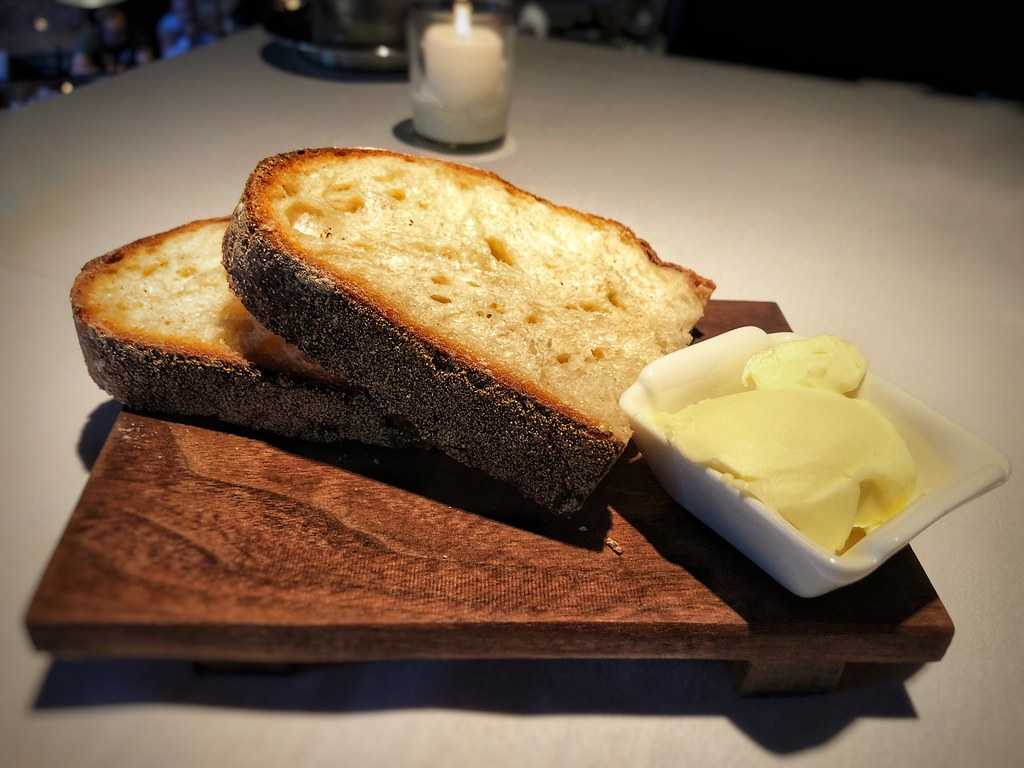 The literal translation of its name is marriage bread and this dish can be the perfect partner to your herbal tea. The layers of bread have butter, sugar, jam, and sometimes even egg or coconut milk. 
Where to Find: Kedai Kopi Gunung Emas (8 AM - 6 PM) and Fook Yuen (6:30 AM - 1 AM) 
Price: RM 1.30=USD 0.30
11. Ais Kacang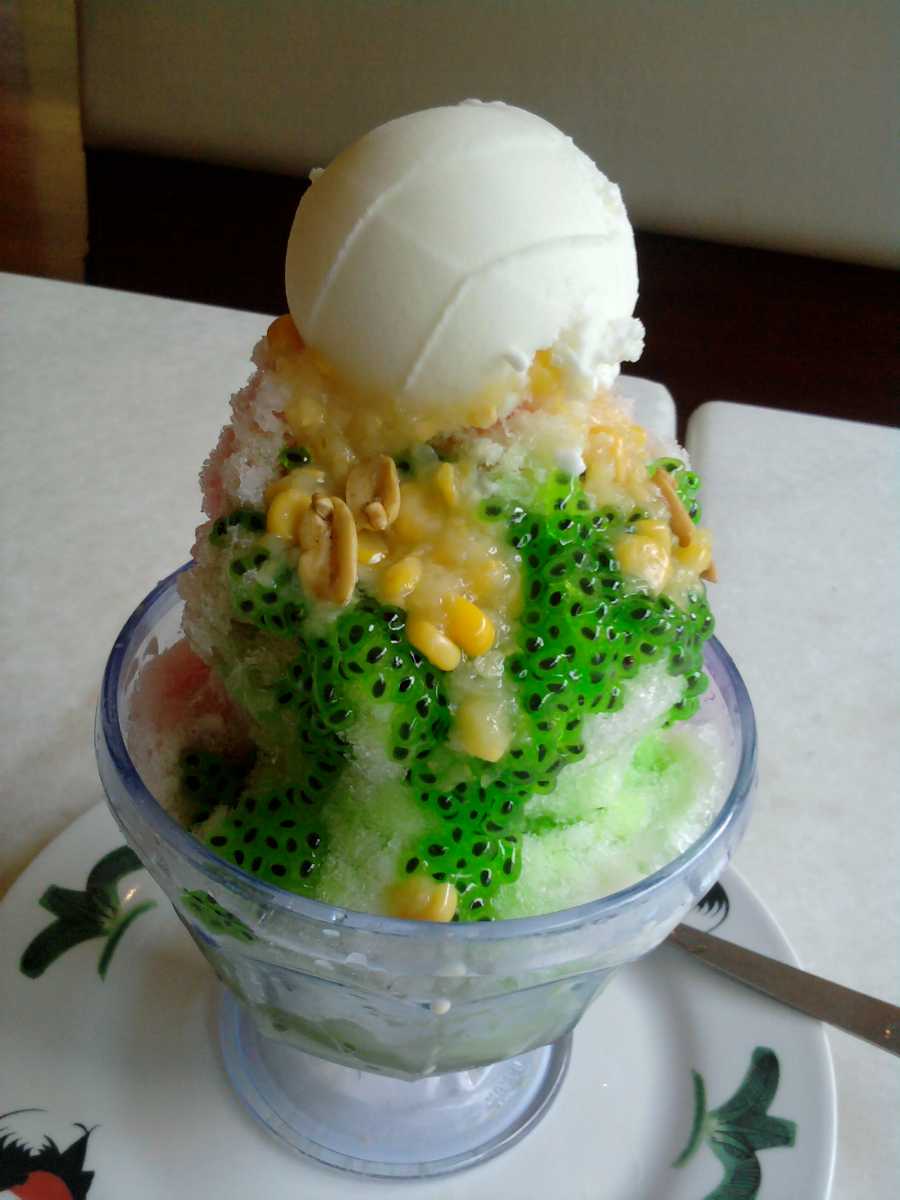 Popularly known as ABC (short form for Air Batu Campur, this literally means ice mix). It is a crushed ice dessert, which is a speciality of Malaysia and Singapore. It is prepared by mixing shaved ice with beans and jelly and sweet syrup, they top it off with condensed milk. The excessively hot conditions in Malaysia make this food in Kota Kinabalu the perfect thing to snack on to cool off.
Where to Find: Parking Lot of Tun Fuad Stephens Park
Price: Around RM 5 = USD 1.20
12. Coconut Pudding
Chilled coconut jelly pudding served in coconut shells, this slightly sweet dish makes for the perfect dessert after a nice spicy dinner in Kota Kinabalu. In Kota Kinabalu, you can easily find these roadside stalls as well and each preparation has something special and different.
Where to Find: Kedai Kopi Hilltop(8 AM - 11 PM) and Gerai Lokan Panggang & Kelapa Bakar
Price: around RM 4= USD 1.2
Must-Visit Places for Food in Kota Kinabalu
1. Borenos Fried Chicken
If you want to enjoy a local version of KFC then this is the place to go. The very first fast-food chain of Sabahan food, they bring to you some of the best local fast food that will always leave you wanting more. They pride themselves on the freshness and quality of their dishes, if you are in Kota Kinabalu you must definitely give this a try.
Where to Find: L9-B1, Basement Floor, Jalan Centre Point
Timings: 24 x 7
2. Leaf Rice Set from Sri Latha Curry House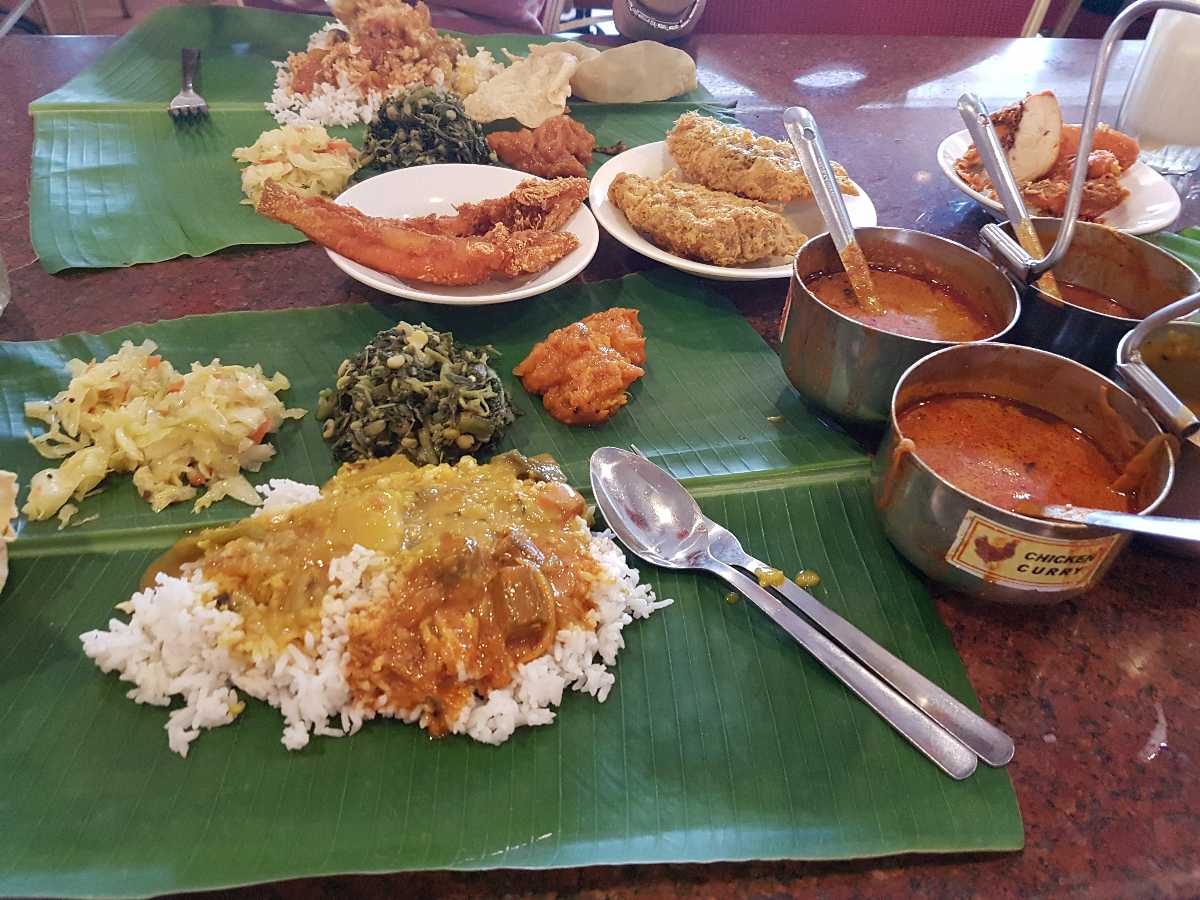 Craving some South Indian lunch in Kota Kinabalu? The Sri Latha Curry House should be your go-to place for some delicious and spicy Indian food in Kota Kinabalu. Their leaf rice set where they serve rice, lentil soup with an assortment of chutneys on a banana leaf is quite popular. This place is held in high accord by the locals and no tourist has gone back hungry.
Pro Tip: Combine your Leaf Rice Set with a chicken or lamb curry to enjoy with this vegetable delicacy.
Address: G/F, No. 28, Jalan Berjaya, Bandat Berjaya
Timings: 6:45 AM – 5:00 PM
3. Welcome Seafood restaurant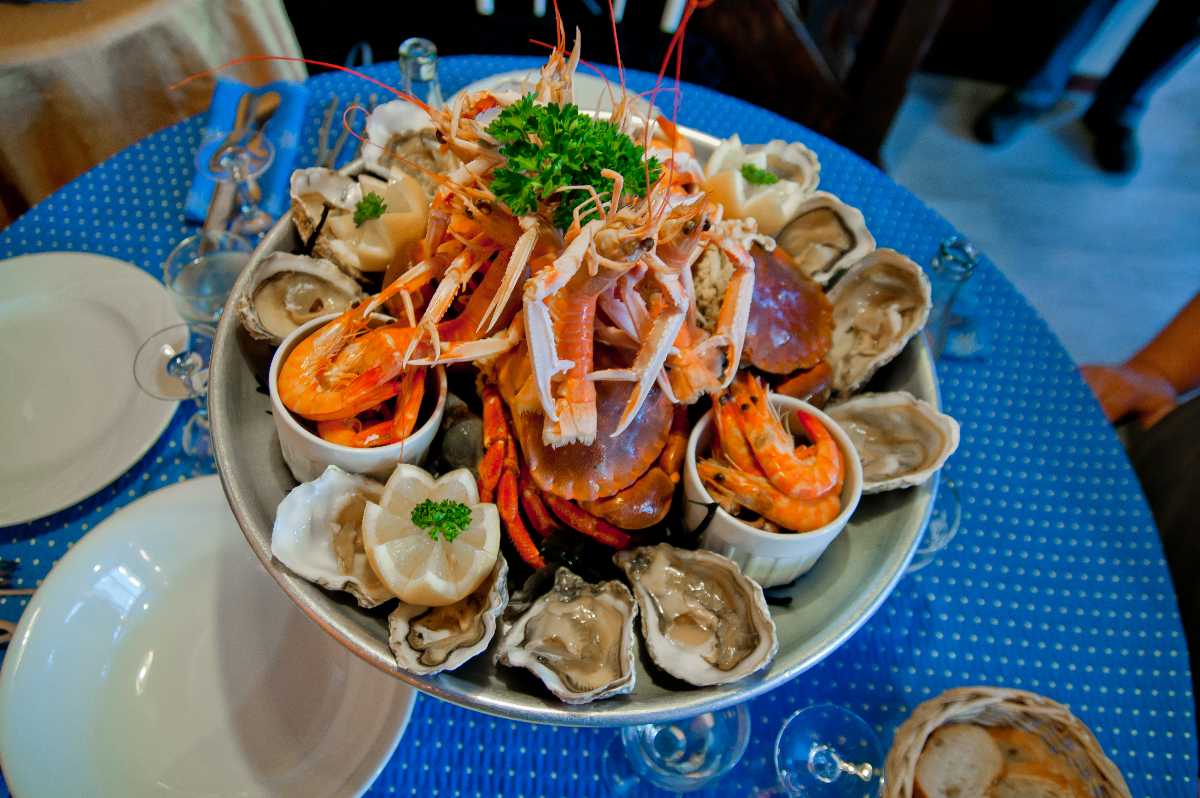 The seafood of Sabah is considered to be a must-try and this seafood restaurant has a huge fan following in Kota Kinabalu. This place must be your go-to place for tasting the best seafood in the town and is very famous among locals. They have a variety of options for you to explore at considerably cheaper prices. They actually let you choose from aquariums and baskets of freshly caught fish. 
Address: Welcome Seafood Restaurant 652, Jalan Penampang Lama, Fu Guan Industrial Centre
Timings: 12:00 PM - 12:00 AM
4. Yen Ai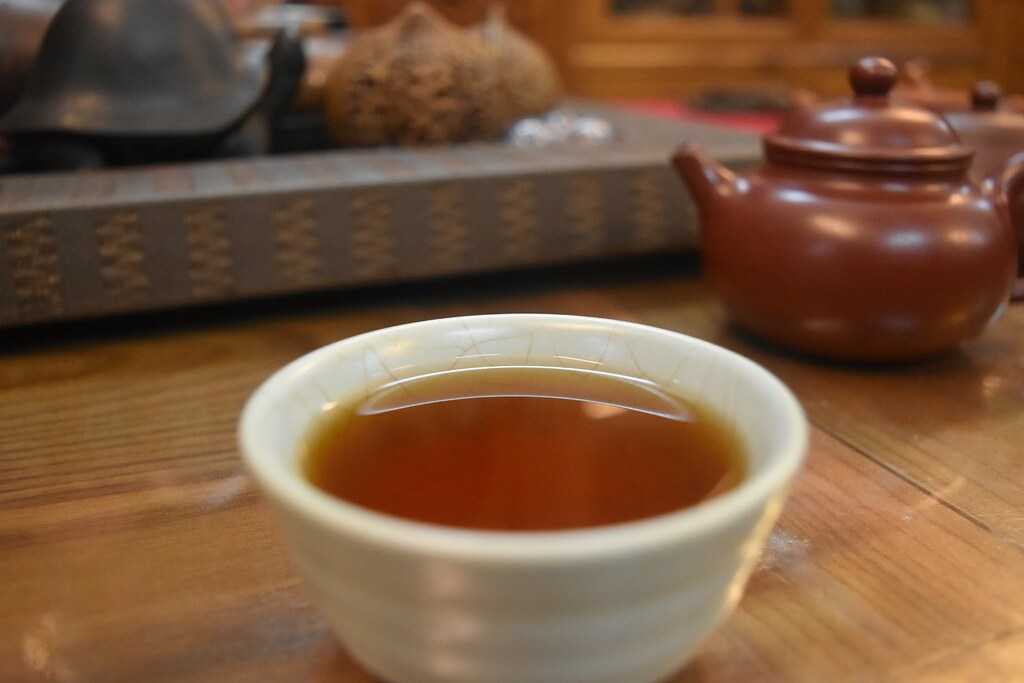 This shop is an authentic Chinese tea shop and is jam-packed by families most of the time. They serve amazing herbal tea and desserts and have been around since 1988. Their Sea Coconut is a drink which is a hit among locals. The desserts such as coconut pudding and jelly are quite tasty. This is the perfect place to go to after a nice heavy dinner in Kota Kinabalu. 
Address: 21, Lorong Lintas Square, Lintas Plaza.
Timings: 11:00 AM – 11:00 PM
A word of caution, even though the food in Kota Kinabalu is quite tasty, too much consumption of it might make you sick as it has huge amounts of fats and spices. We wish you a happy exploration of their culinary culture in the beautiful city of Kota Kinabalu!