The
Indonesia
n city of
Bandung
is famous for its architectural beauty, cold climate and vast shopping complexes. The city is the capital of Indonesia's West Java province. Apart from attracting tourists for its natural scenic beauty, the town has delicious Sundanese cuisine to offer, which is a unique treat for all the tourists out there.
Here is the list of lip-smacking food of Bandung which you cannot afford to miss:
1. Serabi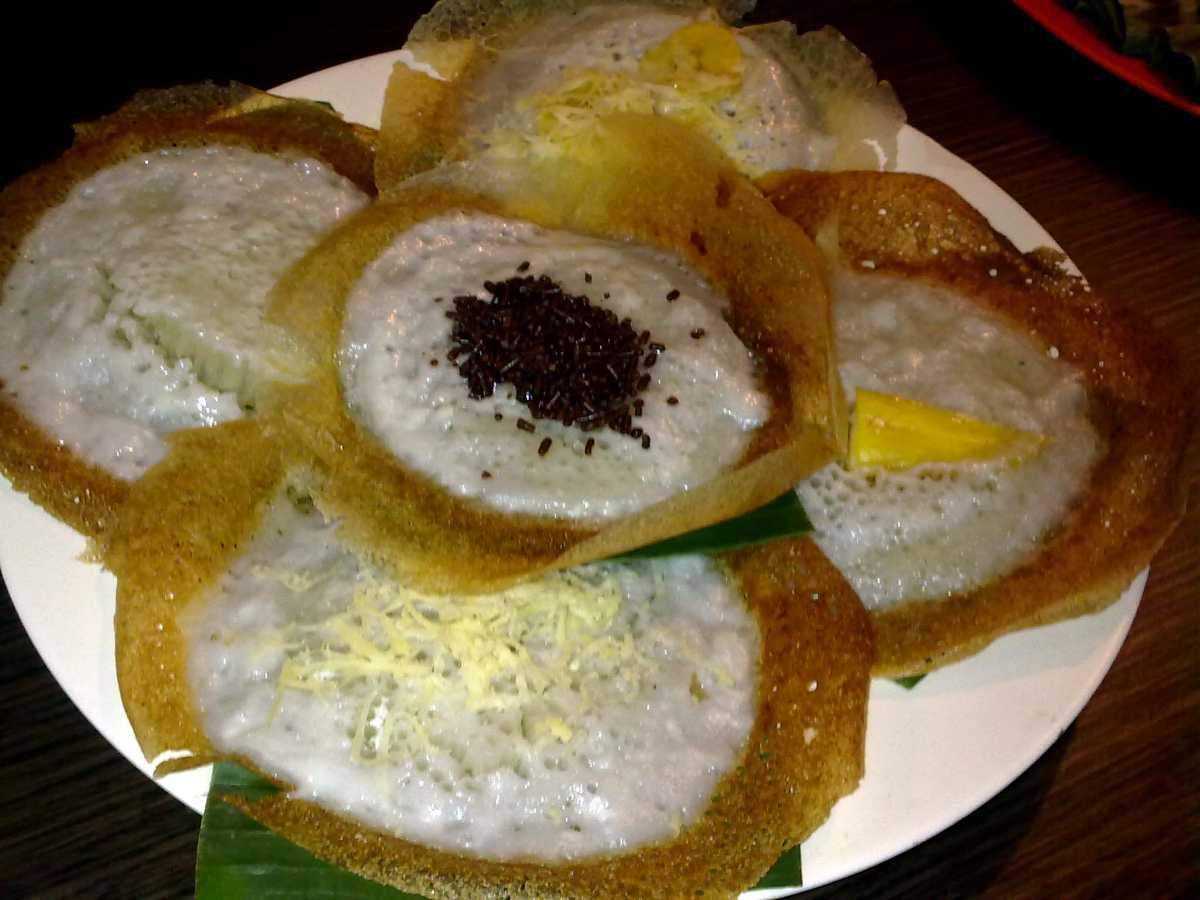 Traditionally known as 'Surabi', is an Indonesian version of pancakes. Made with flour and cooked on a special mould with charcoal. Most often serabi is flavoured with pandan leaves adding a tinge of green appearance on it. The consistency of pancake is thick, almost like a cake. The toppings of serabi have multiple variations. Most common topping is a sauce made of palm sugar and coconut milk. Other toppings include cheese, chocolate sprinkles and sliced bananas.
Where to eat?
Surabi Rajda: Margahayu Raya Bar.16, Kota Bandung.
Surabi Imut: Gegerkalong, Kota Bandung.
2. Batagor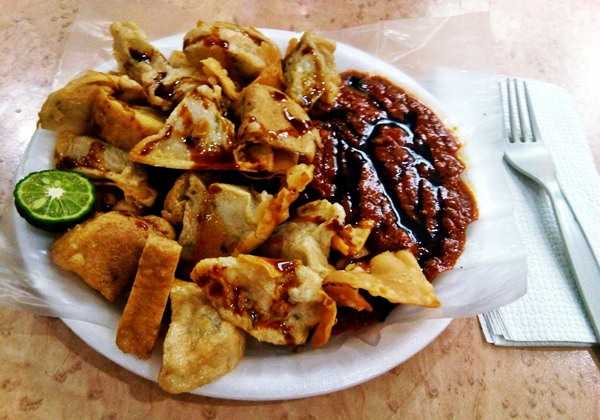 The delicious dish originated in Bandung is well-known all across the streets of Indonesia. The key ingredients of the savoury dish include meatballs and tofu. This dish is often eaten as a side dish or a snack rather than a full-fledged meal. The most common combination of Betagor is with crispy fish balls. It is one of the most famous street foods found in Bandung.
Where to eat?
Bandung Suki: Kec. Sumur Bandung.
Sha-Waregna: Kec. Sukasari, Kota Bandung
3. Lotek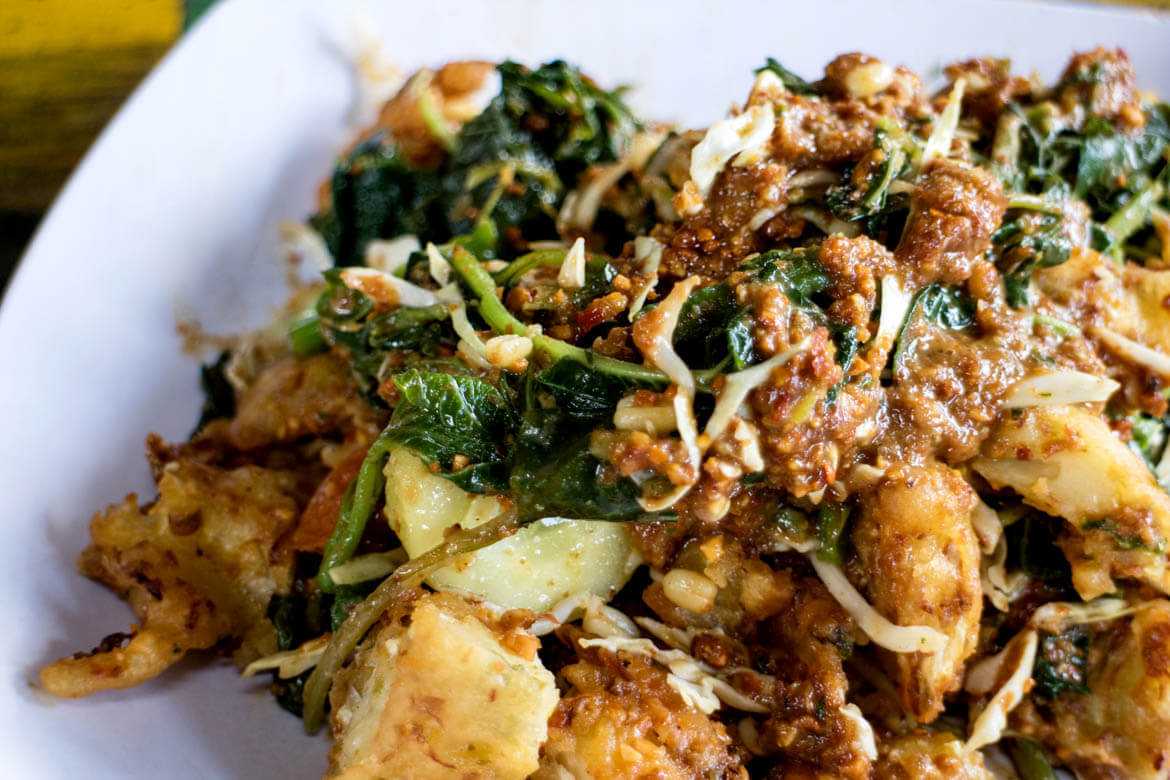 Lotek is a version of another famous Indonesian salad 'Gado-Gado'. The key ingredients of Lotek include bean sprouts, spinach and chunks of tofu. A spicy peanut sauce is drizzled over the salad to make it even more flavoursome. Another variation of Lotek comes with prawn crackers, served with compressed rice.
Where to eat?
Lotek Mahmud: Kec. Cicendo, Kota Bandung.
Warung Lotek Macan: Kec. Lengkong, Lengkong, Kota Bandung.
4. Mie Kocok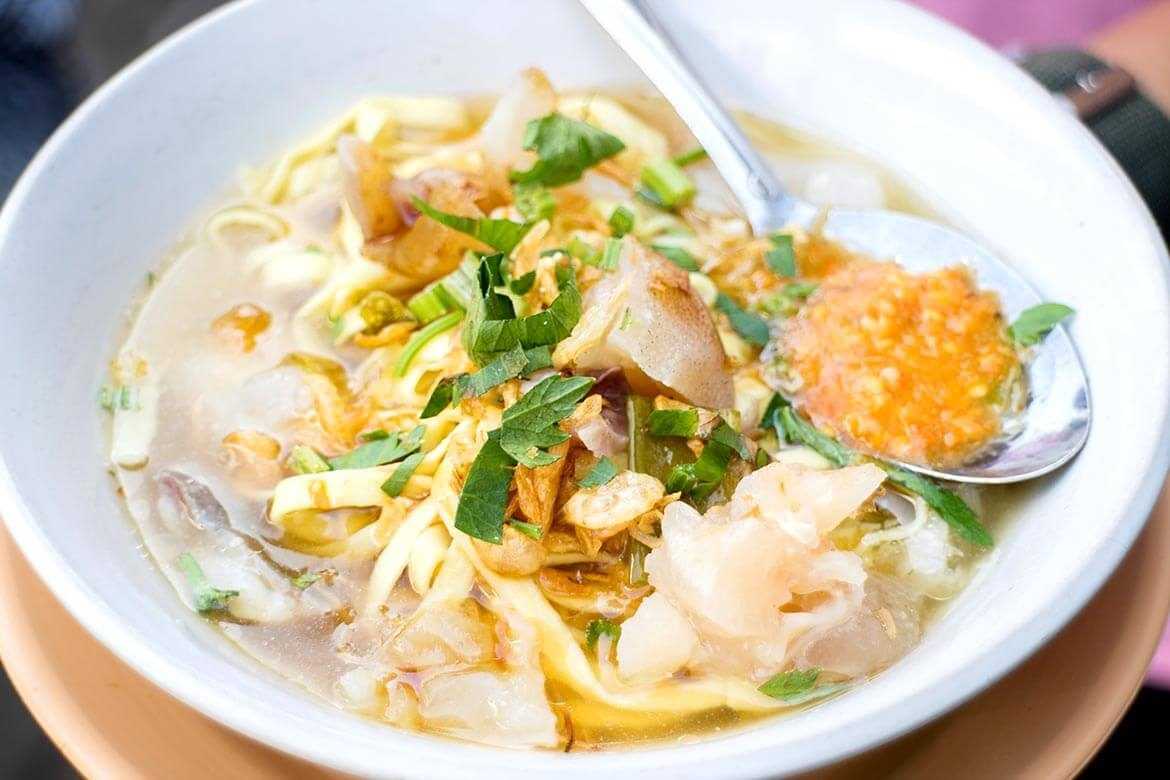 The delicious savoury dish is a must-have on the menus of the locals. This dish is different from other noodle dishes and has flat noodles dipped in delicious beef stock. The dish can be served with kikil or cow tendons and tripe. Mie Kocok is also garnished with celery leaves and fried onions. Customisations to the dish can be made by adding chicken or meatballs to the broth.
Where to eat?
Mie Kocok Mang Nanang Tea: Kec. Bandung Wetan, Kota Bandung.
Mie Kocok Persib: Merdeka, Kec. Sumur Bandung, Bandung.
5. Karedok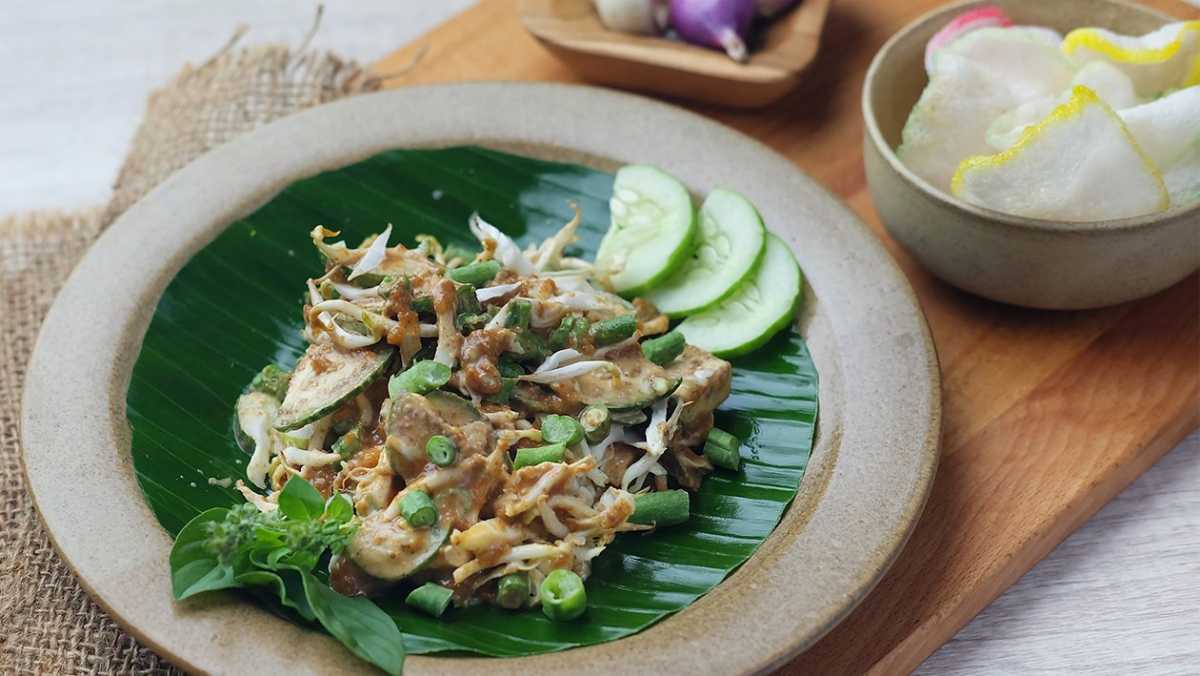 Karedok is a famous Indonesian salad made up of crunchy vegetables like beans, sprouts, cabbage and cucumber. A thick peanut dressing mixed with chillies adds spice to the dish. Karedok is different from other salads of the Sundanese cuisine as it omits the use of potatoes and has a herbal freshness of basil leaves.
Where to eat?
Warung Nasi Ibu Imas: Kec. Regol, Kota Bandung.
6. Gepuk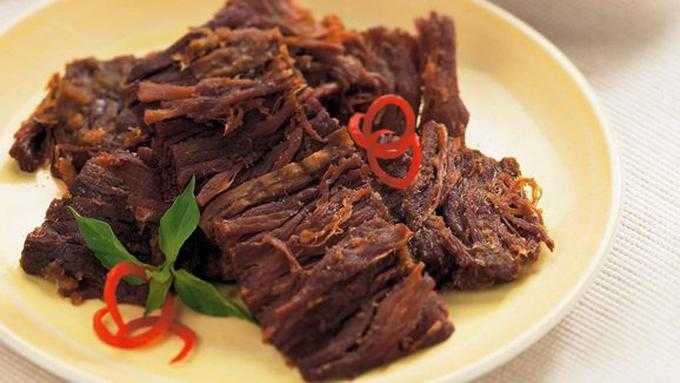 Gepuk is a famous Sundanese dish made up of fried beef. Beef is seasoned with aromatic spices like coriander, lemongrass, galangal and traditional Indonesian bay leaf. The beef is cooked in coconut milk and often looks like curry. The dish has a tinge of sweetness due to palm sugar. Gepuk is served with rice and crispy shallots to make up for a wholesome meal.
Where to eat?
Gepuk Ny Ong: Pasir Kaliki, Kec. Cicendo, Kota Bandung.
Gepuk Ny Yong: Kec. Cidadep, Kota Bandung.
7. Amanda Brownies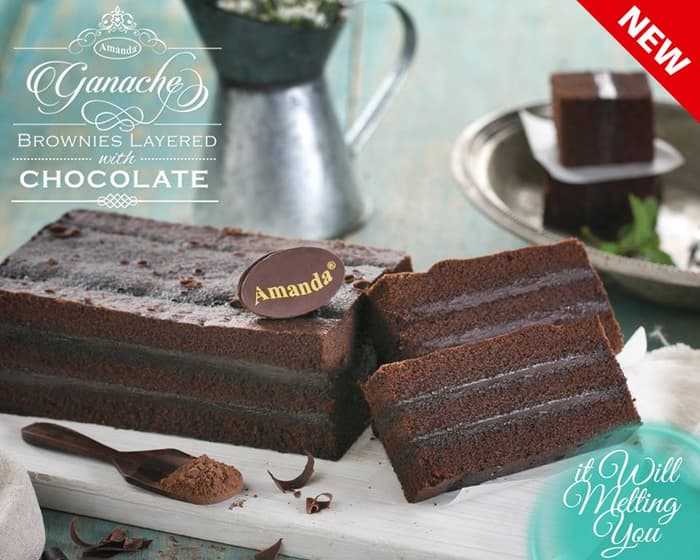 Even though brownies may not seem to be an Indonesian dish, yet 'Amanda Brownies' are an Indonesian invention. The major difference between these brownies and the other common versions of brownies is the cooking style, i.e. these are steamed rather than baked. The steamed brownies are extremely spongy and fluffy. They are flavoured with cocoa powder and can be customised with any flavour of your choice.
Where to eat?
Amanda Brownies Ranchabolang Pusat: Kec. Rancasari, Kota Bandung.
Amanda Brownies: Kecamatan Coblong, Kota Bandung.
8. Peuyeum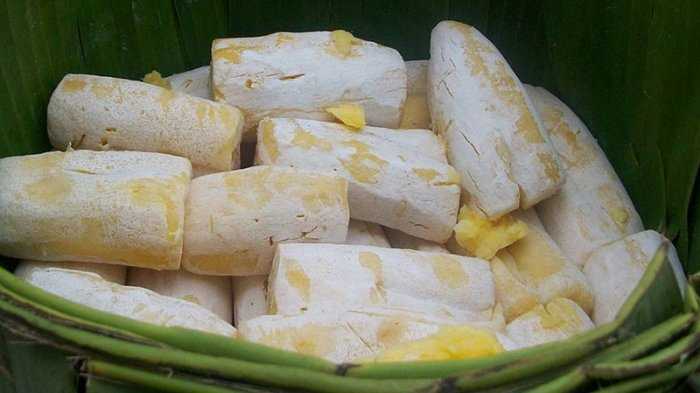 Peuyeum is a popular Sundanese dish made up of fermented cassava and a special kind of yeast. The dish is well-known all across the West Java area, and most people believe the origination of the dish to be from the city of Bandung. Peuyeum is another compliment with various kinds of processed foods like; fritters, sponge cake, popsicles and even mixed fruit desserts.
Where to eat?
Bandung Suki: Kec. Sumur Bandung
Eastern: Pamoyanan, Kec. Cicendo, Kota Bandung.
9. Lalapan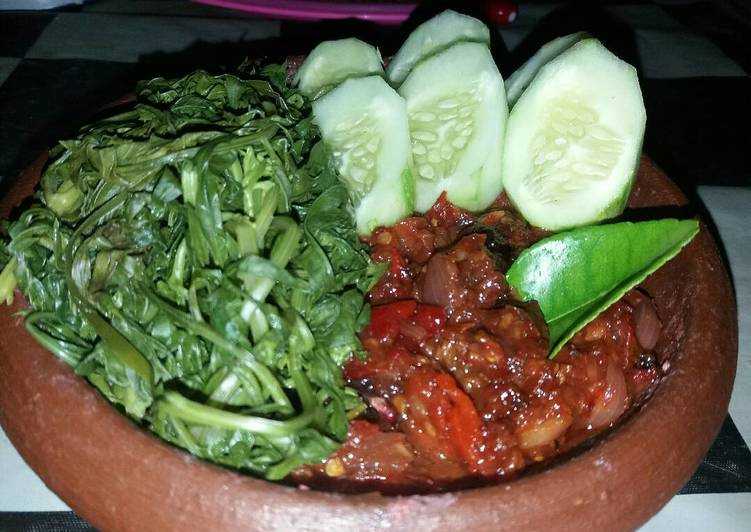 Lalapan is a famous side dishes for the locals which they usually have with rice. The main ingredients include cucumbers, cabbage, tomatoes and leunca along with garnishing of fresh basil and cassava leaves. Leunca is a cherry-shaped bitter fruit-like vegetable which can be eaten both cooked and raw. Most often leunca is added to lalapan to add to its taste.
Where to eat?
Lalapan Sambal Petir: Babakan Ciamis, BEC, Kota Bandung.
Sambal Lalap: Kecamatan Coblong, Kota Bandung.
10. Nasi Timbel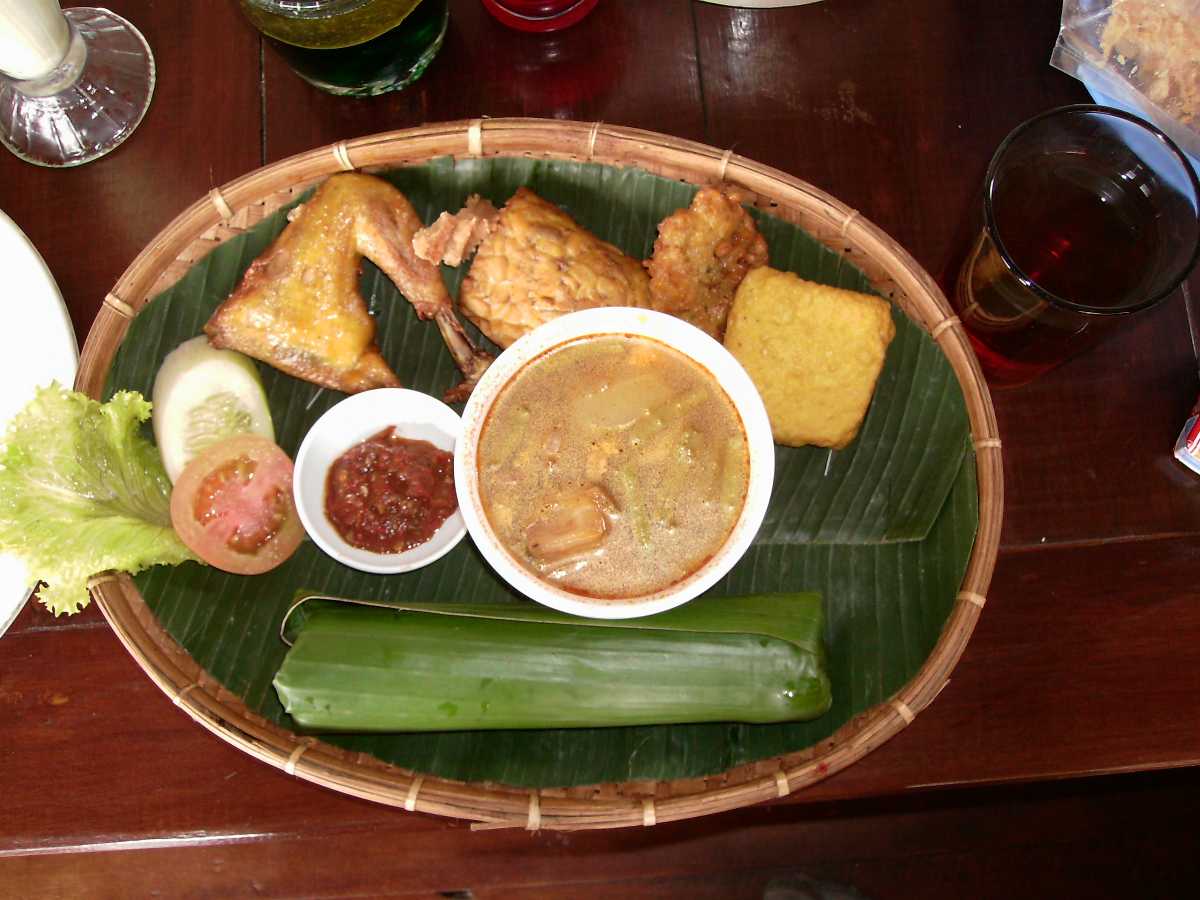 Nasi Timbel are rice balls wrapped in banana leaves. The banana flavoured rice are often consumed along with fried chicken, fried beef, salted fish, fried tofu and lalapan. The traditional dish can be easily found on local street stalls as well as in famous restaurants. Nasi timbel can be consumed with wide varieties of curries.
Where to eat?
Nasi Timbel Komplit Bandung: Kec. Lengkong, Kota Bandung.
Nasi Timbel Dago: Kecamatan Coblong, Kota Bandung.
11. Yamien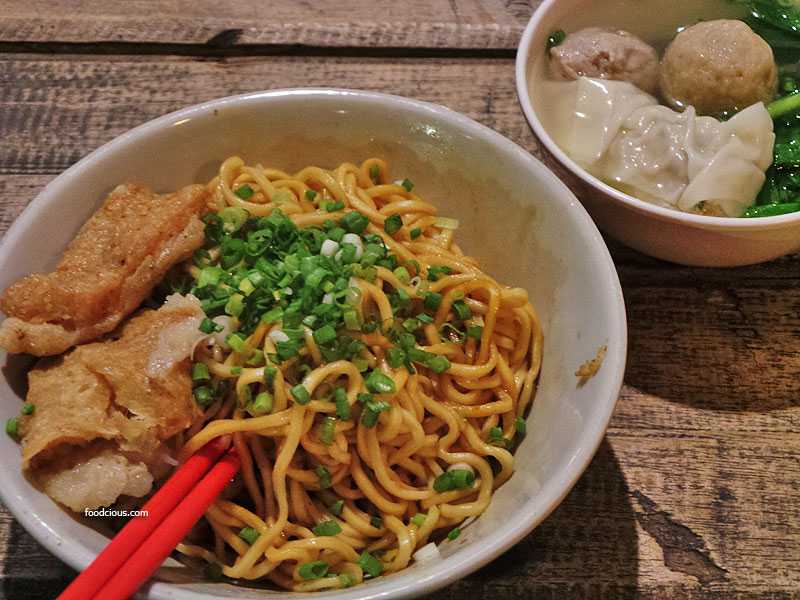 Yamien is a noodle-dish of the Sundanese cuisine. There a wide variety of noodles available all over the country. The noodles here are mostly served with broth or soup. Yamien is served both with sweet or salty broths depending upon the sauce added to it. The toppings of noodles include grated chicken, leek, celery, chicken claw crackers, as well as meatballs or wontons.
Where to eat?
Warung Lela: Kec. Cibeunying Kaler, Kota Bandung 
Toko You: Kecamatan Coblong, Kota Bandung.
12. Oncom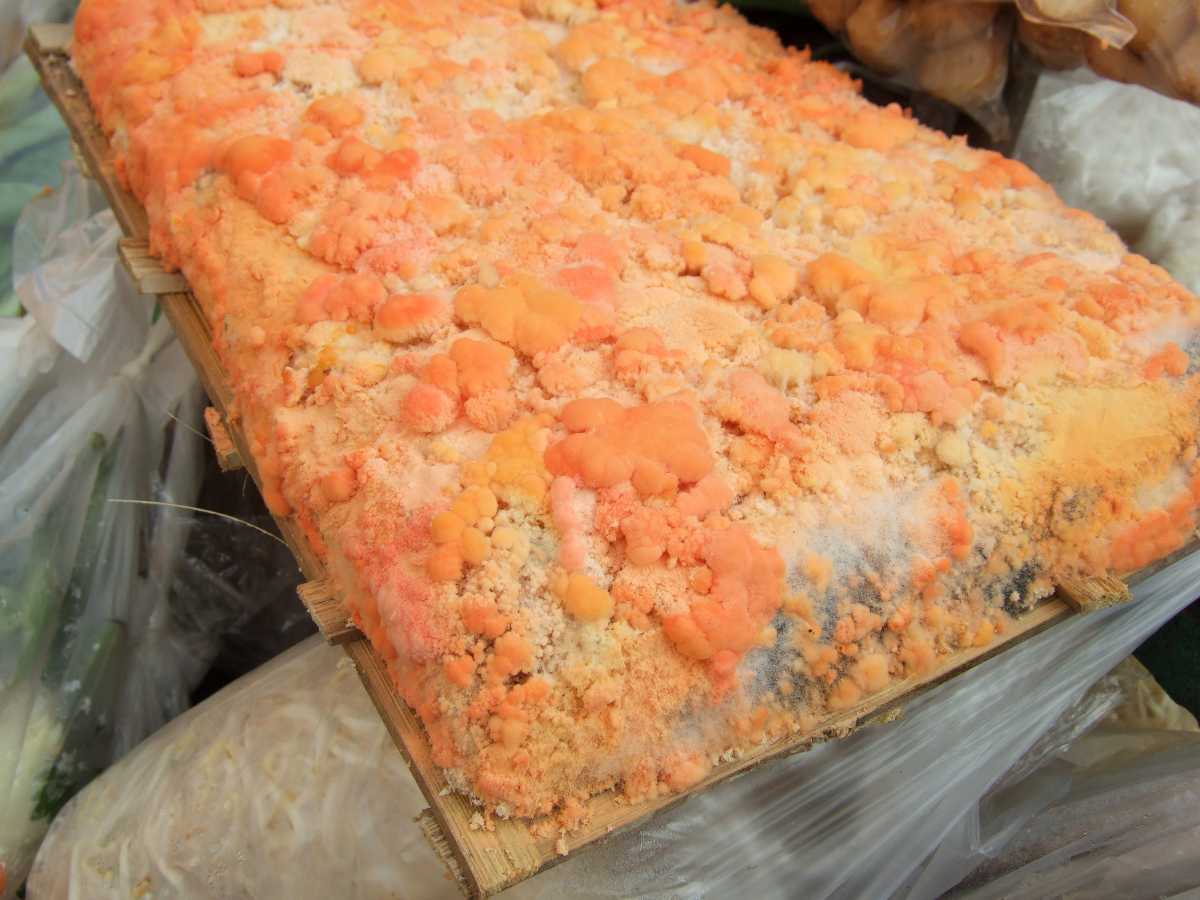 Oncom is a food item famous in West Java area formed out of fungi fermentation. Oncom comes in a lot of varieties; like the red oncom, is formed out of soybean oilcake and the black oncom is formed out of peanut oilcake. People have oncom as fritters, chips and combo (oncom filled in with chillies).
Where to eat?
Oncom Raos: Tamansari, Kec. Bandung Wetun, Kota Bandung.
13. Nasi Baker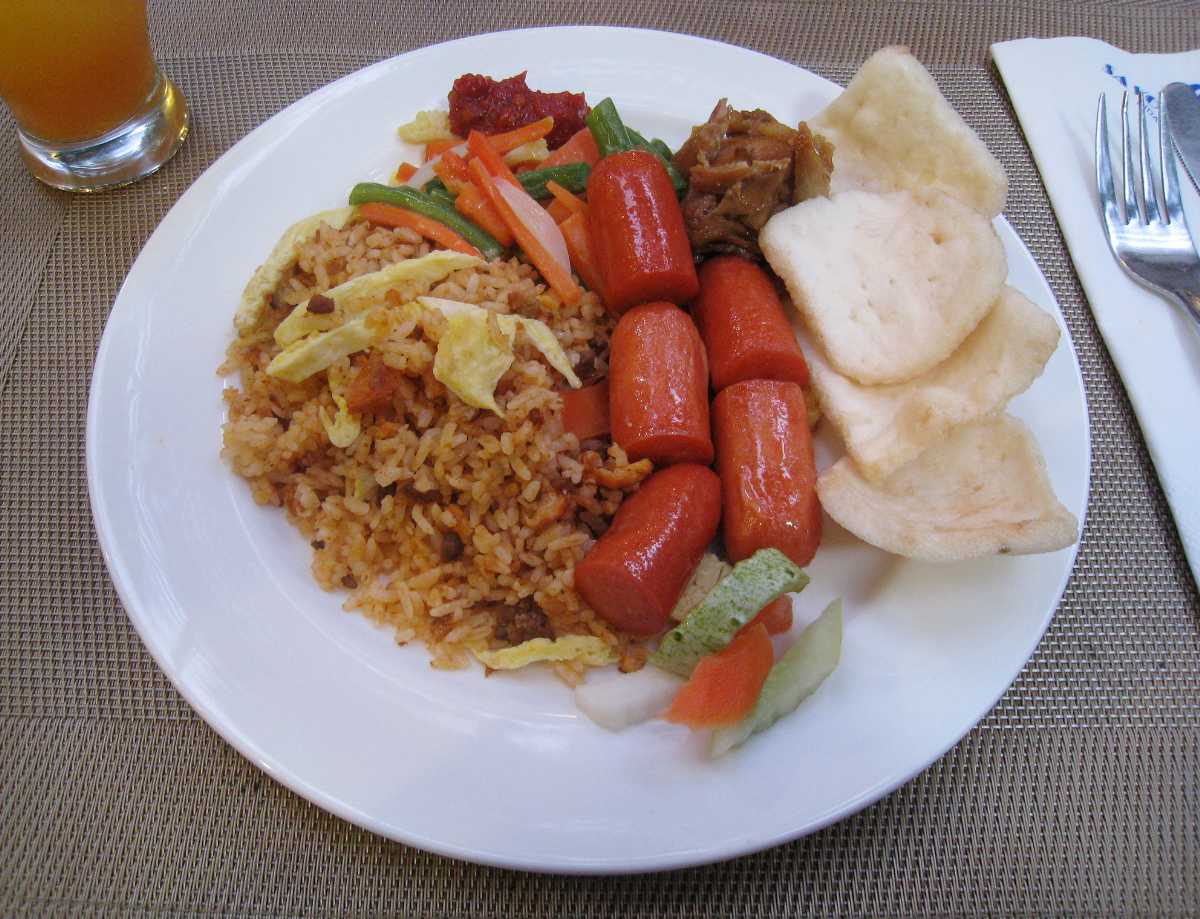 Nasi baker is formed out of the formation of nasi timbel (rice wrapped in banana leaves). Most often the rice of nasi timbel are customised to form Nasi baker.  Some cook it by grilling nasi timbel, while others cook it by adding more ingredients and seasoning to the banana leaves wrapped rice. The ingredients added are usually meat, chicken and fish with a seasoning of fresh basil leaves and spices.
Where to eat?
Braga Permai: Braga, Kec. Sumur Bandung, Kota Bandung.
Eat Boss: Turangga, Kec. Lengkong, Kota Bandung.
14. Nasi Tutug Oncom
The dish is another variation of rice dish found commonly all across Bandung. The rice is usually cooked with oncom and cikur with a bit of tapioca in it. The rice can be eaten with curries like lalapan, chicken, salted fish and chilli condiments. 
Where to eat?
Nasi Tutug Oncom Teh Ita: Dago, Kecamatan Coblong, Kota Bandung.
Nasi Tutug Oncom Bobotoh: Pakemitan, Cinambo, Kota Bandung 
15. Lomie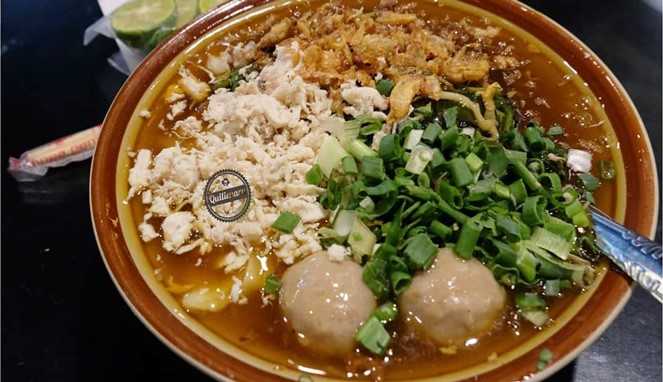 Lomie is another noodle dish of the Sundanese cuisine. The noodles are white and thick served along with thick and brown seafood broth. Along with cornstarch, green leaves like kangkung are added to lomie. Additional ingredients to lomie can be chicken, beef meatballs or wontons. 
Where to eat?
Lomie Lian Hoa: Karanganyar, Kec. Astanaanyar, Kota Bandung.
Lomie 61: Karanganyar, Kec. Astanaanyar, Kota Bandung.
16. Ambokueh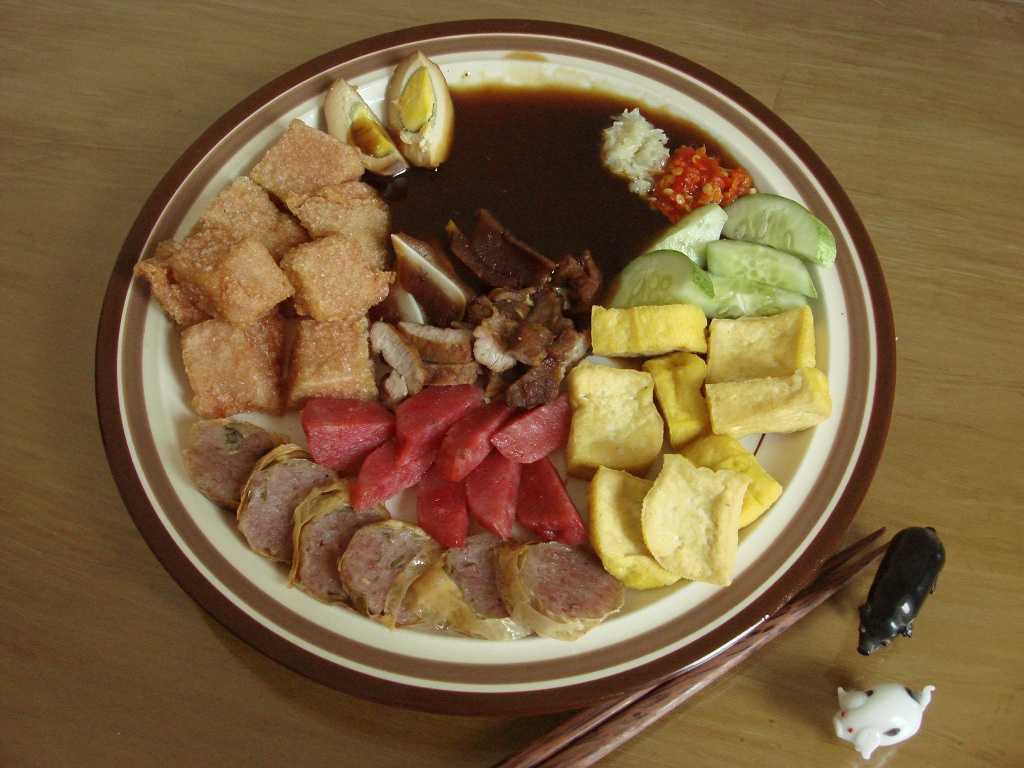 Ambokueh is a rice-flour cake which is served with a special kind of Chinese pork sausage or even with a Chinese style processed pork. Some people eat ambokueh with fried tofu, eggs and cucumbers with a topping of a special kind of sticky brown sweet and salty sauce. The taste of ambokueh is extremely delicious and is, therefore, one of the known specialities of the city. The entire meal is extremely wholesome, sufficient to satisfy your hunger.
Where to eat?
Ambokue Bacang Kebonjati: Kec. Andir, Kota Bandung.
17. Cilok, Cimol, Cireng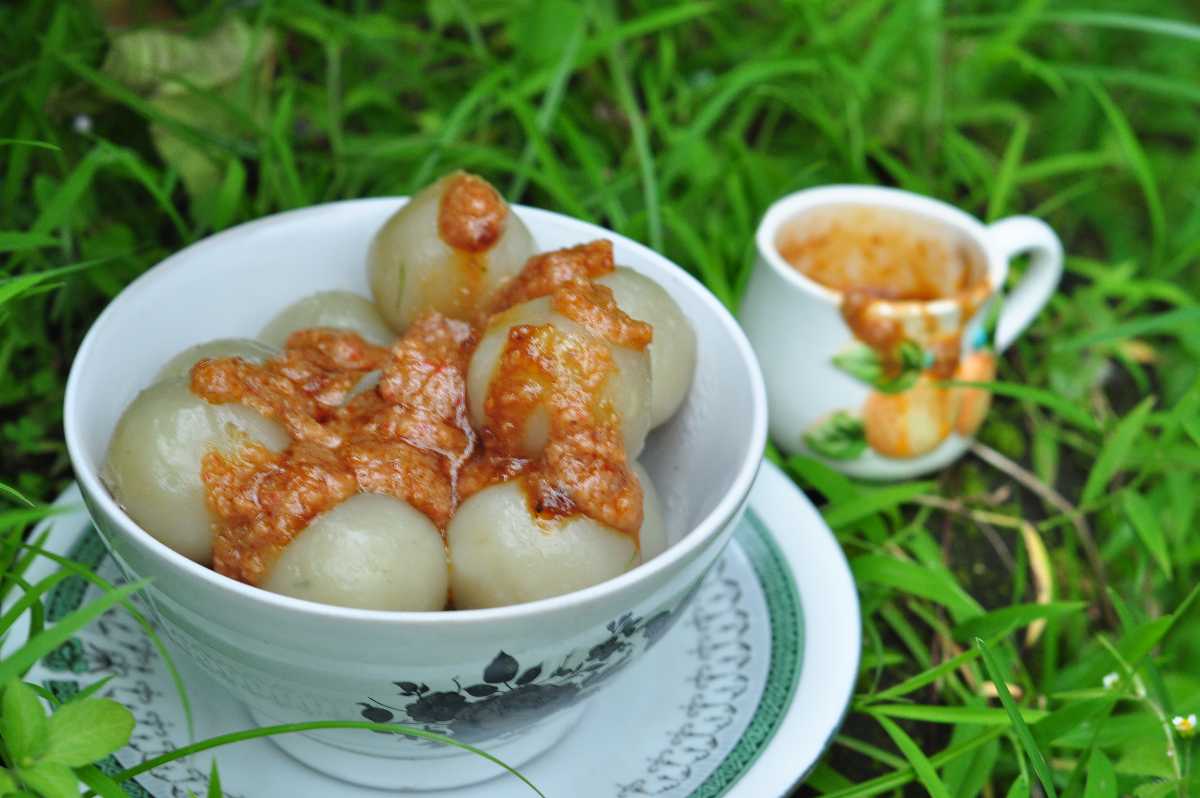 The three dishes are snacks usually deep-fried made up of tapioca, hence making these snacks quite chewy. The batter is first shaped into balls which are called cilok, while the same balls when deep-fried are called cimol. Cilok is served with spicy red sauce, and Cimol is just seasoned with pepper powder. Cireng is made out of the same batter with onions, seasoning of spices and soya, which is then fried.
Where to eat?
The three snacks can be found on various street stalls or even can be bought by hawkers selling them in every nook and corner of the city.
18. Lumpiah Basah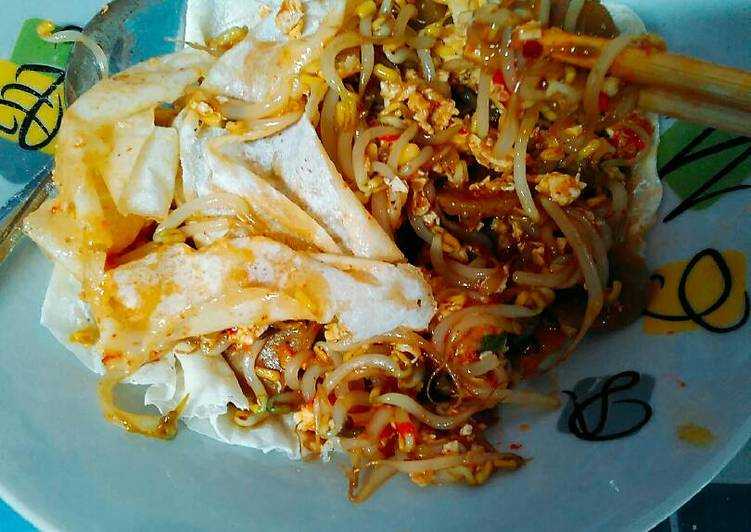 Lumpiah is another name of what we famously call as 'spring rolls'. These are a special kind of spring rolls made out of bean sprouts, carrots, bamboo sprouts and egg. While, in most places, the spring rolls are deep-fried, in lumpiah basah only the filling has stir-fried filling while the skin is raw. With a sauce at the bottom of the skin, the filling is placed and then rolled to be served on banana leaves.
Where to eat?
Lumpiah Basah is a famous street food found on stalls or being sold by hawkers.
19. Pisang Molen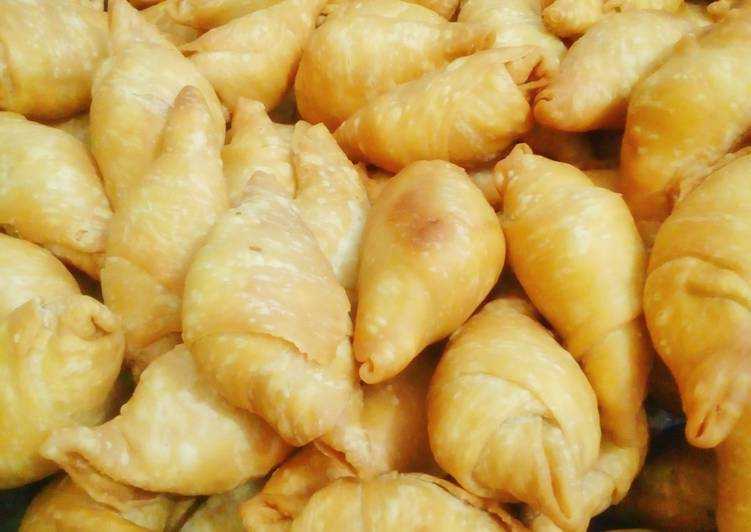 Pisang Molen is a dessert made out of bananas. The bananas are the core ingredient behind this delicious dessert made into a pastry. The pastry made is unique as it has a thick consistency and is fried rather than baked. Pisang Molen is a famous bakery product, a favourite of all the locals
Where to eat?
Kartika Sari: Pasir Kaliki, Kec. Cicendo, Kota Bandung.
Prima Rasa Kemuning: Merdeka, Kec. Sumur Bandung, Kota Bandung.
20. Kupat Tahu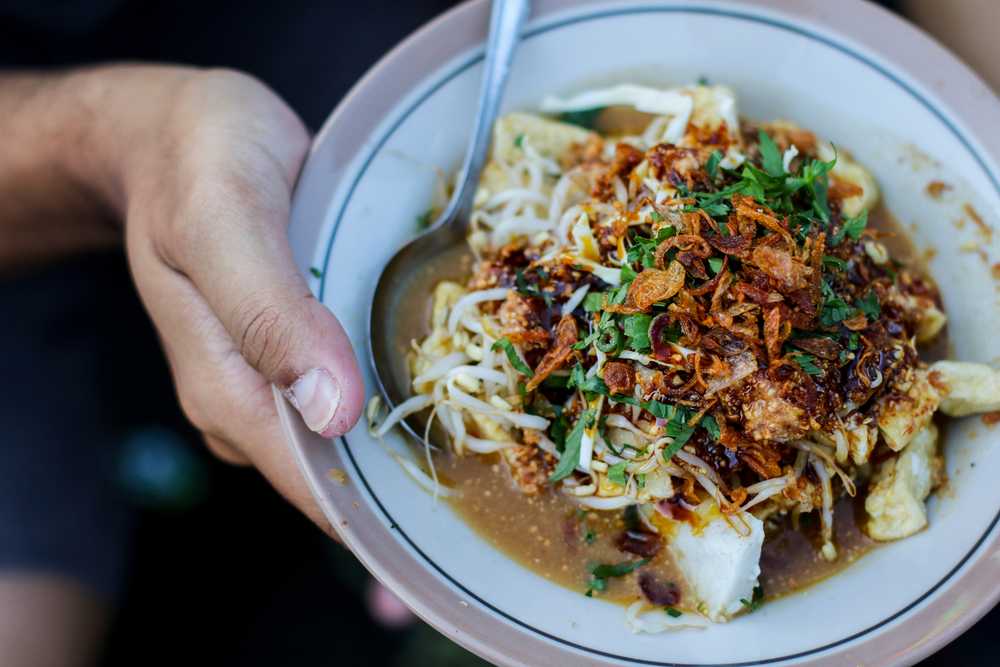 It is a dish well known in West Java. The key ingredient of the dish is soybean curd and soybean sprouts. Most often, the dish is served with a sweet peanut sauce; however, the toppings are subjected to variation and can be customised on your choice. 
Where to eat?
Kupat Tahu Gempol: Kec. Bandung Wetan, Kota Bandung.
Kupat Tahu Mangunreja: Kec. Regol, Kota Bandung.
These local foods of Bandung reflect the unique Sundanese cuisine and the rich cultural heritage of Indonesia. If you're planning to visit Bandung anytime soon, then trying out new dishes and foods of the Sundanese cuisine can make your trip worthwhile. These mouth-watering foods are sure to activate your tastebuds and rejuvenate you for a memorable holiday.