While we are apprehensive about taking trips due to safety concerns, 27-year-old Roshini Sharma traversed with her bike through 11 states. This super adventurous journey from Kanyakumari to Kashmir on a solo trip was bound to break all societal stereotypes, thus setting new records for the women in our country.
The Arduous Biking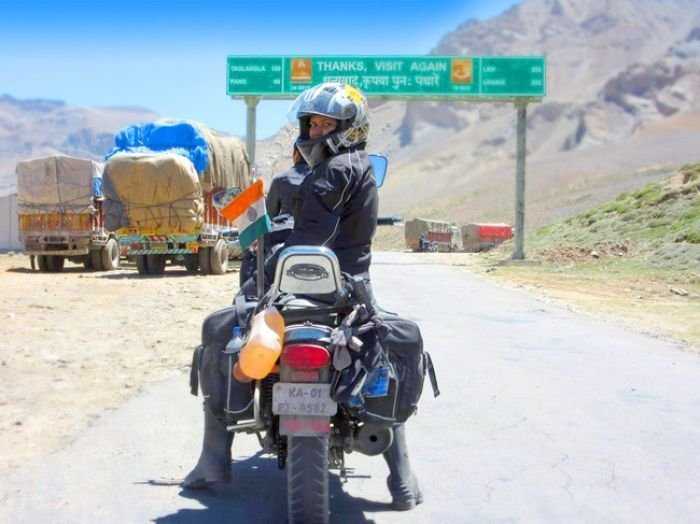 Having been accoladed with the title of the
first woman to have completed such a tedious trip all by herself
, this engineer found her way through lofty Himalayan mountains, tough terrains, high passes of Rohtang, Sarchu, Pang and Tangalangla and rode through the dangerous glaciers that tested her endurance to conquer her goal.
An Encounter With Apprehensions
Her journey was not as smooth as you may think. Every road trip comes with its own set of adventures and difficulties. Roshini too encountered such an experience which made her question her decision of undertaking that trip. She found herself sobbing along a 50 km pitch-dark stretch, drowning in perplexity and doubt about what was she looking out on the trip. It was in the vicinity of Pench National Park where the terribly secluded roads made of stone got her heart in her mouth. The fear led to the eruptions of a couple of reservations on why she was heading out!
She recalls "
I cried,". "I had everything in my life – loving parents, friends and a good job. What else was I looking for in life with this ride?
"
A Repartee From The Mountains


Touching the last leg of her journey, she began to find a response to all the hesitancy and uncertainty she was soaked in. Her meet and greet with Ladakh's snow-capped mountains, and elation of achievement paved the way for a newfound spirit.
"
I felt fearless. There is nothing in this world that I feel I can't achieve,
" she said.
Prior Groundwork
Of course, setting out on a biking expedition from one end of the country to another needs some outlining to be done beforehand. Her preparations included her route plan, cross-checking the route, convincing her parents, buying a bike and other necessary equipment before she could embark on this tedious journey. A significant lesson she took was on handling the technicalities of a motorcycle as there are high chances of it breaking down on rugged roads.
A Savoir-faire of Her Biking Quest


Her renewed vigour and spirit were a consequence of all the hurdles and hassles she had overcome en route her exodus. This biking pilgrimage left her with a bag full of experiences and wisdom of the world.
She shares her odyssey by saying that "
The experience of having the wind in your face while you ride is surreal. It's nothing like travelling with family or friends. Here, you've got to interact with new people, ask around, talk and experience their culture and lifestyle. It's a great learning and one that has truly transformed me."
An Epilogue to The Trip
After having accomplished such a massive trip, Roshini rode across Bangalore-Chennai-Bangalore in under 12 hours for 700+ km. She also undertook a Bangalore-Pune-Bangalore bike trip in one night, which was a long 1700 km and her most recent cover includes a Kerala trip that was a challenging 1770 km through narrow roads. She keeps adding new feathers to her adventure hat!
An Inspiration For All Girls With Grit
"
Biking is my passion, and by taking this expedition, I want to spread a message among women, especially young girls, to come out of social taboos and live a free life
," she said.
Doesn't Roshini inspire you to take that pending road trip on your bucket list? Tell us which trips you are aiming to conquer in 2020 in the comments below!