Only a few lines in one of the most famous guidebooks. Chhattisgarh, close to Tribal Odisha, seemed relevant for intrepid explorers. "42 different ethnic groups", "tribal haats" (markets), "chapura" (live ants), "Dussehra festival", quoted the book. My soul of apprentice ethnologist couldn't resist for long. After checking a few Indian websites, my decision was final: I would reach Jagdalpur for Dussehra. I couldn't imagine the extent to which this decision would change my life for ever.
Tribal Markets and Chitrakoot Falls in Bastar District of Chhattisgarh
Before hearing about Chhattisgarh, my first plan was to discover Tribal Odisha through its markets. Though this state has a lot to offer and may have better road connections, Chhattisgarh was actually easier to explore for a foreigner, as no permit is required. I only stayed in Bastar without feeling insecure. Local people always told me where to go, where not to go, and I followed their advice. I shared the three-wheelers with locals to go to the Indian Niagara Falls of Chitrakoot and the nearby Tribal Market of Lohandiguda. I had a bath in the middle top of the falls after exploring its Hindu and tribal temples. I danced in the middle of the road with the guests of a Muslim wedding and hijras. I tried alive ants (chapura) in a tribal market, with some old women staring and laughing at my grimacing face. The taste was first acid as tamarind, then very bitter. I drank the strong mahua (the local alcohol). And, more important, I spent wonderful time with smiling and beautiful people.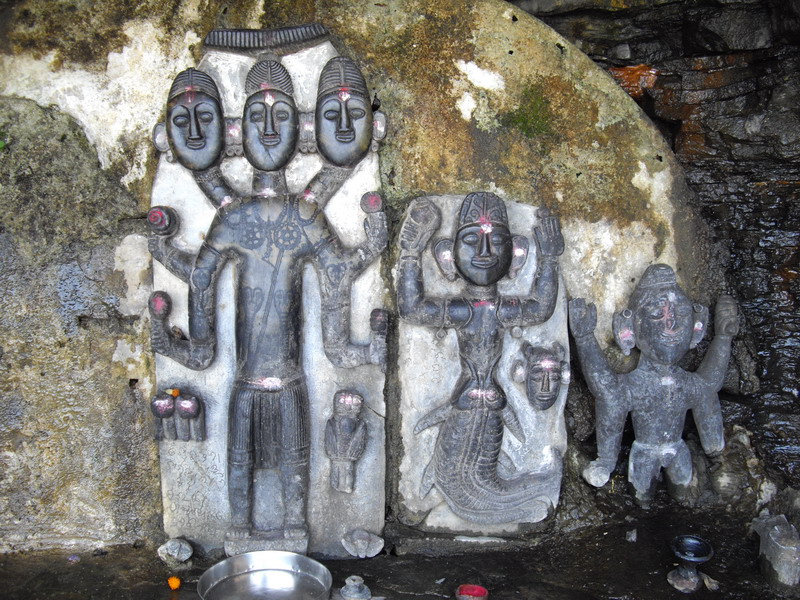 My only bad experience was in Dantewada. I spent several hours to find a local bus and go there. But when I was close to the sanctuary of Danteswari temple, people found a bad excuse to refuse the access. I tried several times, doing what they were recommended. But each time a new problem emerged and I was so upset that I left in a very bad mood, without visiting the temple and refusing to talk with other people… Lucky me, I now know a few lovely people living there, and next time I'll go with them.
Bastar Dussehra
Even though I had asked questions on several Indian forums, people couldn't tell me what I could expect during Bastar Dussehra. On my first evening, as I was visiting the palace, a procession began. I quickly understood it was the Maharaja of Bastar with his relatives. I decided to follow them. We went around the town, following the sound of music and songs, along with the palanquin of the Goddess and mediums. We stopped in a place where a swing of thorns was waiting for us. The palanquin turned around until someone hidden behind a sheet arrived. She was the kumari. This little young tribal girl from the Mirgin-Mahara caste was supposed to be inhabited by Kachan Devi Goddess and in a trance. People put her on the swing and she wasn't hurt. She blessed some flowers, the Maharaja and his relatives, that symbolizes the opening of Dussehra / Navratri (Dussehra began in July and lasts for 75 days. Navratri is the last 10 days / 9 nights of Bastar Dussehra). Then, everybody returns to the palace. This ritual is called "Kaachan Gadi Puja".
On my second day, I was in another hotel. As I had arrived by train without a map of the city, I had spent the first night in the dirty and noisy hotel close to the station. My second hotel had another kind of problem : they did everything to convince me that I could neither go out on evening nor going to other villages to visit the markets or falls.. They thought it was too dangerous for a solo woman and I couldn't count on them to get information on the festivities and transportation… There was no tourism information I could visit. But as always in India, there's a solution and I could count on the kindness of the local people to help me. I found the famous Hatta Ground where traditional dances were performed every evening, was invited in the VIP area, received the official Dussehra program… Some of my new guardian angels found me a better location to stay, very close to the palace, and took me each evening to the most traditional festivities. Thanks to them, I could enjoy the arrival of the sister Goddess from Dantewada, sitting on the roof of the palace, and even had an interview there, with a full-size coloured photo on the first page of a local newspaper from my first evening in the village.
The greatest time that I had was in Kumdakot. On the last evening of the festival, the tribes steal the big cart and walk the whole night to reach this place at a few kilometers from the palace. I took a three-wheelers to join them on the day after. When I entered the ground, it was the most amazing and traditional atmosphere I could imagine. Everywhere around me were piles of musicians wearing white clothes and red or pink headbands, mediums in trance, men bearing palanquins, tribal dancers, and Muria tribal people adorned with flowers. The Maharaja, wearing his most beautiful attire, arrived and shared the rice with the tribes' officials. After blessing the cart, a long procession began : first the dancing Madhyas, second the Maharaja standing in his open car, then the big cart pulled and pushed by tribal and local men. It took them several hours to return to the town in the most beautiful procession I've ever seen.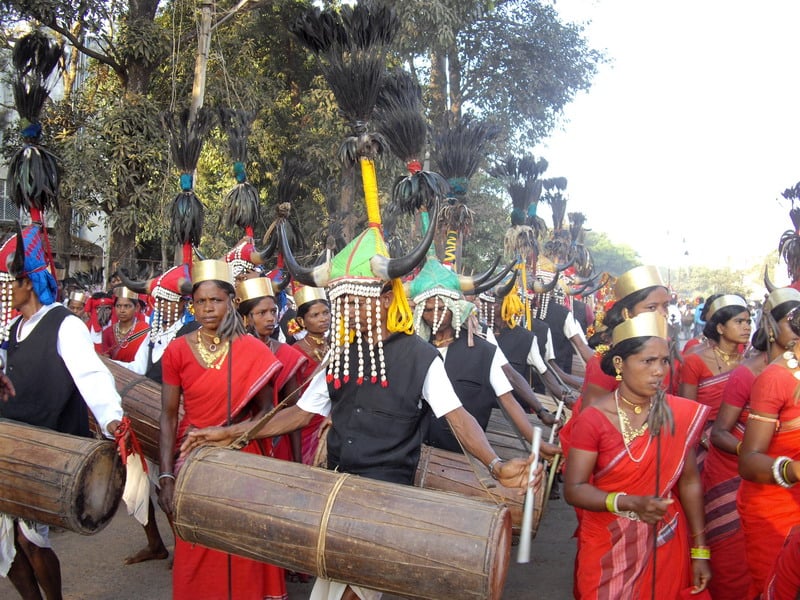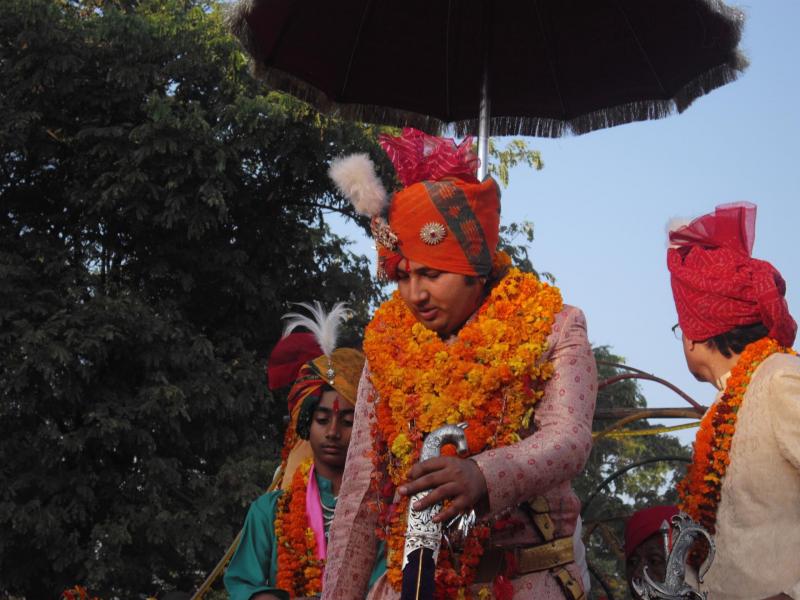 The people from Bastar really treated me as a part of their community and blessed me with their smiles, kindness, invitations and gifts. When I left, I cried and already knew I would never be able to forget them. They had given me more love than I would be able to give to anyone in my entire life. They have a proverb there : "If a foreigner comes in Bastar during Dussehra, he will come back."
Return and Project
I returned to work one day after my return. My head was full of beautiful images and I was still floating in a kind of state close to Nirvana. But it's not so easy to be a commercial manager strongly believing in happiness in work and participative management. Reality slapped my face and I brutally came back to earth. Month after month, the situation at work became worse. My only lifeline was to think about my lovely Bastar and its people. Their kindness and simplicity gave me hope in a better future. Slowly, it became clear that I wanted to give them some of the love that they had given to me. I knew that I won't be able to thank them enough. I began to dedicate my free time to promote their district, way of life and art. I created a new website and added Bastar to my previous Travel Blog. Step by step, I earned new incredible friends teaching me a lot about their life, believes, thoughts, art, festivals… I was invited to different Indian Facebook groups, especially one for Indian correspondents and Travel Bloggers. The new articles of my blog became both French and English, just like my website. I was lucky to find and buy a big house in the South West of France, where I could find place for a Holiday renting flat and my future Asian Showroom. In France, one could hardly find this kind of place where the guests get tea while taking time to discuss, laugh and learn from each other. That would be my special touch, both for the rental and Showroom. My work was also noticed by the Chhattisgarh Tourism Board (CTB). I participated in their photo contest "Explore Chhattisgarh" and won. I met their wonderful Managing Director in France. CTB is a very dynamic Tourism Board, winning a lot of rewards, and we now collaborate to promote each other. They have a lot of great projects I would like to be part of. I proposed my friends from Chhattisgarh to write Travelogues on my Blog to promote their area. The articles are also translated in French. I'm proud and very grateful for their great job.
Finally, Holidify mentioned my Blog in their Ultimate List of Best Travel Bloggers in India, in their non-Indians Top 6. This is the Beginning of a beautiful and exciting Adventure. Chhattisgarh is now part of my daily life and I'm impatient to discover more about it next autumn. I'll enjoy Dussehra with my friends again, explore more Tribal Villages and Markets, meet Ramnamis in Baloda Bazaar and the other Tribes in Jashpur District. And of course, I'll continue to write about the fantastic adventure.
This entry has been shortlisted for Holidify's Travelogue Writing Contest in association with Linger. The content and pictures may not be used without prior permission of the author.
Submitted by: Stephanie Langlet
The original post can be found here.