Located in the Solan district of Himachal Pradesh, Kasauli is a little slice of heaven waiting to be explored. With colonial-era houses, dense forests and the most gorgeous view of the mountains, Kasauli is the perfect destination. It is a great place to spend your vacation, away from the hustle-bustle of the city.
Kasauli is not just a beautiful tourist attraction. It is also known for the amazing local cuisine and Insta-worthy cafes that you need to add in your to-do list. From Himachali Pulao to Bun Samosa, there are several food items that you must try in Kasauli. There is nothing more peaceful than sipping a cup of hot coffee and eating these amazing delicacies.
1. Café Rudra

If you want to try out different types of sandwiches and Pizza, then Café Rudra is the place to be. A small and cosy place hidden in the Heritage Market, this café is the first choice for most travellers who visit Kasauli, as it is a hidden gem. The ambience, the graffiti on the walls, and the musical feel make it on the top of our list. We can vouch that they serve the best Irish coffee and grilled sandwiches. And please don't forget to try the crepes!
Be it the locals, the travellers or the young trekkers, all of them love to enjoy their hot coffee and scrumptious food. This place is so vibrant and full of positive vibes that you want to spend your whole day here.
Approximate Cost: INR 500 for two
Timings: Morning 9 AM to 9:30 PM
Location: Heritage Road, Shop Number 24, Kasauli, Kasauli Tehsil
Must try: Irish Coffee, Cappuccino, Grilled Cheese Sandwich, Hakka Noodles, Veg Burger, Crepes
2. Hangout Rooftop Cafe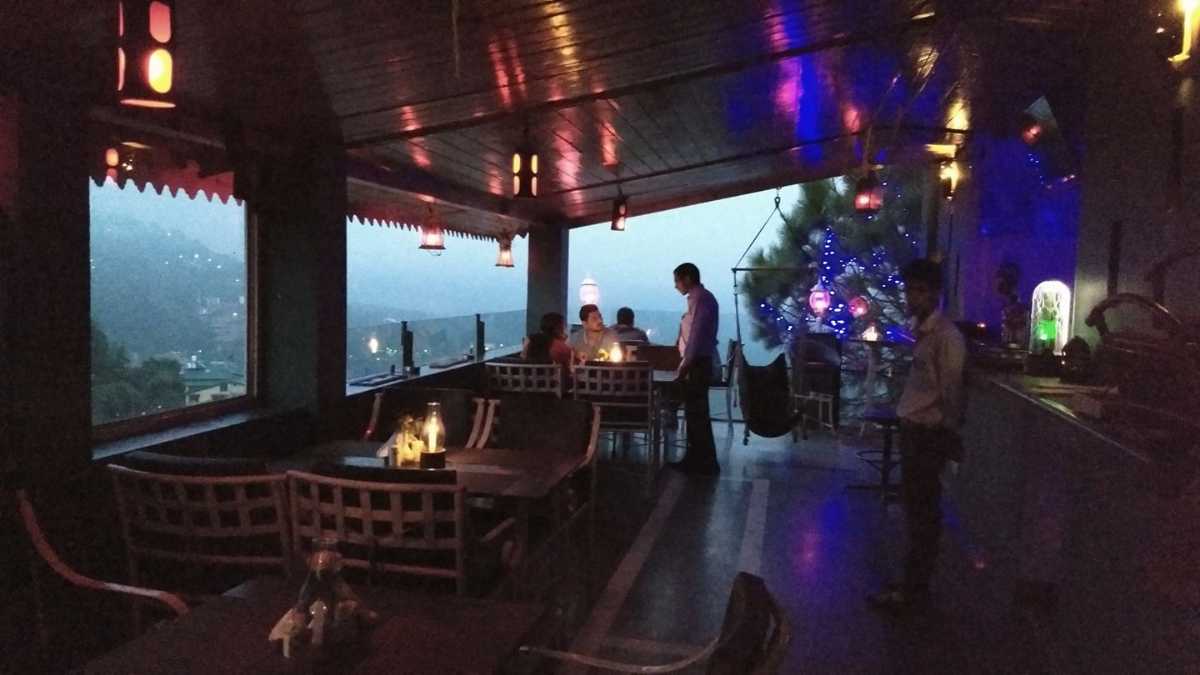 The Hangout Rooftop Cafe is one of the famous Cafes in Kasauli. The rooftop gives an amazing view of the mountain in Kasauli while you enjoy your food here. This cafe is located on the rooftop of Kasauli Regency Hotel. In the morning, you get an amazing view of the sun setting upon the mountains.
This view is just magnificent and drinking a hot cup of coffee makes this experience more amazing. You can also try snacks and tasty dishes such as Italian, Chinese. Here locals also arrive here to spend their time which is a great opportunity to have an interaction with them.
Approximate Cost: INR 500 for two
Timings: 7:30 AM-11:45 PM
Location: Hotel Kasauli Regency, Village Kimughat, Garkhal, Kasauli, Himachal Pradesh
Must try: Cocktails, Chopsuey, Sandwiches, Pizza
3. Narinder Sweet House

If you have a sweet tooth and also want to try out different authentic Indian snacks, then you must visit Narinder Sweet House. It is also known as Tannu ki Dukaan and is situated in Lower Bazaar. A famous spot in Kasauli, it is famous for its refreshing ginger tea and mouth-watering bun samosa.
The small size shop attracts a huge crowd of locals daily. You will get various varieties of freshly-made Indian sweets such as gulab jamun, jalebi, etc.
Fun fact:
It is said that famous actor, Sanjay Dutt used to eat bun samosa here during his school days.
Approximate Cost: INR 100 for two
Timings: 6:30 AM to 9:30 AM
Location: Lower mall Road, Kasauli Market
Must-try: Gulab jamun, Jalebi, Bun Samosa, Indian Tea
4. Mehfil Dharampur

Mehfil Dharampur is located on Shimla highway in Kasauli and is an excellent place to enjoy delicious meals. This cafe is among the top list of trekkers and food lovers. As it is located on a highway, it attracts a huge crowd of travellers on a daily basis. It is not only a food joint but also a great place to relax and enjoy the beautiful view of the Himalayas.
It serves various ranges of drinks, coffee, snacks and scrumptious meals. The warm and beautiful ambience and live barbecue make this place a worth visit.
Approximate Cost: INR 1200 for two
Timings: 9 AM to 9 PM
Location: Shimla Highway Valley Side, Kasauli, Himachal Pradesh
Must try: Chinese, Barbecue, Pizza, Indian
5. Old Town Coffee Café
The Old Town Coffee Café offers the best coffee with a classic ambience which is situated on Madhiyana Road. It is designed with small-sized furniture for seating and the white paint on the walls just looks dreamy. It is one of the picturesque cafes in Kasauli that you should post on your Instagram.
Here you can spend as much time as you want with your closed ones with lip-smacking dishes. The Oreo Shake and Strawberry shake is worth trying. Once you visit here, you will surely come back again and again.
Approximate Cost: INR 350 for two
Timings: 9 AM to 10 PM
Location: 39 Heritage Market Road Kasauli
Must try: Cold Coffee, Oreo Shake, Strawberry Shake, Chocolate Pastry
6. Mom's Kitchen
Mom's Kitchen is another café located in the Heritage market in Kasauli that offers delicious food with a homely taste. It is popular in Kasauli for its perfect and hygienic environment. If you want to have a healthy Indian breakfast with appropriate pricing. Especially hot paranthas and momos are the specialities of this place.
Delicious chocolate shakes and momos are always in demand of the locals and tourists. This tiny cafe in Kasauli offers delicious food that should be on your list.
Approximate Cost: INR 300 for two
Timings: 10 AM to 8 PM
Location: Heritage Market Shop No. 7, Kasauli
Must try: Chicken Momos, Pizza, Sandwiches
7. Café Mitti

Café Mitti in Kasauli doesn't only offer food but people arrive here to enjoy the heavenly beauty of mountains. The great ambience and fast service make this restaurant stand out from cafes in Kasauli. It is located near the Khetarpal Marg where you can enjoy your sightseeing and then spend some leisure time while enjoying delicious food.
The hot chocolate drinks of this cafe is worth trying at amazing prices. If you want to save money without compromising the quality and taste, then cafe Mitti is ideal for your trip.
Approximate Cost: INR 400 for two
Timings: 9 AM to 7 PM
Location: Near Sanawar Lawrence School, Kasauli
Must try: Momos, Cheese Pizza, Pasta, Burgers
8. Freq Cafe
The Freq cafe is situated on the Kalka Shimla Highway that makes sure to provide you with the best services with an amazing view. The spacious cafe and lip-smacking dishes is a perfect combination that can be had in Kasauli. It serves the best quality and freshly made pizza with a crispy crust that you should try when you visit here.
This place is one of the famous cafes in Kasauli that will not disappoint you in any way. It has a perfect ambience, with a perfect view and tasty food.
Approximate Cost: INR 800 for two
Timings: 11 AM to 10 PM
Location: Kalka-Shimla Highway, NH-22 Dharampur, Kasauli Tehsil
Must try: Pizza, Waffles, Chocolate Shakes, Pasta
9. Café Mantra
Café Mantra is one of the favourite places if you love trekking. With various ranges of food, Cafe Mantra is another popular cafe that is hidden in the Heritage Market of Kasauli. It is the best place to hang out if you have a small group of friends. The delicious noodles and sandwiches at an appropriate price is the speciality of this place.
The freshly brewed coffee over here is highly recommended by us. Along with the food, you will enjoy the perfect music that will energise you for the rest of the day.
Approximate Cost: INR 800 for two
Timings: 9 AM to 9 PM
Location: Heritage Market, Shop no. 8, Kasauli
Must try: Hakka Noodles, Tomato and Cheese Pizza, Coffee, Veg Spring Rolls
10. Taste of Tibet
Visiting a hilly area means trying out the authentic Tibetan dishes is a must. The taste of Tibet is the place if you want to try steaming hot thukpa and momo with spicy chutney. These dishes are loved by the locals who want to have some refreshing and soothing soup and a variety of momos.
Make sure that you don't forget to visit this place once if you are in Kasauli. here you will get other scrumptious dishes at an amazing price.
Approximate Cost: INR 400 for two
Timings: 10 AM to 9 PM, Tuesday to Sunday
Location: Shop no. 10, Pine Mall, Kasauli, Himachal Pradesh
Must try: Chicken Momos, Chilli Momos, Thukpa
Kasauli is a great place to visit at any season to get some peace and personal time. The lip-smacking food amidst the mountains makes the journey memorable. These above-mentioned cafés are one of the top places to visit to enjoy delicious foods at an affordable rate. Do let us know if we missed out on a hidden gem.