Long weekends are much more special than regular weekends. They give you that one extra day which makes so many more places accessible. Well, no more excuses would work now that you have a holiday season and chilly weather coming up! There are several places near Mumbai to visit in Winter season. Get out of the comfort of your homes and make the most of this festive season and winter holidays. So without further ado, here are the places near Mumbai to visit in winter.
Before we begin, here is a little flowchart to help you decide. Have a great trip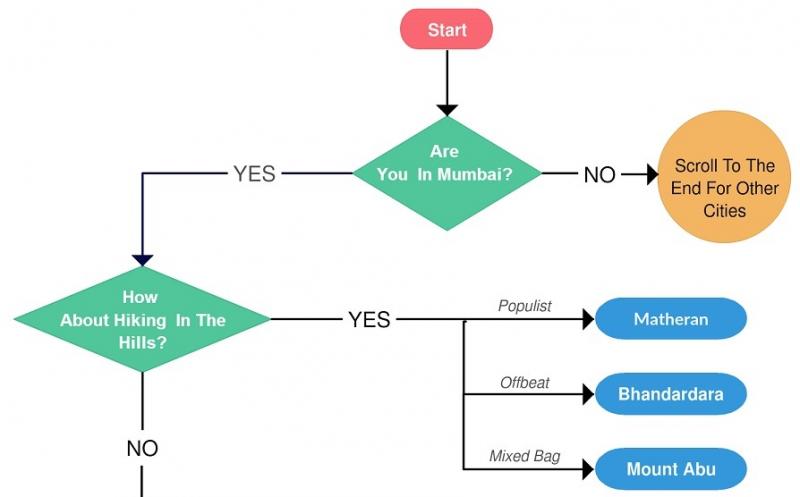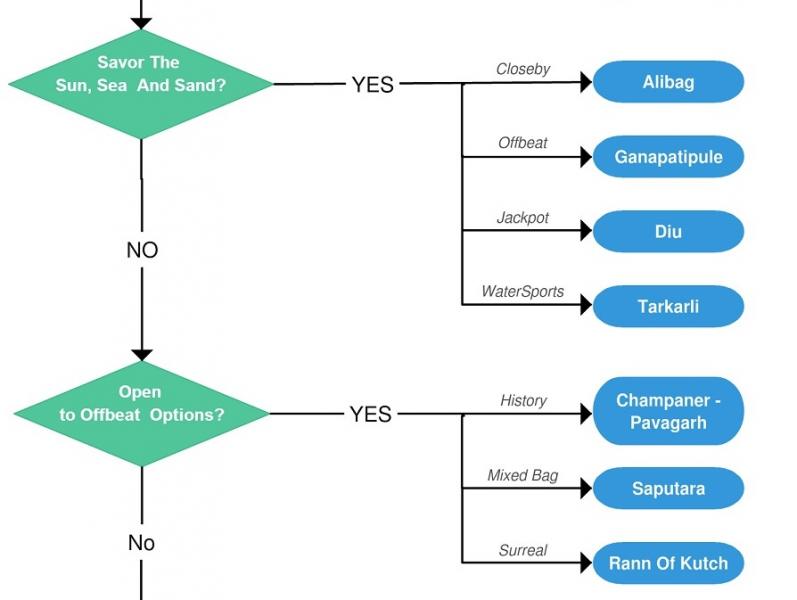 Mumbai Weekend Flowchart
1. Matheran : Hills and waterfalls near Mumbai
Matheran is one of the beautiful hill stations near Mumbai that is known to be a quick weekend getaway from Mumbai. Definitely one of the places near Mumbai to visit in Winter. Two days at Matheran could be spent in much leisure – taking walks along the hill top, comfort food or take a day's excursion to see the 12 points of the hill on a Horse.
Matheran Travel Guide
Bhandardara, famous for its lake town status, where boating and other water sporting activities are enjoyed by tourists and locals alike. Bhandardara can be explored in two days where you can trek to the Ratangad Fort, visit the Randha and Umbrella Falls, and go boating in the sunset at the Arthur Lake. Kalsubai, the highest peak in Maharashtra falls on the way to Bhandardara and is another great trekking option.
Note: This trip requires you a minimum of 4 days and hence suitable only for long weekends.
Beautiful monuments, amusement parks, delicately carved mosques and sheer pleasure of exploring the Islamic-Hindu style of architecture present in the old structures of Ahmedabad. The textile city has museum of textiles and freedom struggle inspired museum, the tomb of Ahmed Shah – the then ruler of the city, among other attractions. Mount Abu is the serene counterpart to Ahmedabad, numerous temples, forts and musuems make up for the main attractions here along with various points such as Sunset Point, Honeymoon Point, Sunrise Point. A perfect combination for a short winter trip near Mumbai.
Mount Abu Travel Guide Ahmedabad Travel Guide 
Ganapatipule is the one of the lesser known destinations around Mumbai with minimal human alteration; it provides a rather calm and secluded beach front as compared to Alibag with some delicious Konkani food to compliment it. You can also visit the Ganapatipule Ganesh Temple and shop for some traditional handicrafts in the village markets. It makes for a balmy getaway in winters from Mumbai.
5. Munnar + Alleppey (Kerala): Meadows and Backwaters near Mumbai
Note: This trip will be costlier than other places as it requires you to go to Kochi first by a flight and return via flight as well. Otherwise, this trip will take atleast 5-6 days.
Munnar is the green paradise of Kerala adorned with the beautiful Munnar Hills and endless expanse of Tea plantations, it is a perfect place to unwind and rejuvenate. Valara Waterfalls, Kundala Lake and boating along the Western Ghats and you wouldn't want to leave. However, Alleppey beckons, the Venice of the east, famous for its backwater stretches – one can enjoy long boating rides on the traditional house boats and indulge in some delicious local cuisine. Head out here this winter as the temperature dips.
Munnar Travel Guide Alleppey Travel Guide 
6. Diu : Places of solitude near Mumbai
For the solitude seekers, it doesn't get better than this, more so during the winter. Diu have lots to explore be. It was recently promoted as a great beach destination by the viral campaign in which it was difficult to point out that the beach in located in India itself. Diu, unlike Daman is beautiful, offbeat and have amazing beaches. Diu, blessed with incredible and pristine beaches, that takes care of your solitude needs when you're tired from regular monotonous life in Mumbai.
These two towns of Gujarat boast of representing the rich culture and heritage of the traditional Gujarat. They house the ancient forts, tombs, and old monuments. The Kalimata Temple at the Pavagadh Hill witnesses a large number of devotees daily while the Champaner- Pavagadh Archaeological site is the repository of the palaces, temples, water reservoirs, etc. Explore these places in the winter mist to have a surreal experience.
Champaner Pavagadh Travel Guide 
8. Little Rann of Kutch  Serene and spiritual sojourn near Mumbai
This is another great option for winter trip near Mumbai. Arrive at Ahmedabad a night prior to start your day at Little Rann of Kutch early. Spend the day exploring the desert by an open jeep where you can spot a wide variety of animals, overnight stay at the dessert should not be missed.
9. Dwarka: Temples, Beaches and Boat Ride.
While proceeding to Dwarka, one can take a pit stop at Jamnagar to visit Lakhota Lake and Museum and the Bala Hanuman Temple. Once in Dwarka, visit the Dwarkadeesh Temple, Bet Dwarka, Nageshwar Temple and take an evening boat ride in Gopi Talav.
10. Nasik: Temples, Jyotirlingam and Lakes
You could leave for Nasik on the third day, spending the rest of the day exploring the beautiful city that boasts of famous ancient temples like the Trimbakeshwar Temple, Ramkund – the bathing tank where pilgrims come daily to bathe and pray or visit the trek along the Brahmagiri hill.
Or if you are not looking for a religious trip you can pay a visit to the Sula Vineyards and savour the choicest wines to make for a heady trip. You can read more about it in this travelogue. Overall, a great outing for winters near Mumbai.
11. Alibaug: For the love of laid-back beaches
Alibag is another one of Mumbai's famous getaway with beautiful beaches and ancient fort ruins, it makes for quite a respite from the city's hustle and bustle. You can spend a day at the Kashid beach enjoying the sea and water along with some water sporting activities. A little further in from Alibag is the ruins of Korlai Fort; trekking enthusiasts can take a day's trip here.
In Saputara, the main attractions include – Saptashrungi Temple, Hatgad Fort and the Purna Sanctuary. Other than these, the Gir Falls, Botanical Gardens and the Sunset Point are also must visit this winter.
13. Tarkarli: Who doesn't like a beach town where peace isn't hard to find!
A beach vacay with sands glowing in the sun, a ragid yet placid looking sea and a vague sense of peace is never too mainstream! Head over to Tarkarli instead of Goa this winter, and feel the difference. The water sports on offer (read scuba, snorkelling, banana boat ride), and mad collection of beautiful starfish and shells are definitely the spur that you need to visit this idyllic haven. To know more, read this Tarkarli Travelogue.
Places near Bangalore for Winters
Places near Kolkata for Winters
View all Places to visit near Mumbai
Similar Posts That You Might Like