Undoubtedly, the chariots or 'Raths' are the focal point of the procession in Puri. There are three main chariots carrying three deities that are a part of the celebration. All the three chariots are made of wood and decorated by local artists. Lord Jagannath's chariot is the biggest of the three having 16 massive wheels and a height of 44 feet. While Lord Balabhadra's chariot has 14 wheels and a height of 43 feet followed by Goddess Subhadra's chariot having 12 wheels and a height of 42 feet.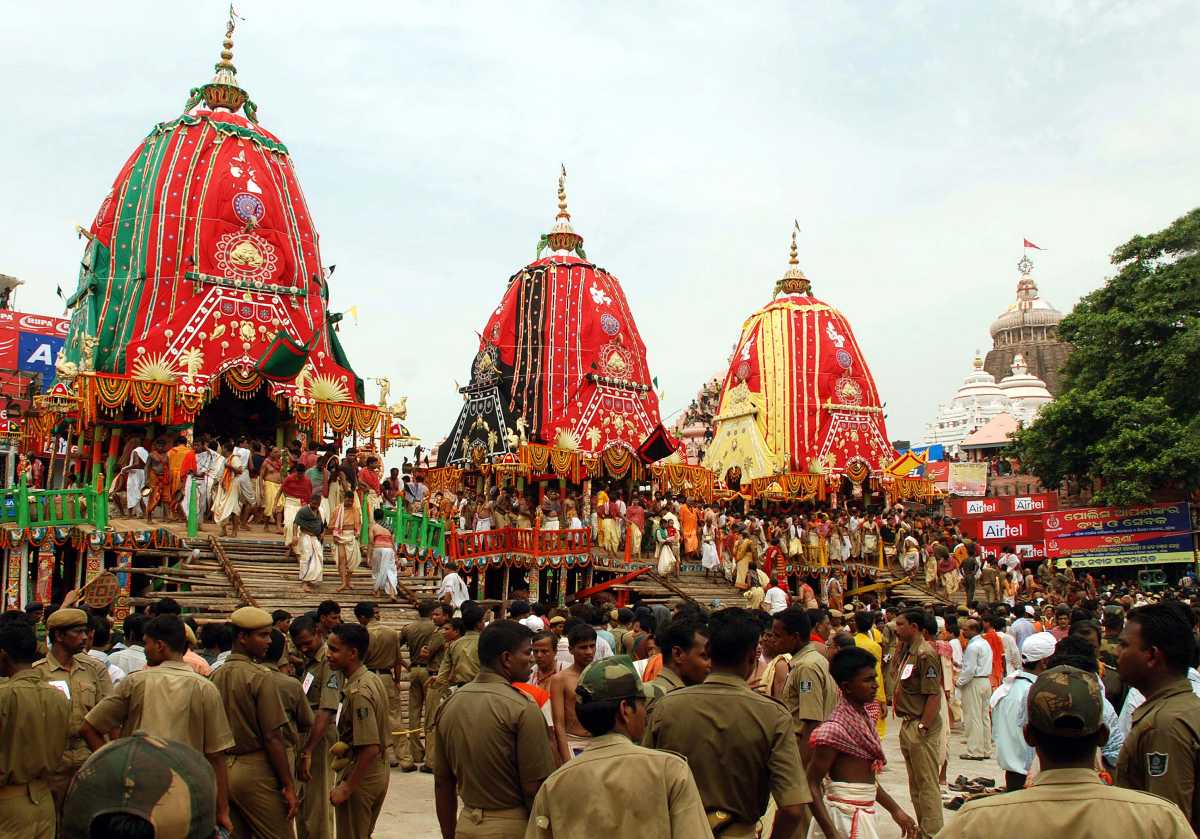 The first one of them is the
Nandighosa Rath
, which is the holy seat of Lord Jagannath himself who is accompanied by Lord Madan Mohan. The wagon is guarded by Garuda while the charioteer is Daruka. This Ratha stands out with its yellow and red decorative clothing as these are the favourite colours of the Lord. This Ratha is also called Garuda dhwaja Ratha or Kapila Ratha. Other deities in this chariot include Varaha, Gobardhan, Krishna, Gopi Krishna, Nursingha, Rama, Narayan, Trivikrama, Hanuman and Rudra.
The second Ratha is the
Taladhwaja Rath
and the presiding deity of this chariot is Lord Bala Bhadra. The accompanying deity is Lord Rama Krishna, and this wagon is embellished with red and blue-green clothes. Basudev stands guarding this chariot, while the charioteer is Matali. Other deities in this Ratha include Ganesh, Sheshadeva, Mukteswar, Natamvara, Mrutyunjaya, Hatayudha, Pralambar, Sarvamangala and Kartikeya.
Smallest of the three chariots is the
Darpadalana Ratha
which belongs to Lord Jagannath's sister Goddess Subhadra. Adorned with red and black colour clothes, this chariot is guarded Jayadurga and the charioteer is Arjuna. This Ratha also carries Vimala, Mangala, Shyamakali, Varahi, Shulidurga, Vanadurga, Ugratara, Chamunda and Chandi.
In Puri Rath Yatra, Lord Balaram's chariot is pulled first, then Goddess Subhadra's followed by Lord Jagannath's.