The Lhakhang is moderately sized and is smaller than other monasteries in the country. It is square in shape with a black and golden roof. There are rows of prayer wheels, walls carved with images of saints, and a golden spire at its centre. Before entering the monastery, one will cross the black, white, and red chorten (stupa) that is said to hold the demon defeated by Lama Kunley.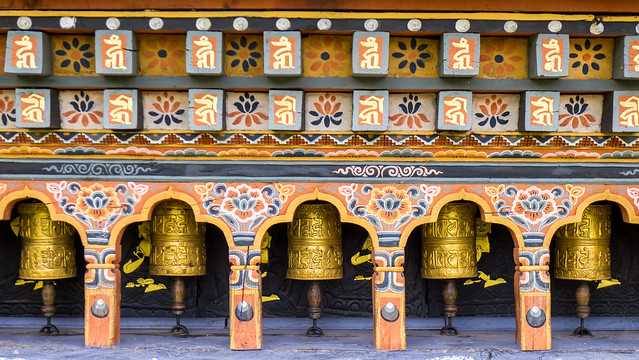 The prayer hall is decorated with phallic symbols, bells, drums, and horns. It holds a statue of Kunley in a monk's robe in a reclining position, flanked by a ceramic statue of his faithful dog Sachi. Near this statue is a statue of Guru Padmasambhava at the altar. The images on the walls depict scenes from the lives of Chenresig, Sakyamuni Buddha, and Zhabdrung and the battle between the Dochula demon and Lama Kunley. There is also a Bodhi tree here that are believed to have come from Bodhgaya.
Popular as a fertility temple, the monastery sees hundreds of visitors annually. They go to the prayer wheel and are then blessed with a 10-inch wooden phallus with a silver handle that is touched on their shoulders and/or head. This is the "wang" (blessing) to be received. Some couples come here with their new-born children to receive a name – they do this by picking up a slip from the altar that carries names, typically Kunley or Chimi. It's customary to re-visit the temple if one has been blessed with a child.