Trade
Together with buying and selling of animals like cattle, dogs, cats, birds, camels and whatnot, other items such as edibles, clothes, agricultural tools, handicrafts, and furniture are also found in the stalls. Though sale and purchase of elephants have been banned, yet some of the owners bring them to the fair to flaunt them. Elephants are an essential part of the Sonepur Mela, as the belief goes behind bringing them for the show. Apart from buying and selling of the animals, many events such as Magic shows, Merry-go-rounds, and Tantric practices can also be found in action.
Rituals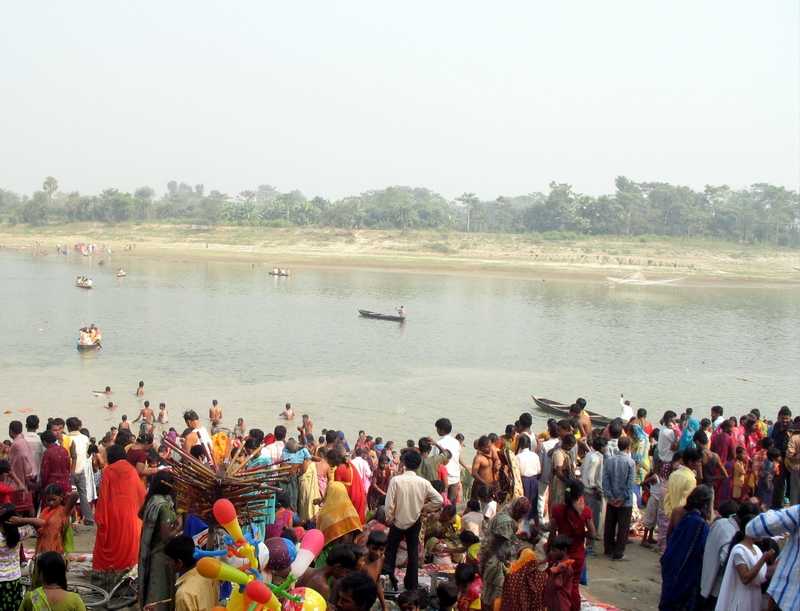 Puja is offered at the Harihar Nath temple, since it is the guardian shrine of the place, and the mythology of the fair is linked to it. Devotees take a dip in the waters where Gandak River and the Ganges meet, to seek blessings and purify themselves. Several competitions, such as animal race, are also organised.
'Sonepur Mela Theatre'

As the sun sets over Sonepur, a fresh enthusiasm sparks up Mela's charm. Adults, as well as youngsters, gather to see what is termed as 'Theatre'. Many girls, clad with the purpose of alluring the audience, are put up on a stage. The girls dance on the raised platform with the enthusiasm of being in an item number, strip-teasing at the same time, while Bhojpuri music plays through the loudspeakers. Large numbers of people gather for these shows, and the collection is vast. The number of these 'theatres' is more than one in the fair at night. Beginning at sundown, the shows are at their peak after midnight.