There is an abundance of places you would love to visit, once you are in Attapaddi, Palakkad. These worth visiting places are as follows.
1. Malleswaram Mudi
It is the highest peak of the Attapaddi hills. The malleswaram mudi or the Malleswaram peak is worshipped as a gigantic shivalinga by the local people. Festivals like shivaratri are celebrated with great enthusiasm here. Only tribal people are allowed to climb this peak, that too on the auspicious occasion of Shiva Puja.
2. Perumal Mudi
The Perumal Mudi is also called the ?Ramar Kovil?. It is a temple dedicated to the Hindu god Shree Rama. This temple is accessible by the PWD road followed by a trek of 6 kms till the temple. It is believed that Lord Rama visited this place on his way to Lanka, to free his wife Sita from demon Ravana's captivity. A temple was fortified here later.
3. Kunthi River
This is a perennial river. It is a rare fact that the Kunthi river never turns brown, no matter what the season is. The local tribes strongly believe that, the water of the Kunthi river has some herbal and remedial properties. The water of this river is always crystal clear. There are jeep safari rides and on-foot treks available along the length of this river. You will have to seek prior permission from the authorities who take care of the Kunthi river. The distance for the safari is approximately 3 km.
4. Nelliyampathy
It is a hill station placed within a forest reserve. It is approximately 37 minutes away from Palakkad (61.5 kms). The cloud touching hills of Nelliyampathy are absolutely mesmerizing. The route to these hills is laid with several hairpin bends.
5. Siruvani Drinking Water Reservoir
This is the main drinking water source for Coimbatore. The Siruvani drinking water reservoir falls en-route to Coimbatore via Palakkad.
6. Nilgiri Biosphere Park
The Nilgiri biosphere reserve is abundant in flora and fauna. You can gaze at rare species of wildlife here. A visit to the park is a natural breather from the busy routine life. This biosphere is open to public and lies in the Western Ghats. It was declared an International Biosphere reserve by UNESCO. A guide will accompany you as you take a stroll through the park. He is responsible to acquaint you with important and interesting information like- the importance of certain plants, the species of birds that visit the park, the age of trees, etc.
There is also a museum within the biosphere park, that has kept models of snakes, monkeys and birds on display along with a detailed description on them. There are over 100 species of mammals, 350 species of birds and several species of amphibians, reptiles and rare insects. You can also spot two exotic species that are rarely found- the lion tailed macaque and nilgiri tahr. You need to drive and park your vehicle inside the buffer zone and from there you can take a safari ride.
The entry fee is Rs. 250. There isn't much available for drinking and eating, hence packing some light snacks would be a good idea. It is at a distance of 3 hours 27 minutes via the Thavalam-Mulli road.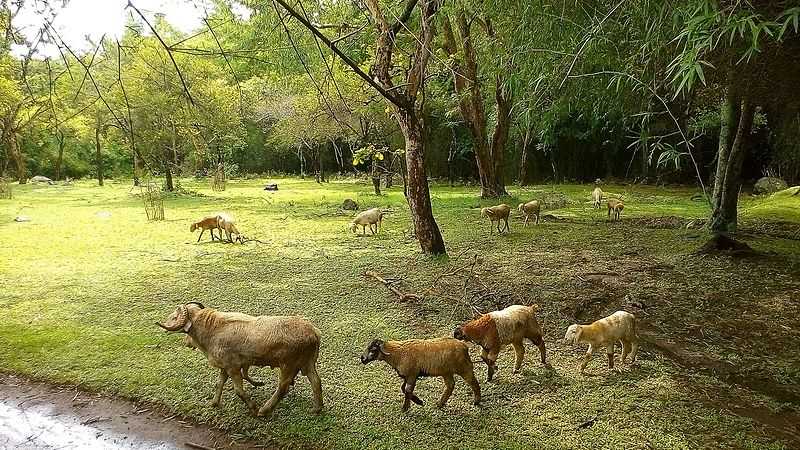 7. Hanging Bridge
This bridge is built over the Kenthiphuza river. Lying exactly in Vythiri, this bridge is a 55 m long red and yellow footbridge. It rests on two concrete pillars. The Hanging Bridge is a 45 minutes drive from Attapaddi, through a hilly terrain.