The first thing that captures the eye and the mind is the towering architecture of Changu Narayan. It is neither Shikhara nor Pagoda style, but purely Newari, as stated by several experts of sociology and anthropology. The main shrine right in the middle of the temple premise has four gates. Each of them is guarded by pairs of holy animal gargoyles – lions, elephants, sarabha and Garuda himself.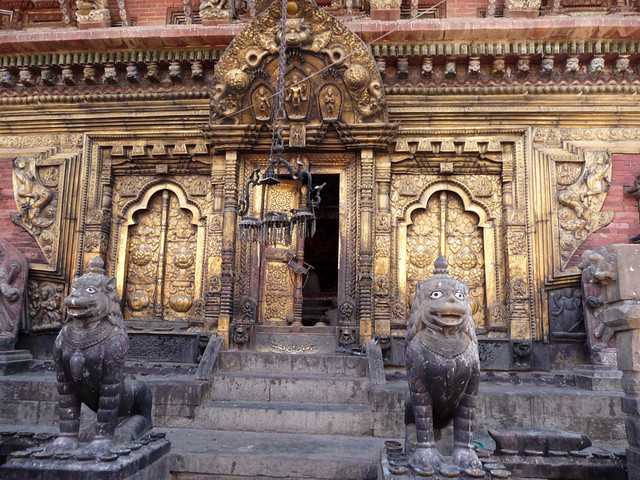 Among these, the one guarded by Garuda on the western side is the main gate. Take your time to observe the snake carving gilds on the door and the stone pillars before the gate. The four symbols of Vishnu – chakra or disc weapon, khadga or the weapon that replaces the traditional mace in Vishnu idols, kamal or lotus bud and shankha or conch shell are carved meticulously. These stone pillars are the one with the inscriptions mentioned before of King Manadeva. This is considered as the oldest written inscription text in Nepal at present. Inside, the idol is of Vishnu Narayan in his Preserver of the Universe avatar.
The exteriors of the temple deserve equal attention, irrespective of whether you are a spiritual person or not. Around the courtyard of Changu Narayan temple, all ten avatars of Vishnu are prominently displayed in authentic Newari style. At the southwest corner, he is Narsimha – his man-lion incarnation and as Vikaranta or Vamana – his dwarf manifestation who later becomes a giant.
Look for the 1500-year-old, ten-headed and ten-armed stone carving of Vishnu. It is a unique piece which cannot be seen in other Hindu temples. The Garuda Narayan idol where Vishnu rides on his vahaan as per the curse of the legend is also glimpse-worthy. Other shrines in Changu Narayan temple complex includes the headless Tantric goddess Chhinnamasta, Kileshwor shrine for Lord Shiva, Ashta Matrika temple and a small shrine for King Bhupatindra Malla and his queen Bhuvanlaxmi near the main entrance.