The inner part of the temple consists of the head of Lord Bhairav. There are many stories as to why and how Lord Bhairav's head was cut off and worshipped here.
According to one legend, when Sati wanted to marry Shiva, Daksha (Sati's father) was against it and did not agree on Shiva becoming his son-in-law. One day, Daksha organised a yagna and invited everyone except Shiva. But when Daksha saw Shiva enter the yagna uninvited, Daksha got angry and killed Shiva. Hearing this, Sati jumped into the yagna fire. Shiva became very furious at Daksha and beheaded him. Then he carried Sati's body out of the fire an danced around the world for days. On seeing this, Vishnu was afraid this would be the cause of the end of the world and transformed Sati's body into pieces with the help of his Sudarshana Chakra. Shakti peeth emerged wherever her body pieces fell.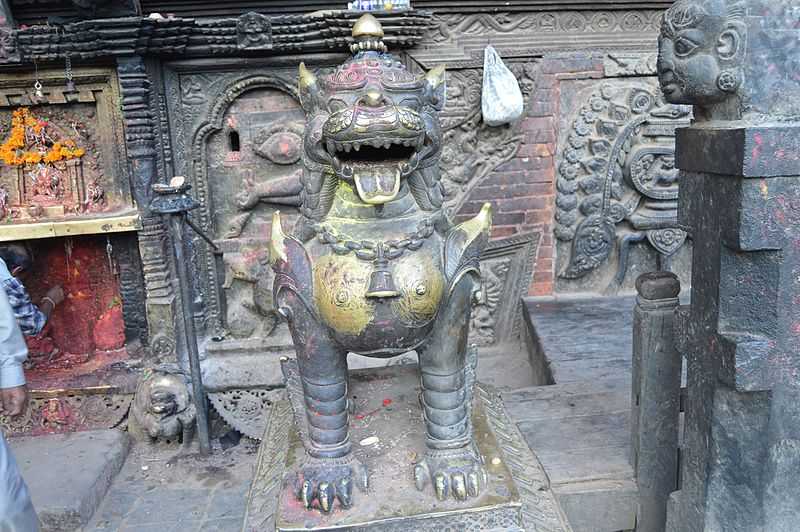 Another legend of this temple says that Lord Bhairav was very fond of the Lingo festival that was celebrated in Bhaktapur. It was believed that he used to come to watch the festival in a human form. When the King got to know, he wanted to capture Bhairav and keep him in the city. So, he commanded his ministers and Aachaju to look out for Bhairav. During the Lingo festival, Bhairav was caught and beheaded by Aachaju. Later, Aachaju was found feeling guilty for killing Lord Bhairav and therefore, started to worship Lord Bhairav's head.