Koh Phangan,
Thailand
's fifth biggest island, is famous for its crazy full moon and black moon parties that attract thousands of travellers from around the globe. A little-known secret though is that Koh Phangan is also home to some of the best waterfalls in all of Thailand.
1. Phaeng Waterfall
Phaeng Waterfall is quite possibly the island's the greatest waterfall and is located right in its centre. It is a part of the Thansadej National Park and is made up of two separate falls, the Phaeng Noi Waterfall (small waterfall) and the Phaeng Yai Waterfall (big waterfall). You will come across Phaeng Noi just fifty metres past the entrance to the park. Beyond that, you must embark upon a steep two hundred and fifty-metre trek to arrive at Phaeng Yai, but it is well worth it. The entire area is full of natural beauty, lush green vegetation and plenty of wildlife. There's a large pool at the base of the waterfall where you can cool off after your hike and take in the lovely sights. Once you are done, if you want the best experience you can continue hiking upwards till you reach the lovely Dom Sila viewpoint. Keep going further, and you will end up at the top of Khao Ra, the highest mountain peak on the island. At about six hundred and thirty metres above sea level, it provides spectacular views of the entire island and even the neighbouring island of Koh Tao.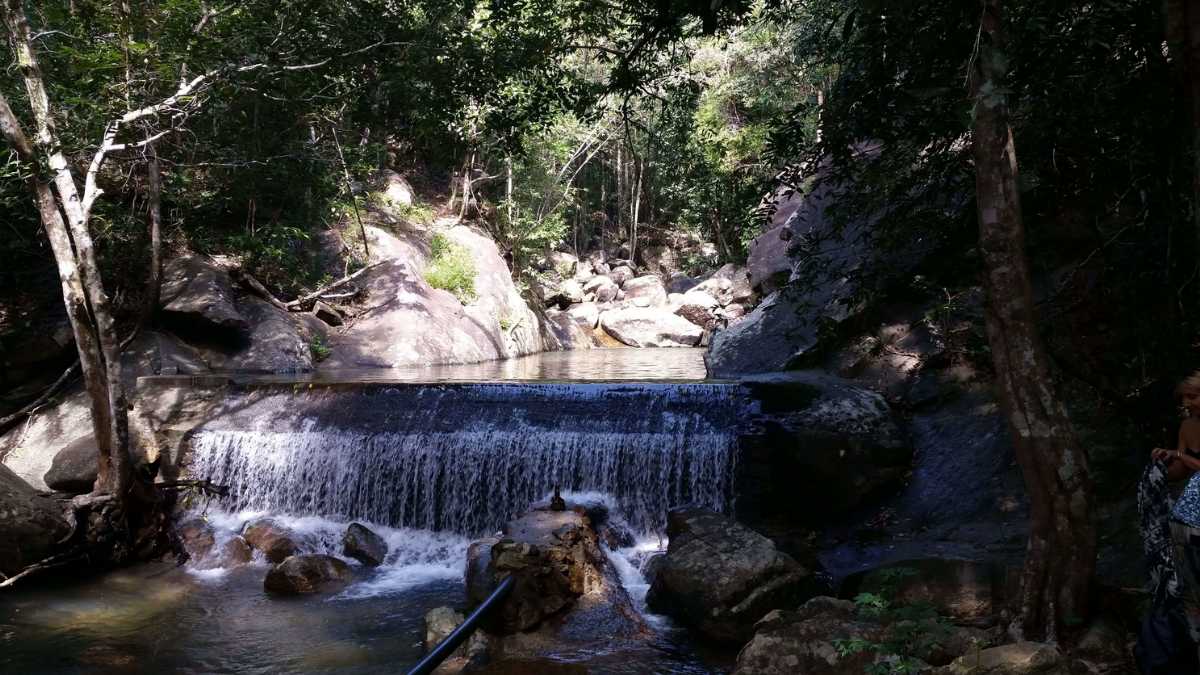 2. Wang Sai Waterfall
Wang Sai waterfall is towards the north west of the island, near Mae Head beach. It is quite easy to access and is just a fifteen-minute walk from the southern beach, with signposts to guide your way. The waterfall resembles an avalanche of boulders. It is a cascading waterfall, which means that it is not a single drop. Instead, it is a stream of water that makes its way down some levels. Some of these levels contain water basins where you can cool off and go for a swim, the largest one being at the very bottom. What makes Wang Sai stand out from the other falls is the dazzling blue colour of the water at some of the cascades, which occurs thanks to the limestone sedimentation under the clear water. The entire area is devoid of human-made structures or any human development, apart from a couple of blue pipes that are used for providing irrigation nearby. This leads to an outstanding natural beauty that you do not want to miss.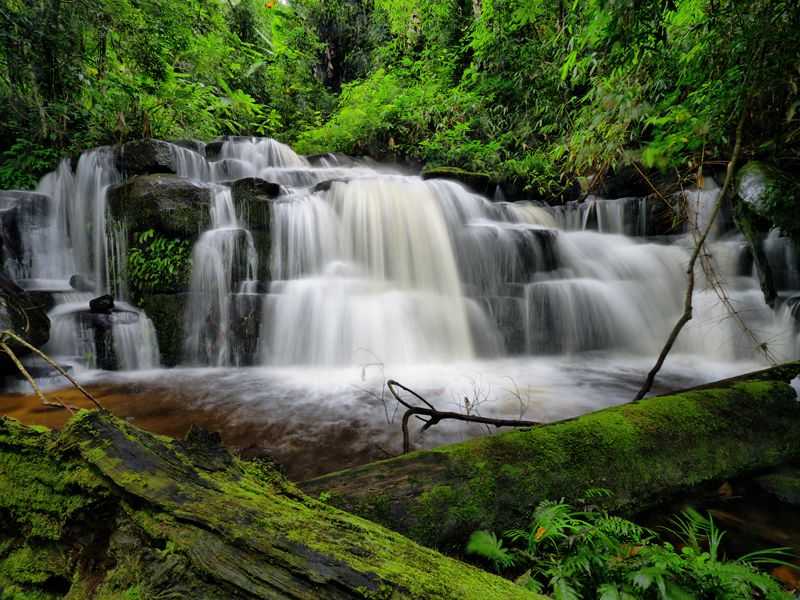 3. Than Sadet Waterfall
The Thaan Sadet waterfall was first visited by the Thai Royal Family back in 1988. A rock inscription left there by King Rama V remains there till this day. It is rumoured that he visited the same spot over ten times during his reign and it wouldn't be without reason, Thaan Sadet is one of the most scenic waterfalls in all of Thailand. The present King Bhumibol has visited the spot as well. Water collected from here is used in some sacred Royal Ceremonies. The waterfall is made up of huge granite boulders and some freshwater pools where you can take a dip. It is a cascading fall, similar to Wang Sai, and is about three kilometres long. You ought to spend at least half a day at Thaan Sadet, start at the very top and walk down its entire length, picking your favourite spot to swim in. Accessibility has been greatly improved recently and the most hassle-free way of getting there is from the fantastic Haad Thaan Sadet beach.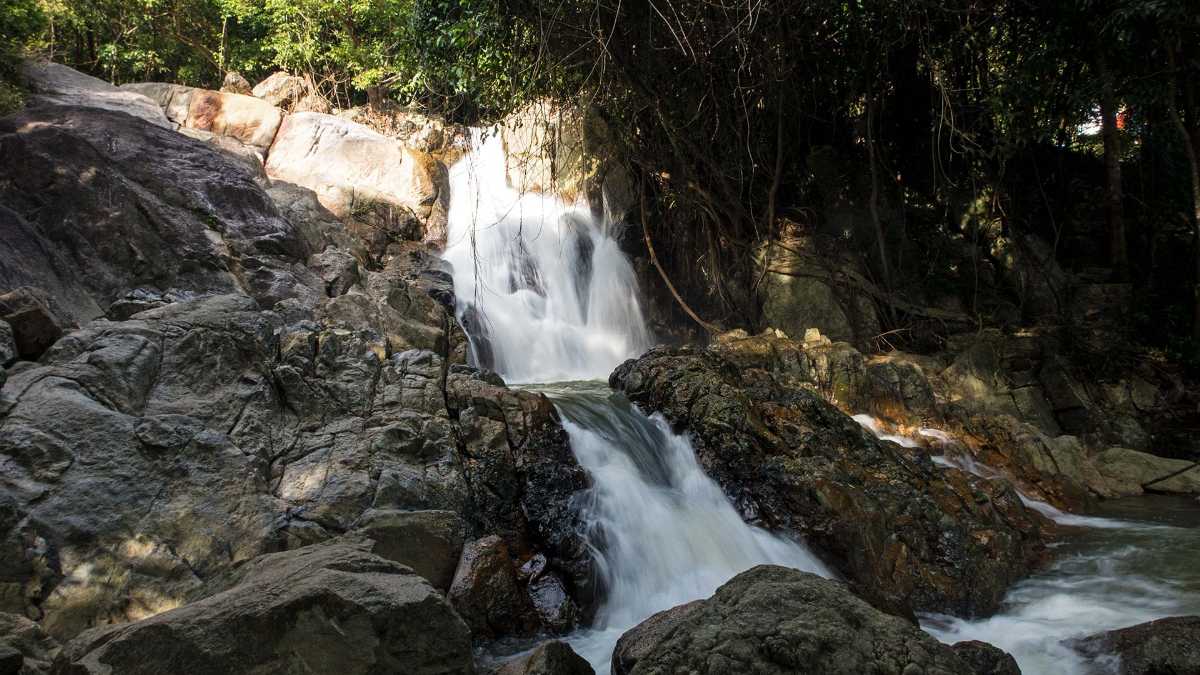 4. Sramanora Waterfall
If you have visited Thailand a couple of times, the name Sramonara will probably sound quite familiar. That's because you would have heard of the legendary parties that are held here. The all night long techno fests have been times perfectly, just before and after the famous full moon party at Haad Rin; they have placed this waterfall firmly on the map. Of course, you can visit Sramonara Falls during the day, but unlike most other waterfalls, you can also visit the falls in the night. The crystal clear water glistening under the moonlight is a truly breathtaking sight and romantic too. The five hundred metre walk from the car park to the falls goes through the jungle and is beautiful on its own. There are two pools, a big one that will fall to your right and a smaller, more secluded one that you can find once you cross the river and climb the hill. This one even has a restaurant if you're hungry and provides great views of the valley. To get to Sramanora, walk north from Baan Tai on the small road opposite Yam's Kitchen.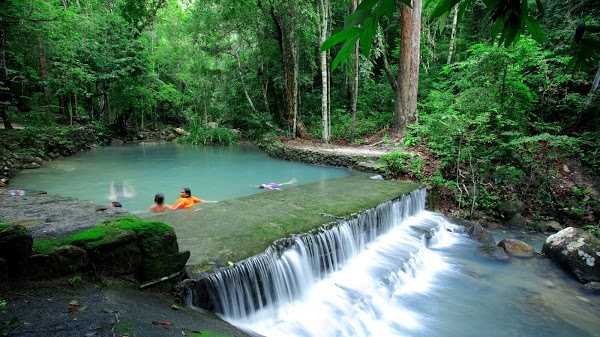 5. Paradise Waterfall
If someone asked me to describe paradise falls in one word, I would say: 'fun'. Paradise falls, or Nam Tok Phaeng is the place you want to be to get in touch with the child in you. The entrance is through a restaurant and opens straight onto a large pool. This pool happens to have ropes hanging from the overhead tree breaches that turn the area into a real-life jungle-gym. Grab hold of a rope and swing out just like Tarzan before launching yourself as high as you can go and finally landing in the cool water below. When you get bored of monkeying around, embark on the forty minute trek to the main waterfall, which is a sight in itself. There is an impressive cascade as well with a swimming hole attached to it. To get to Paradise Falls, head for Chaloklum village and turn right just after the Kika Splace restaurant.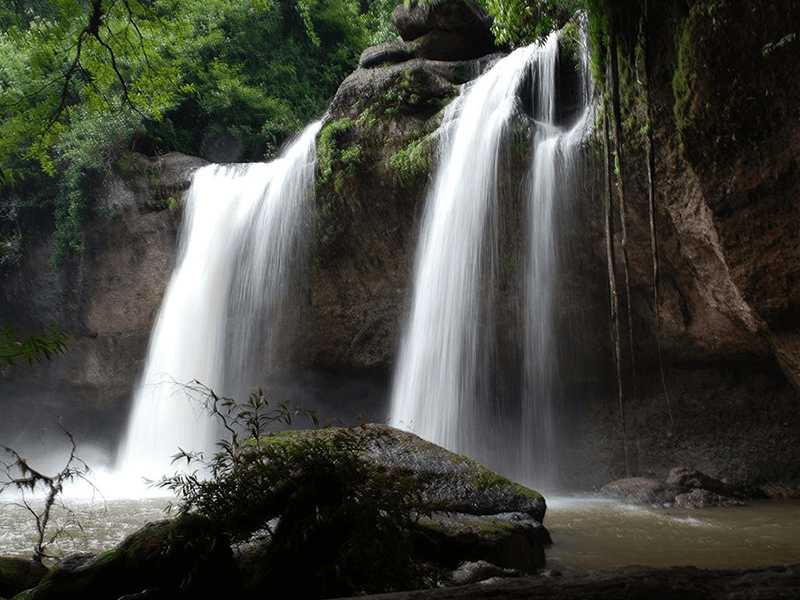 Things To Keep In Mind
The best time to visit any of the waterfalls in Koh Phangan is from July - October, the monsoon season. If you can't make it then, monitor the weather forecasts and try and visit after a heavy rainstorm. Most waterfalls dry up at other times, or the water flow decreases significantly.
Always carry drinking water with you as most waterfalls are amidst dense jungles and it can get quite hot.
Be very careful about where you step, the trails and rocks near the waterfalls can get slippery from all the moisture, and they more often than not have dangerously sharp edges.
Wear proper shoes. Hiking in flip-flops is a bad idea.
Don't forget to bring a towel and dry clothes.
Smoking and alcohol consumption is forbidden at most waterfalls so make sure you find out whether or not you are allowed if you plan on doing so.
If you see a stream of water that is flowing fast, don't try and cross it. The current is probably stronger than you think.
If you're visiting Koh Phangan, be it for the crazy parties or the lovely beaches, make sure you visit one of these pristine waterfalls as well; some of the best that the country has to offer.