Bhairon Nath Mandir, which is located about a couple of kilometres from the Vaishno Devi temple has been known to be a tough trek. The trek is roughly an hour long and is usually quote difficult for the elderly. Well, not anymore. A new ropeway system as just been inaugurated from the Vaishno Devi Bhawan to the Bhairon Baba Mandir, reducing the journey to time to just 3 minutes.
The ropeway can carry 800 people every hour and will be operational one way only. The project cost around 85 crore rupees. The cabins and equipment are comparatively modern, with parts that were imported from Switzerland. The ropeway system is jointly built by the Damodar Ropeways Construction Pvt Ltd and Garaventa AG, Switzerland. Although it was ready to operate in early November, the trials began on 26 November 2018 and were completed within in a week. The trials also included mock drills for rescue operations and disaster management. Evacuation drills were also practised by the DMTF or the Disaster Management Task Force of the shrine board. A section of SDRF police force FROM Reasi also took part in the drill. The inauguration took place a month later by the Jammu & Kashmir governor Satya Pal Malik.

According to statistical data, only 30 per cent of pilgrims visiting the Vaishno Devi temple push forward to the Bhairon Baba Mandir which is due to the steep climb. This is likely to change since the inauguration. The ropeway fee is heavily subsidised and is set at 100? per person.
Vaishno Devi Ropeway Price
INR 100 per person
Starting Point
Vaishno Devi Mandir
Ticket Booking
Tickets are available on the spot at
Bhawan
Mata Shri Vaishno Devi Darshan by Helicopter:
Helicopter facility is made available through the official website of the Vaishno Devi Shrine Board as well as private companies.
Read more about how to book the tickets and approximate cost.

About Vaishno Devi Temple

Located in Trikuta hills, 13 km from Katra at the height of 1560 m above sea level with bright clouds and thinning air, this town is the holy cave temple of Mata Vaishnodevi, with spirituality and vibrancy lingering in the atmosphere.
Revered and highly believed in, thousands of Pilgrims visit each year to seek blessings and show unflinching faith in this temple. Vaishno Devi is a religious trekking destination where pilgrims walk about 13 km uphill to reach the little caves which are among one of the 108 Shakti Peetha. Vaishno Devi, also known as Mata Rani is a manifestation of Durga, a Goddess according to Hindu mythology. The trek itself is very enjoyable, though it might be a little difficult for kids and elderly people. However, ponies and palanquins are available by various vendors to take you there at the top. The whole way is decently paved with lots of shops selling snacks, food items and various religious goods. The pilgrims show their dedication and enthusiasm by shouting slogans and singing songs in the praise of Maa Vaishnavi all along the road. Overall, a great place if you are inclined towards both Hinduism and nature.
Best Time To Visit Vaishno Devi Temple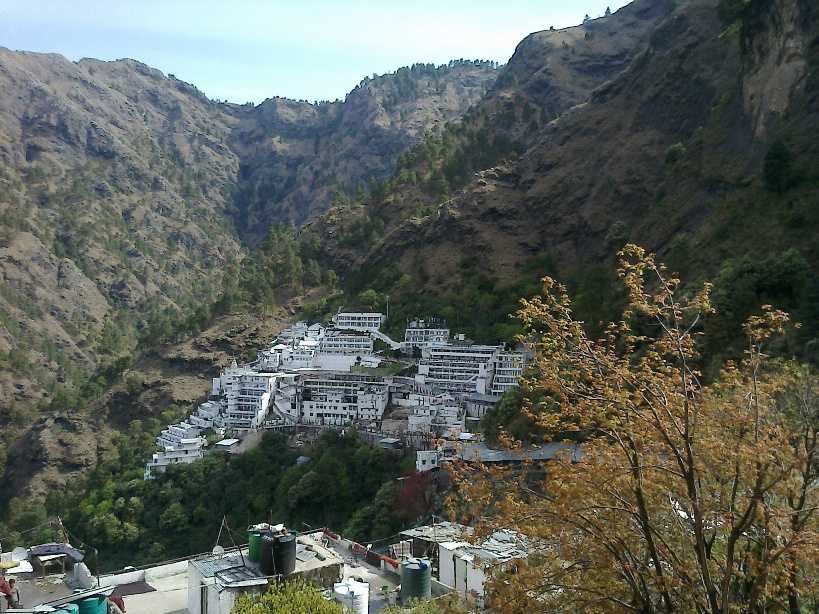 The climate being cool and pleasant,
Summer and autumn (March - October)
is the best time to visit Vaishno Devi. Although the days are quite hot, yet the ambience in the evenings makes summers pleasant. Unless and until you're physically fit and a snow enthusiast, winters are not the season for your visit. The festivals of Sharad (Autumn), the period of Chaitra (Spring) and the festival of Navratras and New Year also witness peak rush. As a result, for a quick, comfortable and satisfying visit, the peak seasons should be avoided.
How to Reach Vaishno Devi Temple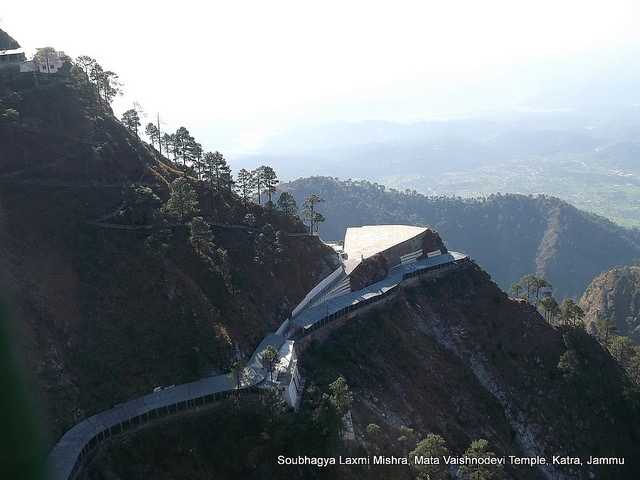 Shri Mata Vaishno Devi Katra railway station is the nearest railway station to the pilgrimage, some 20 km. Away from the Holy Bhawan. Although there is no direct flight connectivity, the nearest airport is in Jammu Tawi, which is some 46.7 km. away from Katra, if you travel via NH 144. Regular bus services ply between the base at Katra and other cities in India, primarily from Jammu Tawi, New Delhi, Amritsar etc. to begin with.
How To Reach By Flight
Jammu Airport, or Sarwari Airport, is the nearest airport that serves Katra. Regular air services ply for Katra through this airport. Once you have touched down, take a taxi from the airport and voila, you reach Katra in an hour. Buses are also available for this route. In Katra, however, helicopter services are available for the main Bhawan till Sanjhhi Chat, which is some 5 km. from the Holy Bhawan.
How To Reach By Road
Regular bus services ply to and fro the base of the pilgrimage, that is Katra. Buses, at extremely affordable rates, are available from places like New Delhi, Amritsar, Jammu Tawi as the list goes on. You can also take a shared taxi or cab once you've arrived at Jammu Tawi.
How To Reach By Train
Shri Mata Vaishno Devi Katra railway station at Katra is the nearest railway station from the holy cave of Vaishno Devi. Regular train services ply from almost every major city of India, which earlier stopped at Jammu Tawi. Luxurious accommodation is also available just near to the railway station.
Local Transport in Vaishno Devi
Taxis are the most popular mode of transportation. To reach the Bhawan, you can either trek a 13 km distance from Katra. Other options such as palanquins, ponies and helicopter rides are also available.