Maa Vaishno Devi's temple, one of holiest Hindu shrines is nestled among the Trikuta caves in Jammu. Vaishno Devi is a manifestation of Goddess Parvati, also known as Maa Adi Shakti. Mention a visit to Vaishno Devi and the instant mental image that crops up is that of a 14 km uphill climb. It sure sounds tiring but adventurous at the same time. Yet, for some of us, making that uphill climb may be tough or even impossible due to age, health, or any other reason. The Helicopter darshan facility is a boon for situations like these. Helicopter facility is made available through the official website of the Vaishno Devi Shrine Board as well as private companies.
Vaishno Devi Helicopter Price
When you book through the official site, helicopter tickets are priced at
INR 1045
per person per side from Katra to Sanjhichhat. So, if you book for both the sides, it will cost you
INR 2090 per person.
Please keep in mind that there is no commission/processing fee other than this. Applicable taxes, if any, are charged from the traveller at the respective location in Katra or Sanjichhat.
Private packages start from INR 2,800 per person
(helicopter bookings only) or
INR 8,800 per person (inclusive of meals and other facilities).


You can make your bookings through their website
here
.
Children below 2 years of age will be carried free of cost and must travel in the lap of an adult. Valid ID Proof might be required in the age-related dispute.
Advanced Booking for Visting Mata Vaishno Devi by Helicopter
The only official website for booking is www.maavaishnodevi.org. Advance booking can be made online on the official website, and for offline bookings, tickets can be purchased at the Current Heli-Ticket Counter. You can make a booking for official helicopter services online by creating an account at New User Registration. Advance booking facilities start at 10:00 AM, 60 days before the day of the journey.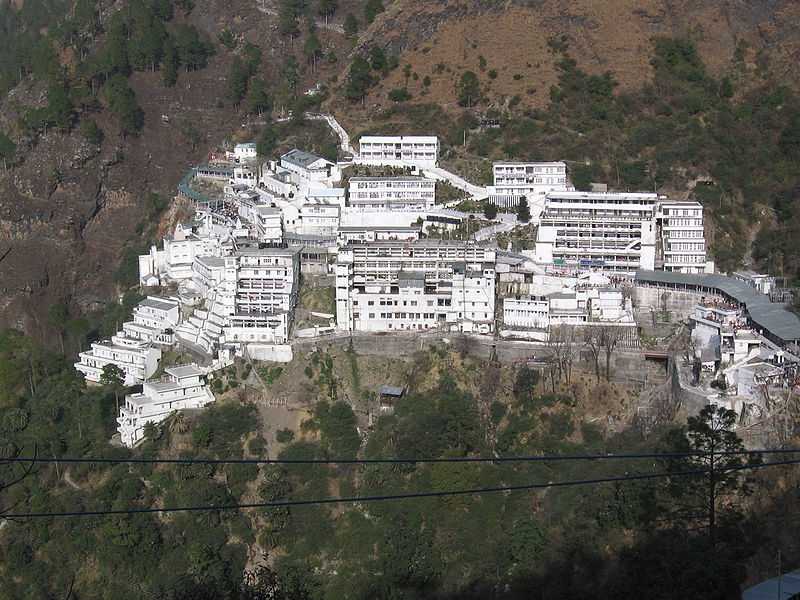 Offline Method For Vaishno Devi Helicopter Service
Offline booking process starts at 08:00 AM in the morning, but the queue starts lining up at 05:00 AM in the morning, so you need to reach there very early.
It is advisable to book helicopter tickets online in advance to avoid last minute disappointment and hassles if the tickets are sold out.
For helicopter tours offered by private companies, bookings can be made on their respective websites.
Basepoint for Helicopter to Mata Vaishno Devi
The base point for a helicopter ride is Katra. The
helicopter will drop you at Sanjichhat helipad
from where Bhavan (the main temple) is located at a distance of around 2 km.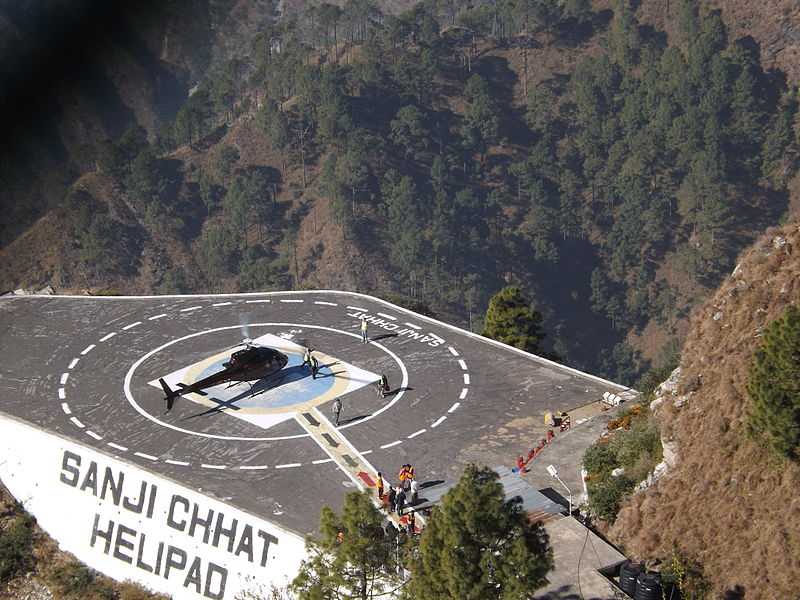 Rules and Regulations (For Official Bookings)
An
ERS (Electronic Reservation Slip)
is mandatory for availing facilities booked online. Make sure to fill the slip in prescribed format, take a print out and carry it with you at all times during your visit to the shrine.
A
maximum of 05 helicopter seats
can be booked
per user per Debit/Credit card
in a
calendar month
. So, schedule accordingly.
Make sure to carry a
photo ID card
,
address proof and the Debit/Credit card used to make the booking (in original)
. Passport/ Driving Licence/ Voters ID/ PAN card or Credit Card with Photo are acceptable as ID/address proof. Also note that for offline bookings, ID proof is required for all travellers and not just for the person purchasing the tickets.
You also need to
carry proof of travel document
such as
bus/train/air ticket.
After online booking, make sure to check the status of your transaction in the Devotee Zone. It is only valid when the transaction status is shown as Successful. If money is debited from your bank account, but the transaction status is Failed, the booking is not valid, and no helicopter seats will be allotted in this case. You need to make a fresh booking in this case. Any amount deducted in case of a failed booking will be refunded.
Make sure to report to the helipad at least one hour before the scheduled departure. Otherwise, your ticket may be treated as No-Show, and no refund will be provided.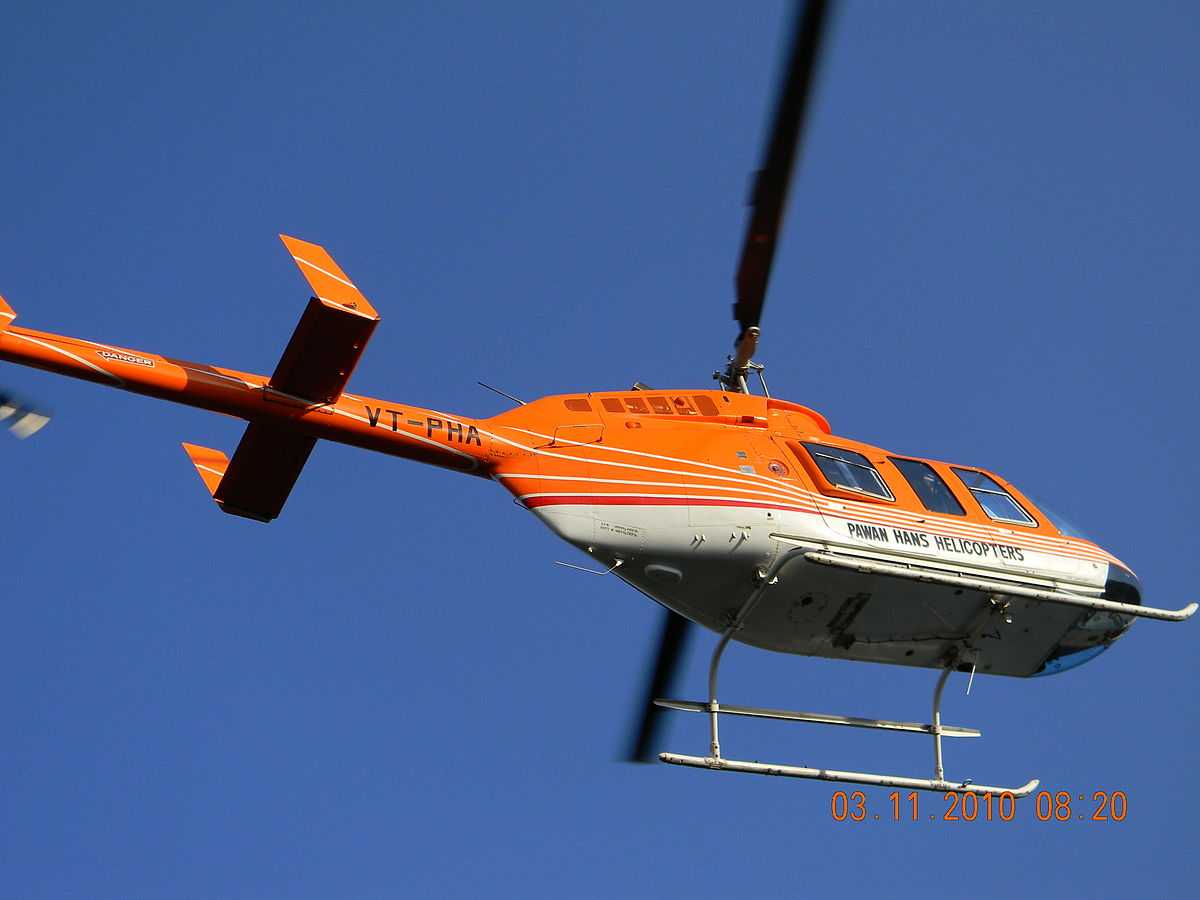 Timings
Helicopter services start at
08:30 AM
in the morning, and it takes 08 minutes to reach Sanjichhat from Katra. The service remains active till approximately
07:00 PM
with helicopters taking off about
every 20 minutes or so
from Katra as well as Sanjichhat.
Darshan Timings:
5:00 AM - 12:00 PM; 4:00 PM - 9:00 PM
Inclusions
The official price of INR 2090 includes commissions and processing fee. But, it does not include taxes.
Depending on the price, packages offered by private companies include some or all of the following.
Stay at Hotel
Welcome drinks
Breakfast & one Major Meal
Return Helicopter tickets from Katra Helipad to Sanjichat
Airport and Helipad transfers
Priority Darshan (subject to Helicopter operation)
Prasad Packet
Applicable taxes
Religious Significance of Vaishno Devi
The shrine is a Shaktipeeth which means that it possesses the enormous spiritual energy to safeguard the divine form of the goddess. While the exact origins of the shrine are unknown, studies have pegged the age of the shrine at one million years. Mention of the goddess is found in the Mahabharat where Arjun mediates and invokes her for seeking blessings for the battle. As the story goes, Maa Vaishno Devi was born as Vaishnavi (an incarnation of Lord Vishnu) in a South Indian family. At a very early age, she left home to meditate and find her spirituality. This is where she chanced upon Lord Ram who told her that the time for her to become one with her creator has not yet come and she must meditate till Kaliyug when Lord Ram will incarnate as Kalki and merge with her to become one.
It was during her meditation when Bhairon Nath attempted to distract her and get her to marry him. After repeated pestering, the goddess was forced to kill him and beheaded him. The place where his head fell is known as Bhairav Ghati. Before dying, he was finally forgiven by the Goddess who gave him the blessing that devotees will have to go for Bhairon's darshan after the darshan of the Goddess.
After this, the Goddess assumed the form of a rock to meditate, and this 5.5 feet tall rock with three heads is the main shrine which is visited by pilgrims all the year round. Navratris are considered the most auspicious time to visit as the Goddess observed the Navratra to pray for Lord Ram's victory against Ravan and was blessed by him to be revered by everyone.



The Hike to Bhawan
The hiking trail, though long, is fairly easy. The trekking path is well constructed and shaded for most of the way. The first six kilometres are said to be the steepest, and the trail is busy with walkers and ponies. The way clears up on the last 5 kilometres to the Bhawan as there are separate walkways for ponies and walkers.
Eatables and drinks are available throughout the way so you can stay hydrated and energized during the hike and do not have to worry about carrying a load of eating supplies. Restrooms are also conveniently located along the way. Do keep in mind that the hike is easy, but the climb is steep. So, it does get tiring and swollen legs, and body cramps are normal after the climb. It does get cleared up within a day or two, and the fresh air is energising enough to let you revel in Mata's darshan without any feeling of tiredness.
Basic physical fitness is needed for the trek, and it is advisable to engage in physical exercise a few days before the journey. For those who cannot or do not want to take the uphill climb, the aforementioned helicopter facilities are also available.