Bhutan
, a remote kingdom perched atop mountains of the Eastern Himalaya is tagged as the 'Happiest Country' which still clings on to its Buddhist culture alongside embracing modernisation. It is a land with monasteries, traditional architecture, beautiful valleys, snow-clad mountain views and lush greenery. Being landlocked, the country enjoys a significant tourist influx from its neighbours Tibet and
India
.
There's something indescribably beautiful and exhilarating about Bhutan that makes it stand apart from any other mountainous destination. There are some conventional attractions which are definitely worth taking a taste of! However, if you're looking for a trek infused with a solid attraction, there's nothing that can parallel the
Tiger's Nest Monastery
to which one needs to trek and tread to catch a glimpse of the religious vicinity!
Here's all you need to know about the
Tiger's Nest Monastery Trek
and along with its achievability!
Details of the Trek?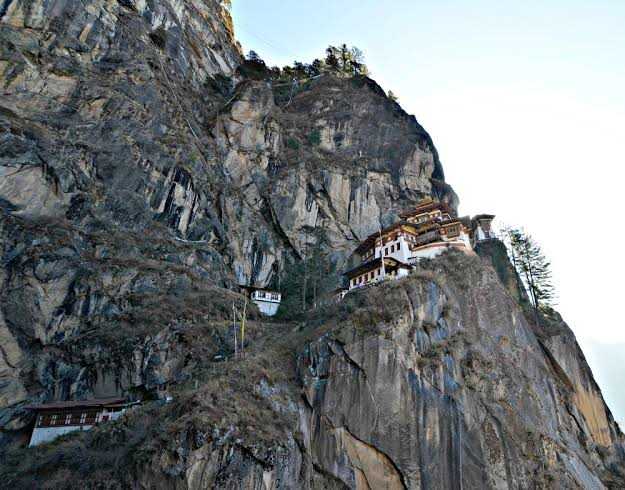 The Tiger's Nest Monastery Trek is one which you should embark upon for the attainment of peace.
Paro
Taktsang popularly called the Tiger's Nest Monastery consists of a cluster of four temples sitting atop the magnificent hills. The beautiful pantheons are situated at a distance of 20 minutes from Paro. Established in the 1960s, legend has it that the temple vicinity was called the Tiger's Nest as Guru Rinpoche rode on the back of a tigress all the way from Tibet.
Adventure junkies are advised to not miss out on this trail. Trekkers to the Nest cut through magnificent cliffs, and valleys and make it to the Tiger's Nest Monastery.
Who Can Opt for it?
The Tiger's Nest trek brings along a series of adventures along the way like any other beginners trek. However, it isn't as challenging as the others. Trekking newbies can easily undertake this trek. Since most of the expedition include ascending and descending the mountain zones, be prepared to walk on foot. There is an option of riding horseback to get here, but that may turn out to be scarier than travelling on foot through the edges and turns of the cliffs.
If you bear sufficient stamina to walk for a few hours across 14 kilometres (to and fro), you are good to go. The Tiger's Nest Monastery is situated at 10,332 ft and is thus tagged between easy and moderate trek, which requires no prior trekking experience to wing this trek with hopefully no troubles!
Trek Duration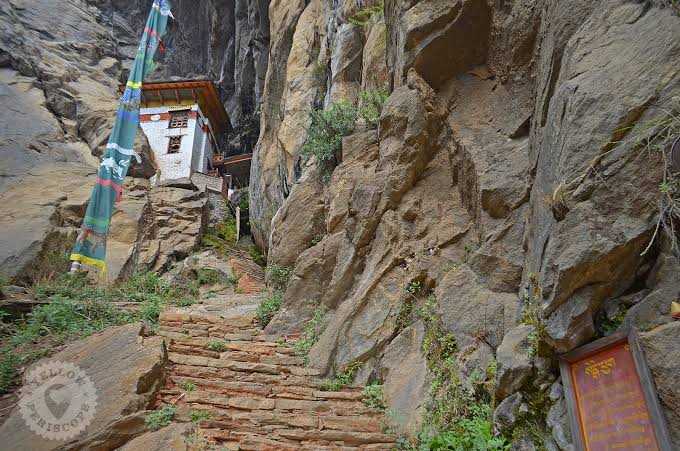 The trek is a 4-mile round-trip trek that may take 5-7 hours depending on your pace and the time you spend at the monastery. It's not an attraction which allows one to use any commute choices other than horses, so it's all on foot that the distance is calculated. For this trek, it's recommended to kickstart early, as you will have to ascend and descend within the same day.
The distance from your hotel is not included along with the duration. This is an average approximation of time. It may take a few hours more or less.
Additional Costs That You May Incur
The trek is completely free. But in case of an emergency where you're unable to walk, and you need a horse to transport you, you will be charged for it. Secondly, if you're eating at the Cafeteria, hiring a tour guide to take you through, you'll have to pay for all those expenses yourself.
Prior Preparations for Tiger's Nest Monastery Trek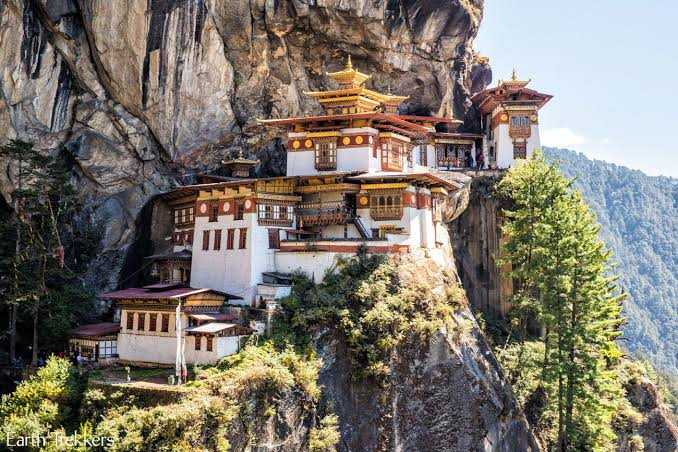 Tiger's Nest Monastery Trek isn't such an arduous trek to conquer. The moderately rated trek also carries its share of adventures for which you must undertake some physical preparations to stay fit and be trek-ready. Even if you're super enthusiastic and your body doesn't allow you to endure long and endless hours of walking, it would be quite difficult to cope with the strain physically. Unless you indulge in a considerable amount of self-prep, the trek is not really recommended. Take the following measure to be good to go!
1) Cardiovascular Endurance
Altitude treks require healthy lungs. For improving your endurance, you can begin by merely jogging every day - initially at a low pace and then increase your pace day by day. Set a target distance to be covered in a given amount of time, say 4 kilometres in 40 minutes. It will take time, but make sure to achieve the target successfully before the trek begins. You can also improve your breathing with activities such as cycling, swimming and climbing stairs. Make sure you don't take too many breaks in between.
Since you will have to cover a call considerably large distance in one day that too on uneven terrains at times along with some essentials in your backpack, you will want to strengthen your legs. Doing squats is an excellent way to ensure strong legs before the start of the trek. Three sets of squats, with eight squats in each set, should be good enough to build your legs.
Apart from the above activities, you can also do some stretching exercises - stretch your shoulders, hamstrings, quadriceps, hip flexors, lower back muscles regularly. This will help you in relaxing your muscles, especially when you climb up the slopes.
2) Basic Essentials and Gears
Backpack & rain cover: 50 - 60 litres with comfortable shoulder straps (a backpack with strong straps and supporting frame is necessary)
Trekking Pole: No matter how pro you are with trekking, a trekking pole is an essential that will help you share the weight of your baggage, as well as provide support while walking through challenging terrain.
Water bottle: Recommended to carry two bottles of one litre each.
Hydration pack: People who require it should carry one hydration pack and one bottle of one litre.
Snacks: Energy bars, dry fruits etc
Personal Medical Kit: Consult your doctor, keep Electral/ORS, medicine for fever, motion sickness, altitude sickness, allergy, painkiller, diarrhoea, acidity, indigestion. Carry crepe bandages, gauze, band-aids, cotton, ORS, antiseptic creams and pain relief spray or ointment or any other depending on what you're prone to getting.
Disposable Bags: Carry some disposable bags disposing of waste material and compartmentalising things.
3) Clothing
Basic Apparel: Since the Tiger's Nest Monastery Trek is a 1-day trek so an extra set of clothing should be enough. In case you get drenched in sweat or feel unfresh, you might need an extra t-shirt. If you're travelling during winter, you will need a thermal and jacket, depending on your resistance.
Must-Haves: Wear thermals in winter, both top and bottom and t-shirts during summer.
4) Trekking shoes
Wear a pair of sturdy shoes because they are the only saving grace for your feet undulating roadways. They should preferably be Waterproof with a high ankle with a good grip.
5) Accessories
Sunglasses: Sunglasses are mandatory. It becomes challenging to endure hot summers. Keep them handy.
Suncap: Since the sunray at altitudes is unfiltered with UV rays, a sun cap is necessary to protect your head.
Balaclava: To prevent hair loss.
You can include some other accessories like sunscreen, lip balm, moisturiser, toilet paper
The Tiger's Nest Monastery Trek is unmissable. You'll have the time of your life trekking, and you'll be able to catch a thousand memories en route and at the destination. Soaking in the spiritual vibes at the Monastery cluster is undoubtedly the highlight! Oh and keep your cameras handy because the views along the way are worth capturing for eternity. So if you're heading to Bhutan consider this trekking adventure, and you'll thank us later!

Have you undertaken this trek? Let us know in the comments below!