Bhopal
is a tale of two cities. The northern city boasts of its rich culture with fascinating mosques, grand havelis, and crowded markets. The southern part portrays a more sophisticated role with luxury hotels, beautiful wide roads, and restaurants offering multi-cuisine to cherish. But that's not all about this city. The city is a paradise for shopaholics with delicate Zardozi sarees, exquisite Mulberry silk, handlooms and well-crafted souvenirs to offer. You can get some of the finest Tussar Silk in the local markets of Bhopal. The Mandana and Pithora paintings are a delight for the art enthusiasts. But, this is just the icing. These street shops also serve amazing hot Gulab Jamuns, Meva Bati, and Shammi Kebabs. Some of the markets are open until two at night! You can enjoy the delicious Dahi Bade, Khopra Pak, Malpua and Imarti while browsing through the lanes of clothing and accessory shops. End your shopping fiesta with the authentic Bhopali Paan to give your trip the true Bhopali touch!
Things to Buy in Bhopal
Whether your budget is small or big, Bhopal has got your back! The various items available in the markets are bound to satisfy the needs of every customer. Market Streets are full of fancy shoes, shiny purses, beautiful silver ornaments, leather products, and of course the famous Bhopal 'Batua' with colourful beadwork. You can also get the classic Pithora paintings to keep memories of Bhopal fresh in your heart. Bhopal is famous for the hand-weaved sarees and dress materials. You can get a pastel shade of Chanderi, or a deep gold Kota silk. The beautiful Bagh print kurtas, designed using wooden blocks are a must-have. But, the handcrafted Maheshwari sarees simply steal the limelight with its zari work and elegant sheen.
Let's take a look at the fantastic Street Shopping in Bhopal: 
1. Chowk
Chowk Bazaar is the perfect place for hardcore shoppers. The narrow streets sell a plethora of items, from silver jewellery, bags, velvet purses and handloom clothes to antiques, traditional Bhopali artwork, and embroidered cushions.
Best Known For
Attractive and snug footwear made by the local craftsmen.
Timing
11:00 AM to 10:00 PM, Monday closed
Tips
Show your bargaining skills. You can go with the famous line, 'Bhaiya Kal meri friend to itne me le kar gyi thi'.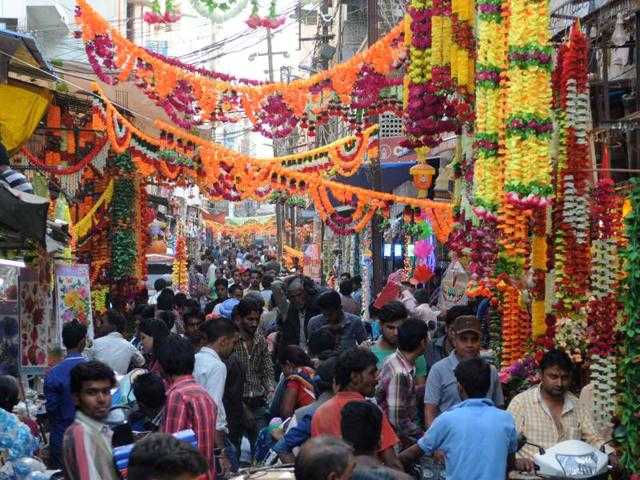 2. Bittan Market
If so far in the trip, you haven't seen the real Bhopal, here you definitely will. Bittan Market shows the classic Bhopal with a range of products to buy from. This busy market offers the in-style accessories, bags, footwear, and clothing at a very compelling price. Many handloom exhibitions are held here as well. You can find a lot of college students hanging around thanks to the fantastic bakeries and Hookah lounges around.
Best Known For
The variety of silks in the exhibitions held are worth shopping under the sun.
Timing
11:00 AM to 10:00 PM
Tips
Go early or go late. The afternoon heat of Bhopal can be disheartening.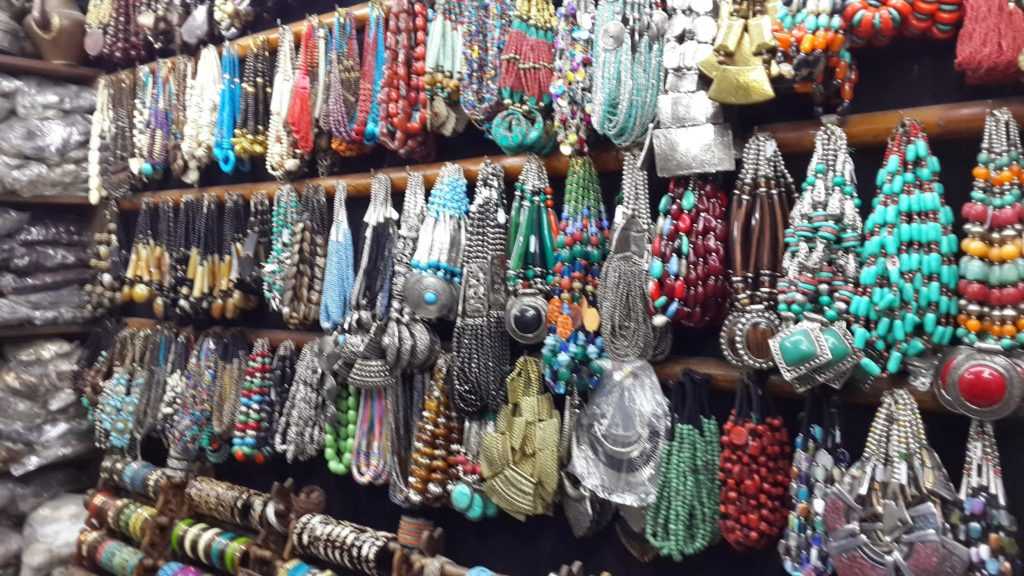 3. Mrignayani Emporium
If you want to take home some of the exquisite handicrafts from Bhopal, head to the Mrignayani Emporium. It offers sarees of all sorts, the flowery pastels, gold-toned patterns and elegant borders will leave you awestruck. You can buy Chanderi, Mulberry, Kota, Tussar and Crepe silk sarees for all your ethnic desires. The dress materials sold are eye-catching and come in all patterns and colours.
Best Known For
Chanderi Silk sarees are a speciality. You can try those!
Timing
11 AM to 8 PM, Monday closed
Tips
Don't forget to get the silver crafted Jhumkis to go with your ethnic outfit.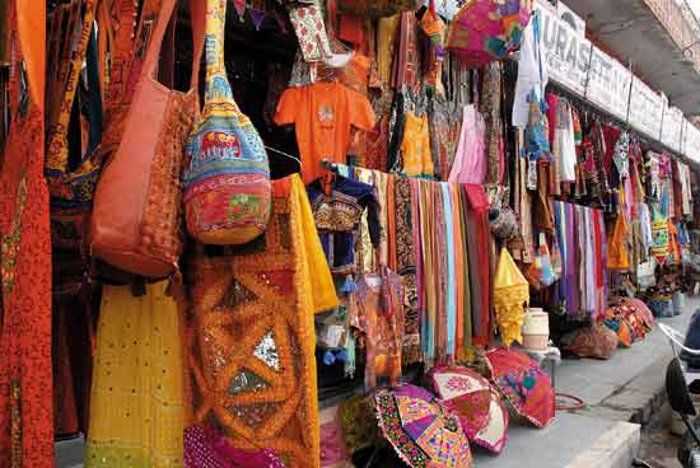 4. Habibganj Market
The perfect place to visit if you are low on cash but your shopping list is inexhaustible. Isn't that a scenario we all face? The streets are lined up with shoe stores, trendy but cheap handbags, cute accessories, and stoles. There are shops for tangy spices and powders so you can take the take of Bhopal back home. The street houses several vendors offering lip-smacking namkeens, palak puris, and jalebi-rabdi.
Best Known For
Variety of spices and cheap trendy accessories
Timing
11 AM to 10 PM
Tips
Do not purchase without bargaining and check the product for any defect.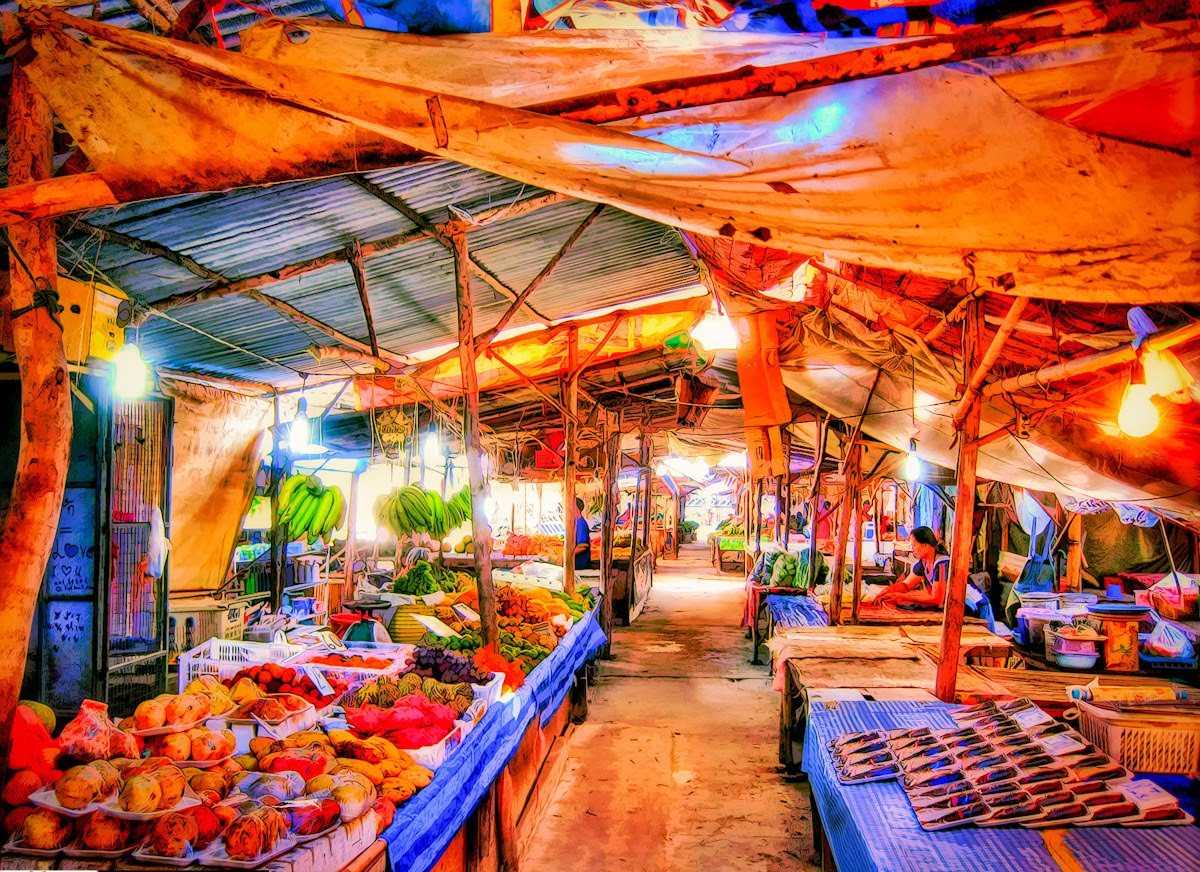 Hands down, the Newmarket is the best shopping stop in Bhopal. It has an array of showrooms, eateries, bakeries, and bookstores to cater all your needs. Take your time in exploring this place with your friends or family. If you had a bad day, just head over to the market road for some retail therapy. You can also get an excellent range of Bhopali 'Batuas' with bead detailing in many shops here.
Best Known For
The famous beadwork Batuas. Look for different motifs and designs to suit your preference.
Timing
10 AM to 10 PM
Tips
Don't miss out on the food break at Hakeem for the original Mughlai taste.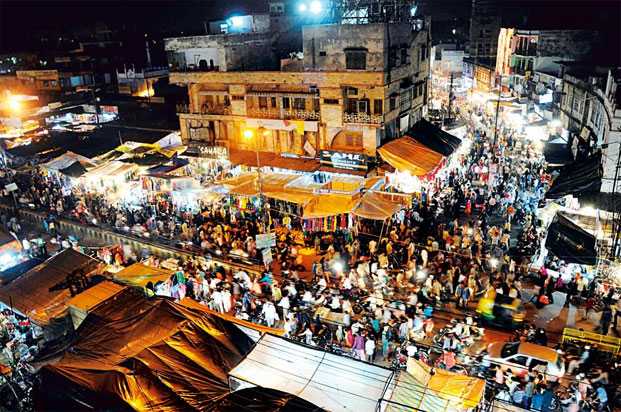 6. Sarafa Bazaar
Sarafa Bazaar offers beautifully crafted ornaments in the day and transforms into a night street 8 PM onwards. It indeed gives the best of both worlds. Initially, Sarafa Bazaar is famous for the jewellery and artefact shop, offering a wide range of accessories from Kundan neck pieces to peacock-shaped toe rings. After shopping, you can explore the delicacies of the food street till after midnight. The specialities including Kachori, Chaats, Gajak, Chole-Tikiya, Jalebi-Rabdi, and Kulfi Falooda are just some of the name in the list.
Best Known For
Delicate designed gold and silver ornaments
Timing
10 AM to 8 PM for Jewellery shopping
8 PM to 2 AM for a foodie delight
Tips
The roads are narrow, and the market has no parking. You can park your vehicle near any of the entry gates. Be careful of the dogs that roam.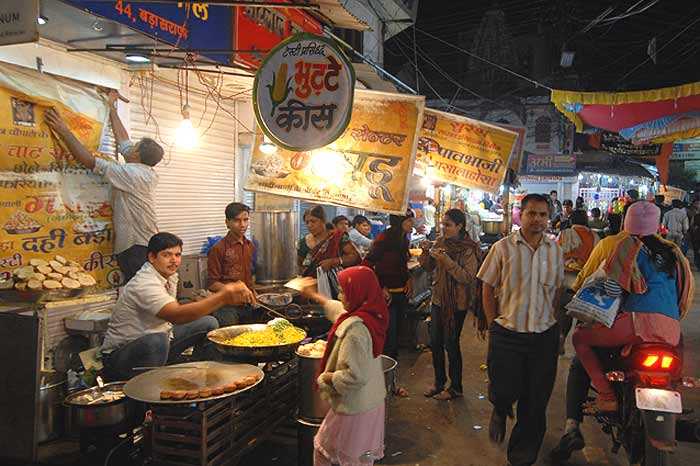 Bhopal has something for everyone. It treats its visitors with a warm embrace and pampers them with multiple shopping options. Owing to the rich history of the city, the food displays the grandeur of Mughal and the liveliness of Malwa. If you want your next trip to be vibrant, easy on your pockets and pleasing to your taste buds, do visit Bhopal soon.