If you are planning to delve into adventure activities like scuba diving in Thailand, Koh Kood should be on the top of your list.
Koh Kood, also known as Ko Kut, is the fourth largest island located in the easternmost part of Thailand. Adjacent to it another island like Koh Chang and Koh Mak can be found. Despite being the fourth largest island, Koh Kood is a pristine island that hasn't been overrun by tourists yet.
It offers many beautiful diving sites for scuba diving and snorkelling. Thanks to the topography of the sea bed, the depth of diving are from 8meters to 20 meters, which is suitable for beginners as well as certified divers.
The Koh Kood waters are home of all typical fauna such as hawksbill and green turtles, parrotfish, seahorses, blacktip and whitetip sharks, school of barracuda and many more.
Best Places for Diving in Koh Kood
1. Soneva Reef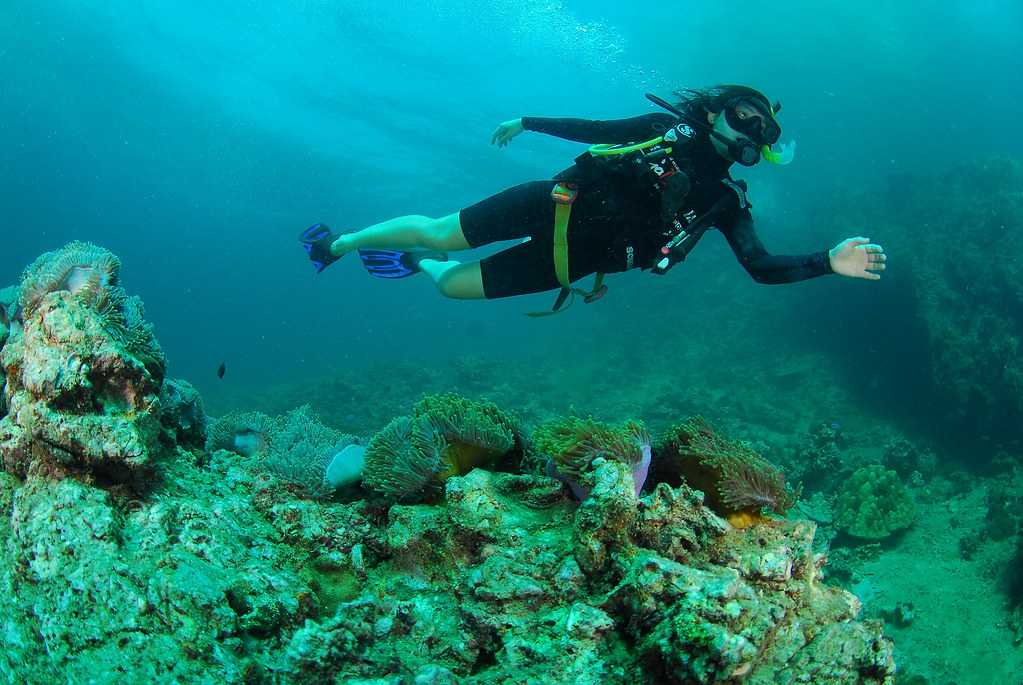 Soneva reef is one of the best diving spots in Koh Kood. Its best suited for amateur divers. The depth of the Soneva reef is 15 meters, and visibility is quite good. This location is not very frequented by tourists, so if some isolation is what you prefer, then this reef is ideal.
One can find a variety of healthy hard corals here, including beautiful table corals. A variety of faunas like Stonefish, scorpionfish, and cuttlefish can be spotted here.
2. Koh Raet Island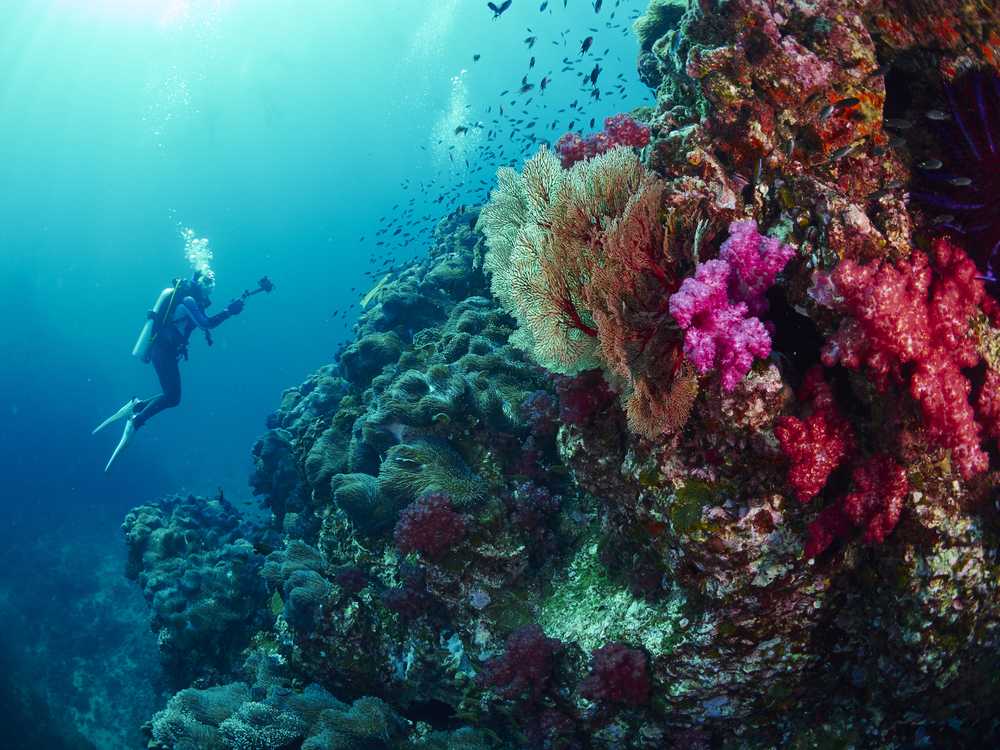 Koh Raet is a small island located to the west of Koh Kood. It's an amazing destination for scuba diving as well as snorkelling. The depth here is between 4 to 15 meters.
The north end of Koh Raet is generally for beginners as it has a shallow depth(4-8 meters). Sandy patches and a variety of hard corals can be found here. The South end is deeper to around 15 meters with many fish. Juvenile harlequin sweetlips hide within staghorn corals, and humphead parrotfish can be spotted here.
Also, all kinds of coral fish, catfish, razorfish, goatfish, stingrays, and stonefish can be seen here.
3. Ao Tum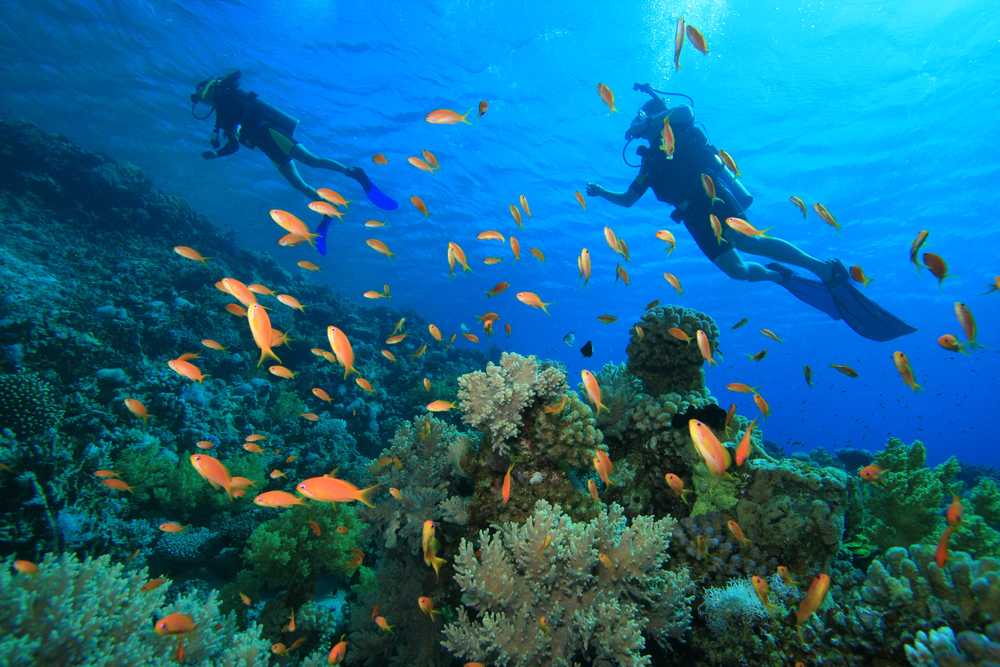 Ao Tum is one of the bigger diving sites around the Koh Kood with a nice coral garden. The depth is around 4-14 meters. It's a home for big cobia fish, rainbow runner, fusiliers fish. Also occasionally turtles can be found here.
4. Bang Bao Reef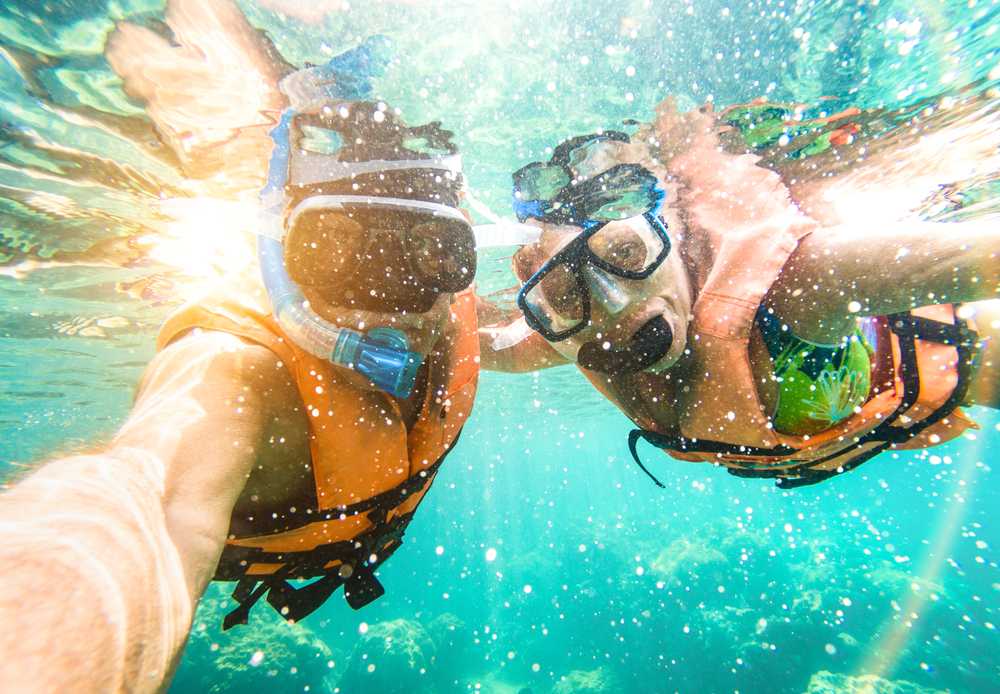 Bang Bao reef is a shallow divers spot perfect for beginners. The depth is not more than 16 meters. The shoreline is made of big boulders that give shelters to a variety of young hard corals, anemones, and parrotfish. Sweetlip fish and blue-spotted ribbon tail rays are also seen here.
5. Hin Loy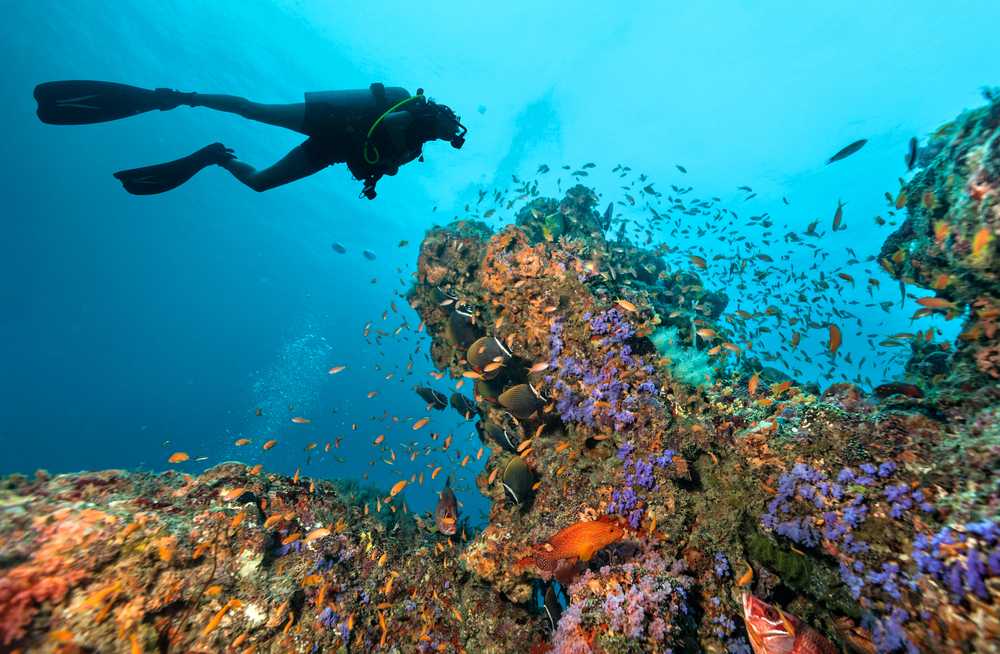 The boulders in the open sea offer a good refuge for marine life. The depth is between 5 - 15 meters. It's a great dive with huge rock caves where colourful shrimps can be found.
Because of the rocks, there are beautiful coral reefs, and in them, rays, octopuses seahorses can be seen. It also hosts thrus, groupers, schools of barracuda, fusiliers, oriental sweetlips, and sometimes turtles. Due to its abundance, it's a great place for night time diving.
6. Hin Ao Yai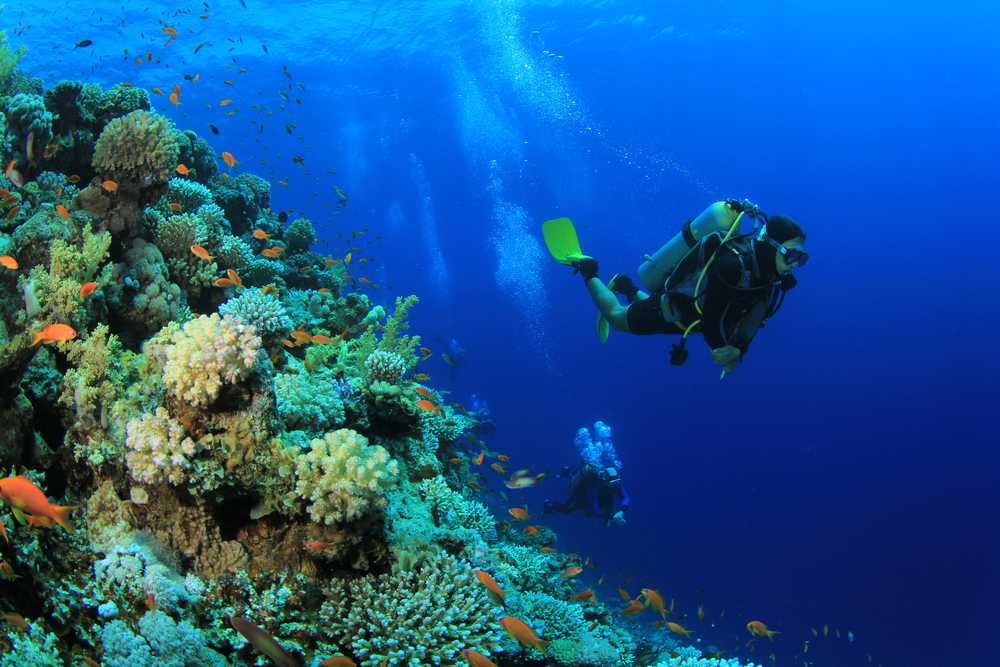 Hin Ao Yai is a beautiful pinnacle in the bay of Ao Yai. Withing the depth of 5-12 meters Its a place for colourful soft corals in which live many blue striped pipefish. We can also see saddleback anemonefish and brown seahorses here. Other marine life includes runners, butterflyfish, batfish and many more.
Best Time for Diving in Koh Kood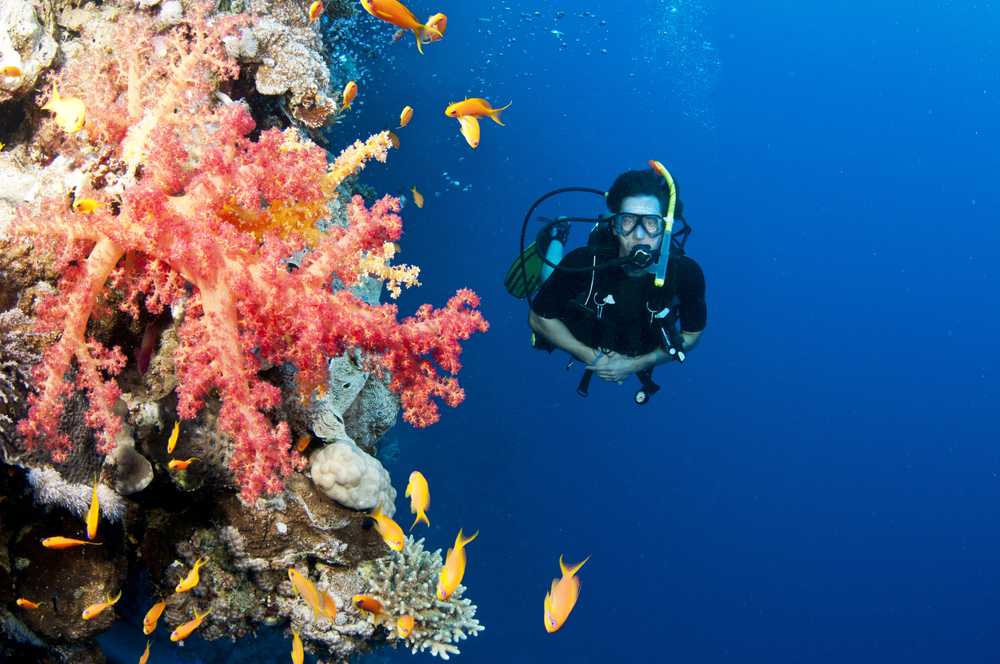 The best time to visit Koh Kood is from late October to April. The average temperature hovers around 28℃-30℃. During this time the weather stays relatively cool, dry and sunny. It's an ideal time to go diving in Koh Kood as the visibility during this period is great.
Also during the rainy season, from June until September Koh Kood is worth a visit because the east coast of the island is still a good diving spot during this time.
Budget for Scuba Diving in Koh Kood

Based on experience, one can choose from different diving packages. The prices of Scuba Diving can go down at the end of the tourist season and in the monsoon.
For first time divers, the Discover Scuba Diving (DSD) packages cost around 3000 TBH ($100) for a beach dive and 4500 TBH ($149) for two boat dives.
If you want to take a professional diving package, PADI(Professional Association of Diving Instructors) has many courses available to choose from. The PADI qualified 3-4 days open-water dive course costs around 14500 TBH ($480). The Advance open water course for 2-3 days costs 13500 TBH ($445).
Also one can take up PADI qualified night dive for approx 2500 TBH ($83).
For children (8-10 years) Bubblemaker dives are there which costs around 2500 TBH ($83) per person.
Prices are constant across the companies.
Centre for Scuba Diving in Koh Kood

Koh Kood diving experience is served by only three professional companies, Koh Kood Divers, BB Divers, and Paradise Divers.
All three of them offer PADI certification and have professional staff and provide well-maintained equipment. For more information, check out their websites.
Tips for Scuba Diving in Koh Kood

There are no ATMs or banks in Koh Kood, So bring enough cash with you.
For Beginners, the best site for diving are Koh Raet, and Soneva Reef as the depth of water is low.
Always pay close attention to the instructor before diving. Most injuries occur due to dive error which can be easily avoided with the instructor's instructions
Stay Hydrated. Your body process liquid more efficiently underwater, so drink sufficient water to avoid dehydration.
Don't Panic. Many diving accidents are caused solely by panic.
We are sure you are excited to go diving in Koh Kood. Why wouldn't you! The magical underwater world, beautiful coral garden, and marine life is a treat to witness.
Choose the right diving center, package, and diving site based on your budget and interest and you are guaranteed to have an experience worth remembering throughout your whole life.