Thimphu is the capital of Bhutan and is also the nation's largest city. This city is a mix of the old and the new. It is more commercial compared to other parts of Bhutan but still retains its traditional and cultural charm in the face of modernisation.
In being so, it provides a unique opportunity to experience the Bhutanese way of life alongside enjoying modern facilities such as ATMs, shopping centres, internet cafes and nightclubs, all of which are not common in other parts of this Himalayan Kingdom. Hence, if one wishes to experience nightlife in Bhutan, Thimphu is the best place to be.
There are quite a few places to enjoy Thimphu Nightlife
1. Mojo Park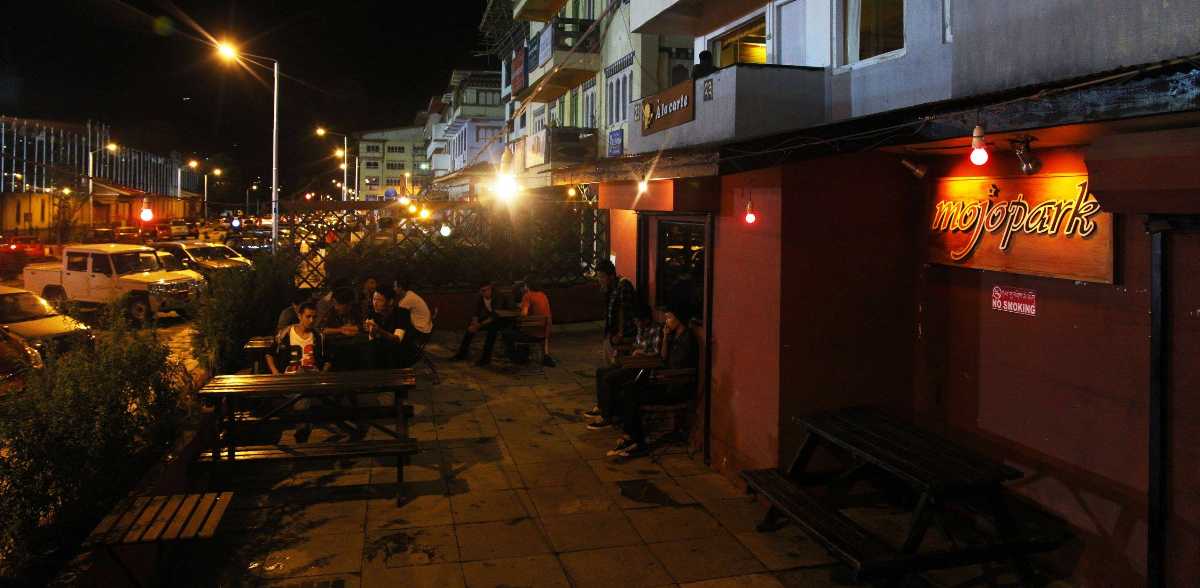 Where: Chang Lam in main Thimphu town
Speciality: Frequent live performances
Pocket Pinch: BTN 250 to BTN 350
Timings: 7 PM - Midnight
Mojo Park is perhaps one of the best options in Thimphu as far as nightlife goes. It is a musical treat and is the best option for anyone interested in live music. Local bands regularly perform here (they have live music every day), and this place is famous for its laidback vibe. They take bookings and walk-ins are also welcome. It is a good place for groups or parties. On Mondays, they have Blues Jam, on Tuesdays they are closed, on Wednesdays they have Acoustic Acts and on Thursdays, Solo Acts.
Fridays and Saturdays witness Weekend Band Acts and Sundays are Low Profile, Originals. Special gigs start at 21:00. Visiting instrumentalists and vocalists could also jam and perform with local bands/musicians. Mojo Park also supports artists by selling some of their creations. The drinks one should sample here could be the locally-produced ones such as the local beer Druk Lager (also called Druk 11000) or the local whiskey called K5 (or Misty Peak) which costs about BTN 250.
Overall, Mojo Park is a great place to chill with friends, interact with the locals and share a drink (maybe even a light meal) all while tuning into some great music and should be regarded as a must-visit spot when in Thimphu.
2. Vivacity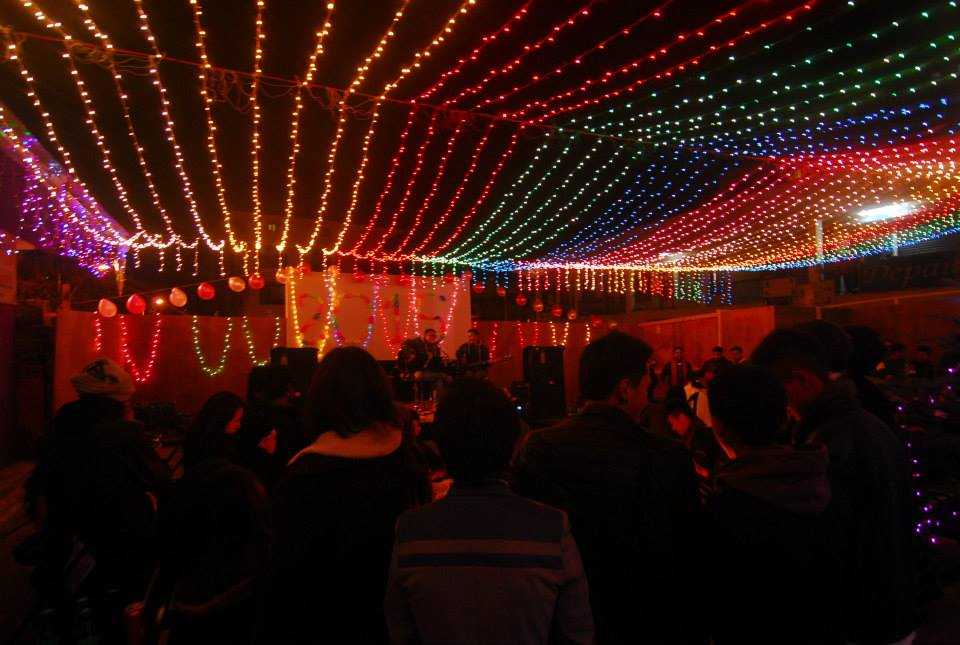 Where: Sheten Lam 
Speciality: Well laid-out, good party spot
Pocket Pinch: BTN 250 to BTN 500 
Timings: Open on Wednesdays, Fridays and Saturdays from 20:30 PM to 1:00AM
Vivacity is located on Sheten Lam, right above the parking area of the city buses and taxis. Entry fee ranges from BTN 250 to BTN 500. Wednesdays are
Ladies nights
(entry free for women). It is a place that is buzzing with food, drink and dance.
For those not interested in dancing or tired by doing so, there is a lounge where one can spend their time. There is also a big open area where food and drinks are served that looks wonderful when decorated with lights. Music ranging from hip-hop and rap to reggae and rock is played and danced to. The weekends also play host to many live performances.
3. Space 34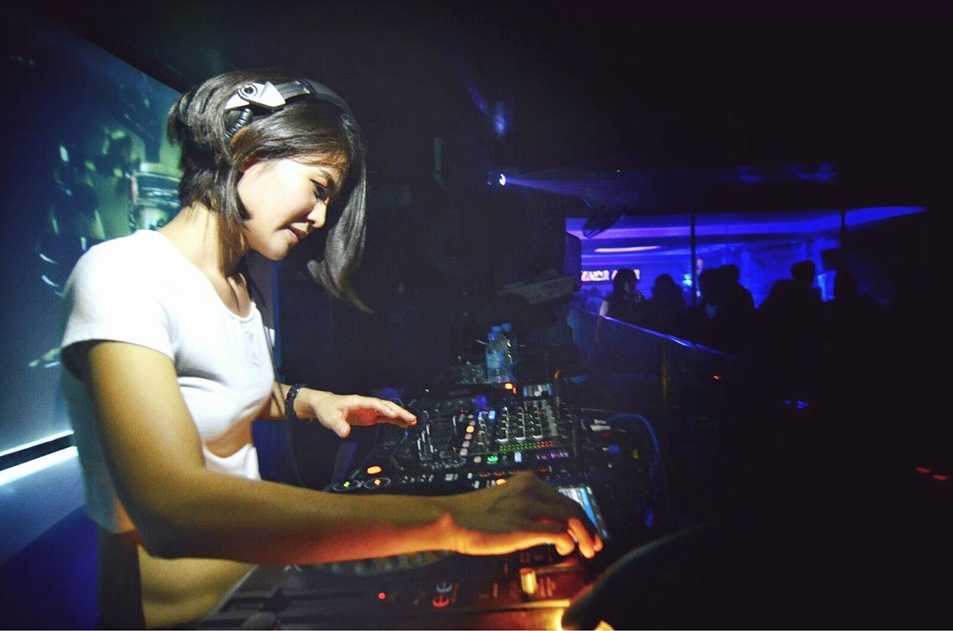 Where: Chang Lam in main Thimphu town
Speciality: Popular spot in town for partying
Pocket Pinch: BTN 350 (approximately)
Timings: 21:00 - 24:00 on Wednesdays and from 21:00 - 1:00 on Fridays & Saturdays.
Space 34 is one of the top choices for partygoers in Thimphu. It might even surge to BTN 500 on special occasions. Entry is free for ladies on Wednesdays. Space 34 is located in the heart of the city and has been a popular hub for over ten years now and has a live music bar, a dance floor and also a smoking bar area. It is an excellent place to dance to thumping beats and also to enjoy live performances. On the days it doesn't offer party nights, it remains open for karaoke and as a pub from 15:00.
4. Club Ace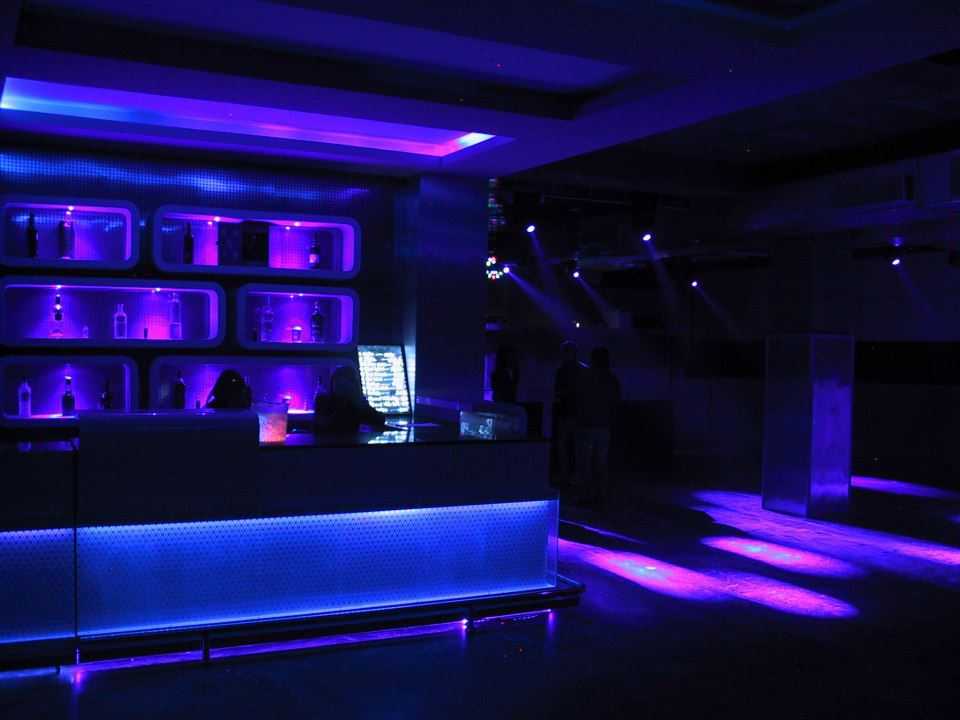 Where: Phendey Lam
Speciality: Great ambience and vibe
Pocket Pinch: BTN 250 (approximately)
Timings: 09:00 PM - 12:00 AM on Wednesdays, to 2:00 AM on Fridays & Saturdays.
Situated on Phendey Lam, Club Ace is known for its décor and lighting and also has a mirrored dance floor. It is frequented mostly by Thimphu residents and is hence a right spot for mingling with the locals. The club is exuberant with the energy of the youth who dance to the pumping electronic beats. The dress code does not require one to be in formal attire. However, decent attire with closed shoes is advisable.
5. Om Bar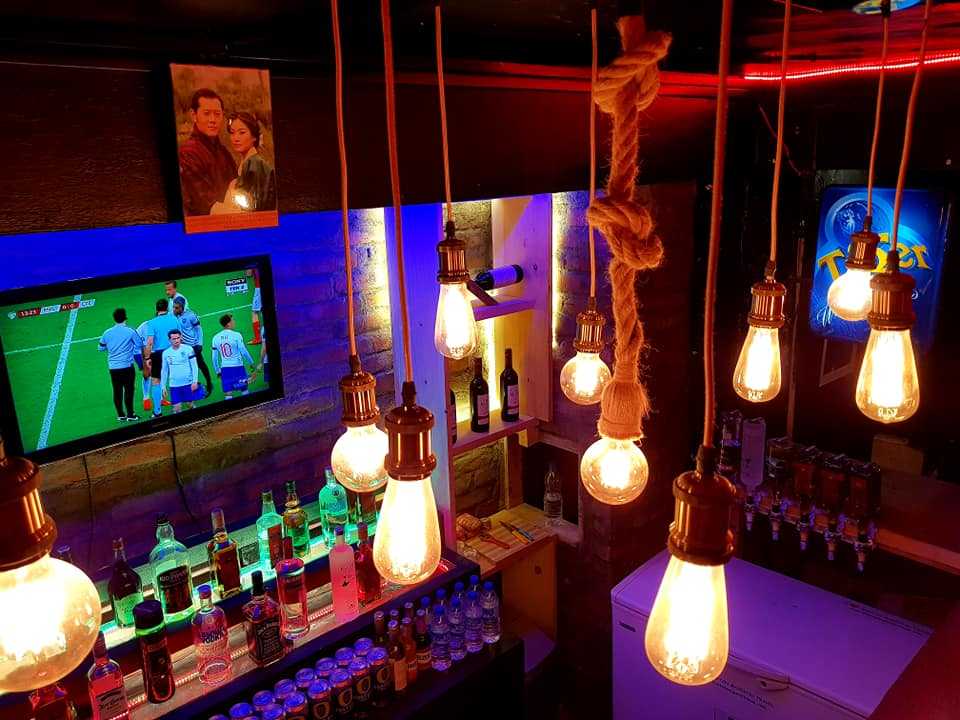 Where: Jojo's Shopping Complex on Chang Lam
Speciality: Comparatively laidback vibe, perfect place to relax
Timings: It is open from 18:00 until late night from Wednesday to Monday. However, it comes to life after 21:00 on Fridays and Saturdays.
Om Bar is the ideal place to relax in the evening after a long day with a couple of friends, and this place is relatively more casual compared to other nightclubs. It has karaoke for recreation as well. This pub sees old and young visitors alike and offers a good range of food and drink. 
6. Benez Bar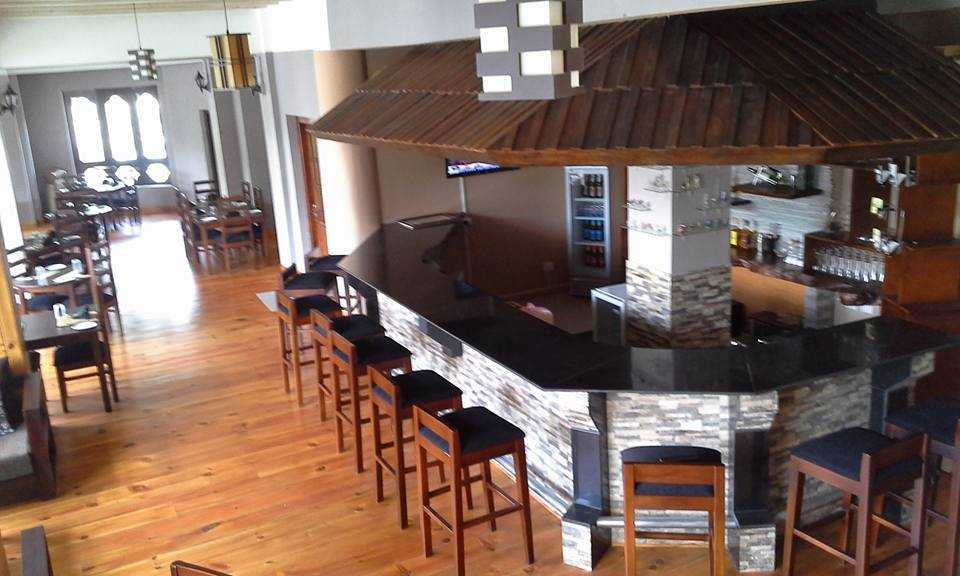 Where: Karsan building on Chorten Lam
Speciality: Popular spot among diplomats, good range of dishes on offer
Timings: It is open from Noon to 10:00 PM from Monday to Friday and till 11:00 PM on Saturdays & Sundays.
Benez Bar is popular among locals, tourists, as well as expatriates and hence many ministers and diplomats, could be spotted here. This bar is a beautiful place for all kinds of partygoers and provides a good variety of cocktails and other drinks and even dishes such as samosas, momos and fried cheese balls.
7. Khuju Luyang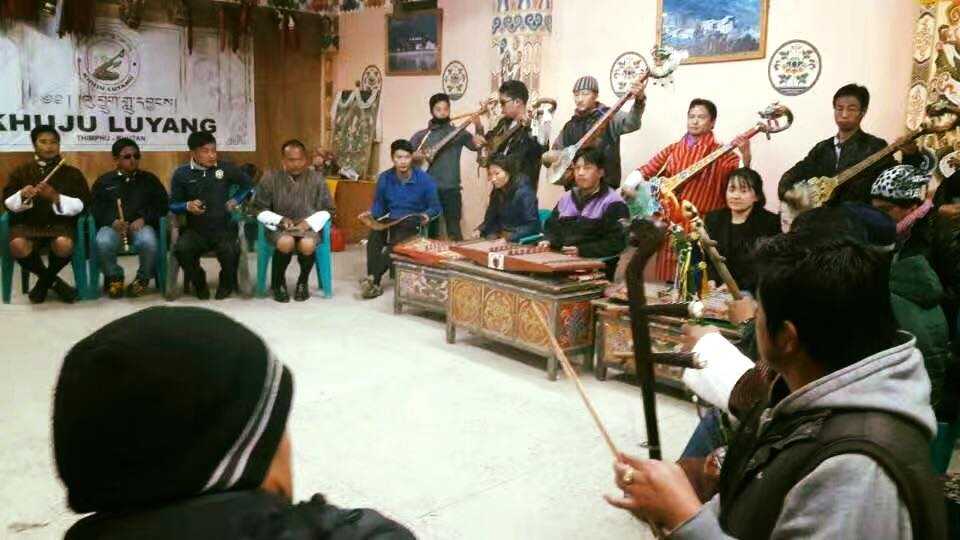 Where: Gongphel La
Speciality: Great exposure to Bhutanese culture
There is a cultural performance that takes place in Gongphel Lam which goes by the name of Khuju Luyang. It is about an hour-long, including religious, regional and folk songs and dances. Cham or the masked dance is also performed. It is an excellent opportunity if one has missed out on the chance to witness any Tsechus (or festivals) during their stay in Bhutan where such kinds of dances are performed. Live music is also a part of this show and instruments such as the flute, Dranyen (flute), fiddle and zither are played.
 8. Lugar Cinema Hall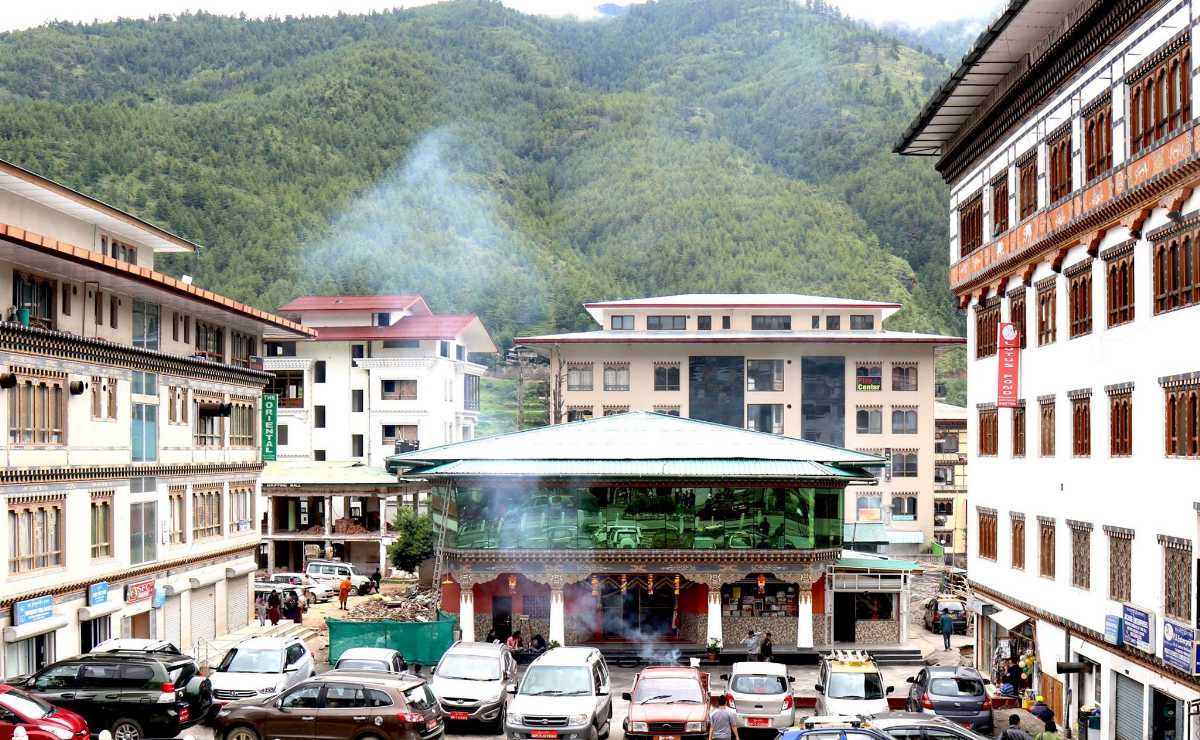 Where: Central Thimphu, below Etho Metho Plaza
Speciality: Screens several Bhutanese films and Bollywood movies
Pocket Pinch: BTN 100 (ground floor)
                       BTN 150 (balcony)
If one wishes to spend their nights in Thimphu differently, away from drinking and dancing, they could head to the Lugar Cinema Hall located in Central Thimphu, below Etho Metho Plaza. On weekdays, the timing for the Evening Show is 18:30 and for the Night Show is 20:30. On weekends, the timing for the Afternoon Show is 14:30, for the Evening Show, is 18:30 and for the Night Show it is 20:30. It is the oldest and first theatre in Thimphu and screens many Bollywood movies along with the latest Bhutanese films and occasional Hollywood movies.
Tips
- Even though these places are safe for tourists, it is advisable not to get into a tussle with the younger boys who visit these places.
- It is advisable to dress modestly and respectably wherever one chooses to visit.
Thimphu is one of the most happening places in Bhutan, and an active nightlife culture can be found mostly in this region only. A visit to the abovementioned places is guaranteed to give the visitor a delightful night in the capital.