A stunning island in Greece, Santorini is an absolute paradise for honeymooners owing to its breathtaking views of the Aegean Sea, cliffs, blue-domed white buildings, and so much more. Its spectacular sunsets over the sea make it an especially romantic destination; couples can sit at one of its many restaurants and enjoy a nice meal while taking in the fantastic views! A honeymoon in Santorini will leave you with countless memories, as there is plenty for you to do here, whether relaxing or adventurous.
Best Things to Do on Your Honeymoon in Santorini
1. Visit a winery

Santorini is quite famous for its wine, with Assyrtiko being the main grape used to make it, and it houses over 20 wineries. It would be an excellent idea for you to visit a winery with your spouse! You would have a chance to learn about and taste different kinds of wine, witness the production process, and enjoy a nice meal on the premises. Beautiful lush green spaces, these wineries also offer spectacular views of the sea and the sunset, making for excellent locations for photography too. Some of the most well-known ones include the Gavalas Winery, Santos Wines, Venetsanos Winery and Estate Argyros.
2. Catamaran Cruise

A fun way of experiencing Santorini and its surrounding areas is setting out on a catamaran cruise around the luxury cruises are cruises available throughout the day. Sunset cruises are the most popular ones get to enjoy the marvellous views of the setting sun while having some drinks and a nice meal of the cruises stop at a few spots around the island, like beaches, and you get to get down for a while and explore. Moreover, some packages even include water sports like snorkelling. You can opt for a big tourist boat that can carry several people or for a small boat which will be more intimate.
3. Book a Volcano Tour

Don't miss out on visiting a volcano when travelling to Santorini. Given that the island is an active volcano, you have an opportunity to tour the volcano island, where you can learn about the volcano's history and geology. Moreover, you would also visit the nearby hot springs where you can swim in the warm water for a while. The tour departs from Fira's Old Port; you take a boat to Nea Kammeni's jetty, where you get off to walk to the volcano and then take the boat to Palaia Kammeni, which houses the hot springs.
4. Have a Romantic Meal at a Rooftop Restaurant

The food in Santorini is absolutely mouth-watering, and when paired with the island's jaw-dropping views, dining here would be nothing short of a treat. Its many restaurants offer a fine dining experience along with gorgeous views. The Lycabettus Restaurant in Oia, Selene Restaurant, Metaxy Mas and Ammoudi Fish Tavern are some of the perfect restaurants for a romantic meal. And if you come in the evening, you can also enjoy views of the setting sun while drinking some wine!
5. Explore Beautiful Beaches

When visiting Santorini, you cannot miss out on visiting its scenic beaches, some of the most famous ones being Red Beach, Kamari Beach, Perivolos Beach, Perissa Beach and Monolithos Beach. These picturesque beaches are perfect for you and your partner to relax, go swimming, read, walk by the shore, watch the sunset, engage in water sports and take lots of photographs. It is often advisable to visit some of the lesser-known beaches as they are not too crowded, and you might be able to have the entire beach to yourselves.
6. Hike from Fira to Oia

If you and your better half are in the mood for an adventure, make sure to add a hike from Fira to Oia to your honeymoon itinerary to Santorini! About 10km or 6 miles long one way, the hiking trail passes through some of the island's villages and offers stellar views of the volcano, white-washed buildings with blue domes, the coast surrounded by cliffs and of the sunset if you're out in the evening. The trail begins near Hotel Atlantis in Fira and is well-marked, so you shouldn't have any issues navigating your way. Make sure to wear comfortable clothes, walking shoes, sunscreen and a hat and don't forget to carry a water bottle and a camera.
7. Watch the Gorgeous Sunset in Oia

One of the most romantic activities in Santorini is watching the sunset, especially in Oia, where the views are outstanding. Its Castle of Agios Nikolaos offers the most breathtaking views. Right on the edge of the caldera, it overlooks the Aegean Sea and gives you a chance to witness the sky's changing colours which are also reflected in the many white-washed buildings. The rooftop bars in Fira, Therasia, Akrotiri Lighthouse, Skaros Rock and Franco's Cafe in Pyrgos or other scenic spots in Santorini where you can watch the setting sun.
8. Visit the Heart of Santorini

The Heart of Santorini, a heart-shaped hole in a rock near the Megalochori village, is one of the most romantic spots on the island. It is located on the way to the tiny Chapel of Agios Nikolaos, and through it, you can see the caldera, volcano also sunset. The Heart of Santorini is a perfect choice if you're looking for a unique location to take pictures. You and your partner can stand behind it with your backs to the beach, and the image would look like a photo frame!
9. Get a Couple's Massage

Sightseeing often tires you out, and the best way to relax a little is to get a long and soothing couple's massage. Several hotels here offer various massage packages catered to couples that you can enjoy while out on the terrace; expert therapists work their magic while you sip on some drinks and take in views of the caldera and the sea.
10. Climb up to Profitis Ilias

A climb up to Profit Ilias, the island's highest point, should definitely be on your Santorini honeymoon itinerary. Overlooking the entire island and well as the coast, Profit Ilias can easily be reached from Perissa, Kamari and Ancient Thira; you can hike there, take the car or ATV or opt for a guided tour. It is an excellent location for photography. You can also visit the Profits Ilias Monastery, which comprises museum housing artefacts and is also known for wine production.
11. Have a Fun Night Out

Santoriniasts of a very vibrant nightlife, and if you want to experience the island in all its splendour, make sure to take some time out for a night out. Numerous bars, restaurants and clubs here are known to host fun events, including disco nights, Latin dance parties, jazz shows, movie nights etc.; most famous popular for its happening nightlife, followed by Kamari, Perissa and Perivoloas. You can have a blast dancing while sipping on some drinks, enjoying yummy Greek food and revelling in the sunset views over the Aegean Sea. Enigma, Tango Bar, Volkan on the Rocks and Franco's Bar are some of the favourites for an exciting night out.
12. Ride the Santorini Cable Car

Whether you want to get from the old port to Fira or simply enjoy breathtaking views of Santorini, the cable car is an excellent choice. Only three minutes long each way, the ride allows you to take in gorgeous views of the caldera, the volcano, the Aegean Sea and the island's many white-washed buildings with blue domes. Don't forget to take out your camera and capture these beautiful scenes!
13. Take Loads of Photographs

There are ample spots all around the extraordinary island of Santorini where you can take romantic pictures. Whether you want to do the photoshoot on your own or hire a professional photographer, you can choose from various romantic locations, the most easily accessible ones being the white buildings with blue domes. Oia, Fira, Kamari, Pyrgos Village and Imerovigli, amongst others, are also ideal for photographs since they have rooftop bars and restaurants, cliffs, beaches, lighthouses, windmills etc., that overlook the picturesque sea, caldera, volcano and sunset.
14. Rent an ATV and Ride Around the Island

While most areas in Santorini are easily accessible via car or public transport, some are located at the end of dirt roads and are tough to get to. A great way to access these sites is on an ATV; you and your partner can rent a single ATV and explore Santorini without worrying about bus schedules. ATVs offer you considerable freedom and are safe to dry on rocky roads and cliffs. You can ride from Fira to Kamari Beach or drive up to Ancient Thira, Akrotiri, and Amoudi Bay. Make sure that you have an international driving permit while renting an ATV.
15. Enjoy Water Sports

Your trip to Santorini would be incomplete without engaging in a few water sports. With an extensive large and gorgeous coastline, there are ample opportunities for you to partake in activities such as diving with the aquatic life, windsurfing, snorkelling, wakeboarding, parasailing, paddling through volcanic rocks and cliffs etc. If you don't feel like getting in the water and simply want to soak in your surroundings, you can also choose sailing, cruising or boating; you can hire a private boat in case the idea of a group excursion doesn't appeal to you.
16. Helicopter Ride Over Santorini

A helicopter ride is a very popular way of sightseeing in Santorini as it offers you a bird's eye view of the entire island. An activity that doesn't require you to exert yourself physically, a helicopter ride takes you over some of Santorini's most well-known tourist areas, such as the caldera, Megalochori, Nea Kameni, Oia, Thirassa, Aegean Sea, and so much more. You would be treated to views of the white buildings with blue domes, vineyards, the island's beaches, etc. The most romantic package to choose would undoubtedly be the sunset ride!
17. Watch a Movie at Kamari's Open-Air Theatre
If you're looking for something romantic yet relaxed to do in Santorini, make sure to catch a movie at the open-air theatre in Kamari that pays homage to Greece's history of theatre. Set up in a garden with dim lighting, the cinema gives you the perfect opportunity to cosy up with your loved one under a blanket a enjoy a movie while sipping on some drinks and eating some snacks. Movie nights are usually organised during the summer months.
18. Discover Ancient Thira and Akrotiri

Santorini has several ancient sites that you must explore when visiting the island, especially Ancient Thira (located on the Mesa Vouno Mountain) and Akrotiri. The former dates back to the 8th century BC while the latter to the Bronze Age, and both are known for structures such as cemeteries, temples, markets, drainage systems, baths and more. They overlook the Aegean Sea and are great locations for photography too. Although you can drive here, it is advisable to take the bus; the ones for Ancient Thira leave from Kamari, while the ones for Akrtori leave from Fira.
19. Greek Cooking Class

An exciting activity for you to try out with your spouse is learning to cook Greek food. You can sign up for a class or two where you can learn to make some famous popular Greek recipes such as moussaka, dolmades, gyro and fasolada. And once you're back home, you can make them for dinner and enjoy the meal with some wine!
20. Go Shopping

When you honeymoon in Santori simply must go shopping for souvenirs that will remind you of your wonderful trip! Numerous shops and boutiques around the island sell various items, including beautiful ceramics, local cosmetics, artwork, evil-eye jewellery, lightweight clothing items, wine, and so much more. Speira, Ilias LALAoUNIS, Thiras Art Gallery and Nomikos Street are some of the popular shopping spots here.
Ideal duration for A Santorini Honeymoon

Santorini is quite tiny, and therefore you wouldn't require too many days here to fully explore the island. However, it is usually recommended that you plan a honeymoon of around 3 to 5 days when visiting Santorini, as it is enough time to visit popular attractions, engage in some fun activities and relax.
Best Time to Visit Santorini
While Santorini is a year-round destination, the best time to visit the island is between end-April and September or the beginning of October. The weather is warm during this period, and the water is perfect for swimming. For this very reason, these months witness a higher influx of tourists (especially around July and August) which means that it will cost more to visit during this period. Moreover, the months from November to February are the coldest, making it very difficult for you to swim in the ocean, so it is advisable to avoid planning a honeymoon during the summer months.
Where to Stay while Honeymooning in Santorini?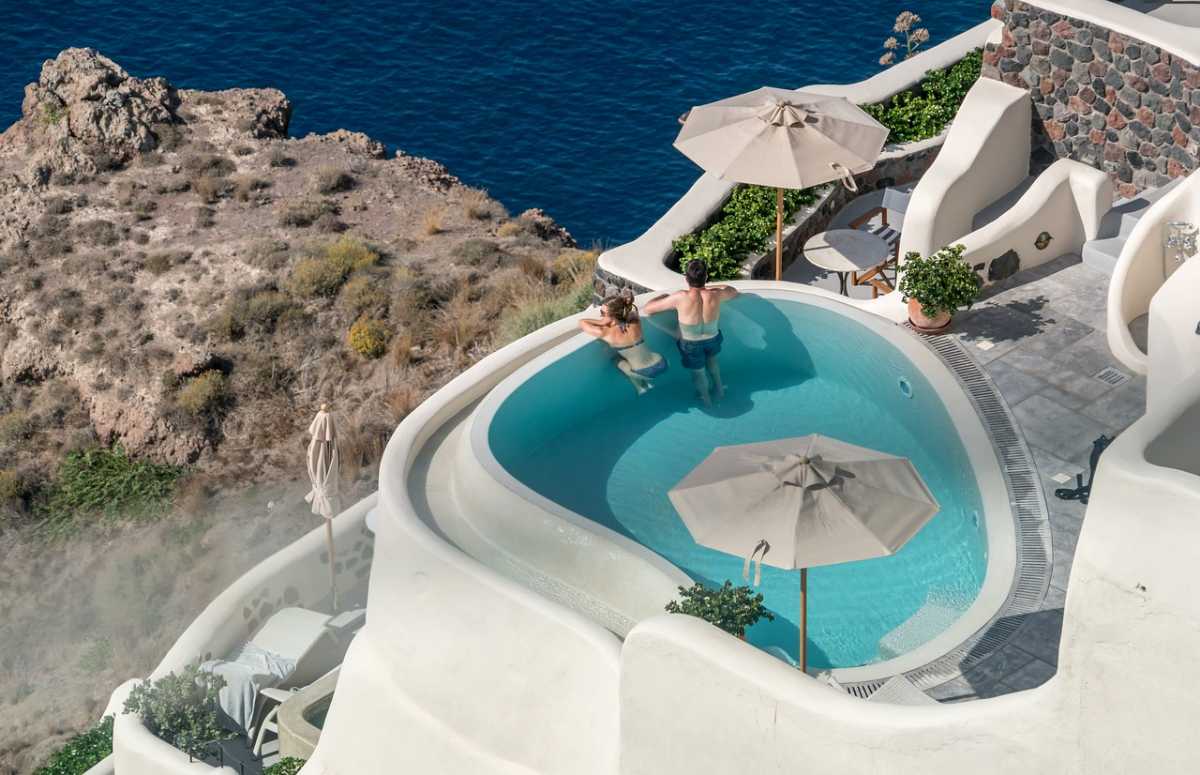 When choosing the perfect area to stay in during your honeymoon in Santorini, you would undoubtedly want to have unmatched views of the caldera, Aegean Sea and the island's iconic white-washed buildings with blue domes. If that is what you are looking for, the Fira, Oia and Imerovigli villages are the best choices, especially since they are also some of the island's most happening areas. Fira and Oia are synonymous with luxury resorts that have honeymoon suites overlooking the breathtaking and well as sea and offer a bunch of services like massages, private pools and jacuzzis, private chefs etc. For these very reasons, accommodation here tends to be quite in demand and therefore very expensive.
So, if you want to save some money on accommodation, consider staying in Kamari, Perivolas or Perissa, which are located alongside the coast. While they don't offer the jaw-dropping views that you would want, they provide easy access to the beach and are easily connected to the more popular villages via the bus. These areas have many hotels, resorts, studios and hostels, bars, restaurants, shops and other attractions.
What to Pack for Honeymoon in Santorini?

Travel Insurance: Make sure to keep travel insurance when travelling to Santorini so that you don't have to pay out of your pocket in case of any mishaps. And make copies of your travel documents.
Adapter: If you're visiting from outside of Europe, you need to pack an adapter for your electronics; a universal adapter might be a good idea. Packing a power bank is also a good idea, especially when you are out the whole day.
International Driving Permit: You must procure an International Driving Permit before leaving your home country if you plan on driving a rental car in Santorini. You might get fined if you don't have a permit.
Accessories: Some items you must pack when visiting Santorini include sunscreen, bathing suits, a dry bag to keep them in, sunglasses, mosquito repellant, hats, swimming goggles and even a camera.
Medicines: If you tend to get seasick or are likely to have motion sickness, pack some mixture, especially if you intend to go on a boat.
Clothes: Given that it is usually warm here, keeping lightweight clothing like cotton shirts, dresses, tunics, shorts, skirts, trousers, slippers etc., is advisable. If you plan on hiking or walking around the island, make sure to pack comfortable walking shoes.
Tips
It is best to book a hotel in Santorini months in advance, preferably about 8 months prior to your visit, since it is a very popular tourist destination and prices go up very quickly.
There are no direct flights to Santorini from non-European countries. You would need to first fly to Athens and then take the 45-minute long flight from there to the island. However, there is a direct flight from most major European cities like Paris, Rome, Barcelona, Amsterdam etc.
Find a secure place in your room to keep your important travel documents, and always have copies on you when out and about.
Don't forget to keep a bottle of water with you at all times, as it does tend to get warm in Santorini.
Always have some cash in hand because a few shops and restaurants might not accept cards.
When looking for a great spot to catch the sunset, make sure not to walk onto private property. You would also come across several picture-perfect locations being off-limits (as many are personal properties), so be sure to respect that.
Santorini's spellbinding views, delicious food, vineyards, beaches, galleries, boutiques and more make it a must-visit destination for honeymooners. In addition, the island offers you plenty of opportunities to engage in rand and fun activities and is thus an excellent choice if you're planning a honeymoon in Europe.