Water Sports


Individuals who visit Hua Hin beach can take part in all the staple beach activities that you will found all around Thailand like, water skiing, banana boat, jet skiing, and parasailing. The water on this beach is also shallow and safe from rip currents, making it perfect for a swim.
Relaxation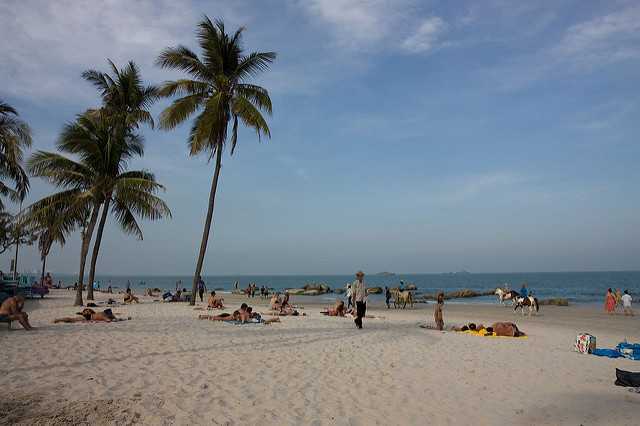 You can also rent deck chairs and umbrellas and settle in the soft sand or stroll the strip and take in the serene yet lively atmosphere. An advantage that the beach has is the fact that during the high tide (almost every four days) every other beach in Hua Hin is covered by the waves with no sand strip, but not Hua Hin beach. The rock formations and strategic, advantageous placement of the beach always leaves a strip of sand to walk on, even during the high tide. A bonus is an absolutely breathtaking sunrise that you can witness from the beach side as Hua Hin beach faces the east directly.
Kite Surfing


Especially famous activities that individuals should definitely partake in are kite- surfing. The flat shallow water and compatible winds form the perfect weather conditions required for this sport. Three day courses are offered too for those who wish to learn or need help starting out.
Horse Riding


Hua Hin Beach is one of the extremely rare beaches in Thailand where you can make your dream to ride astride a horse or pony on the soft white sand come true.
Massages


If you feel especially self-indulgent you can always check yourselves in for a massage at any of the stalls right next to the beach, maybe even on the beach.