The Pushkar Fair is an annual event that is a business fair and cultural extravaganza in equal measure. Each year, in the month of October – November, tourists from across the globe flock to Pushkar to soak in the riot of colour and festivities against a backdrop of hills and sand-dunes. Started as a local trade fair by the Marwari community of India, it soon turned into a lively and spectacular festival which celebrates the rich culture and unique folklore of this gorgeous town in Rajasthan.
Come October, and the sleepy little town of Pushkar is transformed into a lively marketplace where richly adorned camels are displayed and traded along with other livestock. There are a plethora of activities to engage the travellers, exquisite handicraft for the shopaholics and innumerable opportunities for the shutter-happy at the Pushkar Fair.
About Pushkar
Located in the Ajmer district of Rajasthan, Pushkar is one of the oldest towns in India and is famous for its religious significance so much so that it is considered to be the 5th Dham by devout Hindus. Boasting of rare temples with one dedicated to Lord Brahma, Pushkar is a holy city centred around the famous Pushkar Lake. In fact, the Brahma Temple is the only one of its kind in India and is the most important temple in Pushkar.
Pushkar has an interesting mythological genesis. Legend has it that the Lord Brahma vanquished the demon Vajra Nabh in a celestial battle with a lotus flower. The petals of this flower floated down to earth and rested in 3 spots in and around Pushkar, which gave birth to the lakes. The Pushkar Lake has 52 ghats and is surrounded by temples on all sides. Some of these temples are really old but a few have been rebuilt after they were destroyed in invasions. The sacred Lake is an important pilgrimage site where visitors take bath to wash away their sins.
Best Time to Visit Pushkar
Being situated in the Thar desert region of India, Pushkar experiences extreme variations in temperature. The days can be hot while the nights are chilly. The best time to visit Pushkar is in the winter months (from October to March) and could be avoided during summers.
Pushkar Fair 2023 Dates
The Pushkar Camel Fair is held every year from Karthik Ekadashi (11th day of the Karthik Month according to Hindu calendar) to Karthik Purnima (full moon night). The Full Moon Day (Karthik Purnima) is the main occasion as it is believed that Lord Brahma sprung the Pushkar Lake on this day. This year it is being held from 20 th November to 28th November, 2023.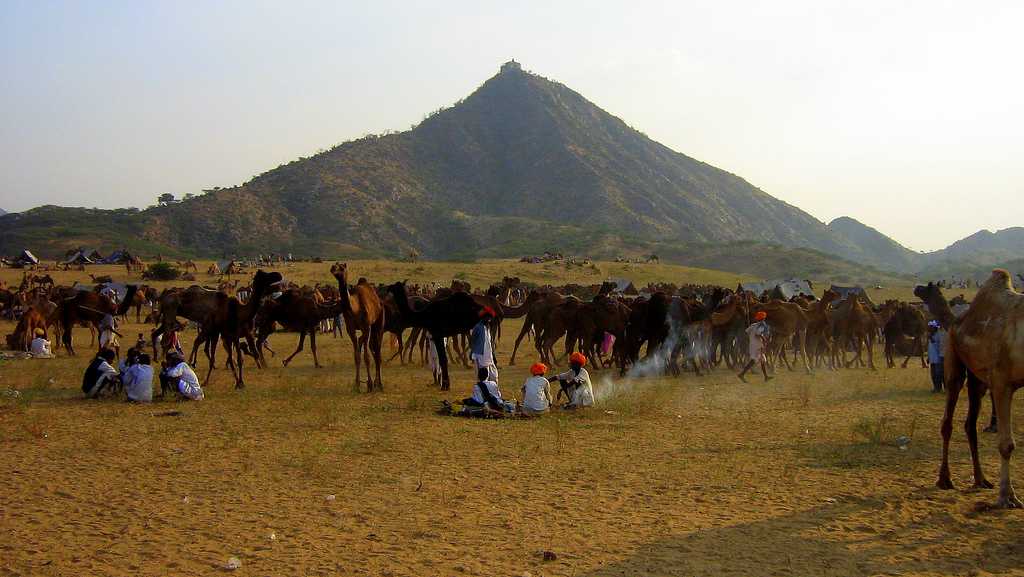 Where To Stay in Pushkar
Having seen an increasing flux of tourists every year, Pushkar offers a variety of staying options ranging from small budget hotels to luxury heritage mansions. However, the prices shoot up during the Pushkar Fair so it is advisable to book in advance. Other accommodation options include guest houses, home-stays, desert tents etc. Tourists can also stay in camps set up at the periphery of the festival grounds. As Pushkar is a mere 14 km from the city of Ajmer, a lot of people choose to stay in Ajmer and travel to Pushkar for the Camel Fair.
Although Pushkar is a relatively safe place it is prudent to be cautious. Be careful with your belongings and stay away from cheapest, nondescript hotels as a few cases of drugging and looting have surfaced recently.
Things To Do At Pushkar Fair
The Pushkar Camel Fair kicks off with a Camel Race which is then followed by folk music and dance performances and cultural shows. There are horses, bullock-cart, donkey races and various other contests involving livestock that are held in huge amphitheatres set up at the Fair venue on the outskirt of the Pushkar town. These are quite popular with the spectators. It also plays host to a lot of engaging activities which are fun to watch for the tourists. Some of them are magic and puppet shows, acrobatic performances, moustache competition etc. The Pushkar Mela also offers the basic essentials of a carnival-like various rides, giant Ferris wheel, hot- air balloons, camel safari, food-stalls etc.
The most mesmerizing feature of this carnival is probably the eclectic mix of people that come from different walks of life. Pilgrims, Godmen, foreign tourists, local traders and tribes, folk musicians and dancers, astrologers, snake charmers, artists, performers, hippies, photographers. Apart from the cattle trade, the marketplace is abuzz with energy and full of makeshift shops selling local goods, household items and beautiful handicraft. The dusky evenings are reserved for cosy campfires where people huddle around and enjoy the folk ballads of Rajasthan. The Pushkar festivities reach their peak on the Purnima and is marked by a Deepdaan Ceremony wherein earthen lamps are lit, put in little boats made out of leaves and floated onto the sacred Pushkar Lake.
You can travel the stretch of Pushkar town on a bike or auto rickshaw and take in the rustic surroundings with their distinct smells and sound. Watch with glee as the locals go about their daily business well adorned with jewellery and in the most colourful of attires.
Eating Options For Pushkar Fair
Due to continued tourist influx, Pushkar has lived up to the demand and offers sumptuous meals in all major cuisines like Indian, Continental, Asian, Lebanese, Israeli, European etc. Some good eating out places in Pushkar are:
Om Shiv Buffet (healthy vegetarian buffet)
The Laughing Buddha Café (tasty vegetarian food)
Baba Restaurant ( savoury continental breakfast)
Funky Monkey Café (delectable small bites and great coffee)
Te…Lawala (good Indian and international dishes)
Sunset Café (appetizing food by the lake)
Nirvana cafe and Pizzeria (enchanting ambience. Italian and Israeli cuisine)
The Pushkar Fair offers a varied taste of the local flavours and should be explored.
Important Tips For Pushkar Fair
Pushkar is considered a holy city by the Hindus and hence consumption of meat and liquor is prohibited. Drugs are not legal as often misconstrued and should be steered clear of.
Beware of con-men, pickpockets, glib touts offering to show around town and godmen exhorting money in the name of token rituals and blessings. Women travellers might prefer travelling in groups or if solo, should avoid men trying to be overly helpful or friendly.
Overall, the Pushkar Mela is a kaleidoscopic trip that will leave you with picturesque memories for a lifetime. Do not forget to carry a camera, as the colours and the vibe has a tendency to stop you in your tracks. Lose yourself in the endearing spirit of the Mela.
Similar Posts That You Might Like