The nightlife in Phi Phi Islands brings this laidback island to life every night. Situated in southern Thailand, Phi Phi offers beachside parties and open-air parties, Thai kickboxing matches, fire shows, pool parties and many bars and nightclubs; the nights at Phi Phi Island are where people let loose. The nightlife scene is lively, energetic, and much less shady than in other parts of Thailand.
Beach Parties at Phi Phi Island
Loh Dalum Bay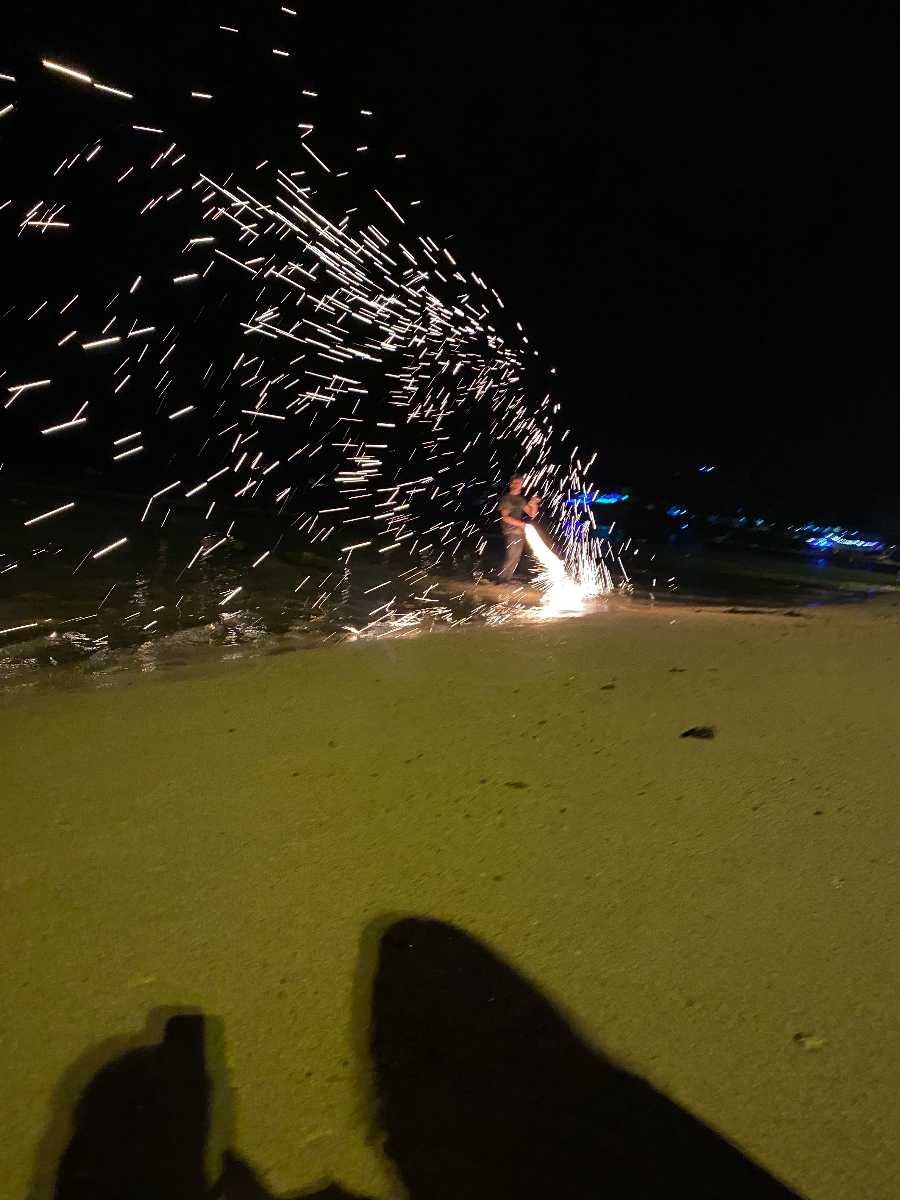 The beach at Loh Dalum Bay is the party hub, with the liveliest nightlife in Phi Phi Island. With buckets of alcohol, loud music, and bars lined up next to the beach, you can paint yourself in fluorescent colours and dance into the morning on the yellow sands. Then, as it gets darker, the beach lights up with fire as young locals juggle torches, fireballs and skipping ropes set on fire. The beach is home to the biggest fire show on the island and is sure to light up your party!
1. Ibiza Beach Club

Set right on the beach at Loh Dalum Bay, the Ibiza Beach Club lets you dance on the yellow sands. There are fire shows in front of the bar every night, and the resort hosts pool parties thrice a week. Entry is free, but you could leave a tip for the fire performers and buy some of the affordable drinks at the bar. The club is open 24x7.
2. Slinky's Beach Bar

Also set on the beach at Loh Dalum Bay, Slinky's bar offers free shots to start the party every night. Liquor is cheap, and you can get food from nearby restaurants. Slinky's Beach Bar hosts fire shows, and there's also a mechanical bull you can ride on for a change from dancing on the beach.
Timings: 7 PM - 2 AM
3. Apache Beach Bar

This bar is towards the end of the beach on Loh Dalum bay and is the second largest open-air club on the beach at Phi Phi. On entry, you can choose from three armbands to show people how willing you are to interact with them. Apache Beach Bar comes alive at night, with loud techno music and people dancing on the beach. The bar is open until 2 AM, sometimes even later.
4. Stones Bar

Stones Bar was one of the first bars to open on the island. If smoking pot is your thing, this is the only bar on the beachfront that is weed-friendly. Music at Stones Bar is different from other bars on Loh Dalum Bay, with drum and bass heavy music played here, as people dance under neon lights. This bar is open until 2:30 AM.
5. Blanco's Bar

Blanco's Bar is the smallest party spot on the beachfront but is also the cheapest and offers discounts to people staying in their hostels. You can get yourself a complete package at Blanco's, with the property offering hostels to stay in on the island, a bar to party in on the beach, and a party cruise to Maya Bay.
Tonsai Bay
If you're looking for a quieter experience on the beach, Tonsai Bay, on the other side of the island, has more relaxed bars.
1. Carlito's Bar

Carlito's Bar offers a nice change of pace, letting you enjoy fire shows from a comfortable lounge. You could try learning the fire poi dance here and even take yoga lessons. The bar livens up the deeper you go into the night.
Timings: 11 AM up to 2 AM
Bars in Phi Phi Island
1. Kongsiam Live Music Bar

If you're in the mood for some live music, Kong Siam at the centre of the island offers an in-house band that covers songs from various genres and decades.
2. Phi Phi's Reggae Bar

For a more exhilarating bar experience, Reggae Bar is the place to go. This bar is home to the island's only Muay Thai kickboxing stadium, where you can watch exhibition matches. What's more, you could also sign up to fight and stand a chance to win a whiskey bucket.
3. Dojo Bar
Dojo Bar in the heart of the island is a great place to knock back a few cold beers while watching a game on the large-screen TV. With a DJ, this place is also great if you want to experience good house music.
Timings: 1 PM to 1:30 AM
5. Hippie's Bar

Hippie's Bar, right on the beach, is one of the cheapest bars in Phi Phi. It hosts fire shows, DJs and live performances after 8 PM and is a great place to watch sporting events with its giant TV.
6. Dubliners Irish Pub

For Irish music, the Dubliners Irish Pub in Tonsai village is a great location. With a pool table and a variety of cocktails, this pub is a great party spot. It also hosts some of the wildest Full Moon parties.
Timings: 9 AM to 12 AM
Pool Parties in Phi Phi Island
1. Princess Pool Party
The Phi Phi Princess Resort hosts a pool party every Friday, with entry open to everyone and no cover charge. However, food and liquor at this party on a pool overlooking the sea are a little expensive.
2. Ibiza Pool Party

Hosted on Tuesdays, Thursdays and Sundays, the pool party at Ibiza Resort runs from 1 PM to 9 PM. Entry is free, but you're expected to buy a few drinks at the bar.
Night Markets in Phi Phi Island
1. Tonsai East Shopping Alleway
This alley, leading to the Phi Phi Andaman Legacy Resort, is open from 10 in the morning to late at night. Lined with shops selling all manners of things, from t-shirts, shorts and other pieces of clothing to beads, bracelets and other knick-knacks, the Tonsai East Shopping Alley should have almost everything you might need during your stay.
2. Super Funky
At Super Funky, you can buy various clothing inspired from the 60s and 70s. You can also get bangles, sunglasses, hats, bright sarongs and boxers with colours that pop.
3. Namlily Boutique
Located near the centre of Tonsai, this boutique is run by a French woman and sells vintage and customisable clothing. The store also sells pieces of jewellery reflecting various cultures from across the globe.
4. Phi Phi Market

Phi Phi Market, in the heart of Tonsai village, is where you can experience life and culture in Phi Phi Island to the fullest extent. You can pick up knick-knacks and fresh local produce here. This market is also where you can try out a variety of snacks and street food.
Things to Watch Out For at Phi Phi Island:
Alcohol is usually sold in buckets at parties in Thailand, and Phi Phi Island is no exception. To avoid spurious alcohol, make sure yours is poured from a sealed and branded bottle.
Avoid local brands such as White Spirit and the super cheap Chang beer. The concentration of alcohol in these is unregulated, and they might get you very drunk very quickly.
With the amount of booze consumed every night, you might end up with some cut or wound after a night of partying. Try keeping yourself clean and maybe carry bandages with you to avoid risking infections.