The city of ruins, Hampi is located in Karnataka, about 350 km away from Bangalore. With over 500 monuments and attractions, Hampi as a whole is one big attraction. A well known UNESCO heritage site, Hampi strikes a perfect balance between history and adventure - two different sides of tourism. The things to see and do are endless
There are two ways you can explore Hampi depending on the type of tour you wish to have. You can either immerse yourself in the city's rich history or choose the more exhilarating option - adventure sports. The best option is to choose both because Hampi offers the best of both worlds.
History
All monuments in Hampi are broadly divided into two areas, the Royal Center, and Hampi Bazaar. The best ones include:
1. Virupaksha Temple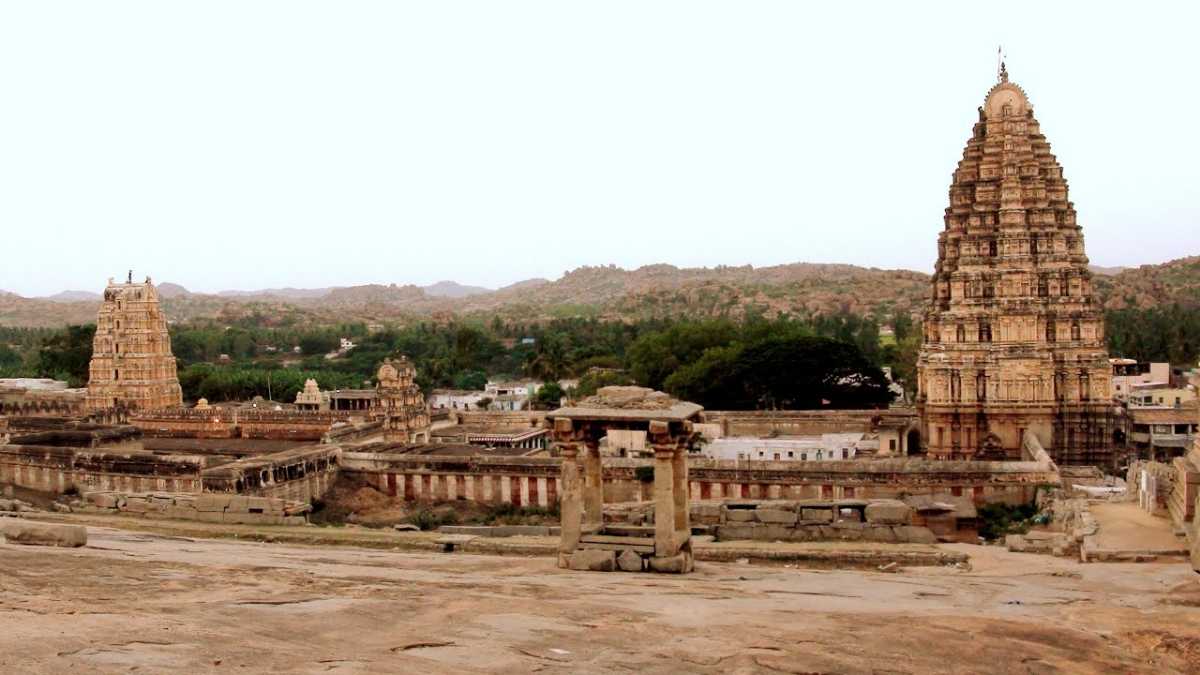 One of the top attractions in Hampi, Virupaksha temple is dedicated to Lord Shiva. The temple is said to be created in 7th Century AD, making it one of the oldest in India. It was built to commemorate the victory of Lokamahadevi's (queen of Vikramaditya) husband over Kanchipuram's Pallavas. The temple is also considered as a World Heritage Site by UNESCO. Located in Hampi Bazaar, it is interesting to know that the temple is still intact and actively used for worship among the surrounding ruins.
2. Vijaya Vittala Temple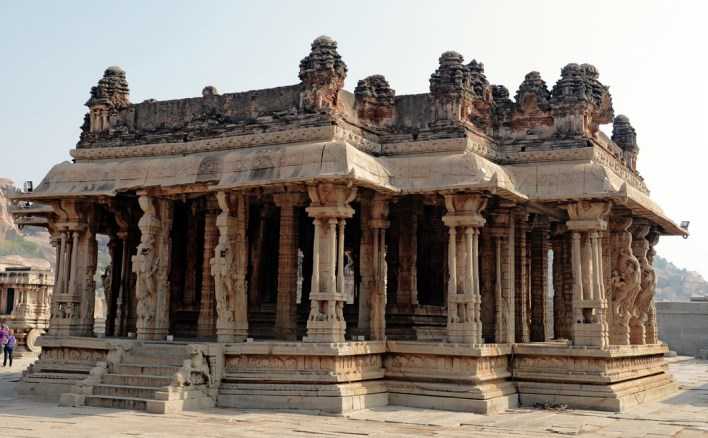 The Vittala Temple is an ancient structure well known for its incredible architecture and craftsmanship. The monument stands out to be one of the most famous structures among the group of monuments in Hampi. Located in the northeastern part of the city near the banks of Tungabhadra river, the temple is dedicated to Lord Vittala (Lord Vishnu). The design of the temple speaks volumes about the grandeur of Indian architecture. The temple is also famous for its musical pillars which erupt the SaReGaMa symphony when gently tapped.
3. Octagonal Bath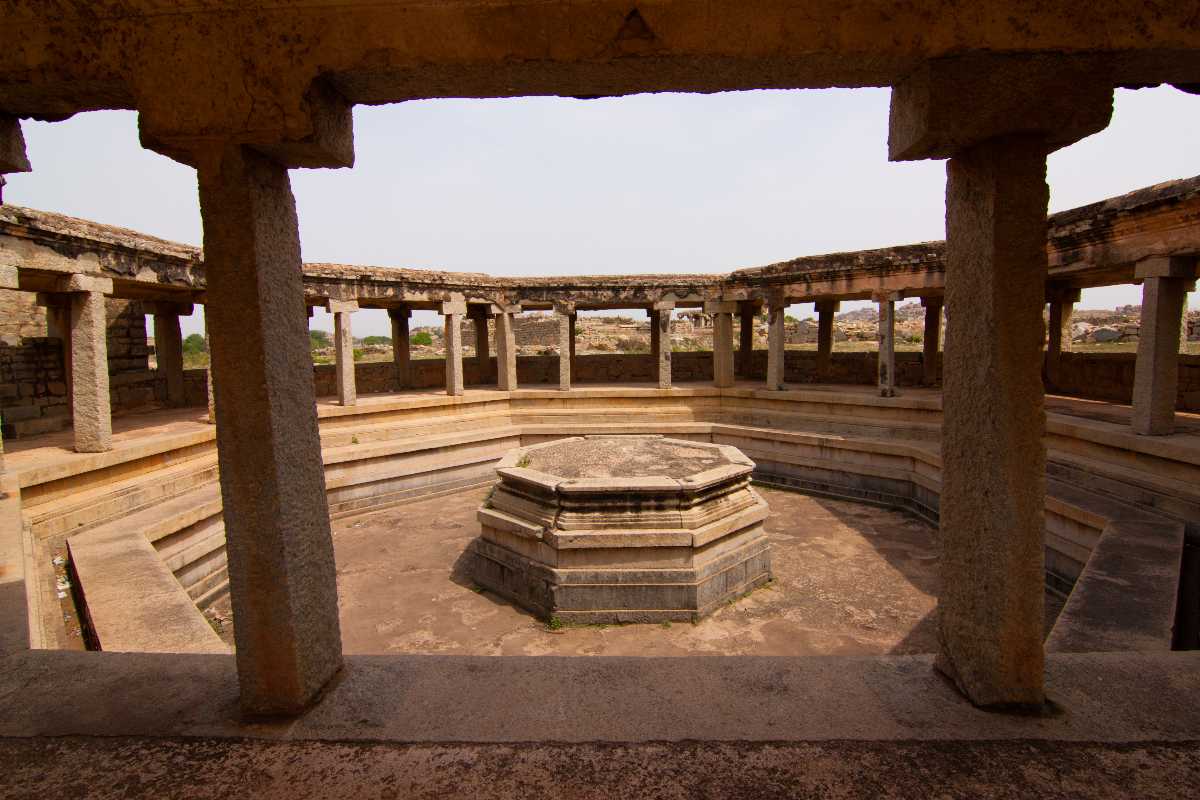 The Octagonal Bath is yet another location dating back to ages ago. As the name suggests, the place used to be a large bathing area in an octagonal shape. The area is like a large bath tup with wall-like surroundings. This place is quite isolated compared to other monuments in the group and often neglected by tourists. However, the place adds to Hampi's ruins and should be visited for its royal history.
4. Elephant Stables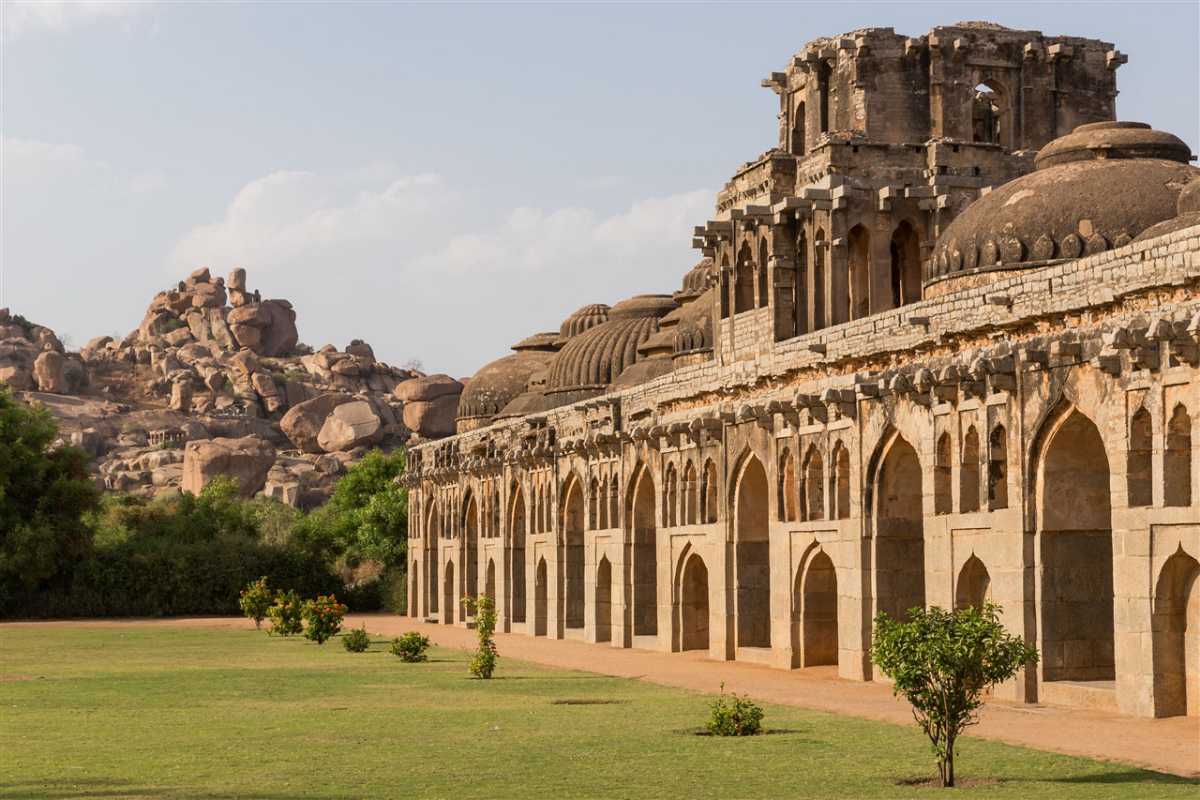 The Royals in India were fond of elephants and travelled all over the country on them. Clearly, such an important and grand animal required an equally grand place to rest at. Hence, the Elephant Stables were created. These are 11 tall chambers; some interconnected. The centre one is bigger than the rest and has special decorations around it. The symmetry of the 11 chambers is a striking feature. The chambers are built in Islamic style of architecture and are the least destroyed among the group of monuments.
5. Queen Bath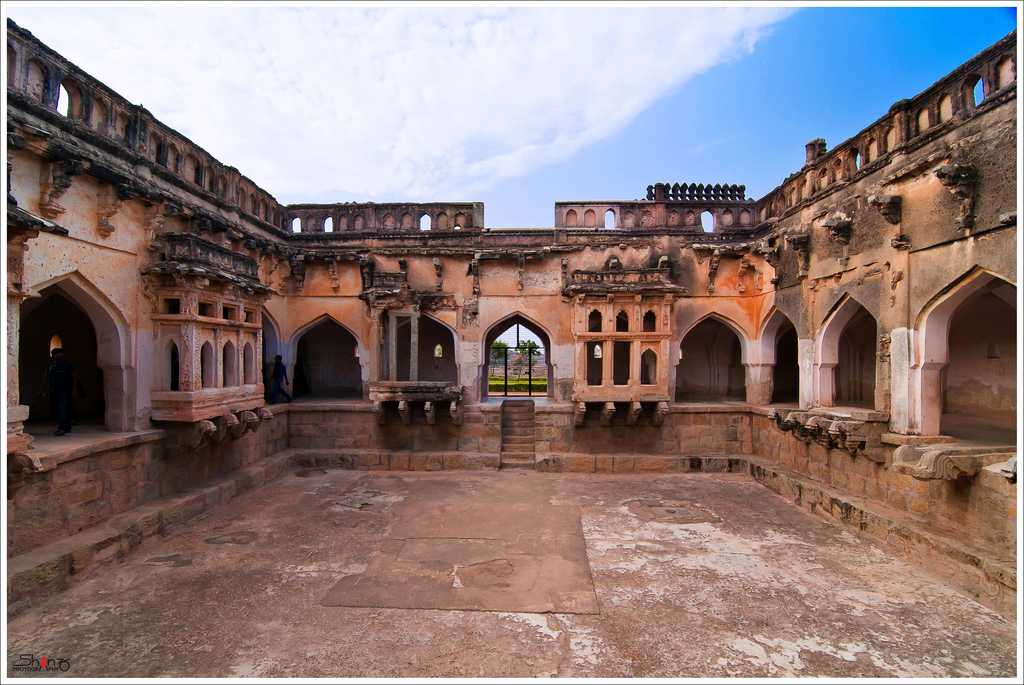 A ruin that used to be a pleasure ground for the king and his wives, the Queen's Bath is another architectural marvel that you will come across in Hampi's Royal Center area. It may look completely ordinary from the outside but the inside has a different story to tell. There are ruins of huge veranda surrounded by the palace walls with pillars and ornate balconies present. There used to lie a pool in the middle of the veranda which was beautifully placed under the open sky.
Adventure
In contrast to its rich historical experience, Hampi also provides an adrenaline rush by offering various exhilarating activities such as:
1. Rock Climbing
Rock climbing enthusiasts are in for a treat in Hampi. Covered with granite crags and boulders, the rocky terrain of the city is perfect for this activity. Most of the climbers prefer Hampi Bazaar and the main bouldering area - Goan Corners. You can either carry your own gear or rent it from any nearby shops or resort. The paths range from amateur to challenging, something for everybody and really challenges one's skillset.
2. Trekking
The experience of trekking amidst ruins is surely unmatched. Nearly all paths in Hampi walk you through its natural and man-made beauty. The paths go uphill. You can choose between Kampa Bhupa, Matanga Hill, Hemakuta Hill, Anjaneya Hill, and Malyavanta Hill as your trekking path. Each route takes you to a new discovery journey and enlightens you about Hampi's heritage.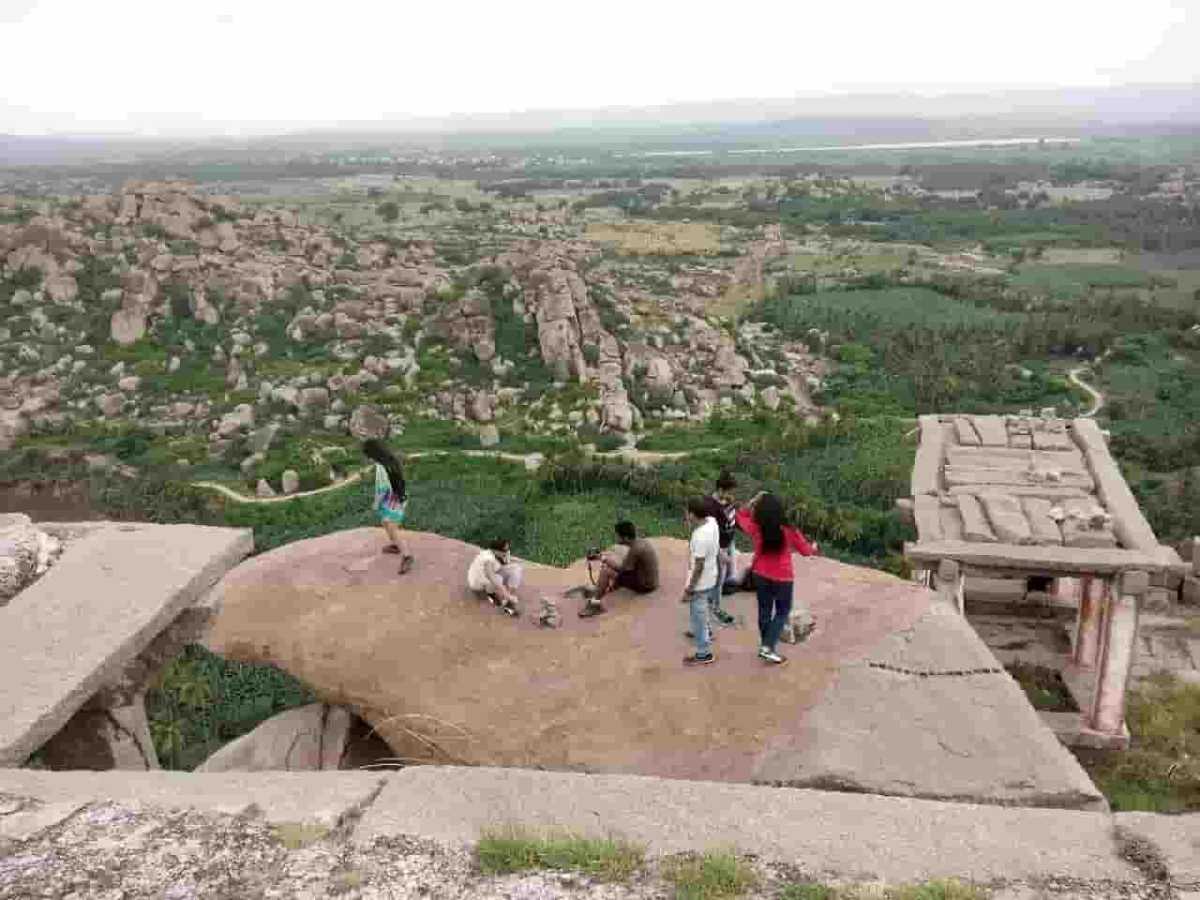 3. Cycling
As mentioned before, Hampi as a whole can be considered an attraction because there's something to see literally everywhere. So the best way to explore the city is to rent a bicycle (scooters for long distances). Though not an ideal option in the scorching summer sun, ride a cycle under the crimson sky on a winter evening is simply bliss.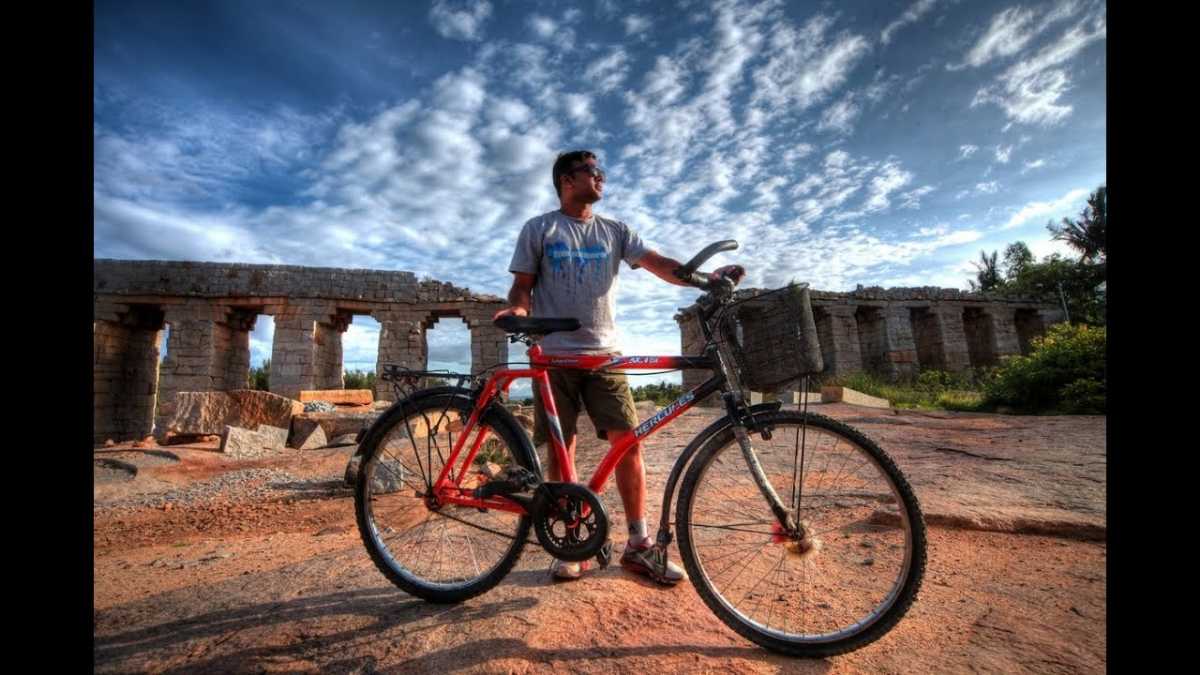 4. Coracle Ride
Circular in shape, coracle boats in Hampi are a unique way to get across rivers. Generally seen on river Tungabhadra, these round boats carry about 6-7 people at a time and are doing so from ages. The boat's eccentric shape is to overcome the swirling water in the river.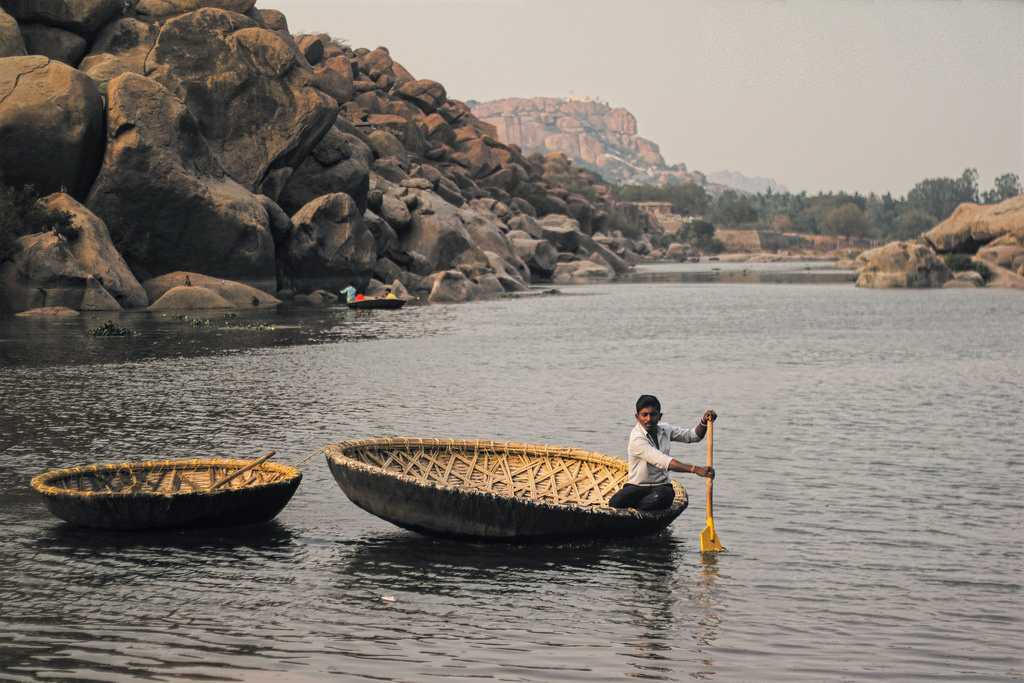 5. Horse Cart Ride
Riding a vibrantly coloured horse cart or bullock cart in Hampi is unique and pleasant in its own way. And this simply adds to Hampi's laid-back rural environment. The city obliges you to take a trip back in time and enjoy your time.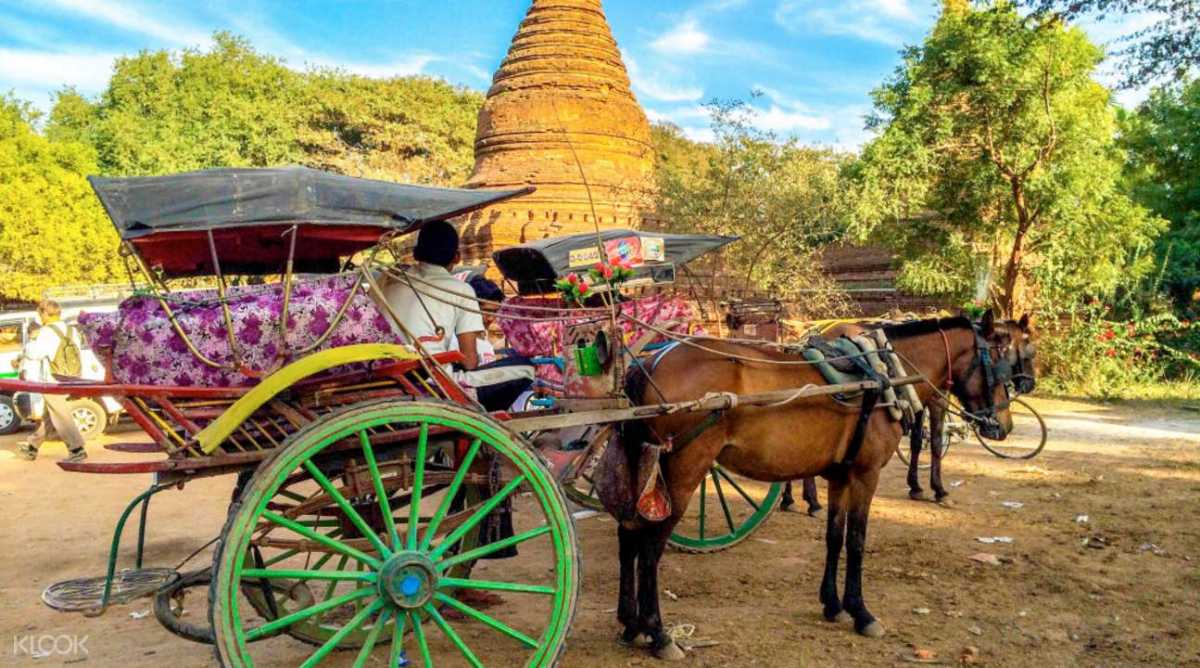 Whether you choose its historical side or the adventurous one, Hampi's charm is incessant. There's something about this city that would compel you to return and enjoy it all over again.