The cuisine of Odisha, popularly known as the Odia Cuisine, is a melange of varied items and practices. As Odisha is bordered by both North Indian and South Indian states, food of Odisha is majorly influenced by the food of North India, Bengal and Assam. Rice is the staple food of Odisha with mustard oil used as a cooking medium in many households. Yoghurt forms a major part of many dishes of Odisha while many sweets are based on
chhena
(a form of cheese). Odia cuisine is less oily and spice but a burst of flavours. Aptly called 'the
Goa
of Eastern India', Odisha is like a quintessential gourmet central for every foodie. So, here is our handpicked list of Odisha's Dishes:
1. Khicede
Khichdi, as we call it in other states is an easy yet a wholesome meal. Odisha khicede is one of the most important dishes, being offered as the main bhog to Lord Jagannath at the Puri Temple. The perfect combination of rice and lentils cooked together in ghee gives a unique and relishing flavour to it.This comforting meal not just offers great taste but an even greater nutrition. Lightly spiced, often served with curd and papad, this appetizing meal is bound to make you salivate.
2. Chungdi Malai
Well, as the name suggests, this dish is all about the delicious creamy prawn curry, where the creamy part comes from the coconut milk. The richness and silkiness of this fantastic dish are further enriched by light and mild spices that add a unique character to it. Absolutely delightful, mouth-watering and flavoursome! Best served with steamed basmati rice, this delicacy is a must try if you are in and around Odisha.
3. Macha Ghanta - The Famous Odisha Food
Fish dishes being extremely popular in Odisha, are relished by every household and what better than every odiya's favourite, Macha Ghanta! A must offer to Durga Maa on Dussehra, this tempting curry consists of the fried head of the fish and is served with hot steamed rice and salad. The curry is a rich blend of onions, potatoes, garlic and the regular spices. Vegetarians may make a plain 'Ghanta' by avoiding fish in it. This is one dish which has no match, no matter where you are, and it is likely to tempt you to eat it again and again until the time you are in Odisha.
4. Dalma
Aah Dalma! You just can't get enough of dal, can you? However, this staple food comes with a unique twist when in Odisha. It is made with roasted moong dal without any onion or garlic. A few regular spices along with a cup of veggies are added to it to give it a lip-smacking flavour. Common veggies include pumpkin, plantain, yam and papaya, which work like magic on your overall health. Mostly eaten with rice, this finger-licking meal will more than satiate your appetite.
5. Pakhala Bhata
Pakhala Bhata is the daily lunch for almost every household in Odisha during summers. It is prepared by soaking cooked rice in water and sour curd. Typically left overnight, and often served with potatoes, fried fish, papad and Badi choora, which is dried and nut-like urad and black gram. This fermented rice is the perfect dish to beat the heat and refreshes you from within. 20th March is celebrated as Pakhala Dibasa (Universal Pakhala Day) by all Odias to welcome summer season with Odisha's traditional food. This sumptuous meal is a must try.
6. Gupchup
Known as Panipuri in Western India, Puchka in Bengal, Golgappa in the north and Gupchup in Odisha. This quick snack, which has almost become a staple across the nation, needs no introduction. This extremely popular street food comprises of small and crisp puris made from the dough of suji, maida and atta served together with chana masala and khatta Jal jeera. Probably one food which is loved by every age group and enjoyed at any time of the day. The best thing about this dish is that it is so cheap and light that you often see gupchup eating competitions on your streets. Without a doubt, it is everyone's favourite!
7. Dahi vada-Aloo dum
Yet another popular street food that we see after gupchup in Odisha, is Dahi vada and Aloo dum. Go out at even 5 in the morning and you can see thela walas with their big pots of dahi vada and smaller pots filled with aloo dum. While everywhere else, dahi vada and aloo dum are considered to be two separate dishes, Odisha offers a distinctive blend of the both. The relishing taste of dahi vadas carefully neutralises the spiciness of aloo dum, giving the taste that every Odia craves for. Also famous as the 'Vada Pav' of Cuttack, this dish has surely paved its way into people's hearts and everyday lives.
8. Chhena Poda - The Traditional Food of Odisha
Odisha's very own cheesecake! The one sweet that Odisha is famous for - Chhena Poda, also known to be Lord Jagannath's favourite sweet and is often offered to him at the Puri Temple. The lingering taste of burnt home-made cottage cheese and semolina combined with sugar syrup simply blow away your mind. This rare dessert is baked for several hours until it becomes red and the caramelised sugar brings out the distinct flavour of Chhena Poda. Being sold in almost every nook and corner, this dish is simple, easy and absolutely delicious.
9. Rasabali
The sweet dished is garnished with cardamoms and soaked in thick flavoured milk. Served in Lord Jagannath temple as a part of chappana bhogas, this delicacy trace its origin from Kendrapara district in Odisha.
10. Kanika
A traditionally prepared dish of Orissa made of sweet pulao finds a place of pride in the list of 56 items in Lord Jagannath's 'Chappan Bhog.' Kanika was the favourite Odiya dish before biriyani, and fried rice took its place. The aromatic basmati rice can be a replacement from the raw rice that's usually prepared to make Kanika. Mostly prepared as offering in temples, the Kanika rice is a staple meal of Orissa. It is best served with finger-licking chicken/mutton curry.
11. Pilaf
Pilaf (Pulao) is a rice dish in a seasoned broth. When sauteed lightly in oil the rice attains a golden brown colour with the aroma of mixed spices. Depending on specific cultures, the dish is prepared as a variety which includes meat, vegetables, dry fruits and even pasta. The culinary of pilaf spread over states to countries worldwide. It is a staple dish in Odisha cuisine.
12. Santula
This classic Oriya dish is a fried or boiled vegetable curry that slurps down your tongue with every spoon. With a blend of raw papaya, potato, tomato and brinjal, the dish is nothing less compared to any other healthy food. As the recipe is low on spices and high on greens, it is most commonly eaten for a healthy diet. You may want the dish to be mildly sauteed with milk and spices for an extra taste.
13. Chaatu Rai
Chaatu Rai or Chaatu Besara is a nutritious vegetable dish that's very popular in Orissa. The ingredients that enrich the taste of it are turmeric powder and tomato with a bunch of mushrooms cooked in a tangy, delicious mustard paste. Often prepared during special occasions, the dish is enjoyed not just in Oriya but also in places around India.

14. Aloo Potala Rasa
A special dish prepared with potato and pointed gourd. It is one of the popular curries in the state of Orissa. Also known as Parwal in North India, this dish is offered to God at the Puri Jagannath temple. A bit of cashew paste or onion/ginger paste makes it more savoury.

15. Kadali Manja Rai
This relishing banana stem curry seasoned with garlic cloves, cardamom, cumin, cinnamon, coriander with two red chillies makes the perfect side dish for a meal. The aroma of stir-fried banana stem and the coriander leaves as seasoning brings so much joy that lasts till you lose its taste.

16. Besara
This simple aesthetic dish is a mixture of potato, pumpkin, banana and papaya. The mustard seeds, cumin seeds, garlic and dry chilli, make it flavoury to the authentic taste of Odiya. Cut vegetables and sliced onions that turn golden brown as you fry them in the pan makes your little heart yearn to savour it. The dish garnished with coriander leaves is a cherry on top.
17. Khattas and Chutneys
The Khatta of Odiya comes in an array of wide variety of dishes. Khajur Khatta, Tomato Khatta, Mango Khatta, and Dahi Nadia are all the repertoire of Odiya Khattas. Among these dishes, the ingredients such as tomato, green chillies, punch-phutana, turmeric powder, oil and salt to taste all remain common. The primary ingredients add the richness to the dish. With its flavoursome chutneys, it's best served with steamed rice and fried green chillies.
18. Chakuli Pitha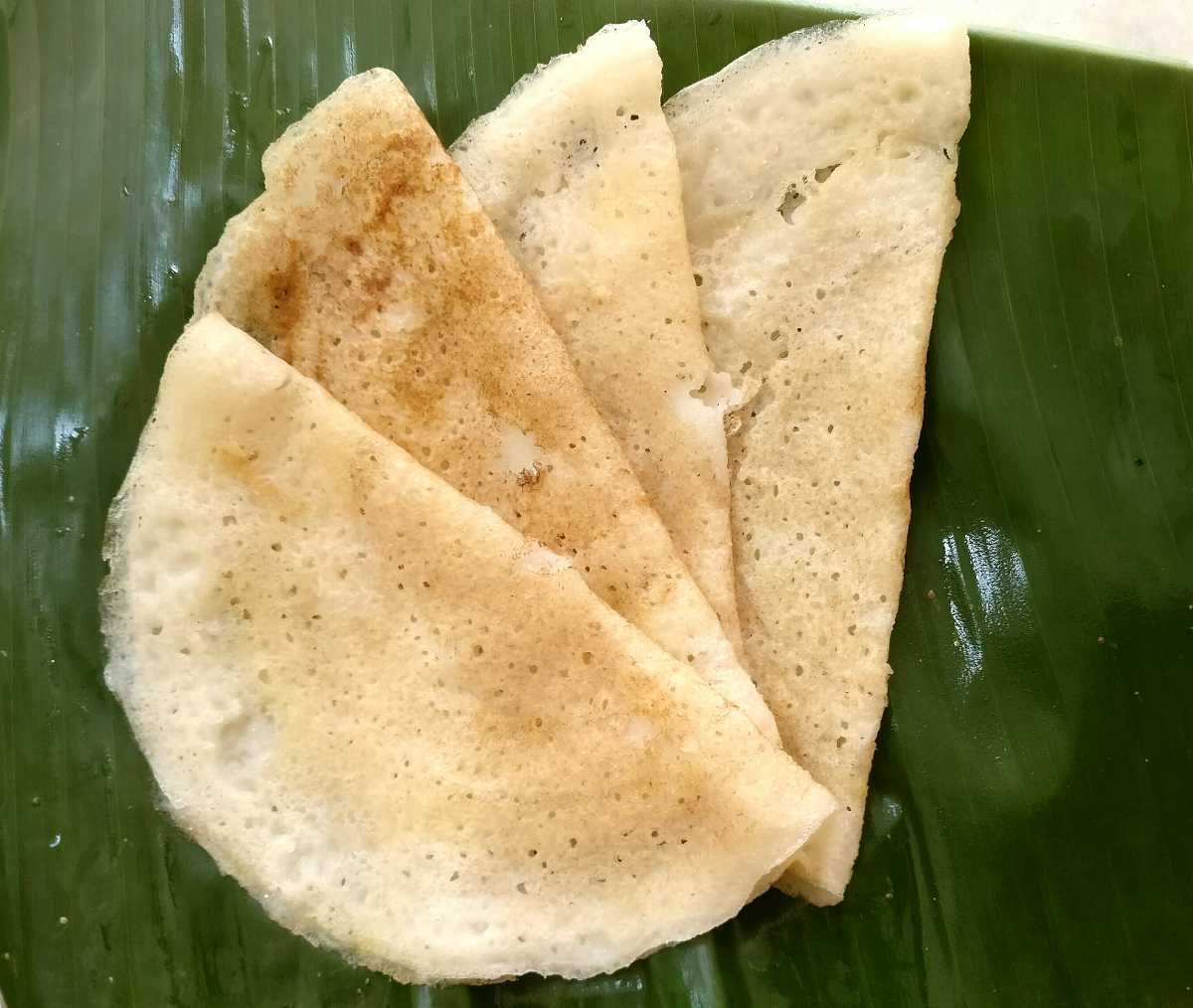 Chakuli Pitha is a renowned dish from Odisha that is quite like a Dosa, yet different. It is prepared using a batter made with equal portions of lentils (Urad Dal) and rice (soaked, ground and fermented for at least 5 hours). Even black lentils (skinless) are used instead of the Urad Dal at times. The batter is spread on a griddle or pan in a circular shape and cooked on both sides using some mustard oil. Chakuli Pitha is softer than that of a Dosa and is comparatively thicker as well. This gluten-free delicacy tastes really well with Aloo Bhuja, Ghugni or jaggery.
19. Kora Khai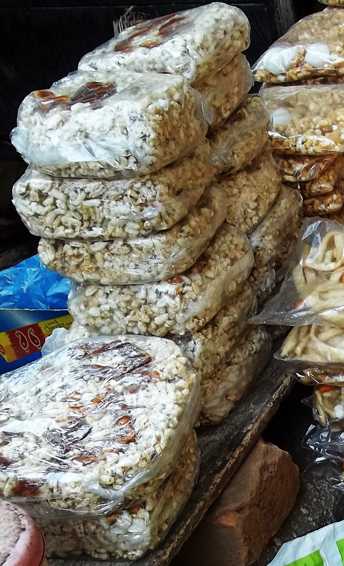 Kora Khai is a sweet dish item. It is immensely popular as a form of 'Prashad' (holy offering) in temples, especially to Lord Jagannath. There are very few ingredients used to prepare Kora Khai. It is basically a mixture of 4 ingredients that are Khai, coconut, jaggery (or sugar) and cardamom. Compared to other sweets, it's a bit more hard and chewy. However, that does not mess up with its uniquely delicious taste. It's a flavourful delight that gives freshness from the coconuts and crunch from the caramelized Khai (fried paddy). It is very popular in Bhubaneswar.

20. Mudhi Mansa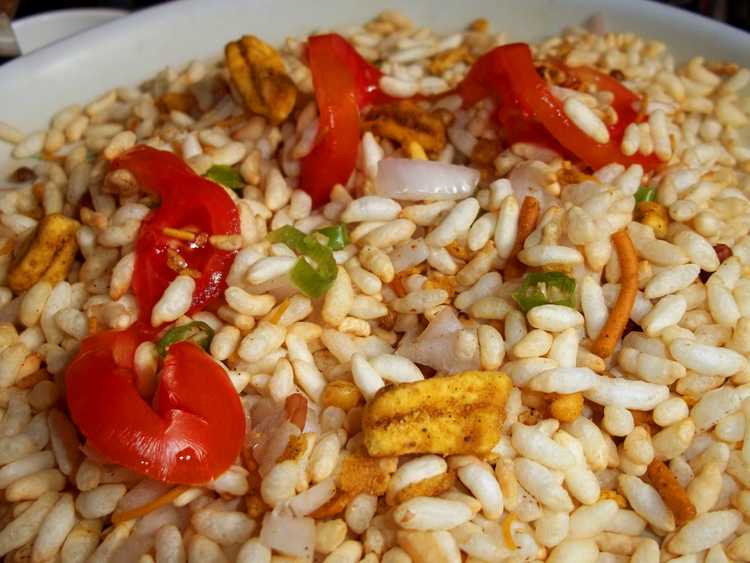 Mudhi is puffed rice, and Mansa means meat. Mudhi Mansa is a classic, traditional dish that is loved by the people of Odisha. It's goat's meat that is marinated in oil and a whole lot of spices. The meat is then added to a gravy made with tomatoes, onions and selected spices. Served hot with crunchy Mudhi or puffed rice; garnished with chopped onions, tomatoes and fresh coriander leaves. It is an interesting combination that is quite preferred, especially by the people of Bhubaneswar.

21. Chaula Bara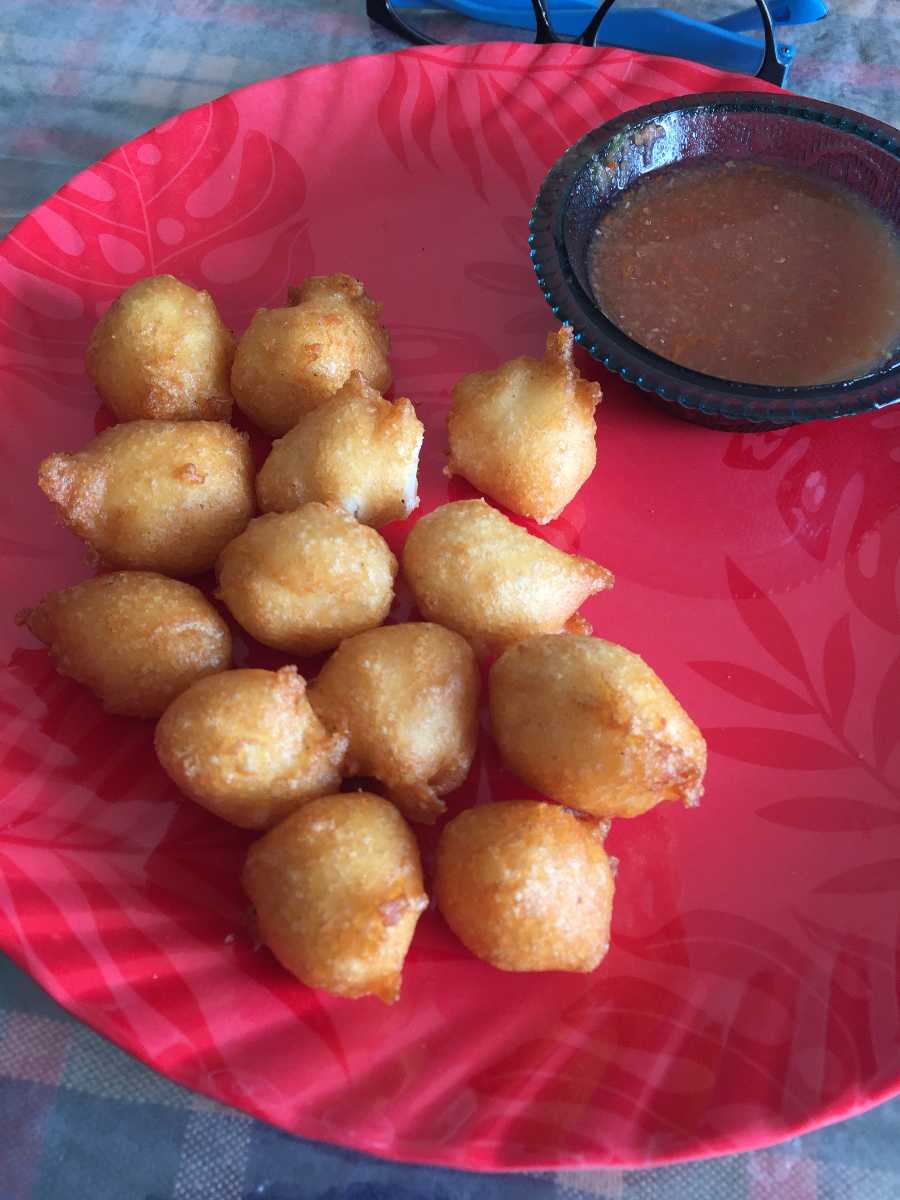 Chaula Bara are immensely scrumptious crispy balls that are made with primarily urad Dal and rice. Light, fluffy, and tasty; this dish is for you to keep longing for more! 4 parts rice and 1 part Urad Dal are soaked overnight (minimum 8 hours) and blended into a medium coarse paste. Ingredients like cumin seeds, carom seeds, coriander leaves, a pinch of baking soda, salt and pepper are added to this paste. A bit of mixing, and it's ready to fry and binge on! Best served with a tangy chutney of your choice.

22. Chhena Jhili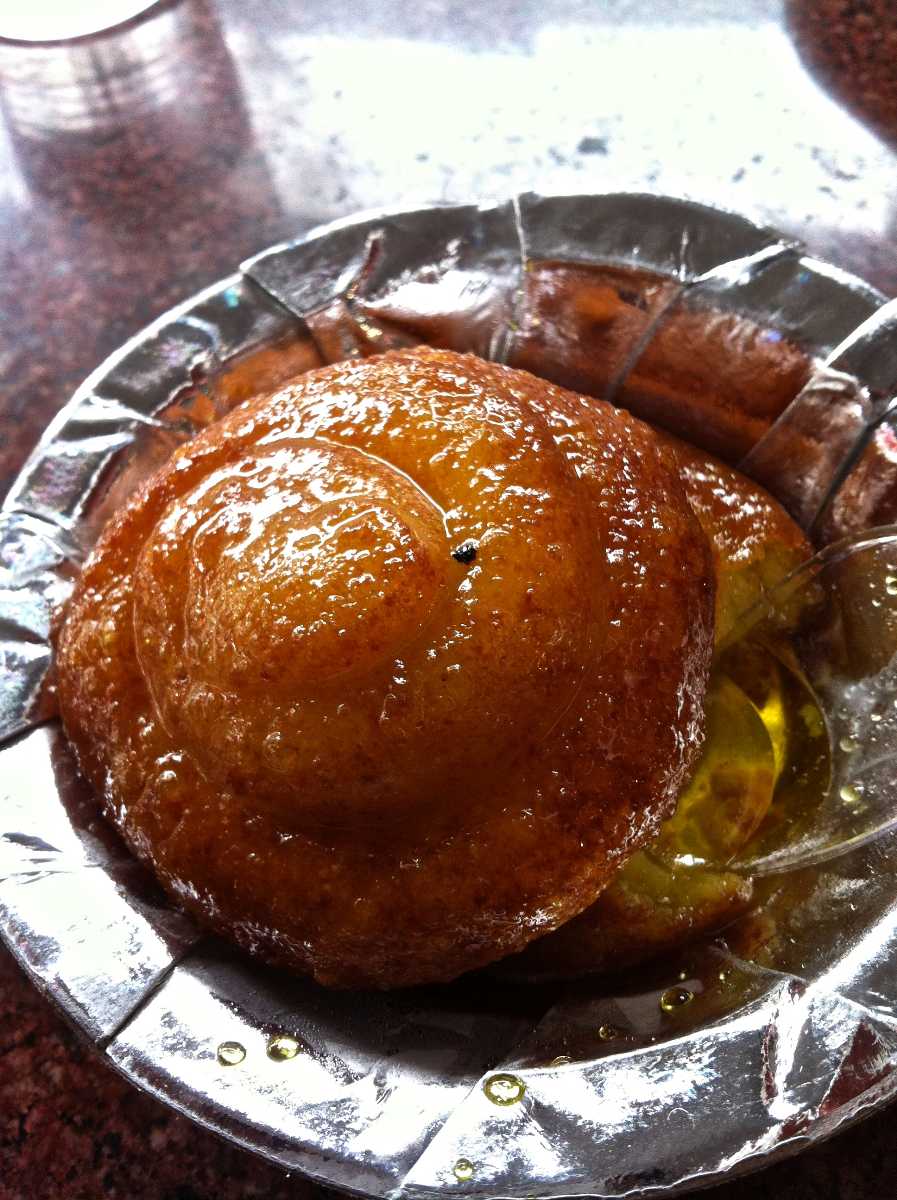 Chhena Jhili is another sweet dish from Odisha's cuisine. It's core ingredient curd cheese that is moist and crumbled (commonly referred to as Chhena). The other ingredients are sugar, sugar syrup, ghee (clarified butter), wheat flour, cardamom powder, semolina, curd (optional) and a tad bit of salt. A soft dough-like mixture is prepared to make small sized balls, which are then deep-fried in oil. The balls are then dipped and coated in sugar syrup or Chashni. This sweet dish is soft, succulent and scrumptious.

23. Khaja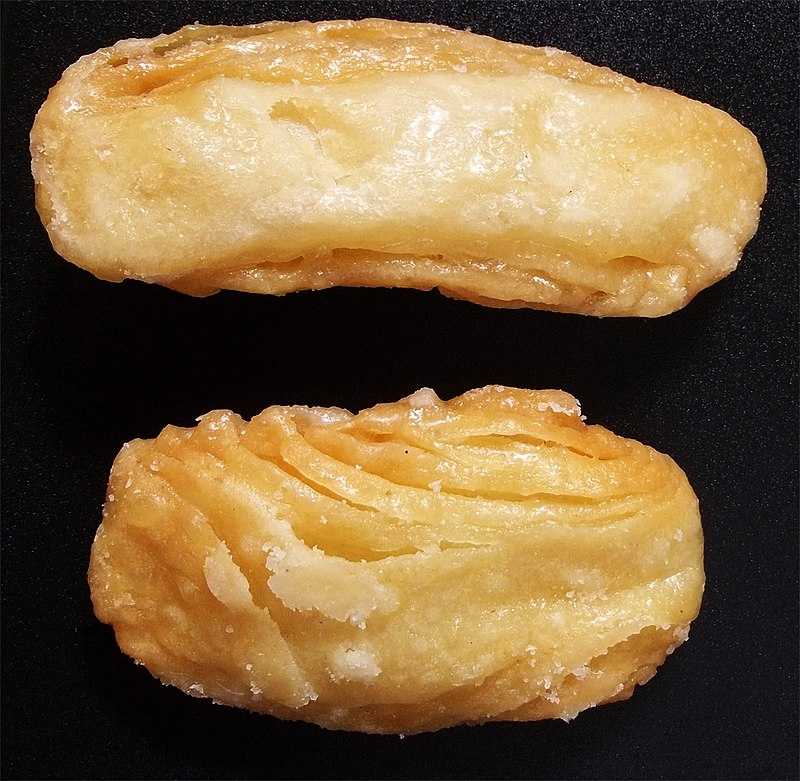 A crisp, cracking and worth cherishing sweet dish, Khaja. It's a burst of flavour and texture, with very few ingredients, and a whole lot of techniques. There's just refined flour, clarified butter, sugar, water, cardamom and rose water (optional). The dough is kneaded using flour and ghee, to prepare thin tortillas. These tortillas are then layered one above the other, with the help of ghee and dry flour. Around 6 layers are formed before rolling them and cutting into pieces. A bit of flattening from the sides, and they get into deep-frying until golden. Coated in flavoured sugar syrup at the end, and the layered, crunchy goodness is ready to relish!

24. Gajja

Gajja is a classic, traditional sweet from Odisha that has multiple variants. Chhena Gajja, Khasta Gajja, Khira Gaja and some others that differ through their style of preparation (boiled dry or fried sugary syrup ones). Most of their names are based on the core ingredient of the respective recipes. The most popular version is the little square-shaped pieces of Chhena (crumbled curd cheese) Gajja that are fried and soaked in sugar syrup for about an hour, for them to absorb the sweetness.

25. Palua Ladu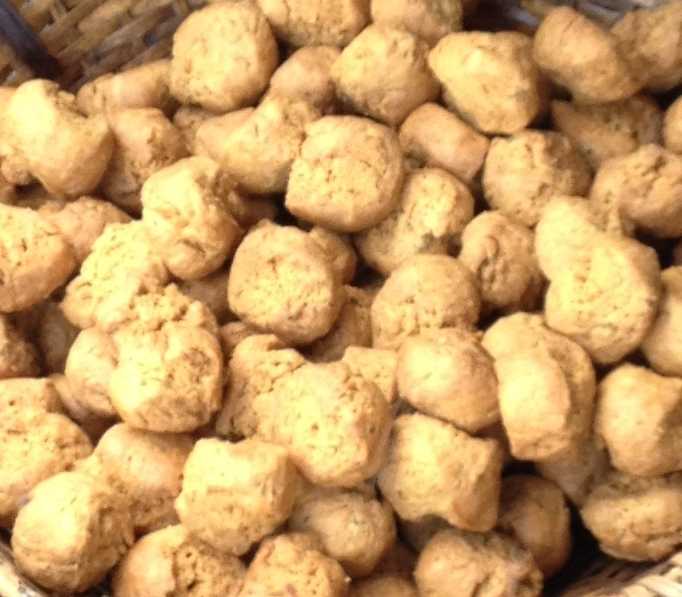 Palua refers to arrowroot. Arrowroot is a plant-based grain-free starch, that helps work for a better texture of various dishes. Palua Ladu is another fascinating sweet item that is relished by the people of Odisha. It originated at a place called Bhadrak district in Odisha. The Palua Ladu recipe has ingredients like wheat/refined flour, semolina (Sooji), Palua (arrowroot powder), sugar, water, oil and baking soda. However, there are various other recipes playing around with slightly different ingredients and methods. This sweet dish is visually appealing and tastes lovely as well.

26. Odisha Rasagolla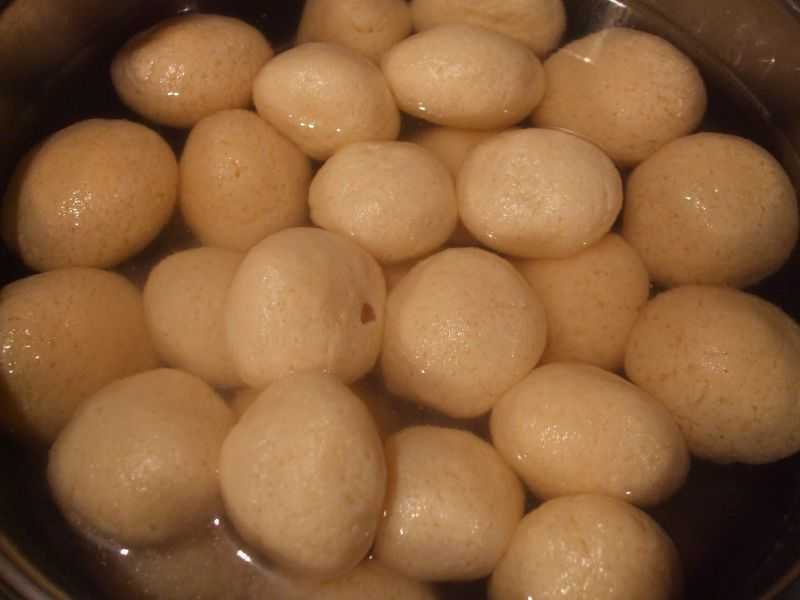 The Rasoaolla from Odisha is super popular for all the right reasons, and more! It has been a hot topic considering its battle of origin with Bengal. With its mouth-melting texture and divine flavour, this sweet dish is bound to win hearts in every part of the world! The white goodness dipped in sugar syrup makes it one of the best desserts. The delicate softness of the chhena and the perfect balance of sweetness makes it a wonderful indulgence. One simply cannot afford to miss this delight! Odisha Rasogolla, Khira Mohana has been served as bhog in the Jagannath Temple, in Puri.

So which of these Odisha food items do you like the most? Tell us in the comments below.