Kayangan Lake is utterly beautiful, but it also hosts a considerable crowd of people. Hence, to do any activity, you need to face a big group before you get your chance. Here is a list of what all you can do in Kayangan Lake:
Kayangan Lake Viewpoint:
This is the original purpose of people visiting this place. And interestingly, most of the visitors do not know that the famous viewpoint is not overlooking the lake. It is instead overlooking the Coron Bay which is between Coron Island and Busuanga Island. The view from the top of the steep stairs is magnificent, and the turquoise colored water adds to the beauty. Know that there can be a queue at this place during peak times; hence, it is better to come early morning.
Diving:
Kayangan Lake is one of the most favorite free dive spots for several adventure enthusiasts. This lake has both salt and fresh water, and the diving experience will introduce you to the beautiful marine world inside the clear waters. What is unique to this diving experience are the different layers of salt and the fresh water of the Lake. Note that in the parts of clean water, you need to be exceptionally honed in swimming as returning to the surface is difficult in fresh water than the salt water.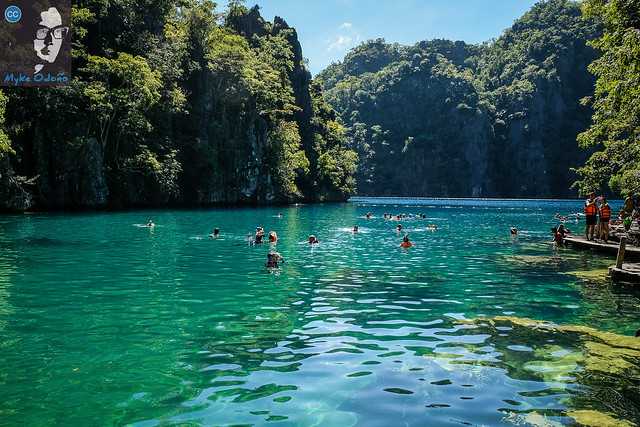 Explore Awuyuk Kayangan Cave:
This cave is situated to the left of the Kayangan Lake. Though a short adventure, the cave journey can be pretty exciting and the best if done in the presence of a guide. You will need to swim for 10 meters, and then you will find things below and above the surface.
Raft Rides:
This option is another of the most preferred choice by the visitors. You can hire a bamboo raft from the boarding places of the boats along with a guide to help you explore the lake in a better way.
Boating:
Your visit to Kayangan Lake will start on a boat, and it is one of the most mesmerizing boat trips you will ever have. The island is made of different shapes and sizes of limestone rocks, and that is what makes the place so photogenic. After reaching the Kayangan dock area, you will find houses on stilts, and then you can start climbing the steep walkway.
Hiking:
Hiking is only allowed in the daytime because going up and down the stairs in the dark is quite risky. Also, there are no lampposts; hence, if you miss a step, it can lead to a fatalistic result. The climb is about 75 meters and usually takes half an hour to climb it.