During your trip to Khor Fakkan, you may plan to visit the below mentioned places to explore and capture the true beauty of this coastal city:
1. Khor Fakkan Beach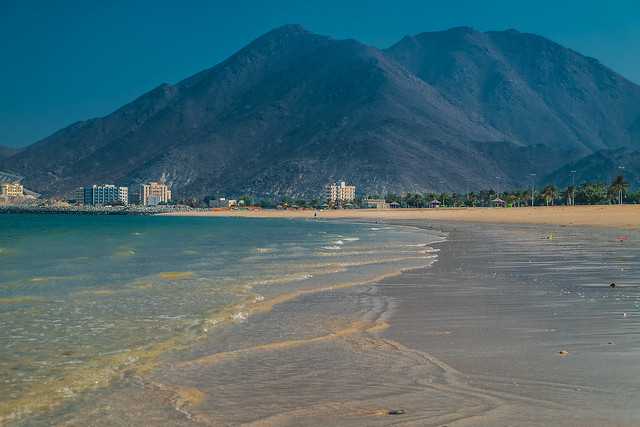 Situated on the northeastern end of the city, Khor Fakkan beach is famous for the sunrises and sunsets across the sea. Be it snorkelling, scuba diving, jet skiing or any other water sport - the Khor Fakkan Beach offers fun-filled and thrilling activities. If you wish to relax on the beach, you may simply lie down on the soft sand and enjoy the warmth of the sun, or gather a team and play beach sports like volleyball.
2. Salem Al Mutawa Mosque

Built around 200 Years ago, the mosque showcases unique Arabic style architecture and interiors, making it a tourist spot for the visitors. The Salem Al Mutawa Mosque is worth visiting during the evening hours as the view of the mosque lit by different coloured lights is truly an amazing sight.
3. Remains of Portuguese Fort

Constructed by Portuguese Captain Gaspar Leite around 1635 AD, the ruins of the Three–sided Fort that is located close to Khor Fakkan beach is another hotspot. Even today, signboards depicting the architecture and history of the fort can be found, providing a detailed insight into the historical events witnessed by the fort as well as the city of Khor Fakkan.
4. Al Metalaa Park

Amidst the sands of the desert and the rocky terrains of the Western Hajar Mountains, it is quite bizarre to find a park like Al Metalaa Park which is entitled with lush green gardens and grassy lawns. The Al Metalaa Park also has a lot of swings and rides for kids to enjoy, making it an ideal place to visit if you are travelling along with your children.
5. Shark Island

Situated slightly away from the Khor Fakkan Port, the Shark Island is present on the southeastern end of the Khor Fakkan Bay. The place is an ideal location for you to give a hand at activities such as snorkelling, windsurfing, jet skiing, boat cruising and deep sea diving with your friends and family.