The southernmost and the largest island of Greece, Crete is a sun-soaked Mediterranean paradise known for its astounding natural beauty. It has tall mountains, rich fields, and long sandy beaches. And the gushing waves of these beaches have good potential for surfing and related activities. Of course, it is nothing compared to surfing hotspots like Hawaii, Portugal, or Bali, but you can and will have a lot of fun riding these bustling waves.
Best Time for Surfing in Crete
To get to the best surfing spots in Crete, you must understand that different places offer different surfing conditions in different seasons. Hence, choosing which months you want to surf in Crete is essential.
Winters: During winters, strong westerly waves come and hit the western parts of Crete. This means that you will find the best surf spots here. The shores near Chania are where you'd find impressive swells to surf on.
Summers: In the summer season, Meltemi winds blow strongly from the north. This is not good for surfers as there are barely any good waves. However, there are some excellent beach breaks where you can enjoy the sport.
Best Surf Spots in Crete
1. Falasarna Beach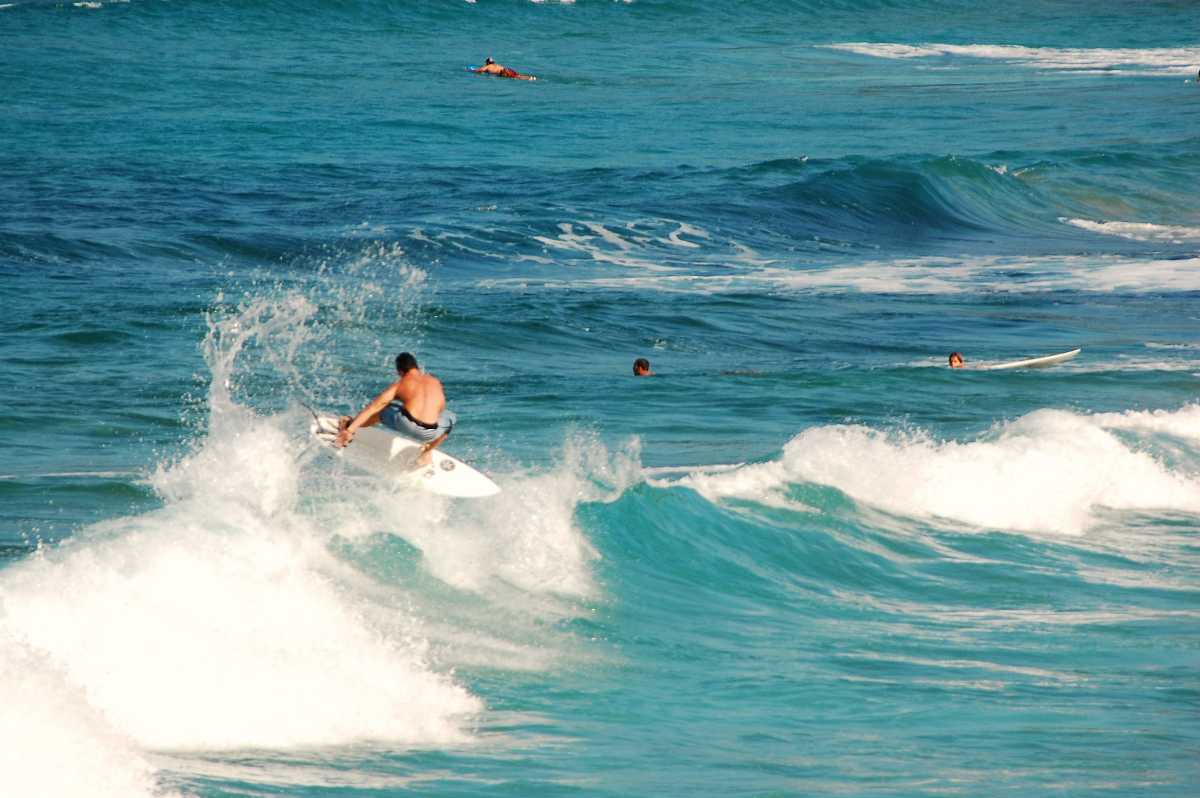 Often counted amongst the top beaches in the world, Falasarna is a beautiful place located in western Crete. An ancient fishing village, the waves here are overlooked by tall mountains and tomato plantations. The waves at Falasarna beach are considered to be perhaps the most ideal for surfing in Crete. Often reaching 1.5 to 2 metres, this surf spot suits the needs of both beginners and experienced surfers. Windsurfing and kitesurfing can also be done comfortably. The presence of shallow parts at the beach makes it easy for young kids. Several restaurants, taverns, and hotels are located close by, in case you want to rest and have some lunch.
2. Chrissi Akti

A large golden sand beach located very close to the town of Chania, Chrissi Akti (also known as Golden Bay), is a beginner-friendly surf spot known for its shallow waters and small waves. Obviously, this surf spot will not excite the advanced surfers, but it is perfect for people learning the basics. It is precisely for this reason that the Chania Surf Club, a famous surf school on the island, is located here. In the summers, however, there is a decent chance to catch strong waves that can suit experienced surfers.
3. Sfinari Beach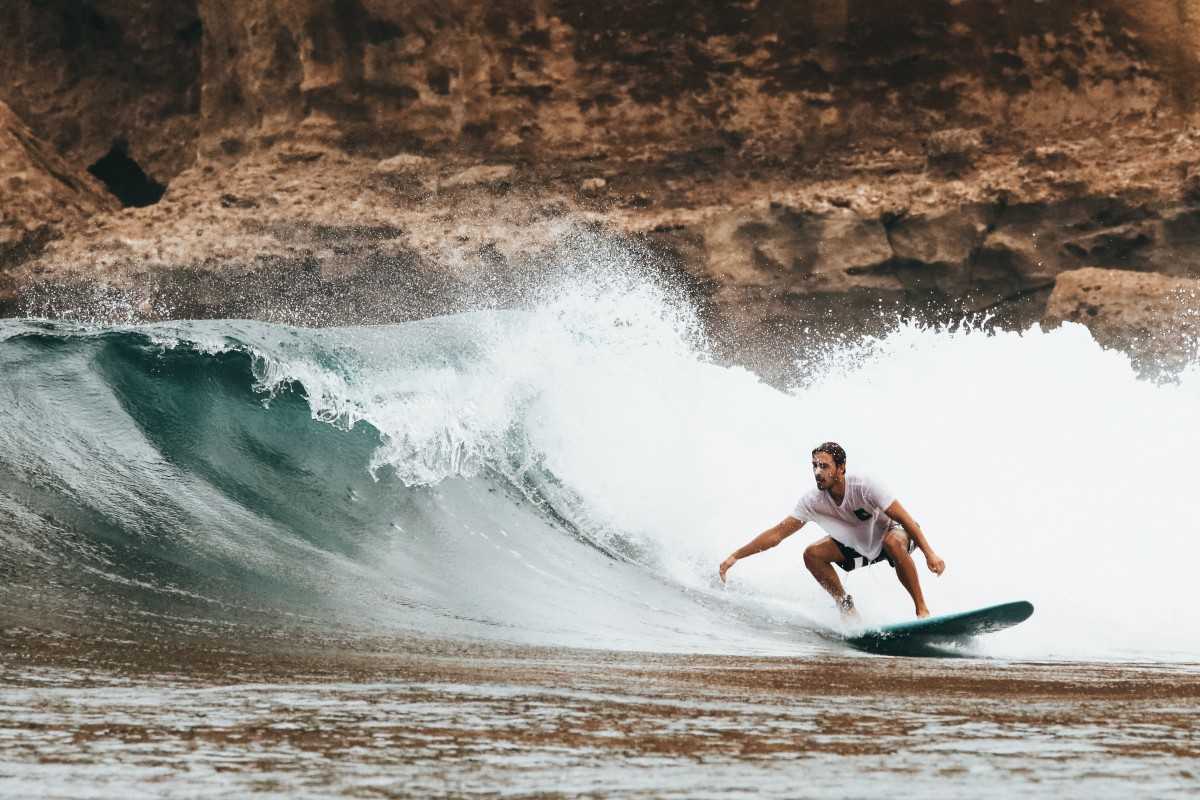 Sfinari is a remote and mesmerizing beach surrounded by tall green mountains and lush verdant valleys. It is a quiet beach with hardly any waves, making it a good place for snorkelling. However, during the summers, when the northwestern and western winds blow, waves get produced which can be surfed. Sfinari beach is preferred by surfers who like casual surfing in secluded and picturesque settings.
4. Paleochora Beach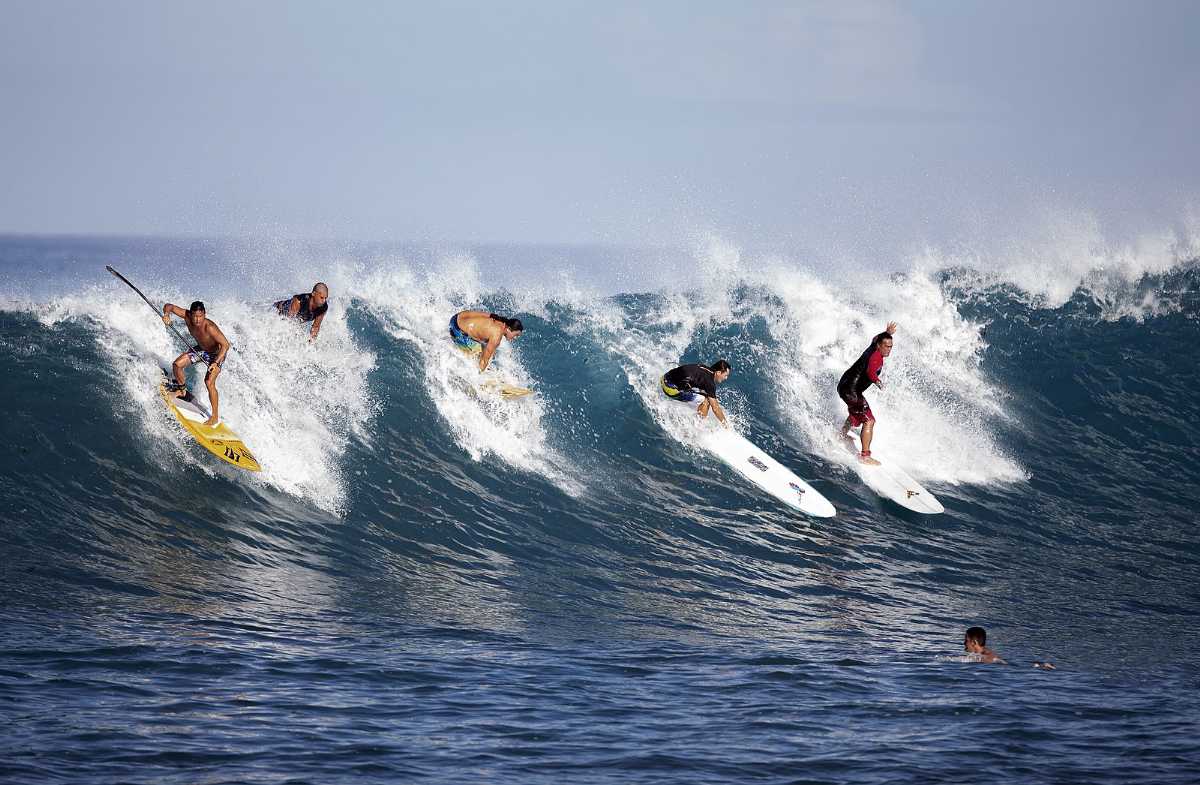 Located on the southern side of Crete, Paleochora is an excellent tourist beach and surfing spot which has become highly popular in recent years. When the westerly or southerly winds blow in the winter, big and strong swells are created, ideal for surfers from all levels. This place is mostly a winter-time surfing spot and does not have good swells during other seasons.
5. Arina Beach

Arina Beach is located very close to Heraklion, the capital of Crete. This beach is a well-organized and crowded place suitable for swimming and various beach sports. Arina Beach is also known for being quite wavy, allowing surfing activities to take place. The waves get pretty strong in the summer, making it a good place for intermediate and advanced surfers.
Best Surf Schools in Crete
1. Chania Surf Club
The first surf school in Crete, Chania Surf Club, is also one of the best places in the region to learn this exciting sport. Affiliated with the International Surfing Association (ISA) and the International Kiteboarding Organization (IKO), this school teaches both surfing and SUP in a relaxing setting, ensuring you will have a great surfing holiday.
Location: Chrisi Akti beach, 730 14, Crete, Greece.

Timings: 10:00 AM – 8:00 PM.
2. Surfing Crete
Surfing Crete is a great surf school located in Chania, known for teaching surfing and SUP on lovely and charming beaches. The instructors are known for being certified by the ISA, and the lifeguards are certified by Lifeguard Hellas. From 1-hour lessons to 3 days courses, this school ensures that you learn at your own pace and have lots of fun.
Location: Chania 731 32, Crete, Greece.

Timings: 10:00 AM – 8:00 PM.
3. Kalo Surf School
Kalo Surf School is another surf school popular known for offering quality surf lessons to people of all ages. It has highly qualified and professional coaches and lifeguards and uses the latest teaching methods and technologies. The courses are very family-friendly, and the school is known for being flexible, i.e., they can move around different surf spots to get to the best waves.
Location: Mavros Molos, Kissamos 734 00, Crete, Greece.

Timings: 10:00 AM – 8:00 PM.
Tips for Surfing in Crete
Choose your time to surf wisely. There are places worldwide, and even in Greece, where you can get good swell consistently for months. But Crete is not that kind of a place. You need to carefully observe the weather conditions and only then venture out to surf – this is best during particular summer and winter months, such as April, August, November, and December. If you are not careful about this, you'll find either no waves or very unstable and choppy waves that cannot be surfed on.
If you are a beginner and are on a surfing holiday, booking a surf camp or a surf school is helpful. This will ensure that you are in a surf-friendly atmosphere and make transport and travel easier. Not to forget, this is also more budget-friendly.
As mentioned before, Crete is not a surfing hotspot where you can do tube rides and barrels. But casual surfers and beginners can definitely have the time of their lives surfing on the charming beaches of this rich and magnificent Greek island.