Running a WordPress blog and treading across an array of destinations, Nidhi tells us how to take off beaten paths to Shangarh which she calls a 'quaint hamlet' nestling in the Sainj Valley. From
Manali
, she spontaneously hopped on a bus with another friend and the two girls decided to take up the unconventional pathway across the glorious mountain destination of Himachal by routing for Shangarh, the destination sitting in the lap of the Great Himalayan National Park (a world heritage site listed on UNESCO)
Here's how she dealt with the 'road not taken' and here's how you can explore Shangarh the ideal way.
Day 1 - Lush Meadows and Temple Tour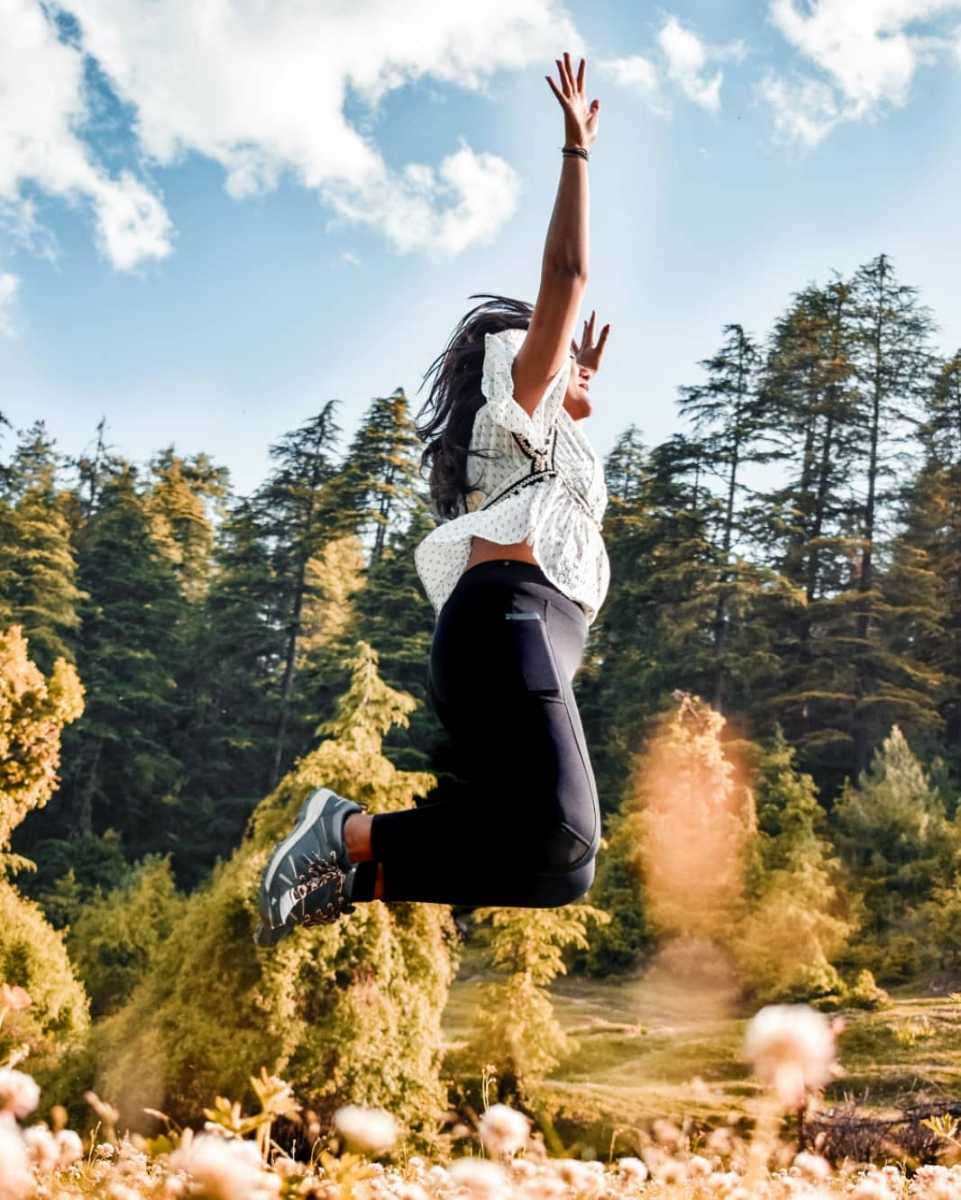 Nidhi stepped foot in Shangarh and couldn't take her eyes off the beauty and finds it hard to put it down in words. For any ideal travel plan in Shangarh, the first sight to witness would be the sunset by the lush green meadows. With dusk, hit up the Sangchul
Mahadev Temple
and Towered Temple along with the other dotted Shrines along the meadow and pay your devotional respects. It's best to turn spectators to the intricate wooden carvings across the multiple doors and gateways flanking the temples and witnessing the processions heading from one temple to another which Nidhi regrets missing out on.
There's a saying that the Pandavas came here during their abandon period. They made the Shangarh meadows by purifying the soil to cultivate rice. This may be the prime reason not to find any stone in this area.
Nidhi's note
: On her first day, she realised that there still exist places in
India
that do not have a hint of littering like Shangarh. She accredited this phenomenon to the rarity of tourists and people in rustic town.
Day 2 - Trek to Ganjau Thatch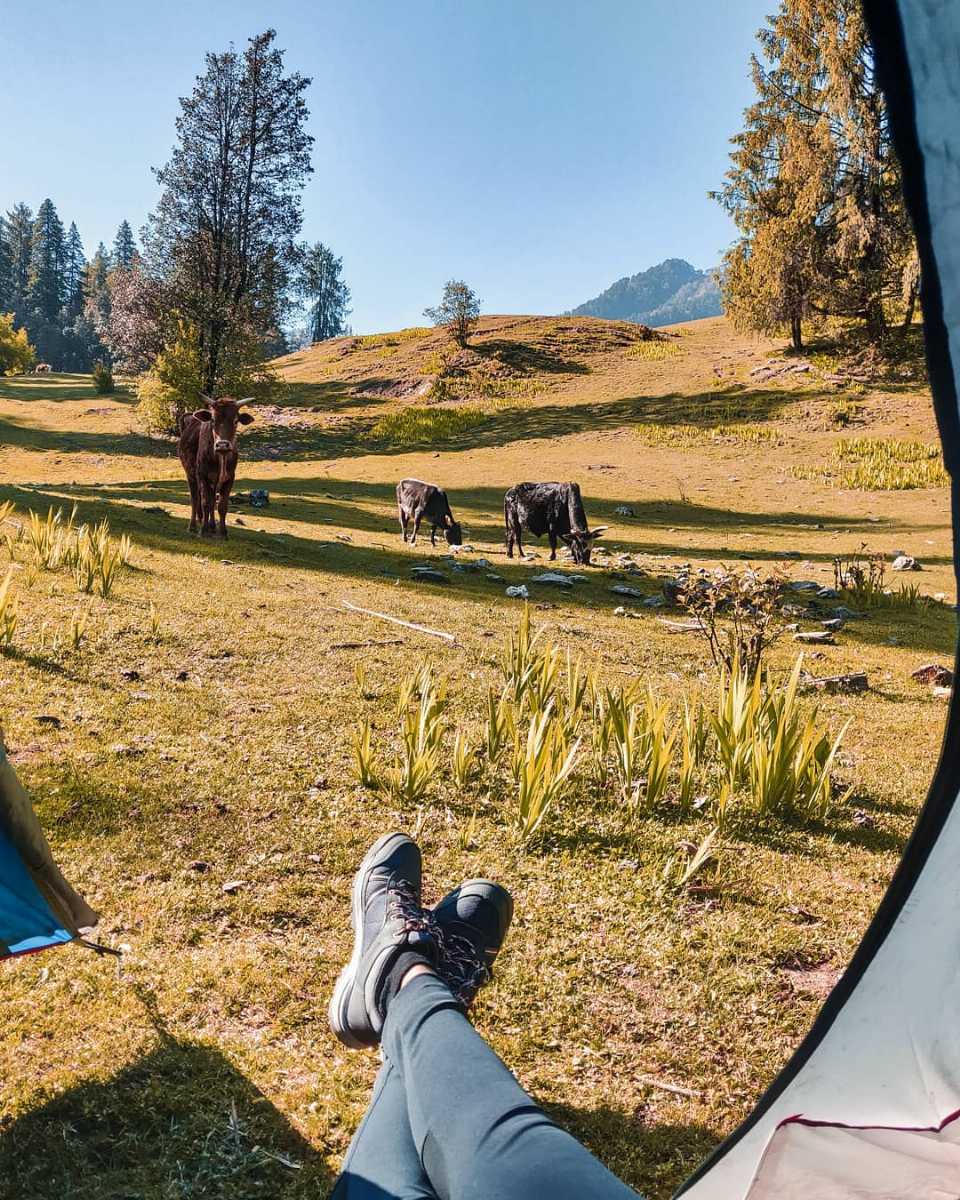 This trek isn't as easy as any other to accomplish as even Nidhi needed some boosting from her accompanist cook and guide to conquer the top. The mesmerising view with apple orchids, flocks of sheep, water streams, and natives en route is what will keep you going. Hitting the top takes about 3-4 hours, and once you accomplish your trek, you will consider your Shangarh trip to be completely worthwhile.
The camping base renders some breathtaking panorama views, and the untouched beauty of the meadows will elate you as the solitude and spectacle are entirely untouched. The nearby streams, wilderness and sheep and cattle are a sight to behold.
Nidhi's Tip:
She recommends contacting your homestay or hotel for a trekking guide as unexpected encounters might always petrify you under the starlit sky since the region is isolated from the commercial zones.
Day 3 - Peekaboo with the Cascades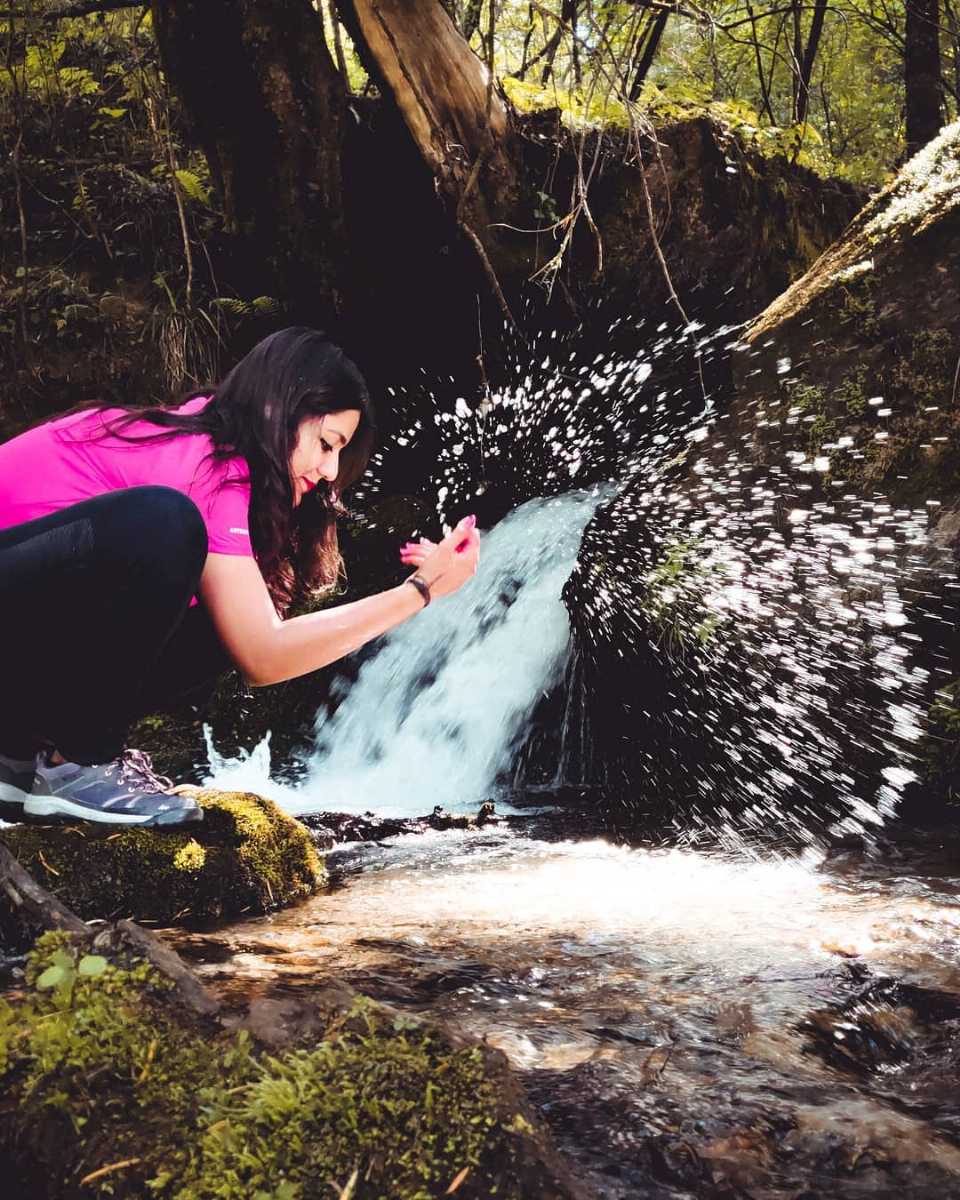 Head to the nearby streams to freshen up and revel in the lap of mountains with a hot cup of tea. That's how Nidhi's morning commenced too. She chose to route for Shangarh to catch sight of waterfalls cascading down in all its glory. After a two-hour-long descend which is full of road bumps and slippery alleys might pose to be a challenge if you're not equipped with trek essentials. Once you reach the falls, it sure turns into a source of gumption as the speed of waterfalls rushes the adrenaline to splash, run in your veins.
"We were told the fall just turns into a devious natural source as the water outflows its original way. In fact, when we were there, it looked no less devious. The waters were flowing at a speed where we could feel its showers standing half a km away. But keeping this fact aside, the site was breathtaking. The closer we went, the prettier the view became. After spending some time here, we started walking back towards our homestay, wrote Nidhi.
How to Reach Shangarh
Bus
Buses seem to be the most economical and ideal way to get to Shangarh. Hop on a
Kullu
- Manali bound bus and get down at Aut. Board a bus to Neuli via Sainj. It is located at a distance of 10kms from here. You can get a shared cab towards the village or if you like hiking, go ahead with it. A direct HRTC bus also plies from Kullu to Shangarh.
Car

Embark upon a road trip from
Delhi
from where Shangarh lies at a distance of about 520kms.
Route: Delhi - Karnal - Ambala - Kharad bypass - Ropar - Keeratpur Sahib - Swarghat - Bilaspur - Sunder Nagar - Mandi - Aut tunnel (take a right before the tunnel) - Larji - Sainj bypass - Ropa -Shangarh
Nidhi's Tip-offs for the Off-Beaten Path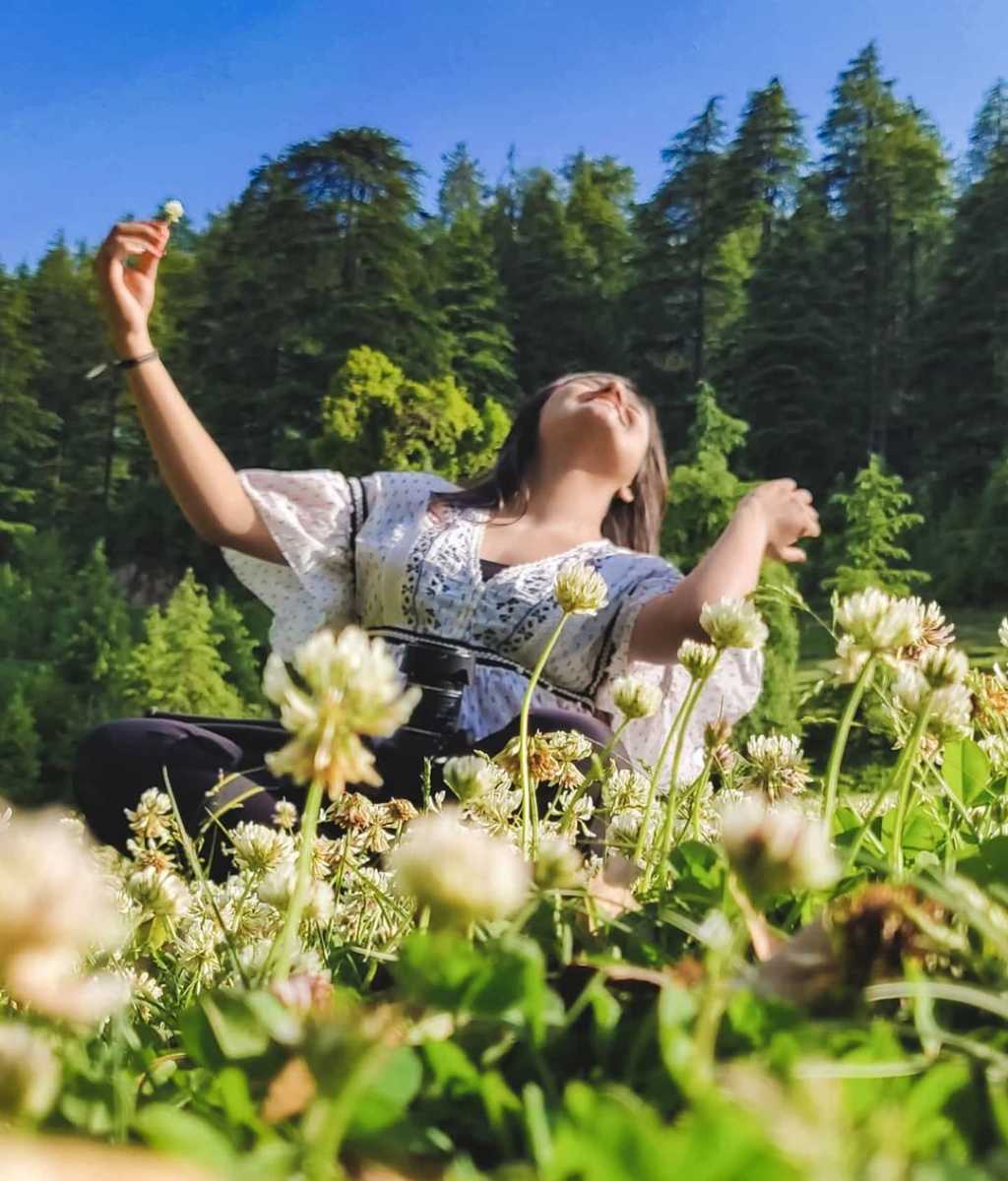 Here are a few tips and tricks from Nidhi about travelling in Shangarh.
Avoid eating heavy meals as the way to Shangarh from Sainj is a difficult one. Going light on meals to avoid sickness is recommended as after a certain point, properly mended roads end.
Keep yourself from strolling around the village to avoid mishaps after dusk as people are homebound post 7 PM.
For taxis do take your homestay owner's advice but do not rely completely on it. Do your homework religiously and make yourself aware of the prices when you are at Sainj Valley's bus stand.
Pack some light jackets when you are travelling during the summers, i.e. April-June. Wintertime between October-February demands heavy woollens. The temperature drops are as low as -2 degrees Celsius during the night.
When going on treks, take an experienced local person with you to avoid any unforeseen circumstances.
Shangarh is not yet hitting the list of travellers or tourists; hence it is spotless. Please maintain it that way and do not litter.
Respect the locals and be kind to their sentiments and land.
What keeps you from embarking on unconventional routes after reading such mesmerising experiences? It's time you take to Shangarh during your Himachal trip instead of going to the commercial hubs and soak in the untouched bounty of our country. You'll undoubtedly have the time of your life as Nidhi did. It was hard to bid adieu to the beautiful Shangarh after a wonder 3-day trip.
When are you heading to Shangarh? Let us know in the comments below!