Chitkul, a small village nestled in Kinnaur district of Himachal range is said to be the
last inhabited village within the Indian boundaries
on the old Indo-Tibetan Road. Chitkul is a gateway to the most scenic landscapes that one can witness. The serene beauty and the breathtaking views from the village are worth experiencing at least once!
It is recommended to stay here for at least two days. It is an ideal place to unwind, or indulge in an adventurous trek. The village makes for a romantic getaway and a great camping spot. Photography enthusiasts are sure to find their muse in Chitkul. The peaceful and positive vibes of the village away from the commercial chaos will help you reconnect to yourself.
About Chitkul
It is believed that the people of Chitkul were known as Kinnaras which means halfway between Gods and Humans. Chitkul is a land of a diverse culture dominated by Hindu and Buddhist beliefs. The tranquil village stands at an elevation of 3,450 meters above sea level. Located 25 kilometers away from Sangla, it takes a 2-hour drive to get here.
Legend

It is believed that the deity of the village, Mathi Devi, who is worshipped with utmost devotion, decided to make this remote village her home after a long trek from Vrindavan in the plains. The locals believe that the Goddess and her family endured a grinding journey from several destinations- from Vrindavan to Chitkul, making their way through Mathura and Badrinath. And after deploying her nephews and husband as guards in various regions in Himachal Pradesh, Mathi Devi finally found her abode in this remote area and decided to settle and unwind in Chitkul.
It is said that after she settled, the village started to prosper, which made her attract a lot of devotees. According to the folklore, the presiding deity of the neighbouring village of Kamru, Lord Badrinath, is her husband and the Nag Devta of Sangla and Shamshare Devta of Rakhcham, in nearby villages, are her nephews.
How to Reach
If you're travelling from Delhi, Chitkul is 600 kilometres away. You can drive to Shimla and take a cab to Kinnaur. If you reach Kufri, you can take a direct cab otherwise you can then take a cab from Sangla and get to Chitkul.
You can reach Chitkul by hiring a tourist cab from Reckong Peo. The village is situated 60 km away from Reckong Peo as the last inhabited village at the Old Indian-Tibetan Trade Route.
Reckong Peo is well-connected to all the major cities of Himachal Pradesh with public buses that frequently run in the daytime. You can reach Chitkul village from Reckong Peo using a bus or a cab. Taxis charge INR 2500 to INR 3000 for a return trip from Reckong Peo to Chitkul Village through Sangla Valley.
Best Time to Visit Chitkul

The most ideal time to visit Chitkul would be either in Summers, anytime during May and July or during the pre-winter season, September-October. Summers are cool and pleasant with some chilly winds. Post-October isn't very recommended to head here because roads are blocked after the season's first snowfall. There are numerous vistas that are going to keep you intrigued in exploring the mountains, meadows, big rocks, grasslands, apple orchids, jungle, and the river.
Tips for Visiting Chitkul
Carry enough cash and sufficient fuel in your car as there are no ATMs and petrol pumps in Chitkul.
There are no hospitals in Chitkul and one has to rush to Sangla in case of emergencies. So, carry a first-aid kit with you.
There is no proper cell phone coverage in this valley.
Things to Do In Chitkul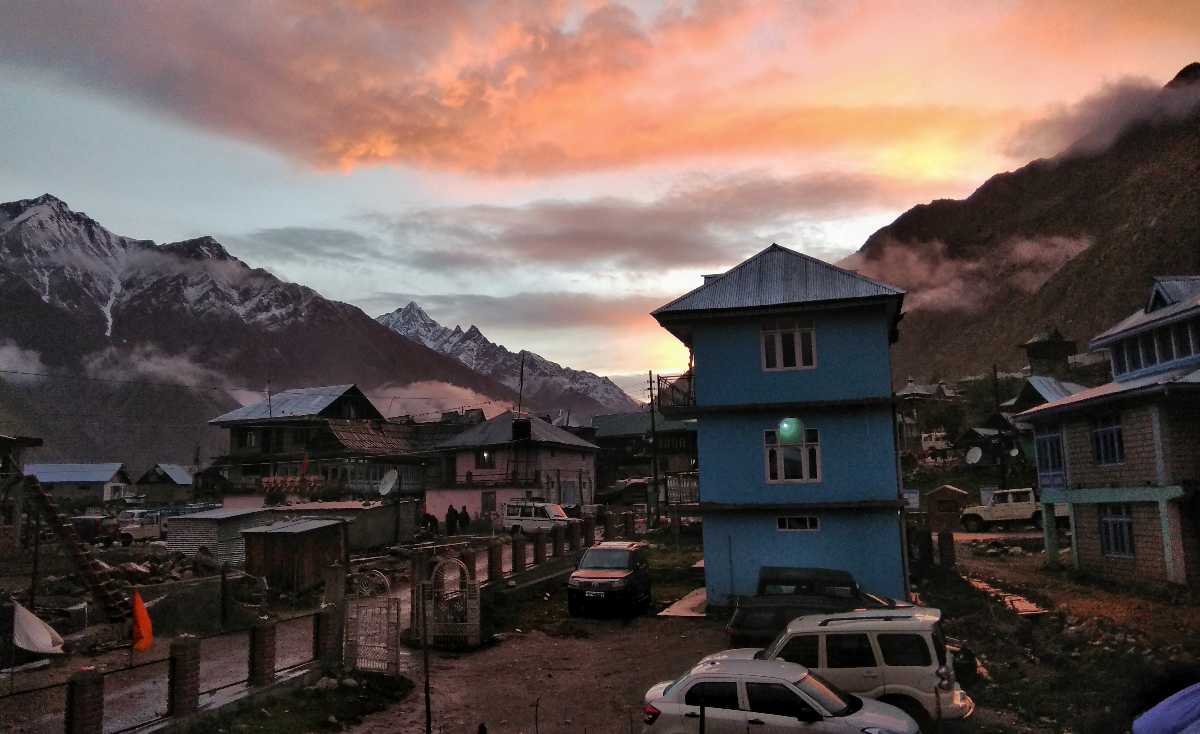 Perfect Himalayan Destination For Trekking
The beauty of Chitkul Village is unparalleled and incomparable to any other remote Himalayan destination. If you are a sucker for adventure, it makes for a great trekking spot. It is ideal for an average trek. Undertake a trek expedition with your friends and explore the forest areas, the remote attractions, and the thick vegetation housed in Chitkul.
Adventure Camping Destination in India
Chitkul is also an adventure camping site and an active holiday destination which offers an amazing view of the Himalayas. Tourists here have a lot to look forward to including day camps, nature walks and overnight camping with friends and family members. It is thrilling and exhilarating to camp in Chitkul.
Walk around the Baspa River
Chitkul houses a serene river called Baspa which is set against the backdrop of the mighty peaks. You can sit by the riverside and admire the natural beauty of the place. The breathtaking views from here are worth capturing. You can take long walks along the river or just indulge in the lap of the landscape. A school located by the Baspa riverside will give you an insight into the domesticity of Chitkul.
Chitkul may not have major attractions but it sure does treat you with great hospitality and spectacular sceneries. The memories gathered here will be unforgettable. The village is a pleasant destination with a warm and friendly atmosphere. Not to forget the mighty Himalayan peaks in the backdrop which makes for a great hillside getaway.
Have you visited Chitkul? Share your experiences in the comments below!