The Ummaid Bagh Resort of Bundi is located on a farm gifted by Shreeji Ummaid Singhji, the 18th ruler of Bundi to his sons in 1796. It was once used as a royal rest house but now has been turned into a luxurious staying option for people. The present owner of the property is Maharaja Rajendra Singhji of Dugari, who is acknowledged with this transformation. Being just beside the Jait Sagar Lake and at a stone's throw distance from the city, it is a great place to decide for an opulent getaway. 
Stay Options

A Grand Suite with Mountain View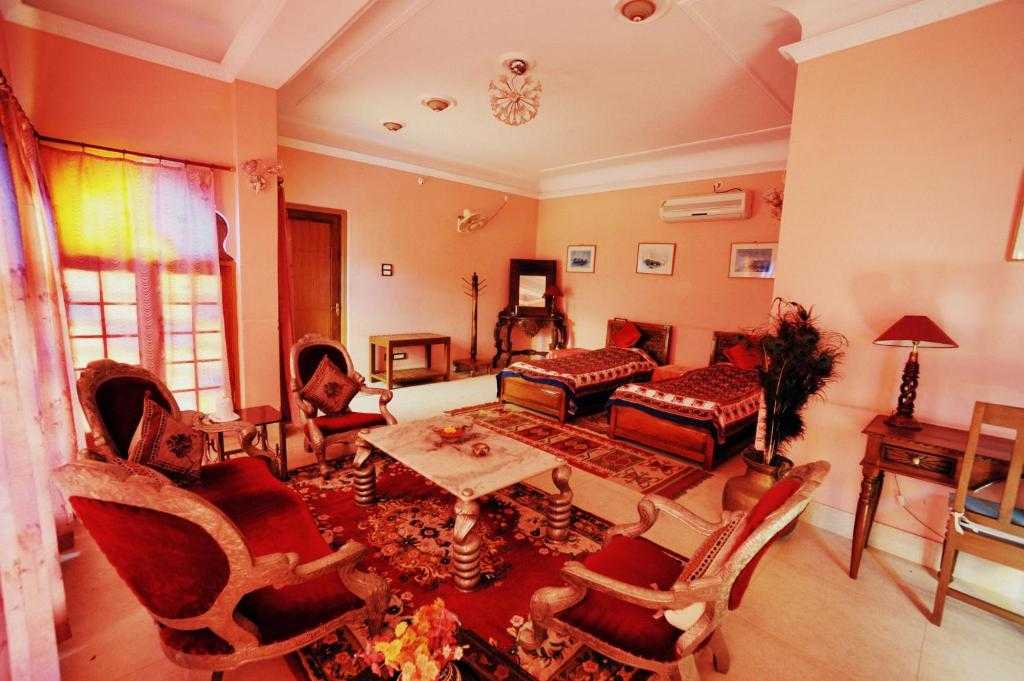 Price per night: INR 3000
The visitors are welcomed by a spacious suite which is well equipped. Has central air conditioning and soundproof walls for a comfortable stay. Along with that, you also get the option of enjoying a barbeque in the room which you should select at the time fo reservation. A separate sitting area also comes with this.
The Luxurious Tents For An Adventurous Getaway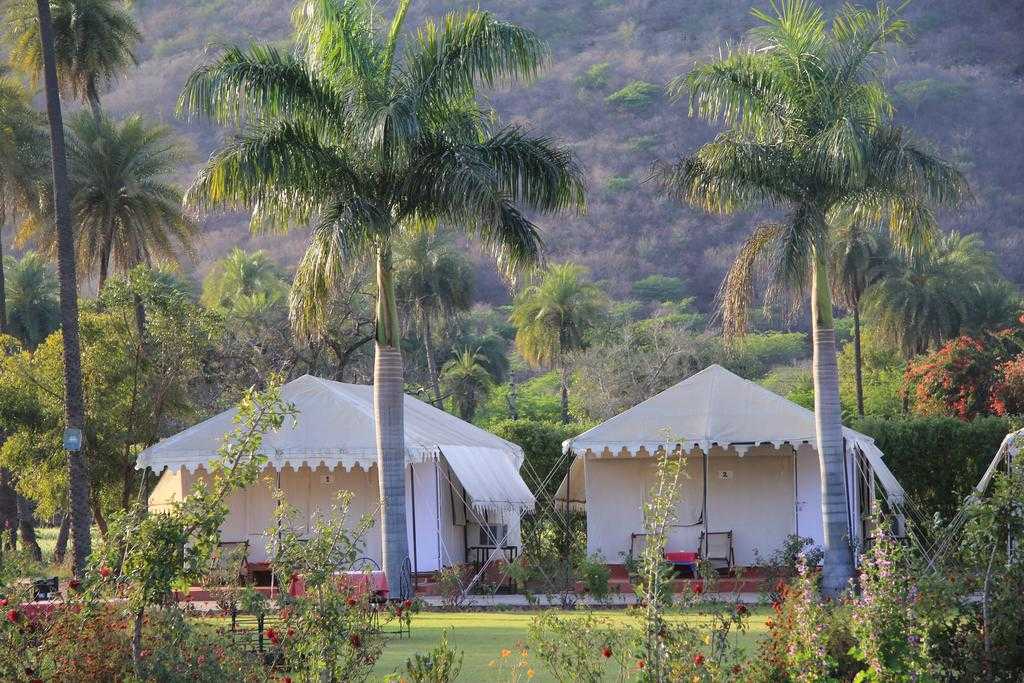 Price per Night: Rs 5000
If you really want to have the experience of comfortable camping in this stay, then you should book a tent. The tents are spacious, and they come with air conditioning during the hot days. The ambience that the tents hold is beautiful, and all of them have their own patio. From the tents, you will be able to get a great view of the mountains as well as of the well-curated garden. 
Note:
They provide complimentary continental breakfast with the rooms and also have free Wi-fi to keep the guests connected. 
Additional Services
Good food is always required when you are visiting a place, and this Ummaid Bagh Resort has a great restaurant which allows you to have quintessential Rajasthani dishes along with continental recipes. The biggest USP is that all the vegetable used are farm fresh and are produced organically. Enjoy delectable meals by the lake and amidst nature. The place also has an on-site coffee house along with a great bar. 
If you are up for barbeque and open bonfire, you can contact the staff for arranging the same. Rajasthani Folk Dance is also at your disposal for perfectly basking in the Rajasthani Culture. If you just want to relax, you can enjoy sitting in the garden or the terrace, both of which provide an amazing view of the surrounding areas.
How to Reach
Address: Baanganga road, near Jait Sagar Lake, Būndi
The stay is just 2 KM away from Bundi, so it wouldn't be troublesome for people to find it. 
By Air
People either need to get down at the Sanganer International Airport in Jaipur which is 210 KM away or at Maharana Pratap Airport in Udaipur which is 250 km if they are willing to avail the stay. They can ask the hotel to arrange for the pickup.
By Train
Bundi is quite well connected by trains to other parts of Rajasthan. So, one can take a train from places such as Kota, Udaipur, Delhi, Agra, Neemuch, Chittorgarh. The railway station is 3 KM from the hotel, so one can easily take a taxi or auto to reach. 
By Car
If you are already in Rajasthan or if you are planning to tour by car, then you can quickly get around because of the right roads, and it is well-connected to places like as Jaipur, Ajmer, Kota. One can also avail a bus.
What More Can You Do Here?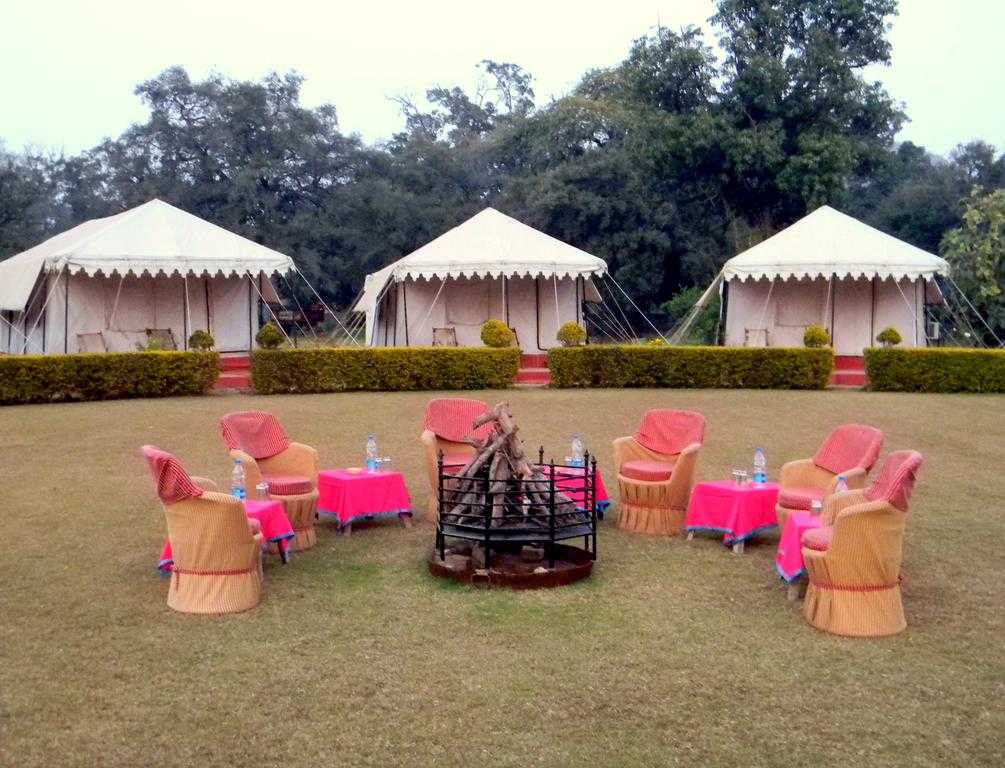 This stay will bring a lot of opportunities as the lake is known for being a home for migratory birds. So, if you book at the right time, you can have a great experience of bird watching. You could also drop by some of the main attractions of Bundi, like the Taragarh fort, Chaurasi Khambon ki Chhatri, Garh palace etc., which are also closeby. The accommodation can also arrange activities such as trekking, jeep safari and bicycle tours for an adventurous getaway.  
Staying at Ummaid Bagh Resort in Bundi gives you a comfortable experience of camping amidst beautiful surroundings. Have you been here already or is the place still on your list? Let us know in the comments below!