The time of dusk is when the party starts. Whether you wish to view the sunset or have a night out, the bars and restaurants in Phnom Penh won't disappoint you. Jumping from its culture and traditional aesthetics, the city has a series of exquisite, fun, and crazy bars. Each place has its own time of happy hours- something that you must look into before planning a night out.
Here's a list of 18 places you can hit on your chill night:
1. Pontoon


Pontoon is a club you wouldn't want to miss. It's a bar and dance club, with three huge rooms, usually different music playing in all of them. They have local and international DJs perform from time to time and they have a spacious disco floor where you can dance your troubles away. The nightlife vibes here are immaculate and it's a must-hit on Street 51, along with some others. You'll be able to dance to all kinds of music, drink cocktails all night and have a bite or two in between. Party vibes to the maximum!
Cost: Entrance fee between INR 450-600
Timings: 10 PM to 5 AM
Address: Jayavarman 7 St. (172), Phnom Penh City
2. Club Love


The motto of this club is 'all you need is love'. Occupying the third floor of Duplex Cafe and Restaurant, this place promotes inexpensive and international fun. And for that reason, it is a popular backpacker area, with extremely chill vibes and music ranging from hip-hop to alternative. Their cuisine includes Khmer and Western, along with a distinct drinks menu and a rad dance floor.
While you're visiting this club, you can also take a round of Street 278 itself.
Cost: Entrance fee up to INR 400
Timings: 10 PM to 4 AM
Address: Street 278, Wat Langka, Phnom Penh, Cambodia
3. Heart of Darkness


This place is true to its name. Heart of Darkness is one of the classics and the longest-running attractions in this city (since 1993) and it presents its A-game every year. The contemporary Khmer style interiors mixed with hip-hop and rock music make for the perfect Phnom Penh experience. It's usually packed with tourists, locals, and ex-pats coming to welcome the darkness. With statues found in temples and awesome drinks, the spirit of this place is top-notch.
Cost: Food and Beverages starting from INR 150 to 300
Timings: 10 PM till late night
Address: Street 51, Phnom Penh Riverside
4. Candy Bar


If you're the hostess bars type, you can't go wrong with Candy Bar. It is the most sought-after hostess bar in Phnom Penh, open 24/7, with Khmer cuisine and hip-hop music. It is a little more expensive than most bars, but the services and ambience make up for it. It also services a live DJ on weekends, a sports bar, and pool tables. You can spend your night here without any boredom at any point!
Address: Phnom Penh Riverside
5. Cadillac Bar and Grill

If your idea of a night out includes awesome food, Cadillac Grill is for you. This bar is an all-in-one package. Steakhouse, International cuisine, Grill, Scandinavian food- you name it. It also has a vegetarian option and you can register here by their app. There's chill music (the 60s and more), an exquisite drinks menu, and of course, the experience of a night out without starvation. They also serve one of the biggest burgers in the world and an all-day breakfast.
Cost: Food and Beverages starting from INR 100 to 600
Timings: 8 AM till midnight
Address: Phnom Penh Riverside
6. Zeppelin Cafe


This is an actual after-hours bar. This is the place other bar-owners go to when their bar closes. The vibes here are old school, and it's pretty relaxed and stale. Go here only if you want to sit at the bar, order a cocktail, eat some food, and listen to 60s, 70s, and 80s rock. You can also place music requests. It's the calmest place you'll find at night in Phnom Penh.
Timings: 6.30 PM to 4 AM
Address: Street 278, Phnom Penh, Cambodia
7. Foreign Correspondent's Club


Popularly known as FCC, this club is set near the Tonle Sap river in a three-story colonial-style building. They have hotel rooms, bars, and restaurants- the most popular being the bar on the second floor to spend one's evenings. This is the perfect place for a complete view of the sun setting over the city. Usually, FCCs are private, but this branch is open to everyone (although members are given a discount). They have a variety of cocktails to choose from, French cuisine, and as well as a fusion of Western and Cambodian. You can also choose from various dining options, one of them being the rooftop bar. FCC is the most classy and upscale place to be to end your day.
Cost: Drinks starting from INR 300
Timings: 7 am to midnight
Address: Main Sisowath Quay
8. The Mad Monkey


This is a hostel for all the backpackers. They have a swimming pool and 2 bars, one of which is on the roof. It is set a little away from the streamlined tourism but placed right in the center of BKK1, which is why it is also known as the backpackers central. It might be a little more expensive than some hostels, but their parties and evenings are not to be missed. The Mad Monkey is another impeccable place to watch the sunset, along with a pool and over 40 cocktail alternatives.
Cost: Varies with facilities and happy hours
Address: Street 302 Sangkat, Cambodia
9. Howie Bar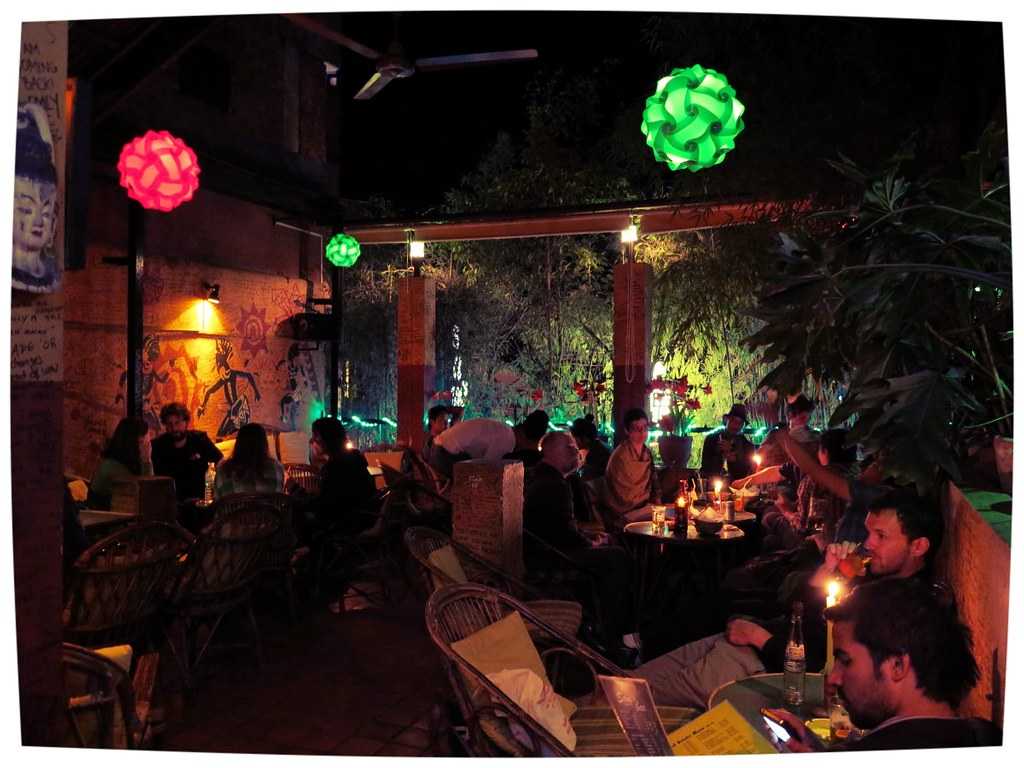 Howie Bar is a place to go to when you've had a few, and wish to ride the night out. It's a classic dive bar with a pool table and a selection of exuberant people. You can chill here, make conversations with good music and good food. It is frequented by locals, tourists, and ex-pats, and what's more, the staff here is pretty amicable.
Timings: 24/7
Address: Rue Pasteur No. 51, Phnom Penh, Cambodia
10. Lobby Lounge and Bar


A part of the Intercontinental hotel and resorts, Lobby Lounge has the best wine and cheese in the city. It will give you a classy and affluent experience with a truly profound collection of cocktails and food. Whether you need a morning coffee for your hangover or a late yet leisure night out, it is there for you. The bar is slightly expensive, but its wide menu and lounge facilities definitely make up for it.
Timings: 9 am to 11 pm
Address: NagaWorld1 Park, Samdech Hun Sen St, Phnom Penh, Cambodia
11. PitStop Bar


PitStop is the ideal cozy and chummy night out destination. They provide draught beer, various cocktails, a pool table, and free wi-fi. It is a reflection of the Khmer history, with a lot of distinct cuisines at a reasonable price. They also provide lounge facilities and you can listen to your favourite music on request.
Cost: Food and Beverages ranging between INR 200 and 1500
Timings: 6 am to 3 am
Address: Street 51, Phnom Penh riverside
12. Sharky's Bar and Restaurant


This place is one of the oldest retreats in the city. It has a rowdy and vociferous vibe to it during the night that is ideal for anyone who likes it. It is set in an upstairs room, with balcony seating, harmonious music, and a pool table. They have a live band on the weekends that plays music on request. This bar is quite popular among everyone owing to the fact that you'll forget to check the time once you cross the threshold. They have food ranging from burgers to Thai food to Tex-Mex, and love-in-your-tummy dinners.
Cost: Drinks starting from INR 100
Timings: 4 PM to late night
Address: Street 130, Phnom Penh Riverside
13. Riverside Bistro


As the name suggests, this bistro lays on the riverside of Tonle Sap. Like Sharky's, there's a ton of action here with a live band (accepting requests) and a buzzing vibe. They have options for Asian cuisine, Western cuisine, Khmer food, BBQ, and a lot more. They also have vegetarian options with an exquisite collection of wine and beer. Further, the bistro is set in a French colonial-era building with ample sidewalk seating, giving it a complete français vibe.
Timings: 7 AM till late at night
Address: Street 148, Phnom Penh Riverside.
14. Shanghai Bar


Shanghai bar was established in 2000 and is still favoured by tourists as well as the locals. Set in the heart of the city, they have a hostess bar, lounge facilities, two pool tables, TV screens for sports fans, and a pretty decent happy hour. It is known for its long-established quality food and beverages and is specially packed on weekends. This bar surely is a commendable option for spending your nights.
Cost: Drinks starting from INR 200
Timings: 4 pm till late night
Address: Street 51, Phnom Penh riverside
15. Rory's Irish Pub and Guesthouse


This is literally the only authentic Irish pub in Phnom Penh. You can definitely experience the vibe of Ireland the moment you cross the threshold. They have traditional food of the country such as Irish stew and fish & chips, and a remarkable selection of whisky (for obvious reasons). You can spend the days in the National Museum right next door and then the nights at Rory's Pub.
Timings: 7 am to midnight
Address: Street 178, Phnom Penh, near the National Museum
16. Score Sports Bar and Grill

If you are missing any game of the major leagues (English and German football, boxing, rugby, to name a few), this bar is for you. They have one of the largest screening facilities (5.8 x 4.5 meters screen) with an adequately-priced food and bar menu. This bar has the most diverse crowd brought together by the supremacy of sports. They also stay open till late in case of special games.
Timings: 24/7
Address: Street 282, Wat Lanka Phnom Penh, Cambodia
17. The Exchange


Another French ambience can be experienced at The Exchange; only here it is called the 'exchange vibe'. It is set in a historic french villa with cuisines reinvented from across the globe. This place has been holding its soil since 1915 and is one of the most sought-after restaurants for a french-style night out. They have vegetarian-friendly options and all their cuisines and beverages are served with a french twist.
Timings: 10 am to midnight
Address: Street 47, Wat Phnom, Phnom Penh, Cambodia.
18. Eclipse Sky Bar


If you want to spend the night with the city beneath you, Eclipse Sky Bar is the ideal place to be. Set on the 23rd floor of the Penh tower, this bar gives you an impeccable opportunity for that sunset drink. It is open 24/7 and the panoramic view features the independence monument, Mekong rivers, and the Royal Palace. It is the most romantic place to be with an open-air setting and a live band.
Timings: 24/7
Address: Phnom Penh Tower, 23rd Floor, Cambodia