The nightlife in Kanchanaburi is laid back and gossip friendly. Mostly centred around the Maenam Kwai Road, one can find many friendly faces, both local and foreign, to talk about the day and share travel stories. Characteristic of budget bars offering cheap drinks, excellent food, pool tables and dartboards, this sleepy town's nightlife mainly revolves around backpackers who come and go by the day. Some loud bars and clubs can also be along Song Kwae Road, but they do not see much footfall unlike their quieter counterparts on Maenam Kwai Road. Apart from eating and drinking, one can also enjoy some historical sightseeing at Heritage Walking Street and some nice Thai massages at the many parlours around town.
Which Are the Best Areas for Nightlife in Kanchanaburi?

1. Maenam Kwai Road
Maenam Kwai Road is where most of the tourists spend their nights. Filled with bars, restaurants with both indoor and outdoor seating, the food, drinks and other services are more budget-friendly bars. The majority of hotels and restaurants in this area are within walking distance to the river bridge). Mainly considered a backpacker's haven, Maenam Kwai Road offers a relaxing, friendly atmosphere where you can relax, enjoy and meet with fellow travellers.
2. Song Kwae Road
Located south of Maenam Kwai Road, Song Kwae Road leans towards the pricier side. One can find more upbeat bars and clubs, where local tourists from bigger cities such as
Bangkok
tend to hang out.
3. Downtown Kanchanaburi
Downtown Kanchanaburi is a relatively cheaper alternative to both Maenam Kwai Road and Song Kwae Road, where mostly locals from Kanchanaburi hang out. 
Here Are 8 Bars and Pubs in Kanchanaburi You Must Visit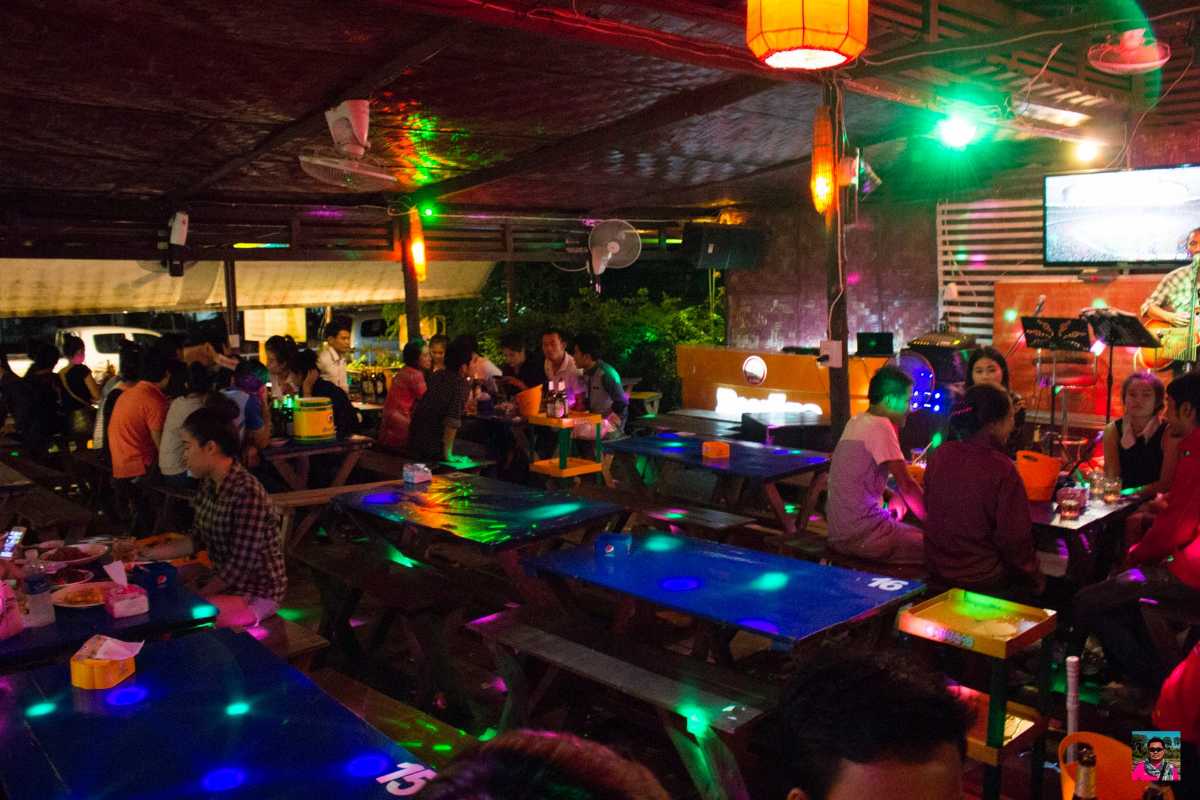 1. Buddha-Bar
With the theme of a blend of Pirates and Carribean vibes, Buddha-Bar immerses you into a quirky and unusual atmosphere. The manager, dressed as Captain Jack Sparrow, fixes the drinks behind the bar. With tasty barbecue, drinks and Reggae music, Buddha-Bar offers an off the wall yet friendly casual vibe, which fits with bikers, rockers, and backpackers.
Address: Buddha Bar, Don Rak Road, Pak Phreak, Kanchanaburi 71000
2. Buzz Pub
Located near the City Pillar, Buzz Pub is a highlight of Kanchanaburi's nightlife and a favourite among urban tourists who come from Bangkok to have a blast. The bar is filled with young and energetic people.
Parties here begin after 7 PM, and tourists and local people take to the dance floor as the Dj starts to play the latest hip-hop, electro, and Indie music. The food here is great, but this place is on the pricier side, so keep that in mind.
Address: Kanchanaburi 71000
3. Red Tanks Bar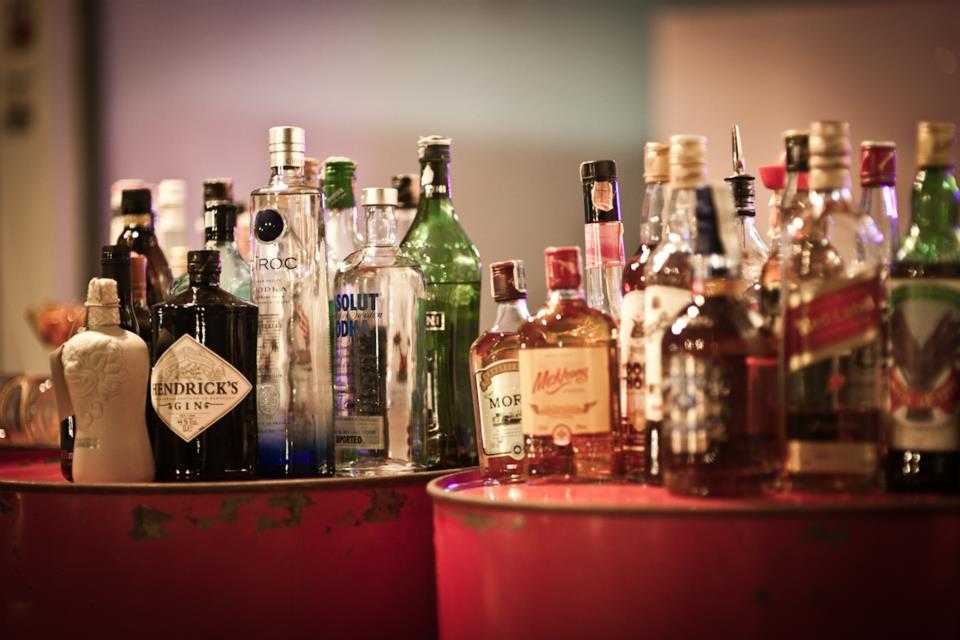 If you are looking to meet interesting people, have great conversations and enjoy amazing cocktails, then Red tanks Bar is the way to go. Hoye, the bartender, is said to be a top of the class mixologist. He makes some amazing original cocktails. Although famous for cocktails, the food here is also pretty good. Visitors here are a mix of local Thais and foreign tourists, so conversations are easy. Red Tanks Bar is a great place to sit back, relax and enjoy the drinks - all at a great price.
Address: 300 Mae Nam Kwai Road, Kanchanaburi
4. BBB Bar
Originally known as No Name Bar, BBB Bur is almost an institution in Kanchanaburi. As it was originally owned by English ex-pats, you get to see a fusion fo English cuisine and Thai food here. It's a favourite place to hang out for backpackers and bikers. The best feature of the bar is a collection of high-end guitars that customers can play or jam to it with the live bands.
Address: Ban Tai, Mueang Kanchanaburi District, Kanchanaburi
5. Glitzy
Glitzy is a very famous pub in Kanchanaburi town and popular among visitors from Bangkok. It offers live band entertainment as well as DJs, who rock the dance floor with the latest hip-hop and indie music. If you want privacy, Glitzy has individual decked out private rooms too. This pub stays open from 8 PM to 1 AM.
Address: Saeng Chuto Road, near Night Market and Allied War Cemetery
6. Kan Buri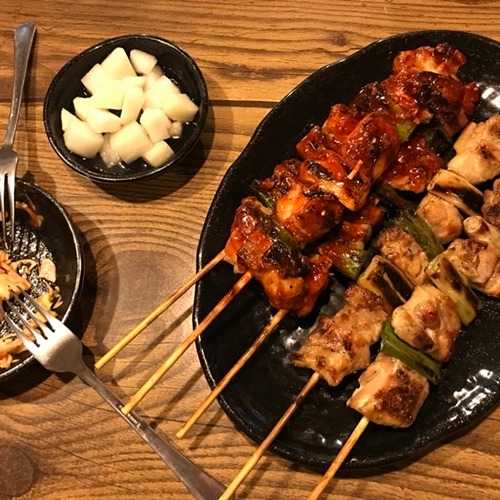 If you want a place to hang out away from the noise and crowd, Kan Buri is the one for you. The majority of people here are locals, but a good number of English ex-pats hang out here as well. The restaurant has an open-air terrace as well as an air-conditioned section.
The best thing about this place is that they fill your beer mug every time without you even asking for them. The food here is standard and complete with Thai-specials.
Address: 339/1 Maenamkwai Road, Tambon Ban Tai, Chang Wat Kanchanaburi, 71000
7. The Resort
With an urban, high-class atmosphere, this pub-restaurant is a welcome change to the Mae Nam Kwar Road. The delicious food along with live-music, custom-mixed drinks and chilled out atmosphere on an open terrace is a great place for tourists to hang around here.

Opening Hours: 5 PM - 1 AM
Address: 40 Taiwan Rd, Ban Tai, Mueang Kanchanaburi District, Kanchanaburi 71000
8. The House Bistro Bar
Located at the heart of Kanchanaburi, The House is a bistro-style bar and restaurant which is famous for its atmosphere and sublime cocktails. The food here is a mix of Thai and International cuisine. They have an open kitchen so you can watch the food being cooked while enjoying live music. 
Address: Thanon Sangchuto, Tambon Ban Tai, Chang Wat Kanchanaburi, 71000
Walk Around Heritage Walking Street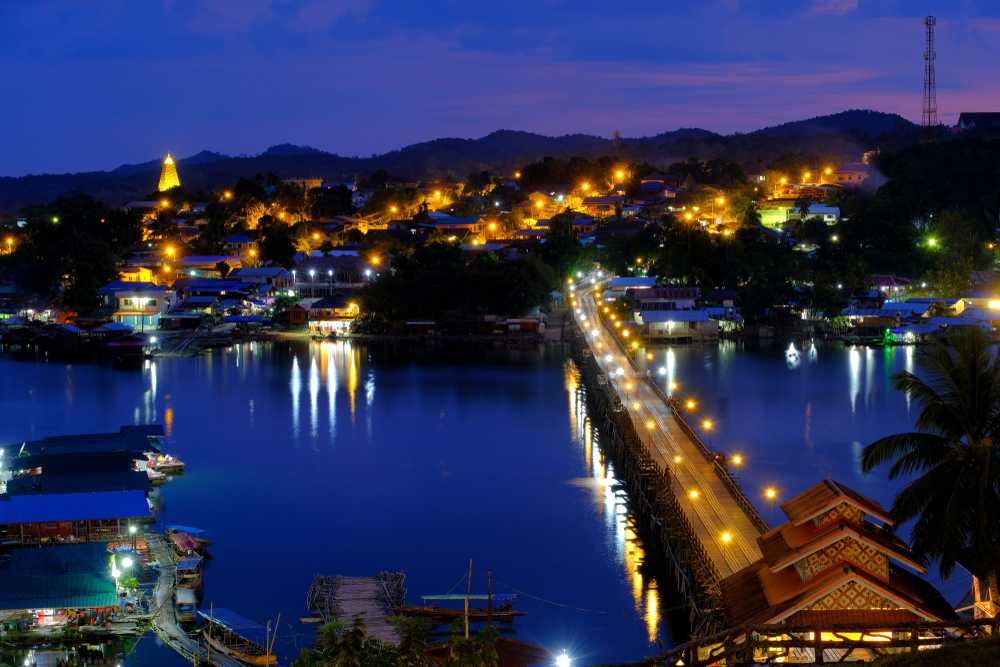 Established in the 1830s, the town of Kanchanaburi relatively unchanged by still showcases much of its rich history till date. The architecture of the buildings shows a mixture of Sino-Portuguese, Thai and Vietnamese styles and influences.
Heritage Walking Street is one street which truly highlights the above. This Street starts at the Old City Gate and Ends on the Wat Teawasangkaram. And features twenty heritage buildings. Walking here in the evening is equivalent to taking a step back through time, enabling tourists to explore local shops, learn the rich history of Kanchanaburi and how some buildings played a role in the second world war.
Heritage Walking Street is open for tourists from 4 PM to 9 PM daily. Apart from Kanchanaburi's history, Heritage Walking Street is a place to try the local snacks and cuisine sold by the locals.
Treat Yourself to a Thai Spa at the Massage Parlors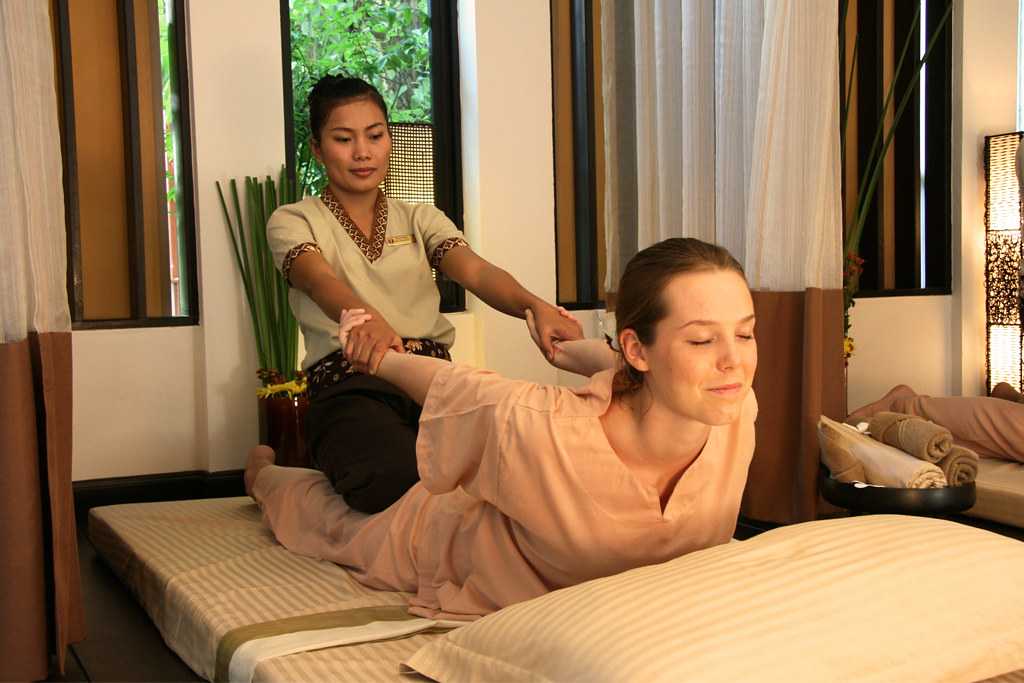 A nightlife in Kanchanaburi can also be relaxing and quiet. Head on over to one of the many Thai massage parlours and treat yourself to a relaxing massage. There are several parlours which are relatively pricey and others which aren't heavy on the pocket.

1. River Paradise
River Paradise is a soapy massage parlour in Kanchanaburi: located on Sangchuto Road opposite Glitzy Pub. It's a pricey massage parlour. The price is 2,800 THB for a regular massage and 3300 THB for a massage from models.
There are some other well-known massage parlors available as well - 
Azure Comsaed River Kwai Resort & Spa
FicusSpa
Foot & Thai Massage
Pung Waan Resort and Spa
Rest & Relax Massage